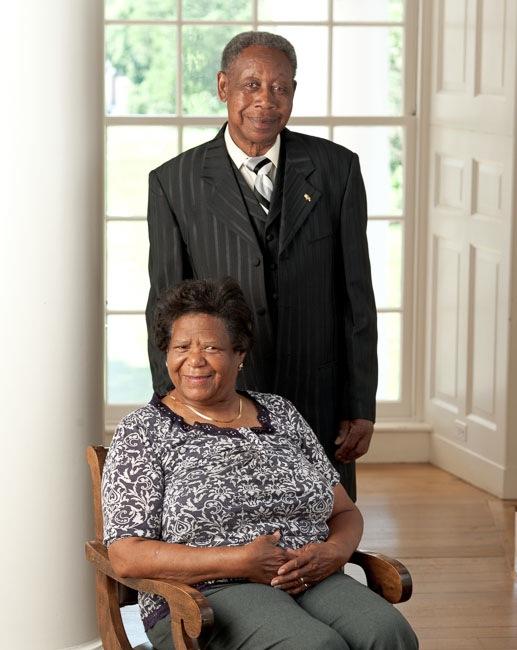 Few people can say that they have worked at the University of Virginia for 60 years, but Lindsay Baker can.
Baker, 78, began working for the University in 1952 as an orderly at Blue Ridge Sanatorium, a facility founded in 1920 to treat patients with tuberculosis. Six decades later, he will retire Friday from Facilities Management. 
Baker recently recalled wearing many hats during his time at Blue Ridge. Transporting patients, feeding hogs, taking trips to a dairy farm near Fork Union and transporting linens for the hospital were just a few of his many duties.
"When I first started, I was the orderly, He said. "I was an orderly about 10 or 15 years and then I [worked] in the kitchen for four years. Then I went from the kitchen back to housekeeping. But we called it being an 'orderly' then."
Baker smiled and laughed often as he reminisced about the responsibilities he had at Blue Ridge. By far, the highlights of his experiences were the memorable people he worked with over the years, he said. "We used to go out there and have a good time. Whatever we were doing, we had a good time and did our work," he said.
After serving 27½ years at Blue Ridge, Baker transferred to the Grounds to work as a part-time employee in Facilities Management working at the High Energy Physics lab, a group in the College of Arts & Sciences that studies the most fundamental interactions of matter.
Baker's wife also worked at the University until retiring with 43 years of service. Currently, his son Reggie works at the U.Va. Medical Center, while his daughter Hollis works in University Dining Services.
Baker was honored Tuesday, along with other longstanding U.Va. employees, during the annual Service Awards evening ceremony at John Paul Jones Arena. The ceremony celebrated the service and dedication of staff that have served for 25-plus years at the University, with Baker topping the list in longevity.
Baker's retirement isn't his only cause for celebration this June. After his retirement, he will be busy trimming trees and bushes at his home in Ruckersville in preparation for his daughter's wedding. She will tie the knot June 29 – Baker's 79th birthday.
After the wedding festivities, Baker plans to travel to visit some of his relatives in New Jersey and Philadelphia and spend time with his grandchildren. He also plans to come back to the University to visit his co-workers at the physics lab.
It's easy to see that Baker has made many friends across Grounds since he began working in 1952. Throughout his 60 years at the University, his excellent work ethic, remarkable flexibility and his jovial smile have earned the respect, admiration and appreciation of his colleagues.
"I'll tell you one thing about this man, Mr. Baker," offered Jimmy Sayre, a Building Services Supervisor in Baker's department. "When I grow up, I want to be just like him."
— by Dana Cypress
Media Contact
University News Associate Office of University Communications
anneb@virginia.edu (434) 924-6861