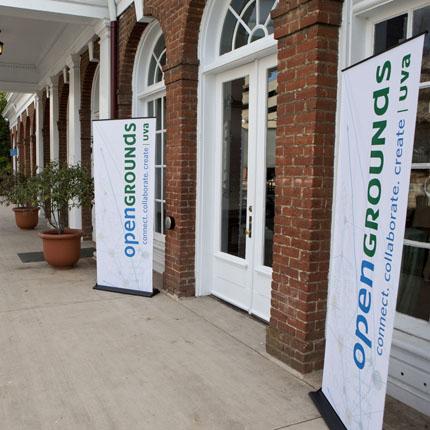 The University of Virginia's OpenGrounds Corner Studio will open its doors to the public this Saturday from 2 to 6 p.m. as part of the daylong "Tomtoberfest" festivities celebrating innovation at U.Va. and in the community.
The public is invited to join facilitators Bill Sherman, director of the OpenGrounds initiative; Iñaki Alday, Quesada Professor and chair of the Department of Architecture in the School of Architecture; and Kathy Galvin, Charlottesville City Council member, in brainstorming designs and uses for the city-University space adjacent to the OpenGrounds Corner Studio and bus stop. Students, faculty and other members of the community are encouraged to lend their ideas from 2 to 4 p.m.
"As an initiative that seeks to bring people together from widely divergent backgrounds to address topics of common concern, OpenGrounds is the perfect place to host this brainstorming session to develop new ideas from the community and the University for the future of spaces that we share," Sherman said.
An OpenGrounds open house, also open to the public, will follow from 4 to 6 p.m. The University's community radio station, WTJU 91.1 FM, will broadcast live just outside the studio, featuring live music and interviews with U.Va. innovators, entrepreneurs and administrators.
"The open house gives community members an opportunity to envision new possibilities together," Ida Lee Wootten, director of U.Va.'s Office of Community Relations, said. "It will be interesting to see what ideas emerge about the space."
For directions to OpenGrounds, click here.
Local innovation resource HackCville, offering co-working space and mentorship to U.Va. students forming "disruptive" new companies, will also participate. Located at No. 9 Elliewood, HackCville will hold an open house with hot dogs on the grill from 3 to 6 p.m. At 4 p.m., the group will host a presentation by local crowdfunding organization Seed-ville. All events are open to the public.
Media Contact
Senior Manager of Marketing & Communications U.Va. Innovation
434-982-4191