Growing up in Africa, Kevin Bahati, now a first-year student at the University of Virginia, experienced first-hand the consequences of not having reliable access to clean water.
"I've been affected by water-related diseases for most of my life," said Bahati, who has lived in Congo, Zambia and Uganda. "The water we had to drink wasn't the best, but you just had to force yourself to get used to it."
Bahati said that where he grew up, the main source of water was from a borehole – a hole drilled through the earth to draw water from deep underground – and that waterborne diseases like typhoid and cholera were not uncommon.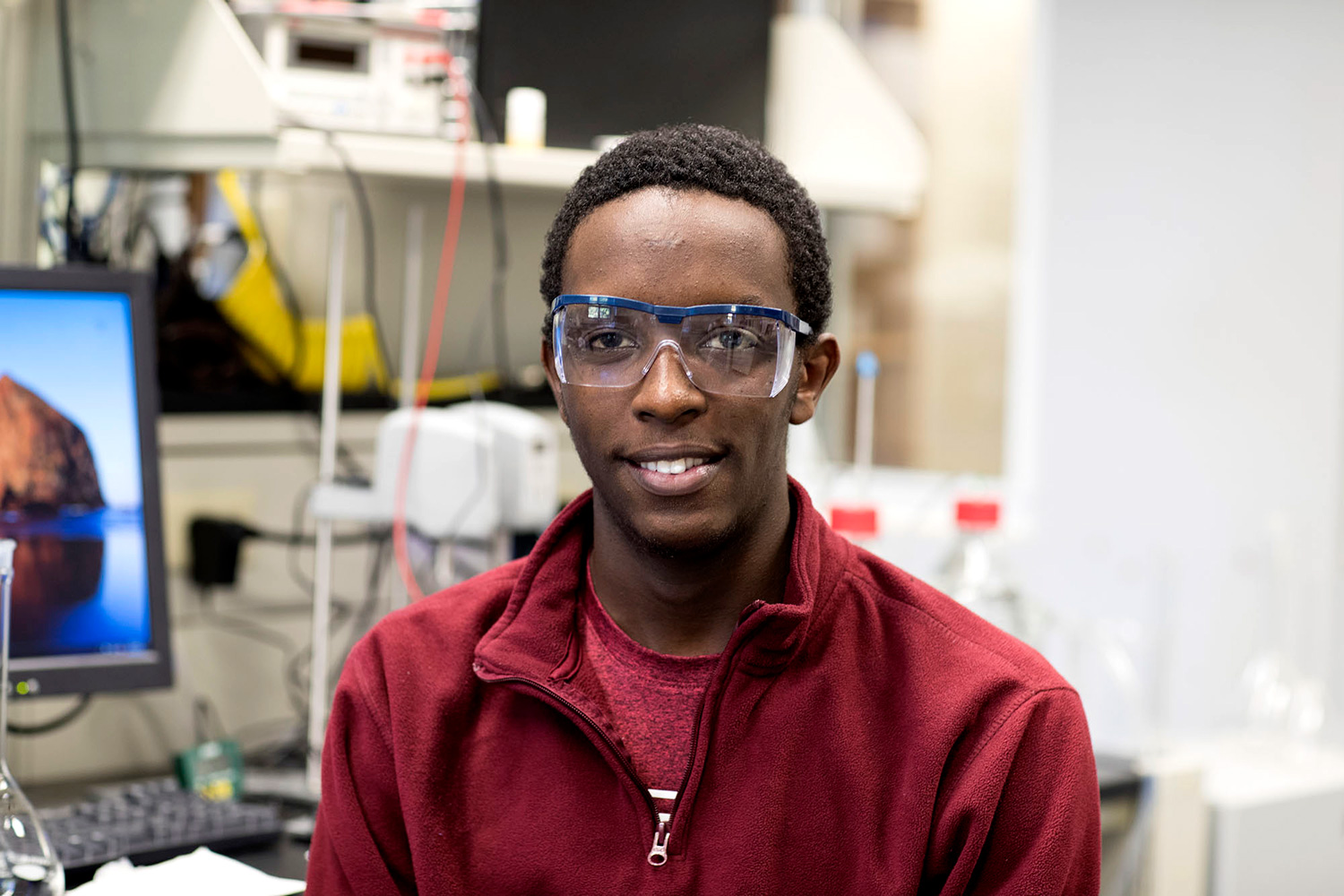 First-year student Kevin Bahati is a member of the National Society of Black Engineers and plans to major in chemical engineering. (Photos by Dan Addison, University Communications)
After coming to the United States in 2014 through a refugee program, Bahati graduated from high school in Houston. A friend he met there attended UVA, sparking Bahati's interest in doing the same.
"I always heard good things about UVA, and knew it was a good school," said Bahati, who intends to study chemical engineering.
In just his first semester on Grounds, Bahati is already working toward his goal of improving conditions back home by working in chemical engineering Professor Geoffrey Geise's water purification lab.
Geise said he was captivated by Bahati's background and experiences, and was eager to bring him on board.
"Our research is focused on developing materials from membranes that can ultimately be applied toward technologies to increase access to purified water and alternative energy resources," Geise said. "Kevin approached me over the summer about his interest in this area, and compared to an average person here, he is somebody who has seen some issues firsthand that most of us in this country have not experienced. I'm impressed with his ability, maturity and desire to contribute. The seeds of motivation are there, so I'm interested to see where it goes."
Bahati's involvement in the lab is made possible through the USOAR program, which helps enable undergraduate students to get research experience early on in their college careers. In Geise's lab, Bahati works alongside two other undergraduate students, four graduate students and a postdoctoral fellow.
"They know almost everything about polymer science, so I get to learn a lot from them," Bahati said. "It's a good experience because it challenges me, and I'm loving it."
In addition to working in the lab, Bahati is a member of the National Society of Black Engineers and lives in the International Residential College. When he's not devoting time to his studies, he plays soccer with his hallmates, works out and takes piano lessons.
And though Bahati is still finding his way around Grounds, he already has a clear vision for the impact he hopes to make once he earns his degree.
"I really hope to have mastered everything I've learned and to be somewhat of an expert in the research field," he said. "Then, if I can go back home after college, it would make it possible for me to contribute and make things better."
Article Information
November 8, 2016
/content/student-spotlight-african-students-past-leads-research-water-purification