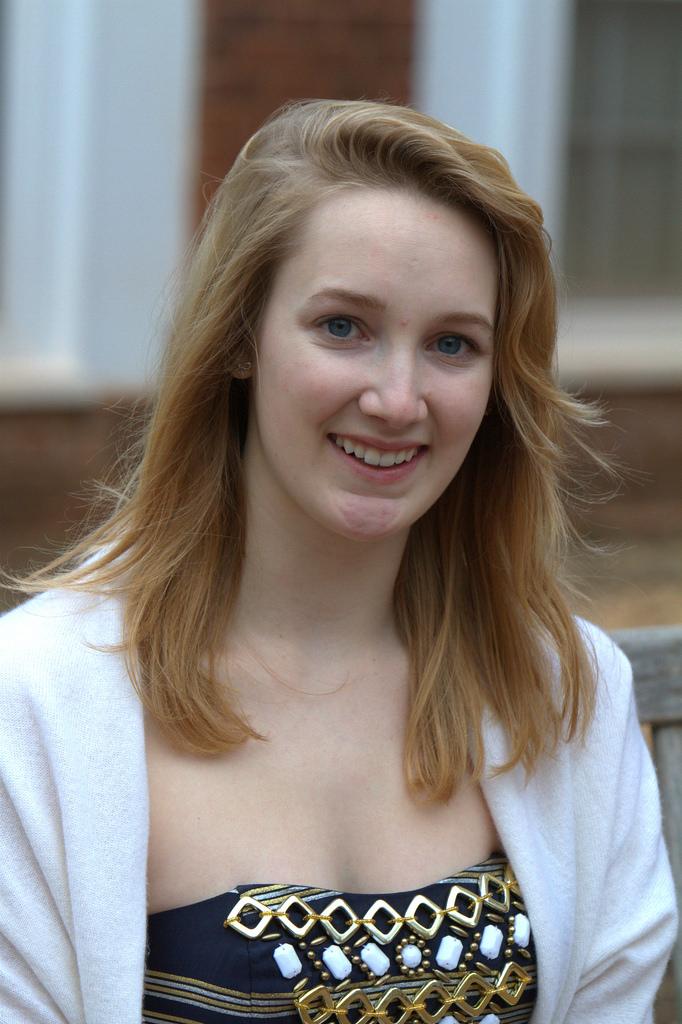 Alexandra Griswold, a third-year concentrating on finance and marketing in the University of Virginia's McIntire School of Commerce, garnered a $55,000 scholarship from the Sky Alland Scholarship Committee for 2014-15.
Griswold, 20, of Collegeville, Pennsylvania, was selected from about 50 candidates from across the University who had been nominated for the scholarship, awarded to a student who exemplifies leadership, achievement, enterprising spirit, humility and devotion to the University, traits attributed to Alland.
"I was unbelievably excited when I found out I had received the scholarship," Griswold said. "I screamed so loudly I'm surprised my neighbors didn't call the fire department."
J. Schuyler "Sky" Alland, a 1979 alumnus of the McIntire School, developed a successful company around customer satisfaction surveys for automobile dealerships. He was killed in 1992 during a carjacking in the Washington, D.C area, where he had moved his company. Several of his friends and fellow alumni formed the Sky Alland Scholarship Committee in his memory and have been presenting this scholarship for 20 years.
Griswold, who said the scholarship will allow her to expand her academic and extracurricular involvement, said Alland has been an inspiration to her.
"I was drawn to this scholarship because of Sky's story," she said. "His passion for life, dedication to the University and the friends he made here, and enterprising spirit in the field of customer relationship marketing are incredible. Sky Alland exemplified a powerful combination of attributes, creating a model of excellence that would be an honor to follow. "
Griswold said she is studying finance and marketing because these are fundamental components to any business.
"Capital allocation determines a company's strategy, its ability to grow and innovate, and ultimately its success in the market," she said. "Equally important, marketing encompasses the research and tactics necessary to connect a product with the end consumer."
She plans to work this summer as a strategy consultant in the Philadelphia office of McKinsey & Company, a global management consulting company. After graduation, she intends to continue working in consulting, eventually pursuing impact investing and the corporate finance of high fashion companies.
Griswold is a leader among her peers, asking tough questions and expressing concern for others, according to Gary A. Ballinger, an associate professor of commerce.
"She has tremendous empathy for people, and always called on us as a group to consider the perspectives of those players in business cases who might have lower power and might well get overlooked," Ballinger said. "Her work shows great range, from helping to create advertising products for kids to communicate the benefits of wind power in her fall group to working on marketing power boats internationally in the spring. She was always willing to help her group go the extra mile in its research by contacting others to find out information firsthand."
Ballinger predicts Griswold will lead successful teams in business and will have enthusiastic followers among co-workers.
R. Ryan Nelson, director of the McIntire School's Center for the Management of Information Technology, predicts Griswold will leave an indelible mark on the school, as a student, as Commerce Council president and through her interpersonal connections with everyone that she meets.
"Allie Griswold is a bright light," Nelson said. "She is a truly the most unique combination of intellect, enthusiasm and positive energy that I have ever had in the classroom. I will never forget Allie's bright smile, which is always the first thing you notice about her and a wonderful beginning to every interaction that I have ever had with her."
Outside of the classroom, Griswold is the incoming president of the McIntire Commerce Council, the president and alternate captain of the Women's Club Ice Hockey team, a member of the Student Council Appropriations Committee and a columnist for the Cavalier Daily, the independent student newspaper. She has received the Glenn D. Kirwin September 11th Scholarship, the Alumni-Student Cooperative Leadership Scholarship, Class of 2015 Ring Scholarship, an Echols Scholarship and she is a YMA Fashion Scholarship Fund Scholar. She is also on the dean's list and received Intermediate Honors.
Media Contact
University News Associate Office of University Communications
mkelly@virginia.edu (434) 924-7291