University of Virginia Board of Visitors member Whittington W. Clement will take the reins as rector effective July 1, with Robert Hardie assuming the position of vice rector.
The rector chairs the Board of Visitors. The vice rector is presumed to become rector at the end of their respective two-year terms.
Clement will succeed James B. Murray Jr., of Albemarle, who has served as rector since 2019.
"It has been a singular honor and pleasure to work with Jim Murray, who is a gifted leader," UVA President Jim Ryan said. "He has not only helped the University navigate challenges like the pandemic, but also has overseen great progress on the 2030 Strategic Plan and the 'Honor the Future' campaign. I am heartened that he will remain as a board member while Whitt Clement and Robert Hardie will step into the rector and vice rector roles, respectively.
"I've relied on Whitt's wisdom and devotion to the University of Virginia since I became president, and Robert's dedication to supporting the UVA student experience has been invaluable. I look forward to working closely with them in the years to come."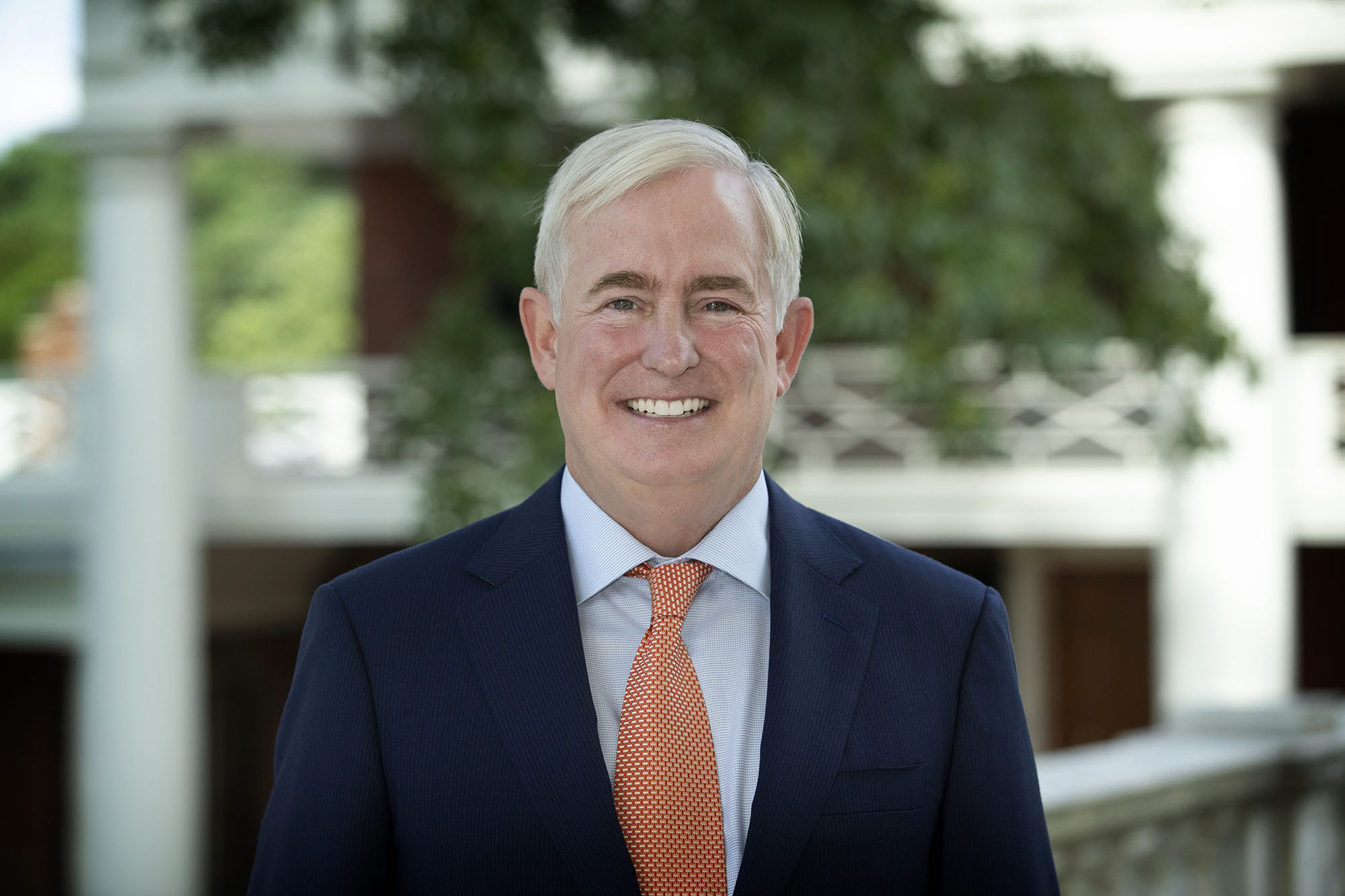 Robert Hardie, who has served on the Board of Visitors twice, will assume the position of vice rector. (Photo by Dan Addison, University Communications)
Clement, of Richmond, was appointed to the board by then-Gov. Terry McAuliffe in 2015. He is special counsel and a former partner at Hunton Andrews Kurth LLP.
Clement is a founding trustee and member of the UVA College Foundation, former member of the UVA Alumni Association Board of Managers and of the Jefferson Scholarship National Selection Committee. He is also a past president of the Virginia Bar Association, former chair of the State Council of Higher Education for Virginia, former Virginia Secretary of Transportation and former member of the Virginia House of Delegates. Clement holds a bachelor's degree in history and a law degree from the University.
"It's a great privilege to lead such a strong, dedicated board and I look forward to working with my colleagues, President Ryan and his leadership team as we transition from the extraordinary year of the pandemic to more normal times," Clement said.
Hardie, of Charlottesville, has served on the Board of Visitors twice. He was first appointed by then-Gov. Tim Kaine in 2008 and again by McAuliffe in 2017. He is co-chairman and CEO of H7 Holdings LLC, a private holding company that invests in equities, private firms and alternative asset classes. H7 Holdings owns Keswick Hall in Keswick, Virginia, and The Hermitage Hotel in Nashville, Tennessee.
Hardie is also co-chairman and CEO of Level One Partners, an investment company in Charlottesville, and serves on the boards of several businesses. He co-chairs the H7 Foundation, which supports multiple educational and non-profit endeavors. Hardie received a Bachelor of Arts degree from UVA's College of Arts & Sciences in 1987 as well as an MBA in 1995 and a Ph.D. in management in 1999, both from the Darden School of Business.
He is chair of the Buildings and Grounds Committee.
"I look forward to working with Whitt Clement, my fellow Visitors, President Ryan and his team on continuing to make UVA great and good," Hardie said. "I am honored to serve this special University and want to thank outgoing Rector Jim Murray for his extraordinary leadership."
Article Information
June 11, 2021
/content/clement-serve-uva-rector-hardie-vice-rector