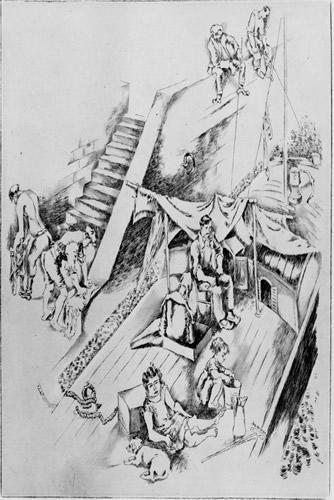 May 18, 2006 — Artists' sketches are often the foundation on which finished works are based.
The late American artist John Barber's (1893-1965) sketches of everyday life inspired his paintings and sculptures even as he embraced more abstract work.
The University of Virginia Art Museum exhibit "John Barber's Sketchbook: The Development of an Artist" focuses on the progress of the artist's works through his drawings.
"In Barber's sketches we first recognize an artist who in the 1920s tentatively begins to address a cubist style, a far cry from the execution of the purely realistic work characterized by 'Portrait of the Artist's Father, Frederick Barber,' from about 1922," said fourth-year student Mark Blackwell, who was the primary curator of the show which open June 23 and runs through Aug. 23.
Throughout his productive years, Barber produced more than 60 sketchbooks, images of city dwellers and country people with their animals rendered spontaneously and realistically. By contrast, Barber's paintings, such as "Washerwoman at the Fountain," render everyday activities and landscape more abstractly. The exhibit, composed of 25 sketches produced between 1925 and 1952 and four paintings, provides a comparison between the relationship of the drawings and the final paintings and an understanding of Barber's development as an artist who attempted to meld his American realist beginnings with his later modernist tendencies as he traveled in Europe, where he was introduced to Cubism. "This inclination continues throughout Barber's career, resulting in figurative works whose synthesis of color and form result in a wholly modern personal style," Blackwell said.
The exhibit is drawn from the U.Va Art Museum's John Barber Memorial Collection, which includes the papers, art texts, sketchbooks, paintings and sculpture of the artist. As part of the bequest to the museum, the John and Margaret D. Barber Fund was established to allow for conservation, research and exhibition of the collection. "John Barber's Sketchbook: The Development of an Artist" is the museum's second exhibit from the collection. A 1992 exhibit, "John Barber 1893-1965: Selections from the Archive," was curated by former museum director David Lawall.
"John Barber's Sketchbook: The Development of an Artist" is made possible through the support of Art$ and the John and Margaret D. Barber Fund.
The museum is open to the public free of charge Tuesday through Sunday, 1 p.m. to 5 p.m.
For more information about the exhibition and the U.Va. Art Museum, call (434) 924-3592 or visit the museum
Web site
.