The University of Virginia held Final Exercises for the first time in 1829. Then known as "Public Day," it involved little fanfare until the 1900s. 
A look back at records such as photographs and the text of speeches - mostly collected after the beginning of the 20th century - shows that Final Exercises has been the scene of momentous presidential addresses, precise throws from NFL quarterbacks, words of wisdom from prominent alums, and much more.
Here's a look back at just some of the many memorable Final Exercises moments.
1940: The 'Stab in the Back' Speech – President Franklin D. Roosevelt
For much of Europe and Asia, World War II broke out in 1939. On the morning of June 10, 1940 – the same day F.D.R. planned to deliver the commencement address at UVA, where his son Franklin Delano Roosevelt Jr. was graduating from the Law School - Italy declared war on France and Britain. After rain forced a last-minute move to Memorial Gymnasium, Roosevelt asked the assembled students and a listening nation, "What is to become of the country we know?"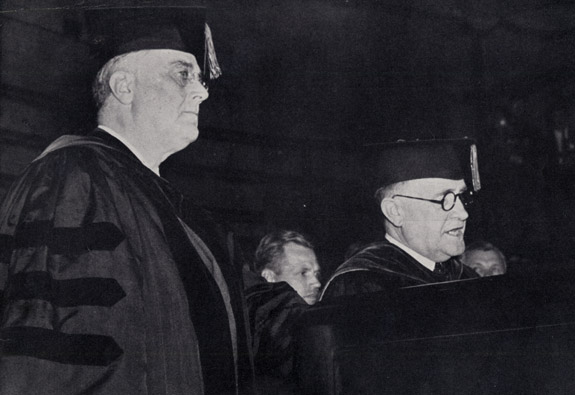 Toward the end, Roosevelt delivered a famous line that marked a shift in the nation's previously neutral stance toward the conflict: "On this tenth day of June, nineteen hundred and forty, the hand that held the dagger has struck it into the back of its neighbor. In this University founded by the first great American teacher of democracy, we send forth our prayers and our hopes to those beyond the seas who are maintaining with magnificent valor their battle for freedom."
Listen to the full speech or read more in the University of Virginia Magazine.
1911: The First UVA Presidential Address - Edwin Alderman
Final Exercises might not be what it is today without the University's first president, Edwin Alderman. Sometime after the Rotunda was rebuilt after the 1895 fire, Alderman decided that graduating students and faculty should walk down the Lawn toward New Cabell Hall, and the academic procession was born.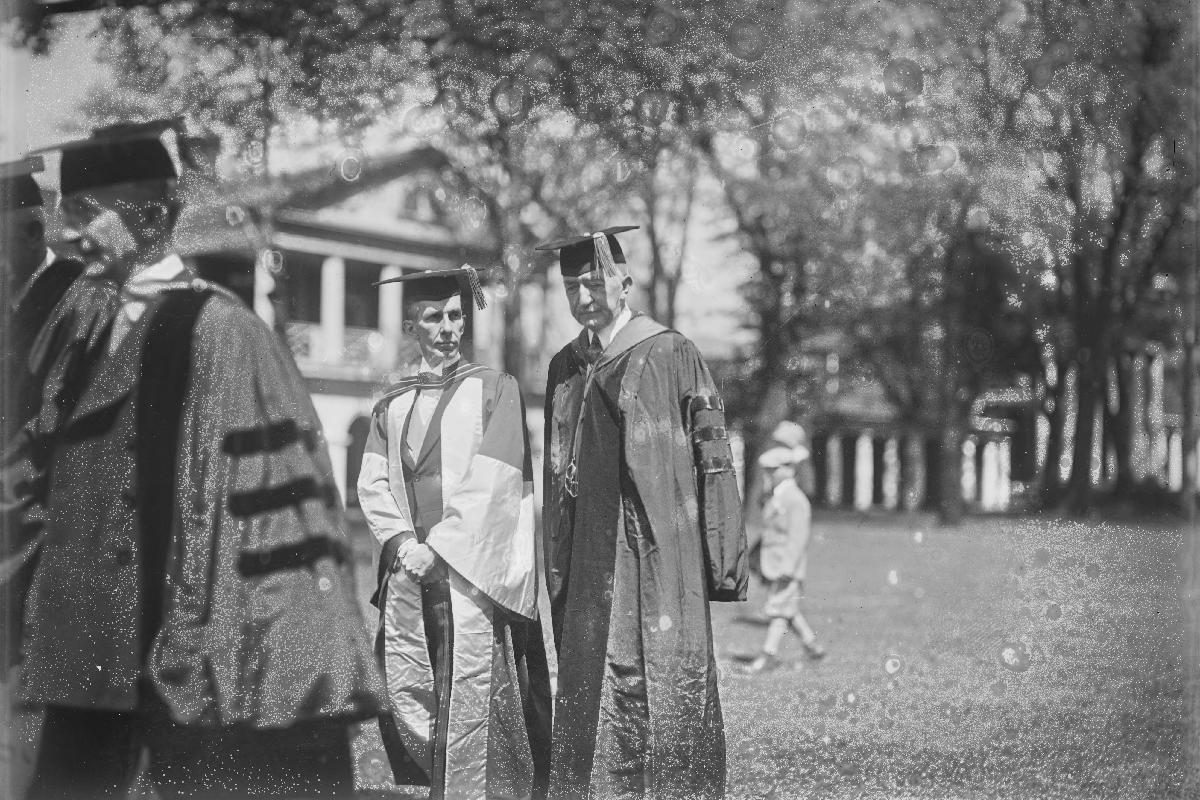 In 1911, Alderman's advice to the class was to exercise sympathy:
"Sympathy is the master word of democracy. Kings and despots know fear and mercy, but sympathy is utterly beyond their reach, and the best part of a human's education to compel a man to recognize and honor the good in the man that sits beside him, whether he be high or low in this world."
2014: First and Goal – Peyton Manning
Peyton Manning passed more than anecdotes and advice during his Valediction speech.
A five-time National Football League MVP and Denver Broncos quarterback, Manning is widely considered one of the best at his position. While he proved he's also good at giving speeches, he couldn't resist throwing a few footballs on the Lawn to three members of the graduating class before launching into his valediction speech.
1978: "This Is Your Democracy" – Supreme Court Justice Thurgood Marshall
Like Roosevelt before him, Thurgood Marshall was pulling double duty – seeing his son, Thurgood Marshall Jr., graduate from the College of Arts & Sciences and addressing the Class of 1978.
Marshall discussed how he used the law to fight for equality, and urged the graduating class to "undertake the projects of this age." He wrapped up his speech with these words:
"Listen to others but do not become a blind follower."
2009: "We Bend, But We Do Not Break" – Dawn Staley
UVA alumna Dawn Staley has an impressive resume: three-time Olympian, former WNBA player and current University of South Carolina women's basketball head coach.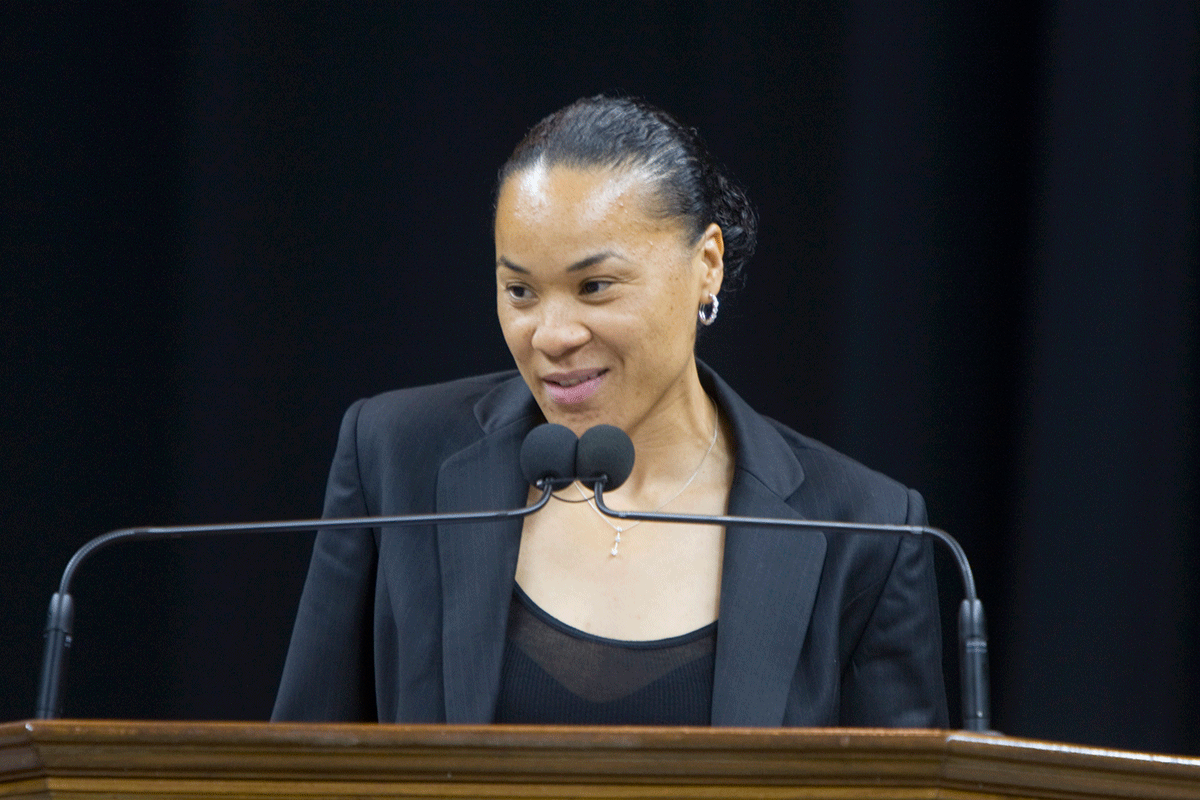 Though humble about her successes, Staley said she'd been invited to speak at several graduations but had always declined. She agreed to speak at UVA because she felt a sense of duty, and she told a personal story about coming from the projects of Philadelphia to Charlottesville. She acknowledged the tough economy the fourth-year students were graduating into, and closed with these words:
"And if you fall – and you might – get back up … because you're a Wahoo. You're educated, you're prepared and you're of strong character. We bend, but we do not break!"
1888: Presidential Jokes - Grover Cleveland
The first sitting U.S. president to address the graduating class at UVA, Grover Cleveland came to Grounds in June of 1888, only months before he'd lose his bid for a second term (though he won the popular vote). 
According to the next-day coverage in the New York Times, Cleveland arrived at 11:20 a.m. and "diplomas were delivered, degrees conferred, and the usual exercises of closing day gone through with." After the ceremony, Cleveland shook hands with "2,000 or 3,000 people," according to the Times, and was later a guest of the alumni at a luncheon held in the Rotunda. 
Cleveland kept his speech light, though he lauded Jefferson for placing politics among the subjects studied at the University. 
"I should hope that every student would want to be President, and, desiring to encourage the aspiration, I ought not to say much on the subject. I don't want to dampen their ardor by telling them too much about it," he said. 
Read the New York Times coverage of his visit. 
2013: "This Is Way More Than I Expected" - Stephen Colbert
Valediction was guaranteed to be anything but dull once comedian and late-night talk show host Stephen Colbert took the stage. He set the tone immediately by "accepting" the 2013 class gift of almost $600,000 as payment for his appearance.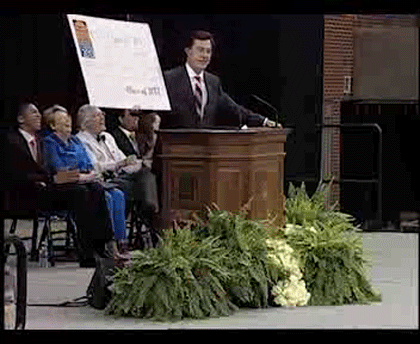 1973: Meet Your New 'Mother-In-Law' – Lady Bird Johnson
President Lyndon B. Johnson and First Lady Claudia "Lady Bird" Johnson were no strangers to UVA Daughter Lynda was married to UVA Law School alumnus Charles "Chuck" Robb (who later became governor of Virginia and then a U.S. senator), and the couple once lived in Charlottesville.
In her June 1973 address to UVA's graduating class, less than six months after her husband's death, the former First Lady expressed her gratitude for the UVA community's kindness in the wake of his passing. Referring to herself as mother-in-law of the Class of 1973, Johnson offered some motherly advice:
"If we are to build anything enduring, we must always build on concern for the individual."
1981: Why Can't We Be Friends? – Vice President George Bush
George H.W. Bush was fresh from his first inauguration as Ronald Reagan's vice president when he gave the commencement address at UVA Like many politicians before him, Bush used his speech to talk about the current political climate. He also lamented the lack of civility in public debate, pointing out that adherence to dogma isn't a Jeffersonian principle.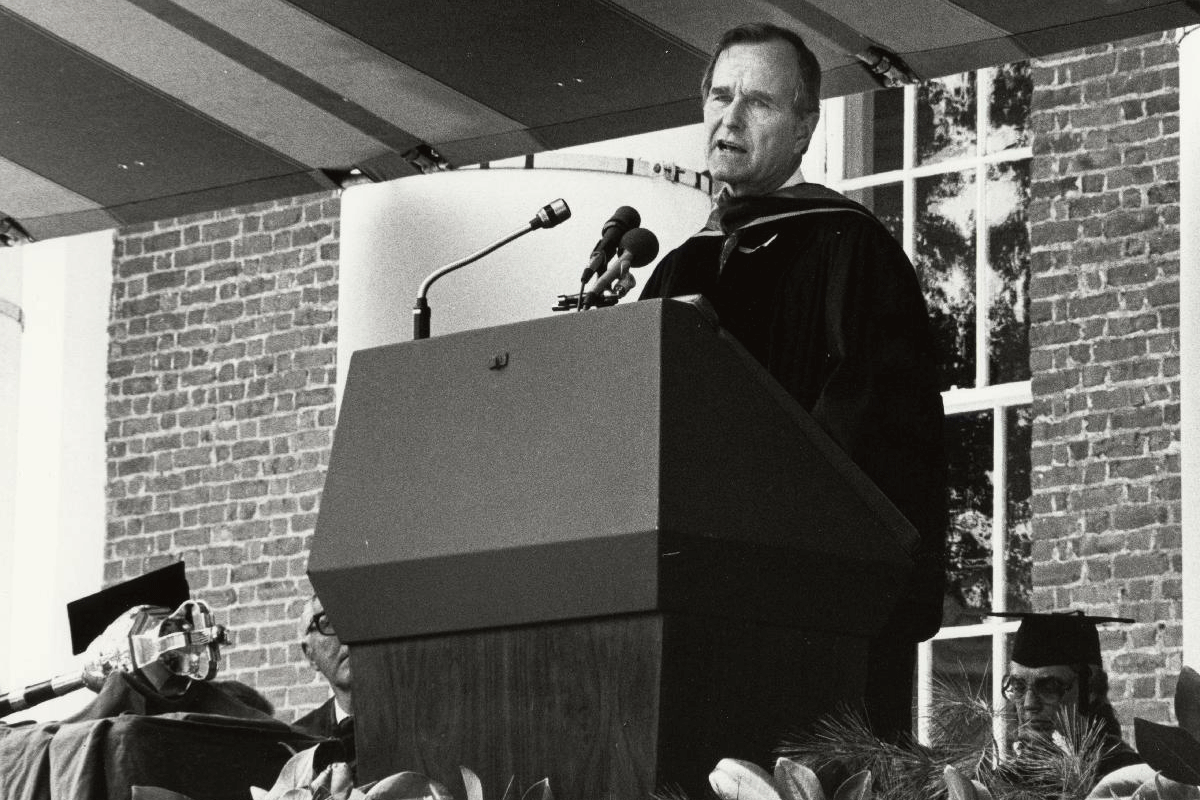 "Jefferson, as I say, rejected dogma. He didn't abide the notion that any single faction, party or philosophy has a monopoly on truth and right."
Bush also gave a special shout-out to UVA's Miller Center.
"Although it's only five years old, I can tell you that the Miller Center has already gained the respect of decision-makers in Washington and promises to have a profound impact on the future conduct of public affairs in our nation's capital," he said. Years later, after his own presidency, Bush would help record a welcome message for the center.
2008: Would TJ Win Today? - Sheila C. Johnson
As the first reported black female billionaire, Sheila C. Johnson, who co-founded Black Entertainment Television, is known mostly for her entrepreneurial skills.
However, she used a good portion of her valediction speech to review the state of politics in the U.S. and the government the graduates would be inheriting.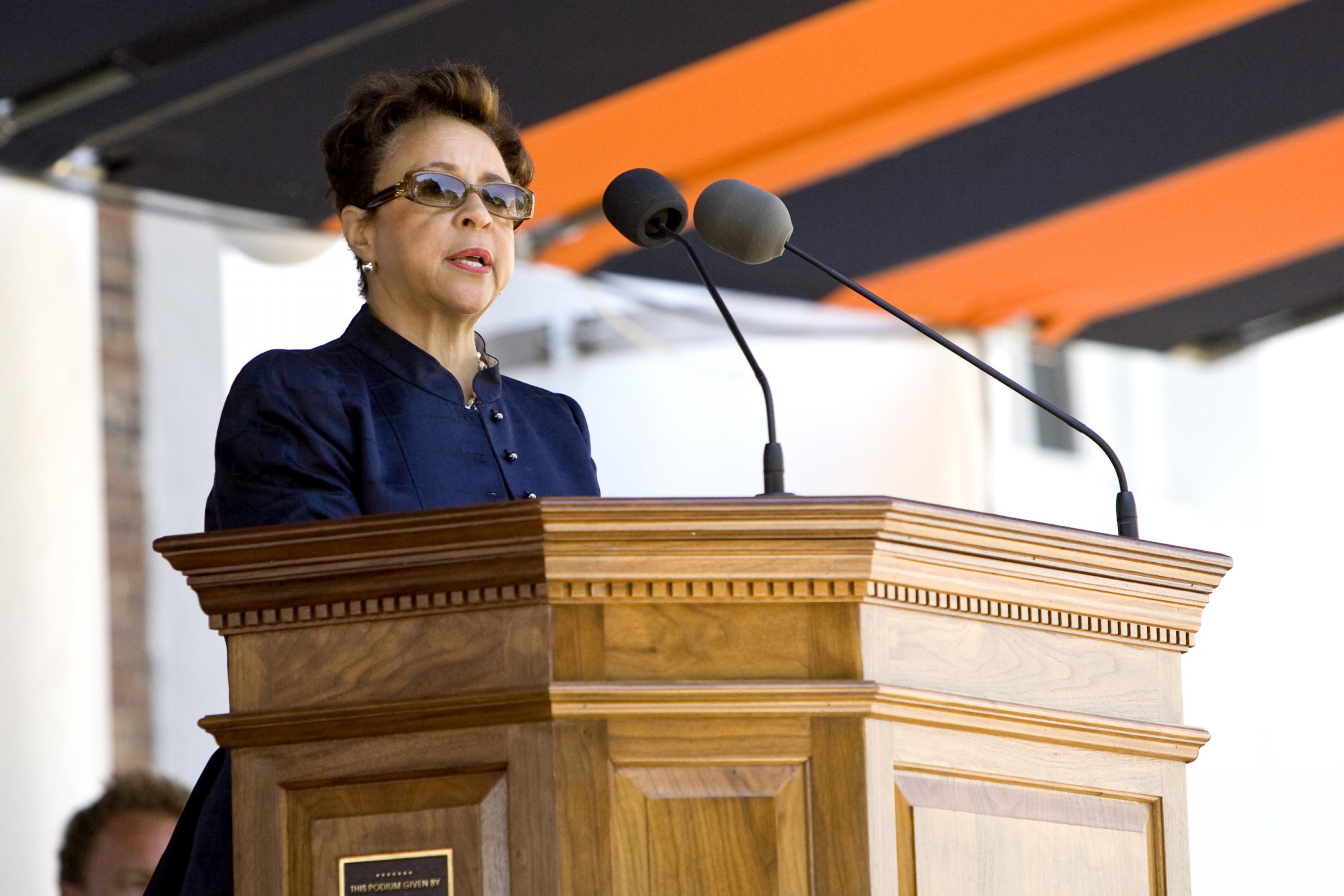 She asked the class to think about what would happen if UVA founder Thomas Jefferson were running for president in modern times.
"What if Thomas Jefferson were running for president today? What if one of the most brilliant, important and influential political leaders in history wanted to be President of the United States in 2008? Could he win? Or more importantly, would we let him win?"
1876: Emerson Brings the Heat – Ralph Waldo Emerson
Ralph Waldo Emerson was a preacher, poet and essayist. One of the leaders of the Transcendentalist Movement, Emerson was nearing the end of his life when he was invited to give the commencement address at UVA.
"Emerson's Visit to the University in 1876," an entry in UVA's Alumni News, chronicled his arrival on Grounds and the subsequent speech. That account quotes Dr. David M. R. Culbreth as recalling the event as "undoubtedly the great drawing card of This Commencement."
Unfortunately for Emerson, commencement day was sweltering, and he struggled to get through his speech.
"In spite of the intense heat, the Public Hall that night was packed to overflowing with young and old .... all in perfect resignation to bodily discomfort in view of what was in store," Culbreth wrote. 
The account also details some poor behavior by attendees, who talked and milled about during the speech, though it notes that Emerson took it well. 
"'Emerson, as far as is known, never spoke of any discourtesy and always protested how much he enjoyed his visit.'"
2012: Wahoowa! – Katie Couric
Katie Couric's 2012 valedictory speech was a long time coming – 33 years after she graduated from the College of Arts & Sciences, as she pointed out. During the speech, she recalled past speakers, shared personal and professional experiences and encouraged the class to be strong and resilient. But before all of that, she kicked things off with some familiar language for fellow 'Hoos.
Media Contact
Associate Vice President for Communications and Executive Editor, UVA Today Office of University Communications
cmm9vg@virginia.edu 434-924-3938
Article Information
May 13, 2015
https://news.virginia.edu/content/12-memorable-moments-uva-final-exercises-history