On days when the Lawn is quiet, it's not hard to imagine that you're stepping back to the early 19th century as you stroll through the architecture of University of Virginia's famed Academical Village. But behind the scenes, the methods that UVA is using to record and preserve Thomas Jefferson's design are downright futuristic.
Since 2011, UVA Library information visualization specialist Will Rourk has been using 3-D scanning tools to systematically map the design and construction of the University.
"Once they're set up in the area we want to capture, our scanning devices shoot a laser beam out and every surface that the laser beam hits creates a mapped point in space," Rourk said. "We're able to capture whole environments, buildings, monuments, artifacts and more, and generate precise, measured data for each."
The laser scanner is able to take numerous exact measurements in a way that would be impossible to replicate by hand. Once a 3-D record is complete, architects and preservationists can return to it and determine the exact dimensions of every feature that was scanned. This is extremely valuable information, both for the academic record and for all current and future restoration projects.
To find out more about Rourk's process and how it's being used, UVA Today followed him through his latest scanning project at Garrett Hall, once the University's first dining hall and now home to the Frank Batten School of Leadership and Public Policy.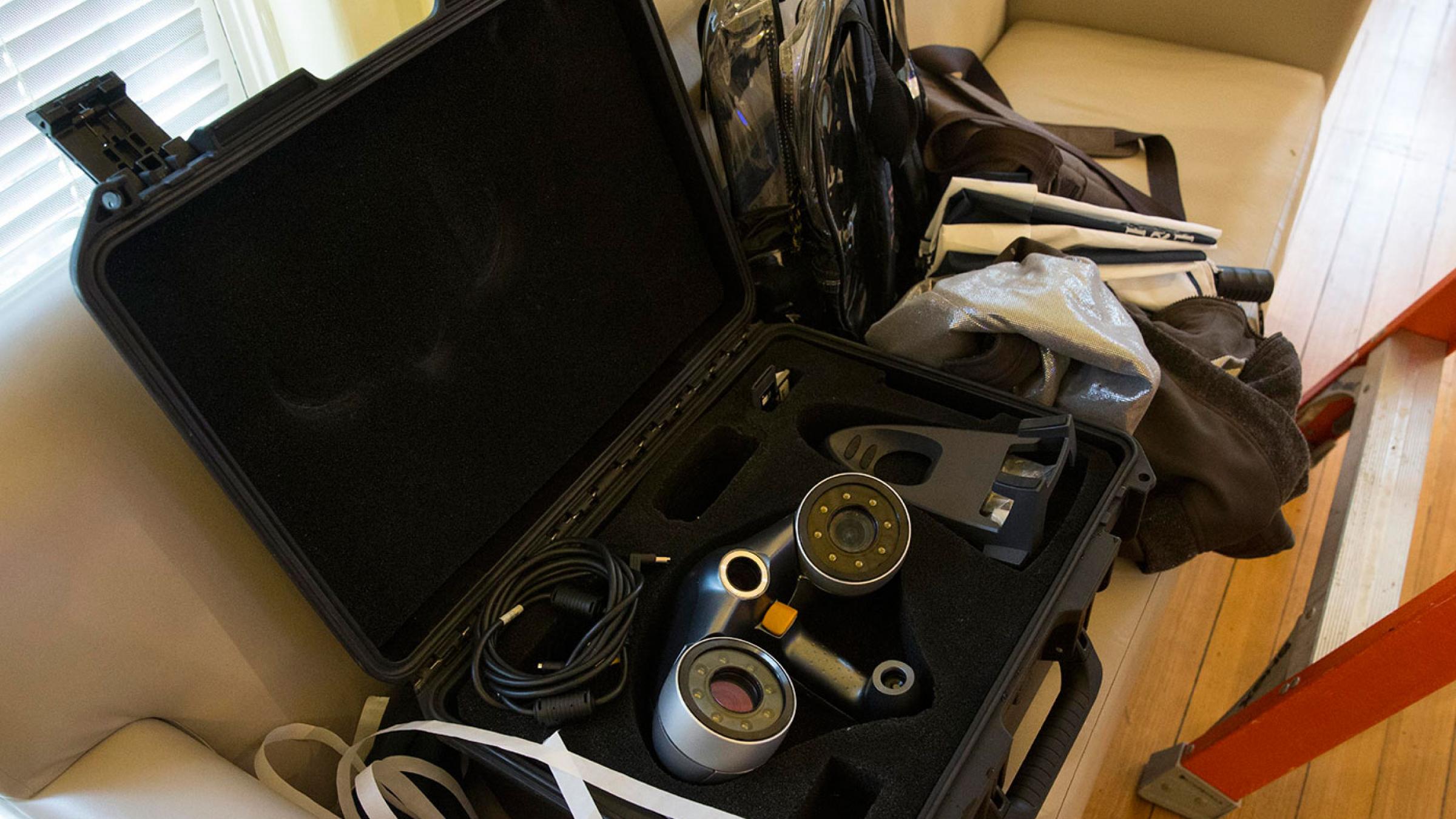 "What we did in Garrett Hall at first focused on one particular detail at a higher resolution, but we have different scales of devices," Rourk said. 
Rourk is based in the UVA Library's Digital Media Lab, with fellow information visualization specialist Arin Bennett, and they frequently work as a team. For Garrett Hall, they first used the handheld scanner to capture the intricate molding details in the ceiling coffers of Garrett's Deloitte Foundation Study Lounge.
Although it has been renovated multiple times since it was constructed in 1909, Garrett Hall still bears many of the original elements designed by architect Stanford White's firm McKim, Mead and White. The intricate crown molding in the study lounge and Garrett's Great Hall are signature elements of the lauded architectural firm that was also responsible for the reconstruction of the Rotunda and the design of Old Cabell, Rouss and Cocke halls.
(Photos by Dan Addison)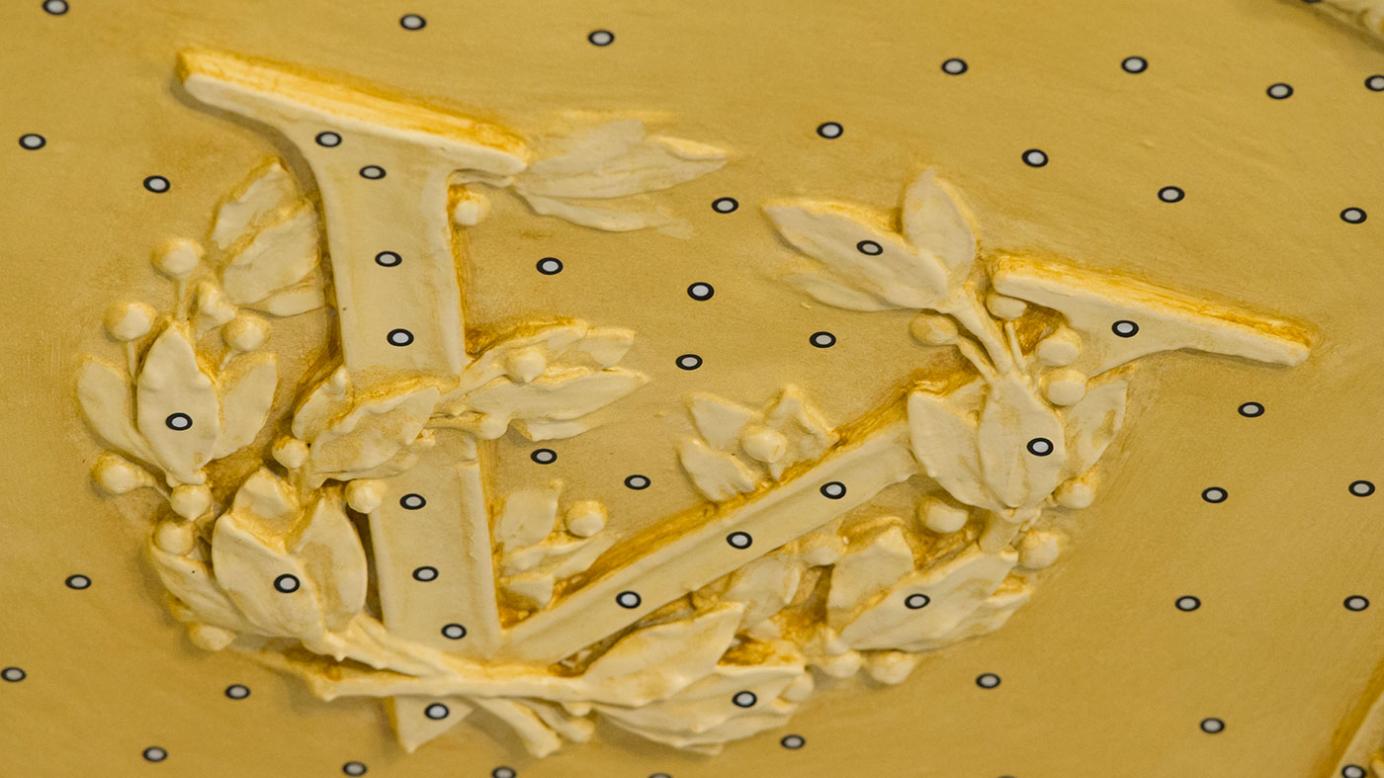 Before he begins scanning, Rourk marks the molding with special adhesive dots that will help guide the laser to key points in the design.
"It's a shift from using hand-gathered data to using tools that have built-in quantification or metrology," said Jama Coartney, the head of the Digital Media Lab. "The device itself is making that distinction of measurements as opposed to relying on an input of measurements taken by people." Coartney led the charge in 2011 to obtain new grants to cover the cost of advanced scanning equipment for the University.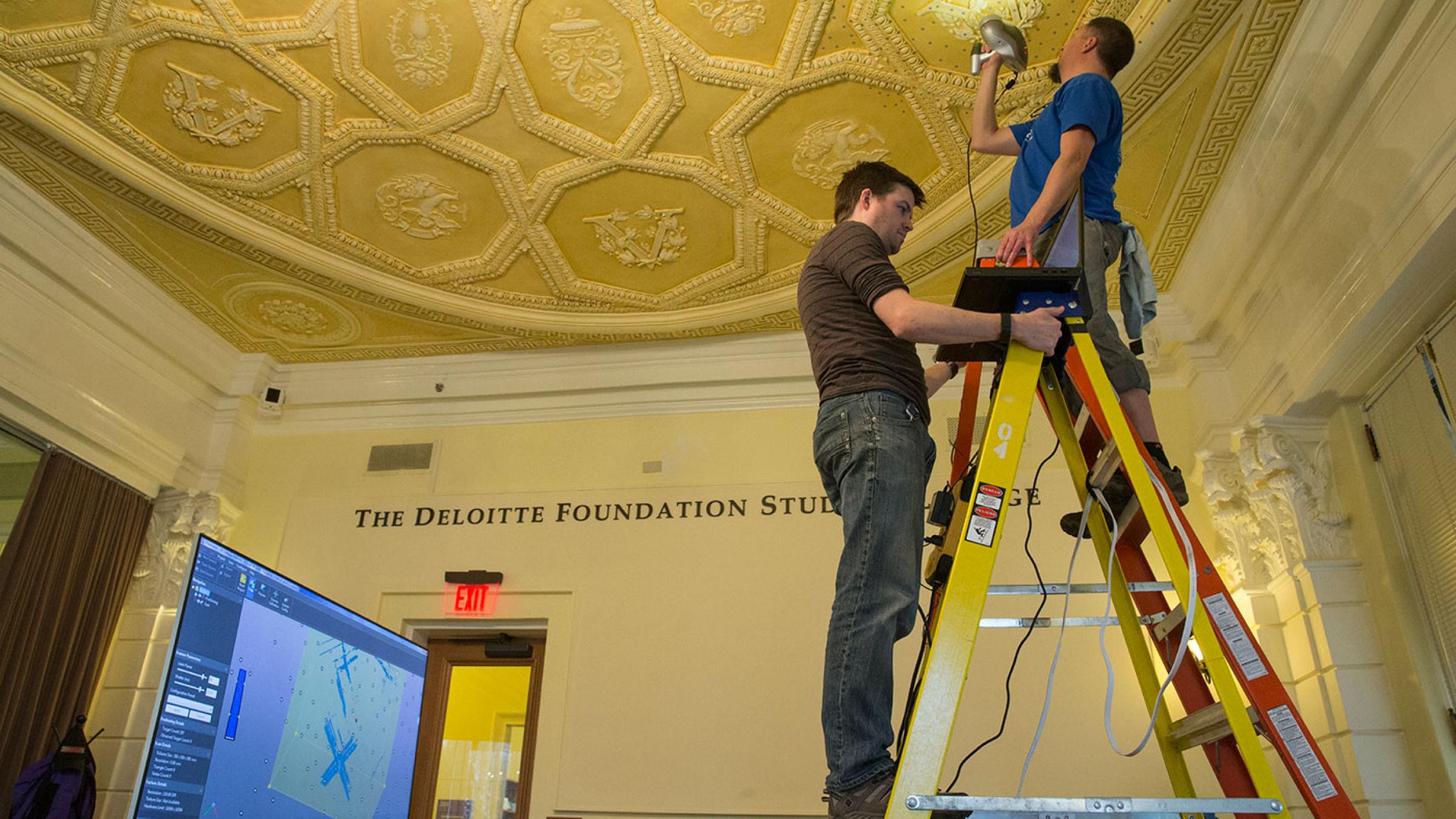 As a UNESCO World Heritage site, the 3-D record of UVA's architecture is important not only for the scholarly record and standard repairs, but also as a failsafe in the event that some portion of the school ever fell victim to catastrophe.
"When the Rotunda burned down, the only way that they could gather the information to recreate it was to sift through the rubble. Jefferson's drawings weren't that accurate and there were only a couple," said Mark Kutney, UVA's architectural conservator. "If you have a three-dimensional scan, you have an extremely accurate and huge amount of data. That's very valuable for a World Heritage site, because in the event that any part of it was lost, all the information is there to replicate it."
Rourk often works directly with Facilities Management and the Office of the Architect to capture each stage of construction as University buildings are renovated or repaired. He can use his scanners to capture both interior and exterior data. This allows University architects and maintenance crews to keep the original design of the oldest buildings intact as they make modern updates.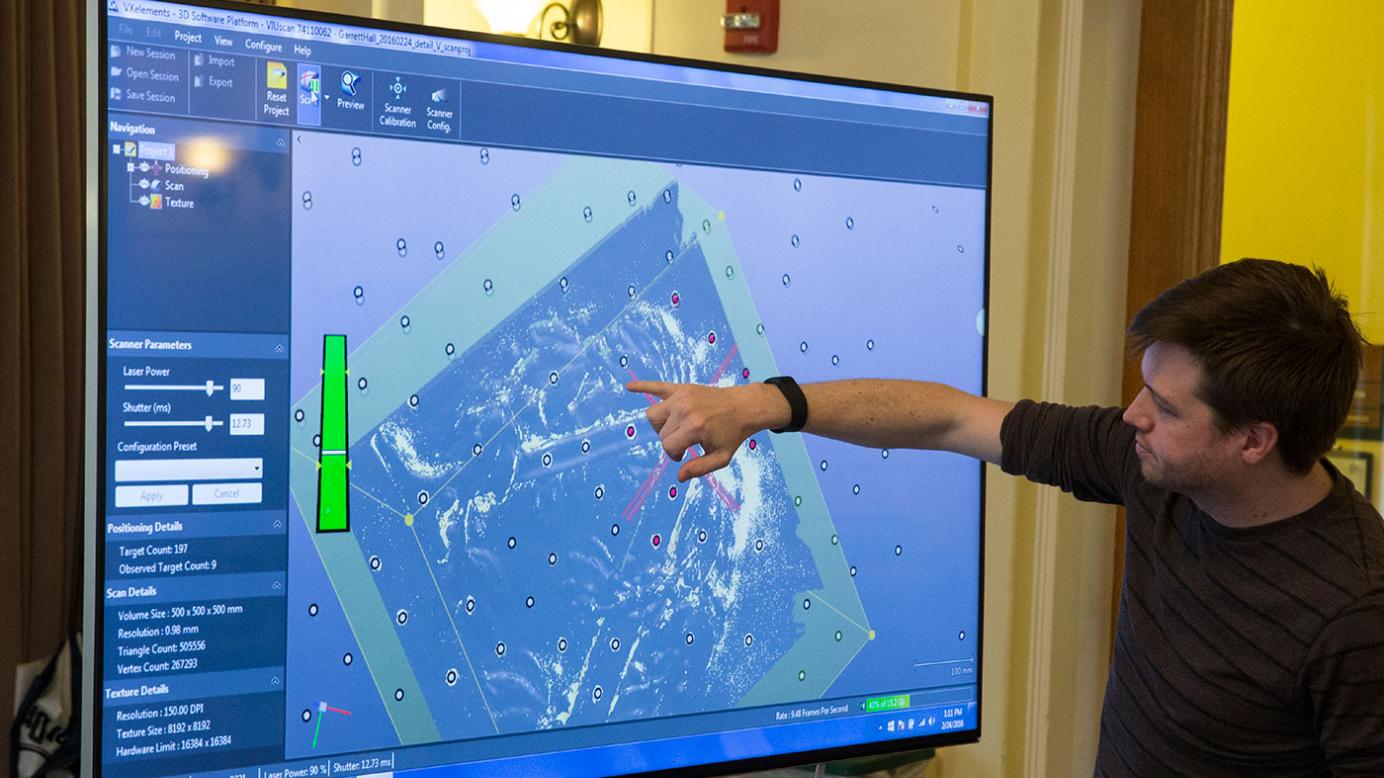 The University recently joined with a number of other World Heritage sites in making their scan data more accessible through the non-profit preservation organization Cyark. Cyark is a free 3-D digital library committed to the protection of global cultural heritage sites and making them more accessible for research and teaching.
Through Cyark, researchers who cannot travel to Charlottesville are still able to examine the University's architecture in detail. As Bennett points out in the scan of the crown molding, this technology meticulously depicts each aspect of the architecture and can replicate it on a computer screen.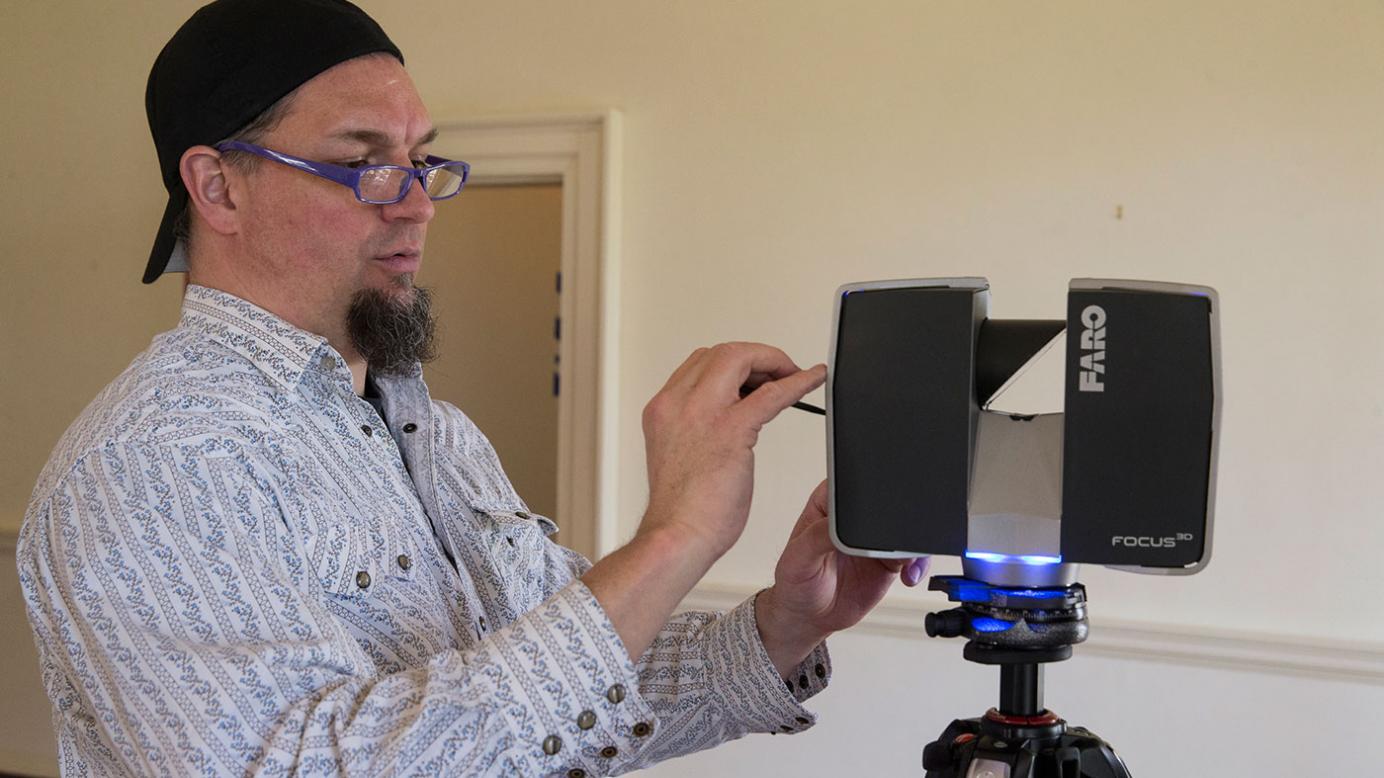 When viewed on-screen, the images created by Rourk's free-standing, full-room scanner are so detailed that it's almost hard to distinguish them from the real thing. Distant researchers may get the feeling that they've stepped inside Garrett Hall.
"It's not our primary intention to capture data for future digital tours, but it's certainly something that might be possible in the future," Rourk said.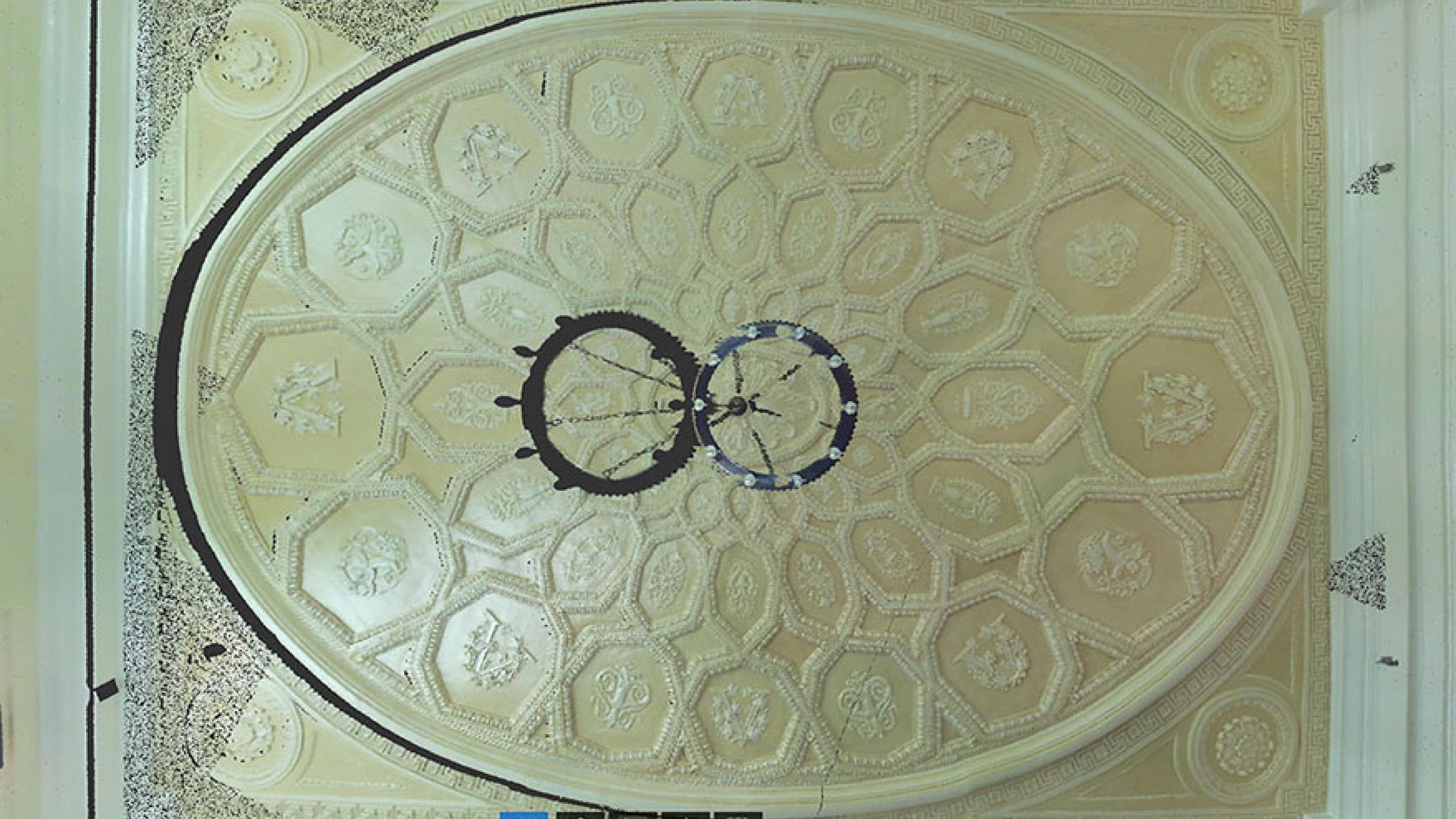 While the focus of scanning remains on preservation, the Digital Media Lab has begun looking at options for incorporating the scans into virtual reality headset software for teaching purposes.
Bennett has already taught some virtual reality creation to students in emeritus professor Phyllis Leffler's course, "History, Museums and Interpretation." He and Rourk believe there is potential to incorporate real scans of UVA architecture into similar virtual reality projects with architecture students.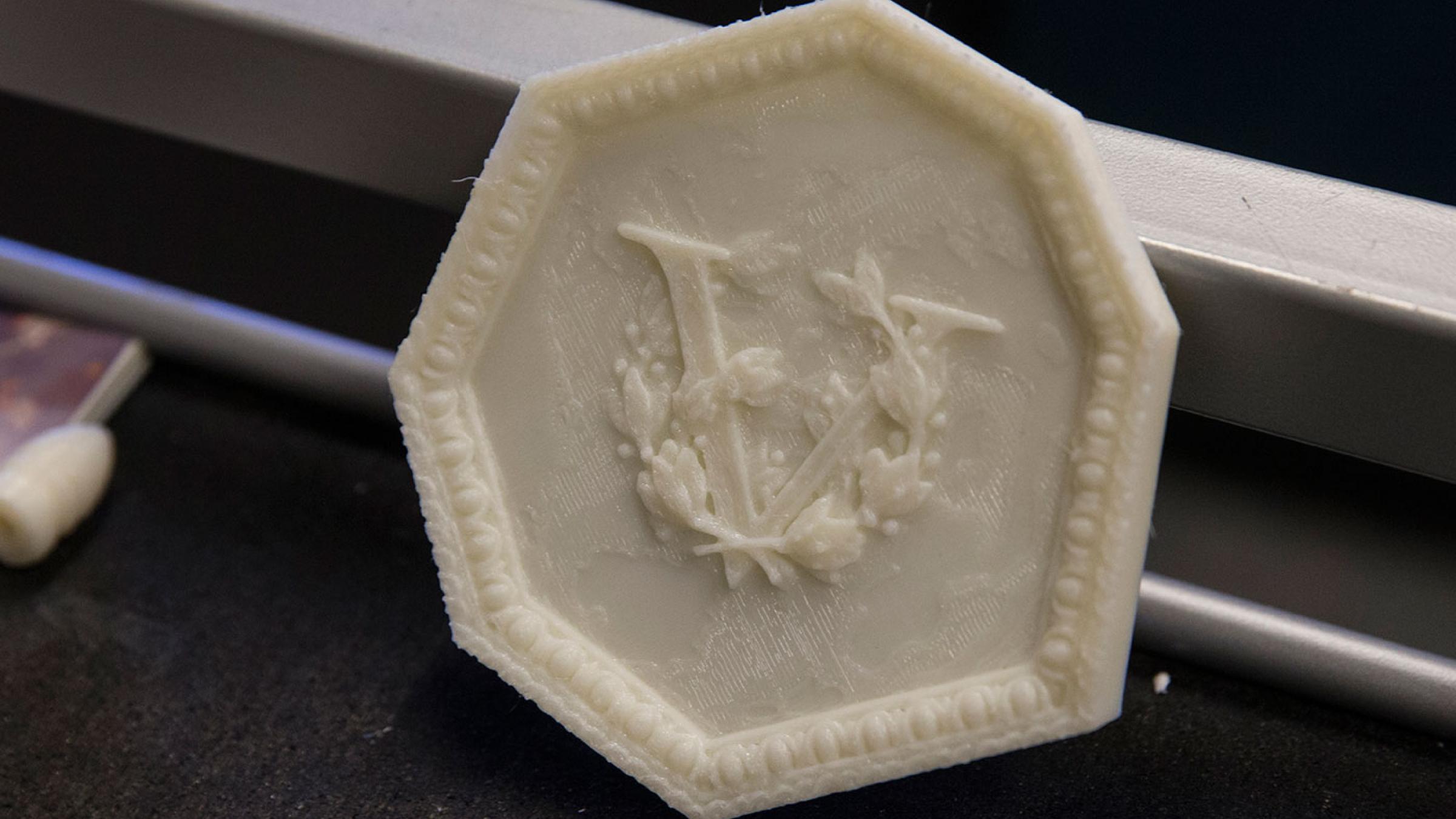 As the University explores all of the preservation and teaching possibilities with 3-D scanning, Rourk is already using it to do some replications on a small scale. With Garrett Hall, he was able to use his scanned images to print a 3-D model of one of the ceiling coffer details. He's also done this with the "Winged Aviator" statue outside Clemons Library and with parts of the Rotunda as it's being restored.
"What we're gathering is the essence of primary source data. It captures the reality of an environment. There's no trick," Rourk said. "It's just going out and finding the true measurement between here and there at every scale."