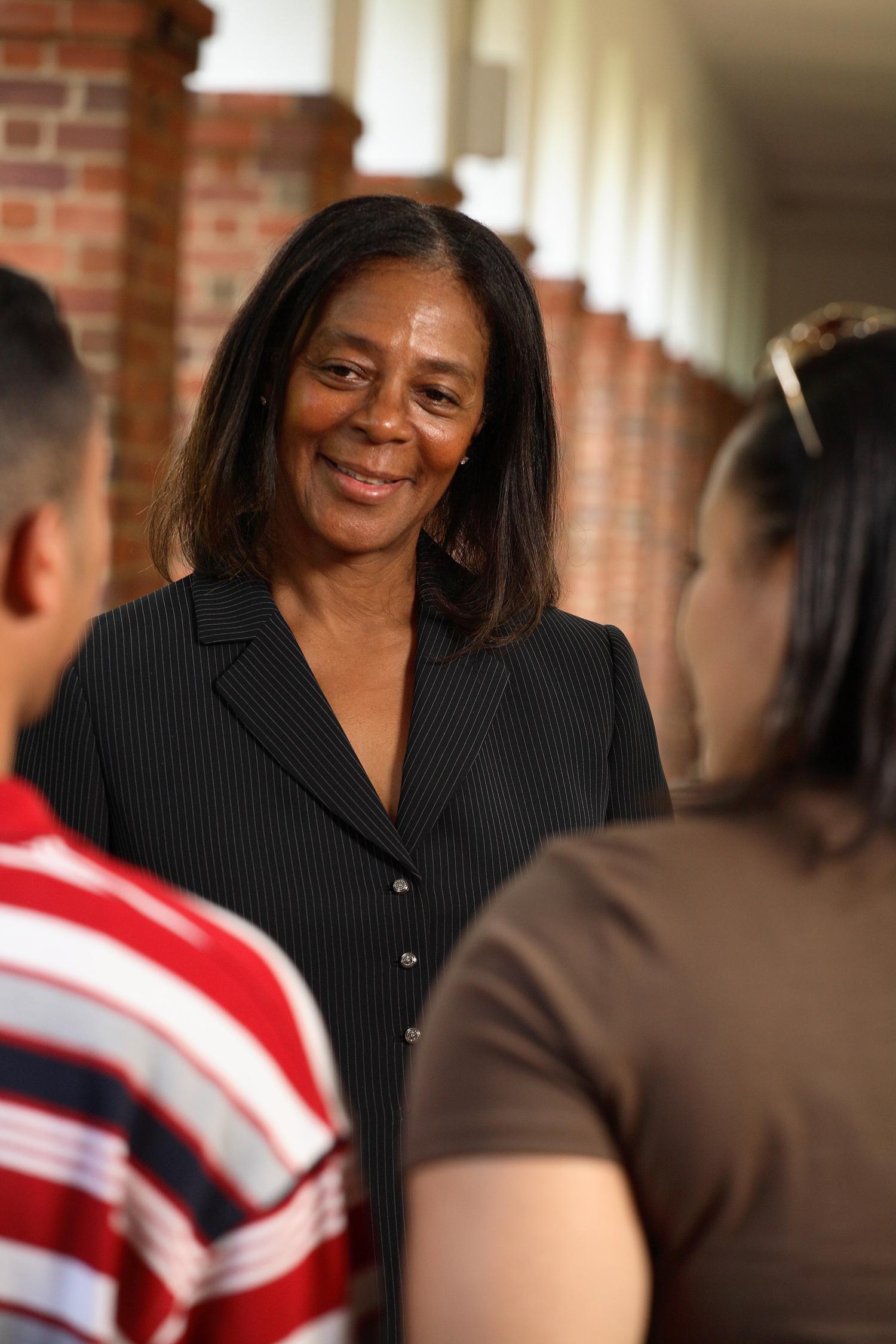 June 21, 2007 -- The University of Virginia's Office for Diversity and Equity and School of Engineering and Applied Science will lead a cooperative program among eight colleges and universities throughout Virginia and North Carolina that will focus on increasing the number of students from underrepresented groups who pursue degrees in science, technology, engineering and mathematics.
Supported by a five-year, $5 million grant from the National Science Foundation's Louis Stokes Alliances for Minority Participation (LSAMP) Program, the initiative, termed VA-NC AMP, comprises state universities and historically black colleges and universities. In addition to the University of Virginia, the coalition includes Virginia's  George Mason University, Virginia Commonwealth University and Virginia Tech and North Carolina's Bennett College for Women in Greensboro, Elizabeth City State University, Johnson C. Smith University in Charlotte and St. Augustine's College in Raleigh.
The initiative's primary goal is to double the average number of students from underrepresented minority populations graduating from the alliance schools with degrees in science, technology, engineering and mathematics, the so-called "STEM" fields — raising the number of these graduates from 525 to 1,050. The grant will enable the schools to focus on recruitment, retention and enhancement activities by sharing best practices in learning and research and coordinating enrichment activities for faculty and students. Upon successful completion and evaluation of the program, the alliance will be eligible for a second five-year phase targeting graduate students.
U.Va.'s Office for Diversity and Equity and School of Engineering and Applied Science joined forces in creating the alliance. The leadership team overseeing the program consists of William B. Harvey, vice president and chief officer for diversity and equity; Dr. Marcus Martin, associate vice president for diversity and equity and assistant dean in the School of Medicine; Carolyn Vallas, director of the Engineering School's Center for Diversity in Engineering; and Nicholas Garber, Henry L. Kinnier Professor of Civil Engineering. Each of the other schools has a campus coordinator and advisory group involved in planning, assisting with and implementing program activities.
"The University of Virginia Engineering School has a deep commitment to encouraging diversity in the field of engineering, and we are delighted to be able to join with other universities in this effort," said James H. Aylor, dean of the Engineering School.
Underrepresented groups vary from region to region; the VA-NC AMP will specifically aim to reach African-Americans, Hispanic Americans and Native Americans. Demographic data from the alliance institutions show that of almost 4,500 STEM degrees conferred from 2001 to 2005, 10 percent went to African-Americans, 2.4 percent to Hispanic Americans and 0.2 percent to Native Americans.
In North Carolina, 21.6 percent of the population is African-American, 4.7 percent is Hispanic, and 1.2 percent is Native American. In Virginia, the percentage of Hispanic Americans is the same, and the African-American population is comparable, at 19.6 percent. A smaller percentage is identified as Native American, 0.3 percent.
"There is an interest in and increasing concern about the number and competitiveness of STEM professionals in the United States," said Harvey, who will chair the VA-NC AMP governing board. "We hope this effort will demonstrate that students from underserved communities can help increase the human capital in this crucial area."
Beyond increased recruitment efforts, alliance institutions will also offer a summer transition program for new college students. The students will have opportunities to participate in alliance-sponsored activities, including research experiences, internships and externships, and faculty or peer mentoring. Some schools will offer distance-learning courses that will expand academic offerings at minimal cost. In addition, the alliance will organize faculty development seminars and student research workshops and colloquia.
Vallas is enthusiastic about the alliance's potential. "The synergy developed by faculty and students from alliance partners studying and researching together is projected to result in advances in discovery and understanding, while promoting teaching, training and learning in the STEM fields," she said.
Increasing the number of minority students who earn doctorates and become professionals in STEM fields is the program's top long-term goal, according to A. James Hicks, LSAMP's program director. Started in 1991 by a Congressional mandate, the program has created 35 similar alliances across the nation with more than 475 participating campuses and more than 250,000 graduates in STEM fields.
"We're having a significant impact, but we're not finished yet," said Hicks, who welcomed U.Va. and the other schools. In addition to the VA-NC AMP, two other alliances were created this year, one in upstate New York and one in Minnesota.
U.Va. Contacts:
William Harvey, (434) 243-2079,
billharvey@virginia.edu
Dr. Marcus Martin, (434) 243-2079,
marcusm@virginia.edu
Engineering Dean James H. Aylor, (434) 924-3593
Carolyn Vallas, (434) 924-0618,
carolyn.vallas@virginia.edu
A. James Hicks, LSAMP Program Director, National Science Foundation, (703) 292-4668,
ahicks@nsf.gov
VA-NC ALLIANCE FOR MINORITY PARTICIPATION

University of Virginia — the School of Engineering and Applied Science opened in 1836, making it the nation's oldest engineering school within a university; U.Va. has the highest six-year graduation rate for African Americans among public universities
George Mason University — became an independent state-funded institution in 1972, with an enrollment now of more than 30,000 students; has a separate College of Science and the Volgenau School of Information Technology and Engineering
Contact: Office of the Associate Dean for Undergraduate Studies,
E. Bernard White, Volgenau School
Assistant: Susan Brionez , (703) 993-1511,
sbrionez@gmu.edu
Virginia Commonwealth University — an urban university with two campuses in Richmond; established an engineering school in 1996 and School of Life Sciences in 2000
Contact: School of Engineering, Dean's Office of Student Support Services,
Jennifer C. Rivers
Coordinator of the Office of Student Services
E-mail:
jcrivers@vcu.edu
Phone: (804) 827-7009
Virginia Tech — a land-grant college that has grown into a research university with the largest student population in a state school; has facilities across the commonwealth and in Europe; Va. Tech is part of the Mid-Eastern AMP
Contact: Nini Smiley Barber, campus coordinator,
nsmiley@vt.edu
Karen Eley Sanders, institutional principal investigator,
kesanders@vt.edu
Bennett College for Women, Greensboro, NC — one of two private, historically black colleges for women in the country
Contact: Susan Curtis, campus coordinator/faculty liaison,
scurtis@bennett.edu
,_336-517-2299
Elizabeth City State University —Elizabeth City is part of the University of North Carolina system
Contact: Dr. Ali A. Khan, program coordinator, (252) 335-3242,
aakhan@mail.ecsu.edu
Johnson C. Smith University, Charlotte, NC — located in one of the fastest growing areas of the country, JCSU was one of three schools elected to the consortium of Oak Ridge Associated Universities in 2003
Contact project leaders: Baldeo Chopra, Professor of Biology
bkchopra@jcsu.edu
, (704) 378-1092
Sunil Gupta, Assistant Professor
sgupta@jcsu.edu
(704) 378-1154
Director of Public Relations:_Benny L. Smith,_(704) 378-1032,_(704) 819-1273 (for media calls only),_E-mail:
blsmith@jcsu.edu
St. Augustine's College, Raleigh, NC — a small, historically black, coeducational liberal arts institution, originally founded in 1867 by Episcopalian clergy for the education of freed slaves
Dr. Gloria E. Payne, assistant provost for research and sponsored programs, program coordinator, (919) 516-4151,
gpayne@st-aug.edu
Dr. Kenneth Jones, chairman of the Division of Natural Sciences and Mathematics, co-principal investigator,
kljones@st-aug.edu