Six teams of University of Virginia students, pitching business ventures as varied as cybersecurity services and a beach basketball game, will vie for the $50,000 Pike Award for Innovation and Entrepreneurship.
Beginning at 5 p.m. Monday in Newcomb Hall Theater, students will pitch their proposals to a panel of business leaders and investors, as well as a live audience. While the judges determine the winner of the $50,000 grand prize, audience members will cast votes to award a "people's choice" prize of $10,000.
The Pike Engineering Entrepreneurship Fellows Program provides funding, networking and mentoring for students pursuing early-stage entrepreneurial projects that are based on developing or commercializing some form of novel technology.
Eric Pike, chair and CEO of Pike Corporation, and his son Will, a 2016 UVA electrical engineering graduate and vice president at Pike, established the fellowship program last year as part of a $250,000 gift to the University. They wanted to create a unique program in UVA's School of Engineering and Applied Science to nurture the kind of innovative spirit that turned their family business into a leading service provider to electric and gas utilities across the nation. The Department of Engineering and Society administers the fellowship program. Staff and faculty members narrow top contenders from a pool of applicants and make the final selections in consultation with Will and Eric Pike. This year, the fellowships were opened to students from other schools.
"I couldn't be prouder of this year's Pike Fellows for how quickly they have converted their ideas into products or services with real commercial potential," said W. Bernard Carlson, professor and chair of the Department of Engineering and Society. "I look forward to the showcase, when they will have the opportunity to present their work to both the judges and audience – with tens of thousands of dollars at stake. Between the anticipation of the judges' decision and the audience voting for the people's choice award, the showcase should be an exciting event demonstrating the promise and talent of UVA's student entrepreneurs."
In addition to the Pikes, the judges for this year's Innovation and Entrepreneurship Award are Clay Dunnagan, managing partner of Anchor Capital; John Nisi, a 1998 UVA systems engineering graduate, who is chief technical officer of data and artificial intelligence at the Microsoft Corporation; Mark Pinho, a 1999 graduate of the McIntire School of Commerce and managing partner of the St. Victor Group LLC; and Tom Scully, 1979 graduate of the College of Arts & Sciences and general partner at Welsh, Carson, Anderson & Stowe.
The Pikes said it was important that the program provide not just funding opportunities, but the resources and community environment to enable the students to launch their products or services. Their sponsorship builds upon UVA's existing entrepreneurial culture, which produces successes such as last year's Pike winner, Ashwin Karthikeyan, a 2018 aerospace engineering graduate and founder and CEO of InMEDBio., Karthikeyan's company produces a new type of five-layered wound care technology that could revolutionize how chronic wounds are treated in developing countries and impoverished areas around the world.
The six teams offer a variety of business models, from designing and producing outdoor gear, creating a new outdoor sport, promoting cybersecurity, creating a new application to service private loans, linking advertising to social media and social causes, and offering a new treatment for scoliosis. Here's a look at the teams competing in Monday's event.
Uball
Tim Shields, a second-year pre-commerce major, and his sister Molly Shields, a third-year neuroscience major with a bioethics minor, have a plan to take basketball to the beach and into fields with Uball. The game has a portable basket and comes with a set of rules that foregoes dribbling, allowing two steps before passing or shooting, and eliminates boundary lines. The hoop pole is adjustable from six to eight feet high and screws into the ground like a beach umbrella. The ball is slightly smaller than a regulation basketball to allow players to dunk it more easily.
"Making it at a height where you can dunk makes it more fun, but it also makes the hoop even more portable," Tim Shields said.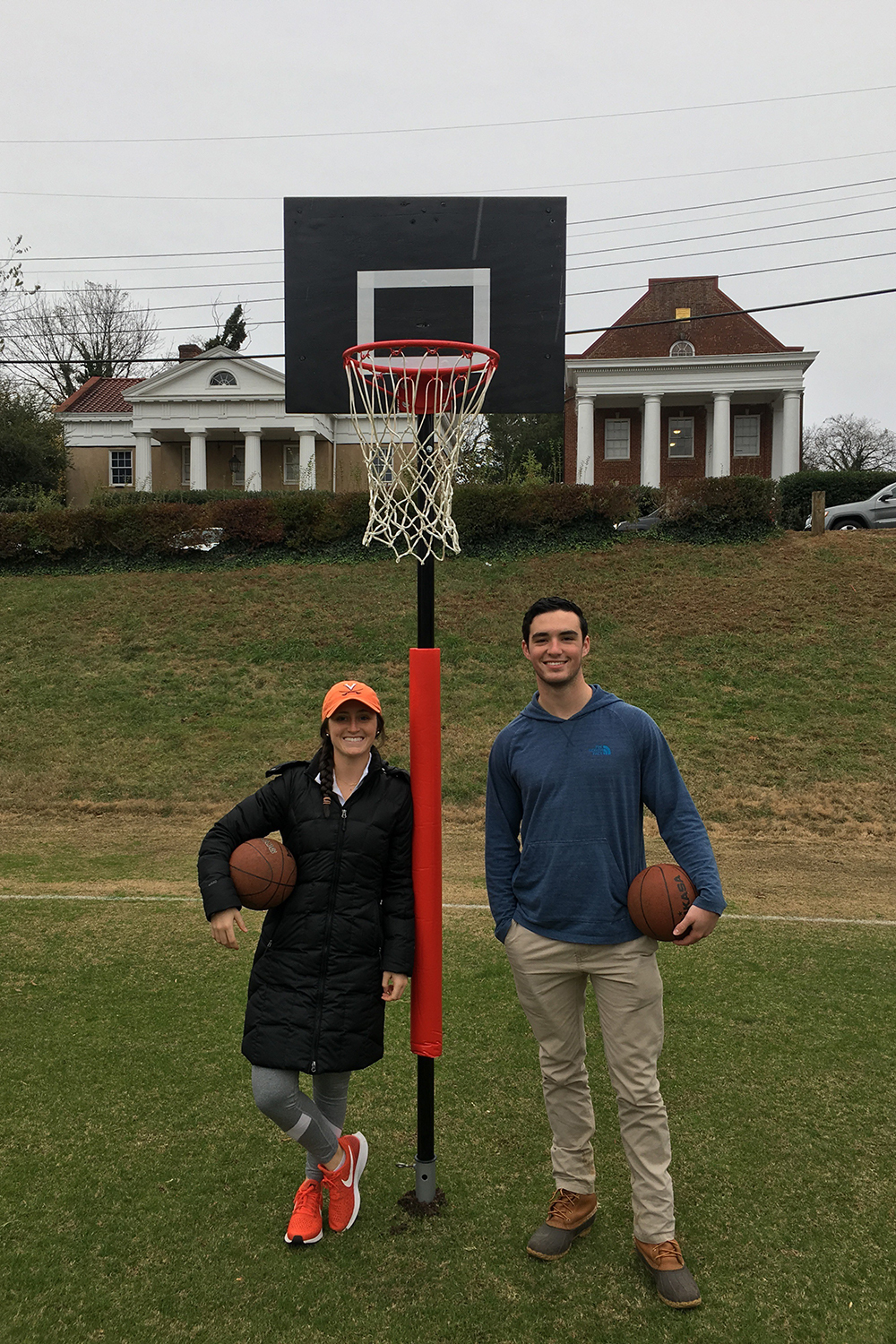 The sister-brother team of Molly Shields, left, and Tim Shields show off their creation at Madison Bowl.
The Shields see Uball taking its place among the other great amateur sports of the day.
"If you think about every other major sport, they can all be played on the go," Tim Shields said. "Football can be played anywhere as long as you have a football; same with soccer. Even baseball has a version that can be played on the go, through Wiffle ball."
Shields, who developed the game with this sister on family vacations, has been testing Uball on beaches and in fields, getting feedback from users.
"The target market for Uball is active young adults aged 12 to 25," Shields said. "We plan to market Uball by making it a 'cool' brand through social media, specifically Facebook and Instagram. These social media pages will feature highlight plays from users, as well as professionally made highlight videos with incredible quality and music that millennials relate to."
Shields said they are holding Uball tournaments this month at universities including UVA, James Madison University, Christopher Newport University and Virginia Tech.
"We will spend the summer traveling to various popular beaches to promote Uball as well," he said. "Lastly, we have begun the sale of Uball shirts, which have been incredibly popular. The shirts have been used to promote our 'Ball Anywhere' marketing campaign, where the back of the shirt has people playing basketball in exotic locations."
CHIEF
The Shields are not the only entrepreneurs whose products are meant for the outdoors. Parker Hamlin, a third-year systems engineering major with a technology entrepreneurship minor, and Conner Hutson, a third-year computer science major, are designing their own line of waterproof backpacks. Their business plan includes partnering with professional outdoor guides to raise awareness of their work in conservation and environmental preservation.
An avid outdoorsman, Hamlin was frustrated with his gear getting wet while fly fishing in Colorado. He investigated the options available on the market and was disappointed to the degree that he started designing his own backpack, seeking feedback on his designs from his friends.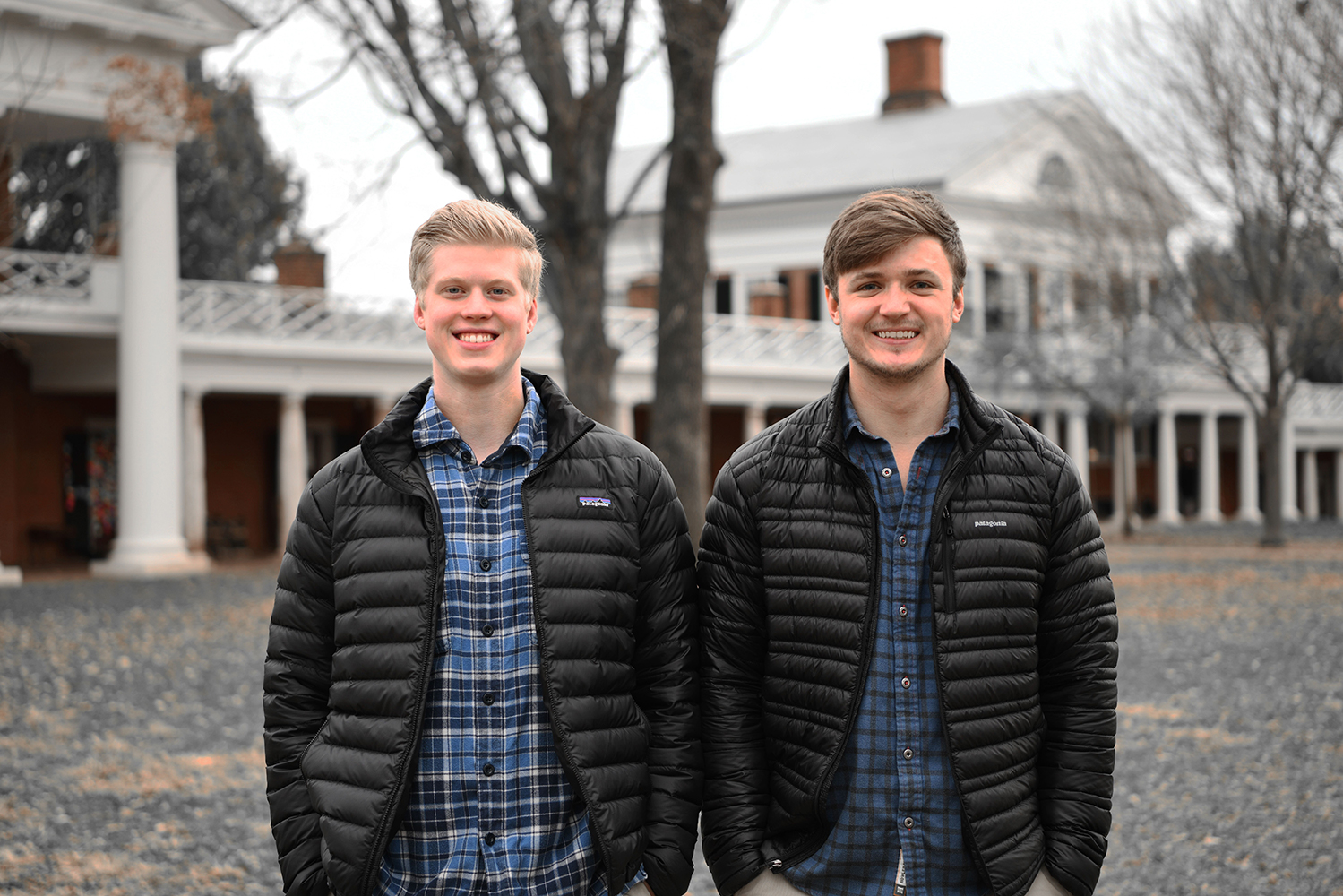 Conner Huston, left, and Parker Hamlin are developing a line of waterproof backpacks and other outdoor gear.
"Since then, we have realized that there are a number of pieces of equipment that have been largely neglected by companies over the years," Hamlin said. "With obvious changes needing to be made to gear such as a waterproof backpack, we decided to tackle the issue ourselves."
They are working on a line of products for hiking, camping and fishing, focusing on both functionality and usability, working from input provided by end-users.
"We talk to people such as guides, outdoor photographers and professional surfers," Hamlin said. "Specifically, we try to reach out to people who need gear to perform at the same level they do. Rather than spending time trying to guess what functionality someone who uses a waterproof backpack might need, we just went out and asked them. People care enough about their gear to give us incredible feedback, knowing they will benefit in the long run."
They also work specifically with professional outdoor guides because they use this type of gear daily, understand its functionality and provide insights into how the equipment can be improved. They believe that by supporting guides and photographers and others who work in the outdoors, that this will help the environment.
"The real issue is that in order to enjoy the outdoors, we must preserve the outdoors, and that means doing our part in environmental conservation," Hamlin said. "Professional guides are the first to see the change, because their jobs are directly impacted by the health of the environment. It's in their best interest to be the leaders in conservation, and since they're on the front lines of the fight, we feel that their work needs to be supported."
Hamlin and Hutson plan to launch their first product, the APEX Backpack, after they finish prototype testing.
"Since we want to ensure our mission remains the focus of our company, we plan on steering away from licensing our designs for the time being," Hamlin said. "By focusing on building out our ecommerce website and working with small independent retailers, we believe we can build our brand image in a positive light."
MetaCTF
MetaCTF creates hands-on cybersecurity training programs and interactive competitions for individuals of all ages to explore security techniques and concepts. The competitions are based on a digital version of the popular outdoor game, Capture the Flag, in which participants apply their cybersecurity skills to uncover valuable pieces of information called "flags." MetaCTF is marketing its services to schools, companies and security conferences.
The company's four-member team includes Mariah Kenny, a fourth-year computer science engineering major with a cybersecurity focus and captain of the University's national championship cyberdefense team; Marina Sanusi, a 2018 computer science graduate; and Roman Bohuk and Jake Smith, both third-year computer science majors with a cybersecurity focus.
"The cybersecurity field is a critical and fast-growing industry, yet companies are struggling to fill open positions and it is difficult to break into the field," Sanusi said. "While some classes in schools teach the concepts of cybersecurity, most do not help students apply these concepts in practice. Because of this, students need more hands-on training.
"Many of our contacts and mentors in the cybersecurity industry are self-taught and learned their skills by searching online for resources and experimenting in their free time. This raises barriers to entry because those wanting to learn cybersecurity skills have to seek out the resources themselves and determine where to start."
Sanusi said the cybersecurity competitions and challenges they create make it easy for their customers, either students or company employees, to learn new cybersecurity skills through hands-on, interactive and learning-based competitions and training modules that break down complex cybersecurity concepts into engaging tasks simulating real-world scenarios.
"Our challenges expose participants to a wide array of areas within cybersecurity, such as web exploitation, reverse engineering, cryptography and forensics," Sanusi said. "As students ourselves, we recognize the barriers of trying to acquire the cybersecurity skill set and many of the frustrations and long hours along the way.
"As we develop our content, we keep in mind the resources we wish we had when we started. By presenting the topics in a gamified setting and structuring the problems to teach new skills, we make these difficult topics more exciting and accessible to all."
Sanusi said MetaCTF is designed to help people get started in the field.
"We try to make our events accessible to everyone, regardless of skill or prior experience, and provide a learning experience, rather than stumping the participants," Sanusi said. "Also, we have developed our own platform for hosting the competitions, with features tuned to the requests from former participants. Unlike most Capture the Flag providers, who supply either the platform or the content, we provide both."
MIST
Minimally Invasive Spinal Technology LLC, or MIST, founded by fourth-year biomedical engineering students Alexander Singh and Rohit Rustagi, is developing two solutions to improve care for children suffering from scoliosis.
"The first is VAPS, a computer vision algorithm that predicts scoliosis, so that physicians can screen patients in order to do an earlier, less-invasive procedure," Singh said. "The second is the ThIRA (Thoracolumbar Interbody ReAlignment) system, which is a single-disc replacement that provides correction that is comparable to current technology on the market. The implant works through using spring-like materials, known as elastomers, to apply forces to the spine. If the spine is curved to one side, the implant can apply a force to that side opposite the curve, thereby helping the spine grow straight."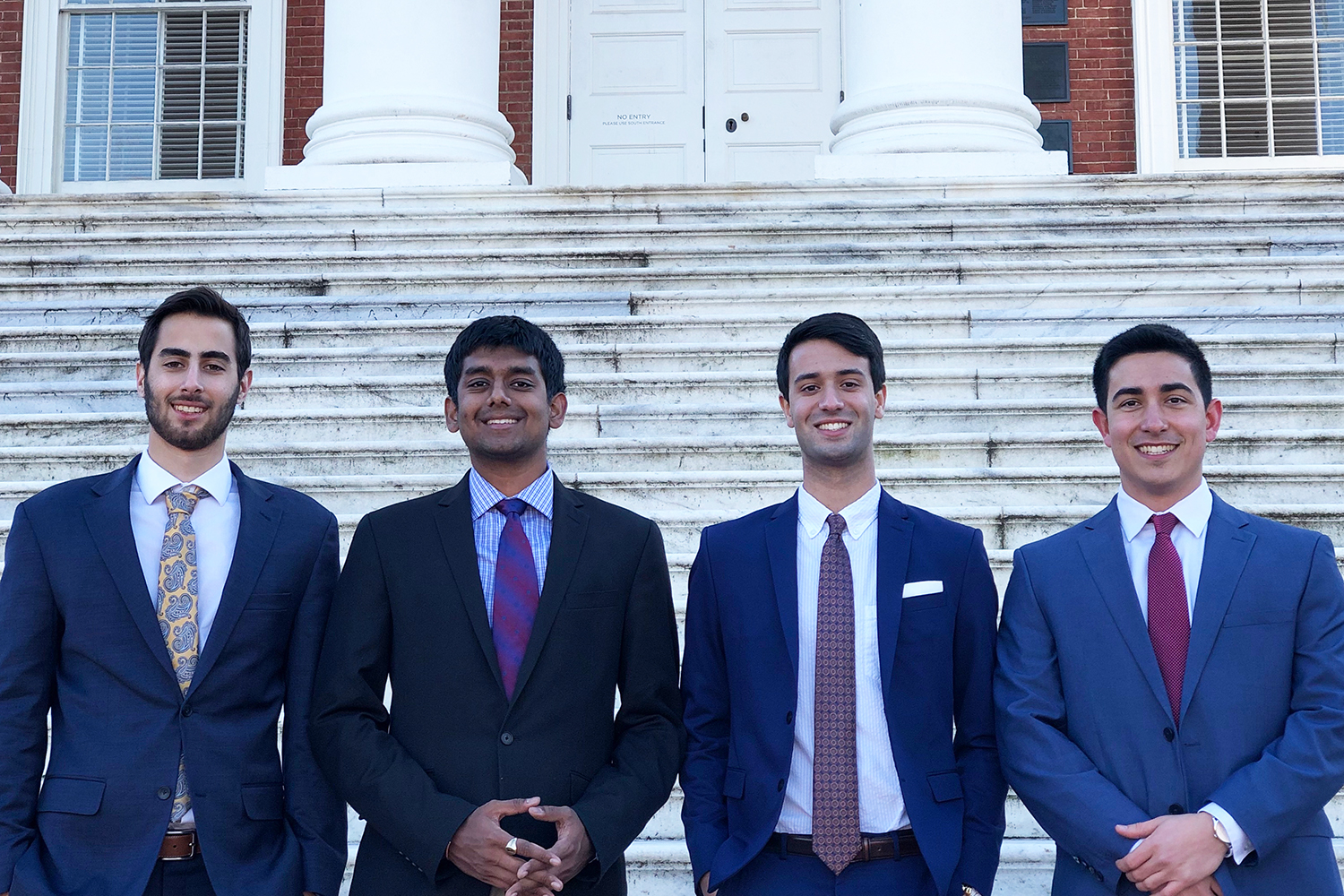 Biomedical engineering students, from left, Eric Taleghani, Rohit Rustagi, Alexander Singh and George Vithoulkas are working on technologies to diagnose and treat scoliosis.
MIST's products are still in preclinical stages, with its VAPS software demonstrating 85 percent success through a clinical study. Singh and Rustagi have already presented their research at biomedical conferences and plan to market the software in 2020 through key partners at medical centers in Virginia.
The drive behind the company is personal.
"Two years ago, in August of 2017, my younger brother actually received spinal fusion surgery for scoliosis," Singh said. "Taking note of the invasiveness of the procedure and its lengthy recovery time, among other drawbacks, I gathered a group of engineers and friends around me to solve a problem that I personally knew very well."
PurPics
Another team hopes to tap into the buying habits of a generation. Operating under the name PurPics, they offer a platform that connects Generation Z consumers (born between the mid-1990s and the early 2000s) with brand-name products while benefiting a cause.
Raahish Kalaria, a first-year computer science major; Victor Layne, a third-year commerce and finance major; and Aneesh Dhawan, a third-year economics major with an entrepreneurship minor, said major brands have difficulty connecting with Generation Z, which they characterize as distrustful of marketing, socially conscious and motivated to address global challenges.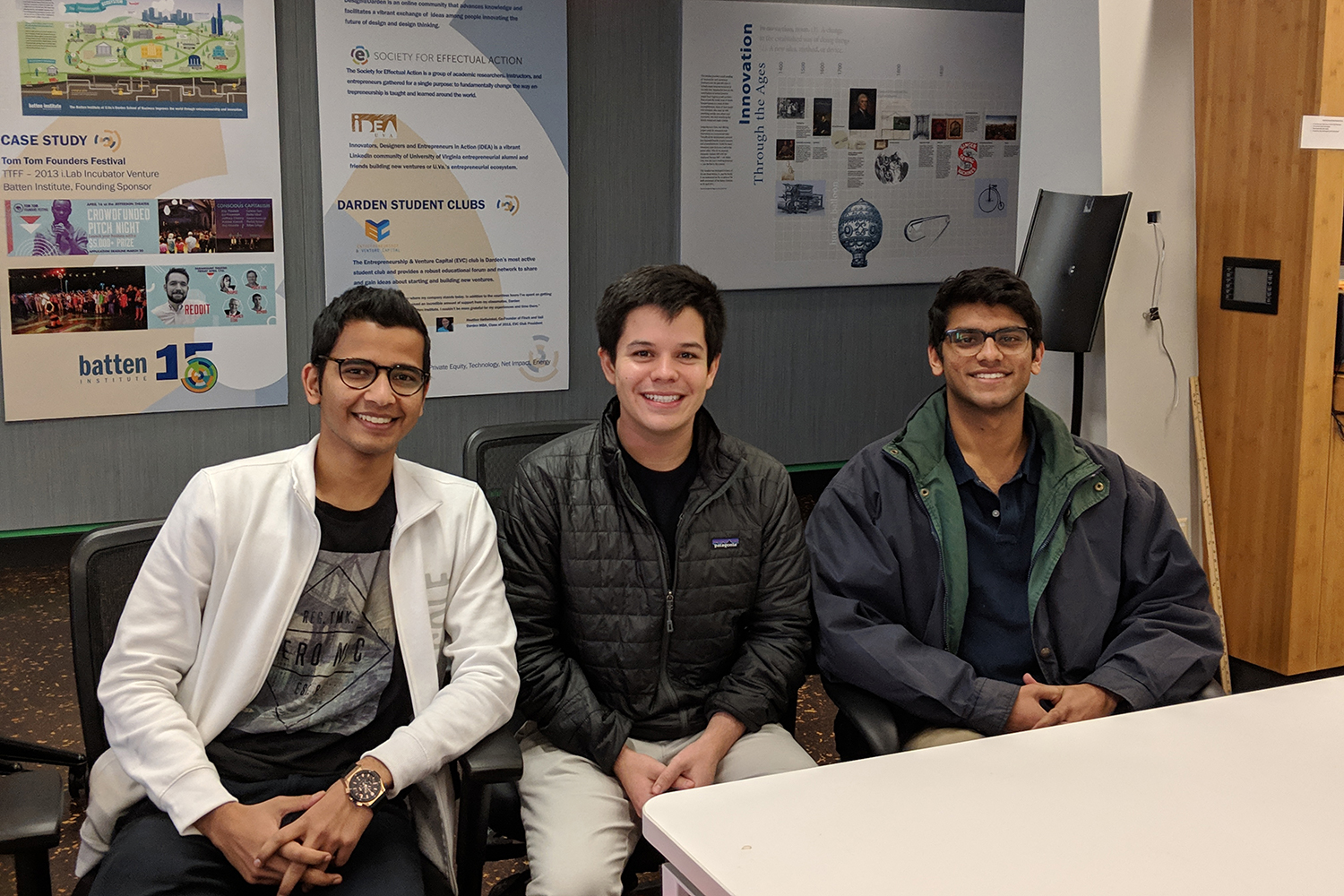 The PurPics team of Raahish Kalaria, Victor Layne and Aneesh Dhawan are applying principles of social entrepreneurship to reach Generation Z consumers.
Saying that sponsored advertisements and "paid influencers" are not the way to reach Generation Z, PurPics offers an alternative where students share photos on Instagram through the PurPics application and for every "like" they receive, brands donate a few cents to a charitable or social cause.
"Brands pay us a platform fee for access to our software and network of users," Dhawan said. "We build partnerships between brands and consumers that not only help raise funds for good causes, but also provide brands with a solution to engage consumers 10 times more effectively than current strategies like traditional influencer marketing."
Dhawan, who is PurPics' chief executive officer, said that on average, PurPics campaigns see engagement rates of more than 25 percent, which is up to 10 times higher than current strategies to engage Generation Z, such as Instagram influencers.
Dhawan said PurPics has helped 28 brands, including Clif Bar, Spin Scooters and Skinny Dipped Almonds, connect with more than 1 million Generation Z consumers around a cause. It is currently operating on more than 45 campuses.
"Since launching in 2017, we have received overwhelming support from UVA," Layne said. "Participating in the fellowship program has been a great opportunity to connect with other student founders and mentors who are dedicated to building amazing companies and to building the University's entrepreneurial ecosystem."
Ocean Loans
While PurPics is trying to reach Generation Z, Peter Weicher, an MBA candidate at the Darden School of Business, is looking at servicing loans.
Ocean Loans provides an online platform where non-bank lenders – such as high-net worth individuals, family offices and real estate lending firms – can collaboratively structure loan contracts with their borrowers.
Darden student Peter Weicher's Ocean Loans seeks to help non-bank lenders connect with borrowers and structure their loans.
"Users log in, create and share loan contracts, and store documents and related information," Weicher said. "Ocean Loans calculates payment schedules and, by integrating with user bank accounts via a service called Plaid, will automatically reconcile whether or not loan schedules have been paid on time.
"In a sense, Ocean Loans provides the kind of high-quality loan servicing software that large banks have built internally, but makes it readily available and affordable to individual investors and smaller lending firms not willing to purchase large enterprise software products."
Weicher said private lending volumes have grown exponentially since the global financial crisis in 2008, yet tools and systems have not evolved to support that growth. 
"Ocean Loans provides a platform specifically designed for lenders to make the administration and tracking of these loans completely automated, so that lenders and investors can focus on more important priorities," he said. "Many lenders I have interviewed either maintain their books in Excel, or use dated software that only partially meets their needs. Others spend tens of thousands of dollars on enterprise mortgage servicing software that has more features than private lenders need, and costs way more than they want to spend."
Since private lenders don't need to think about the back-office administration of their loans, they can focus on running their businesses. 
"While working as a financial technology consultant in Chicago, I met multiple private lenders who lamented that there were not modern tools available to help them keep track of their loans," Weicher said. "In some cases, this resulted in costly operational errors, such as missed payments that went unnoticed for too long, or damaged relationships with investors. In other cases, the administrative burden limited the number of loans a lender could originate, despite having additional capital ready to deploy."
Weicher collaborated with lenders to create a vision of a standardized loan management platform.
"Once I came to UVA, I began developing and demoing prototypes to lenders to refine the product design," Weicher said. "Not only does Ocean Loans automate the repetitive parts of servicing a loan, but it also provides an opportunity to standardize loan origination so that this high-quality alternative asset class can be made accessible to more investors."
Weicher's plan is to market his platform to high-net-worth individuals such as angel investors and related associations, family offices and smaller non-bank lending firms. His strategy is to rely on common networks of lenders who work together. Since many real estate or small business loans are syndicated among multiple lenders, he sees every new loan as an opportunity to win an additional user.
Article Information
April 19, 2019
/content/6-entrepreneurial-student-teams-compete-60000-funding