In light of recent events and the impending arrival of the new semester, the University of Virginia is making every effort to ensure that students can thrive in a safe and secure environment.
UVA President Teresa A. Sullivan has repeatedly addressed the importance of promoting safety and security on Grounds following Friday and Saturday's events, and as president, she's stated, "Because we value safety, all of us in this community share a sense of responsibility for ourselves and for one another."
That responsibility is shared among a tight-knit community of more than 35,000 students, faculty and staff who support each other as the eyes and ears of the UVA community.
Through a variety of resources and on-Grounds training programs, the University ensures that every member of that community has the tools to promote a safe and inclusive environment.
As a reminder to members of the UVA community, here are seven safety resources available to students, faculty and staff.
UVA Police Department and Ambassador Program
The UVA Police Department is made up of more than 130 sworn officers and support staff tasked with upholding the well being of everyone at the University, 24 hours a day. UVA's officers are an internationally accredited professional police force with a visible presence across the University. They conduct regular patrols of Grounds and the Health System by vehicle, on foot and on bicycles.
Through the Public Safety Substation at 1413 University Avenue, UVA Police also maintain a presence at Charlottesville's popular Corner area. Visitors will always find officers on duty there and it is also the headquarters for UVA's Ambassador Program.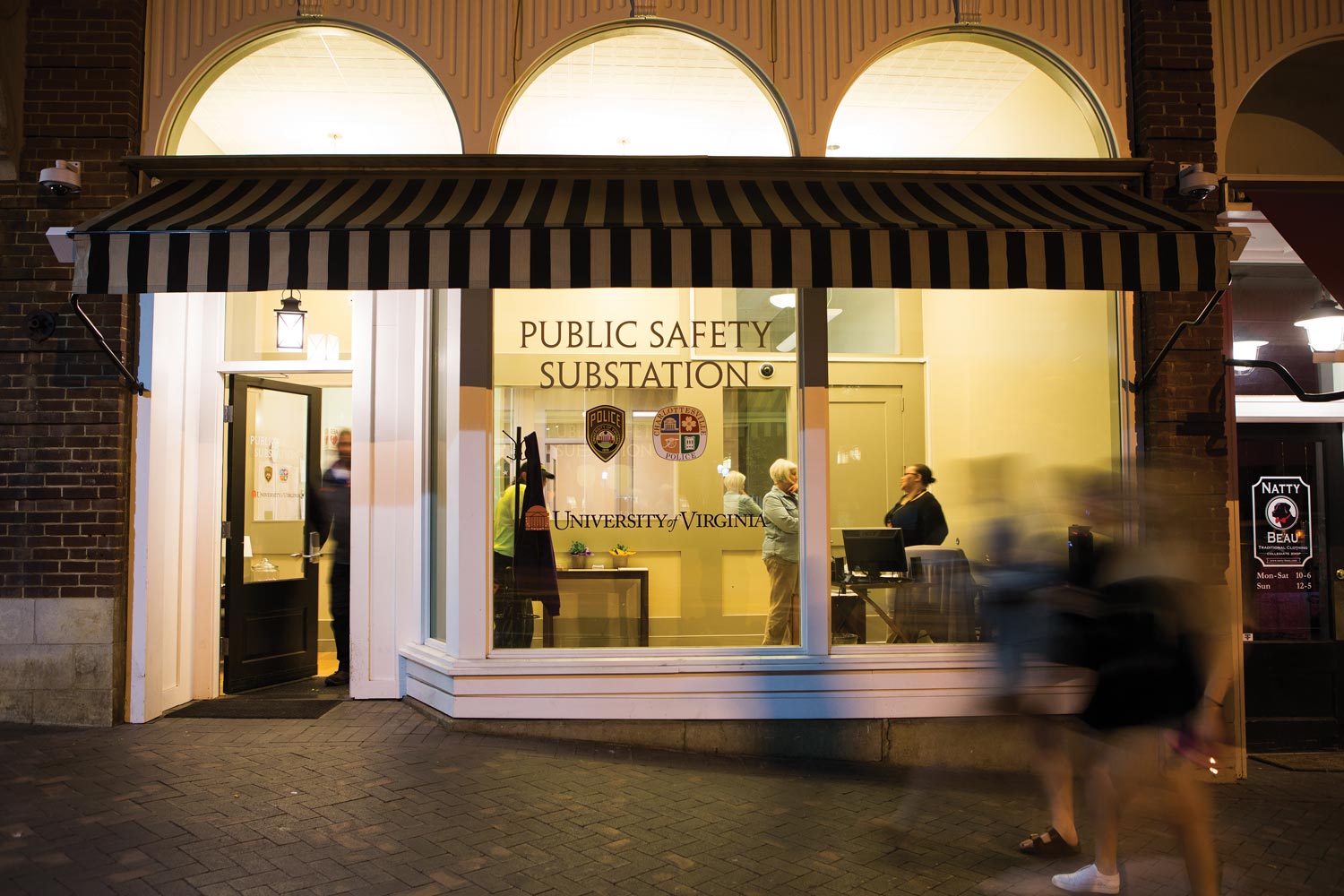 The Corner police substation, opened in January 2015, is a joint effort between UVA and Charlottesville police departments. (Photo by Kristen Finn)
UVA Ambassadors conduct regular walking and bicycle patrols of the areas adjacent to Grounds where students live and socialize. They are there as resources to students and anyone else in the area. Ambassadors are available at any time to provide a walking escort to students and can assist with finding safe transportation. Each Ambassador on duty is distinguishable by his or her bright green shirt.
Emergency Phones and Security Cameras
There are more than 475 emergency phones placed strategically throughout Grounds and the surrounding areas of Charlottesville. Outdoor emergency phones are clearly marked by a bright blue light and indoor phones are red or marked for emergency in another bright color.
Each phone will connect users directly to the UVA Police Department or a 911 dispatcher. Indoor phones begin dialing as soon as the receiver is picked up and users operate outdoor phones by pressing the button marked "EMERGENCY." Outdoor emergency phones also automatically provide dispatchers with location data, so officers can be deployed to the scene immediately.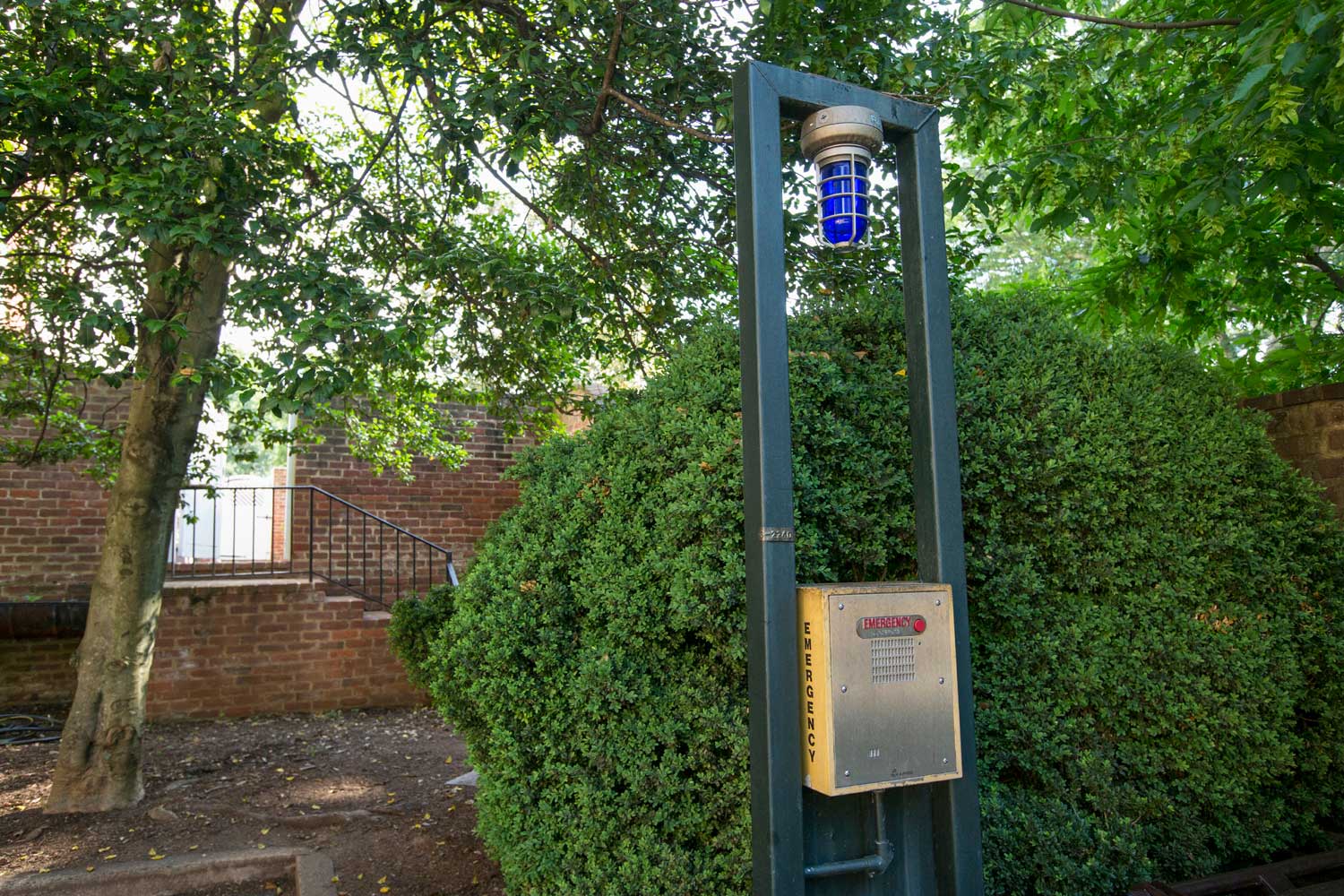 Outdoor emergency phones automatically provide dispatchers with location data, so officers can be deployed to the scene immediately. (Photo by Dan Addison, University Communications)
While these phones are often the most visible portion of the University's electronic security apparatus, UVA Police also have a robust system of carefully placed security cameras throughout Grounds, allowing them to monitor different areas in real time and capture recorded video for future reference.
The UVA Emergency Notification System
In the event of an emergency, the University uses multiple notification platforms to alert community members and provide steps to stay safe. Through UVA Alerts, anyone can sign up to receive all UVA safety alerts via text message and email. Students are also strongly encouraged to sign up to receive desktop notifications and anyone with an @virginia.edu email address automatically receives notifications via email.
On Grounds, UVA also has the capability to activate sirens and share public broadcasts via audible outdoor warning systems. Additionally, emergency notifications are always posted to the UVA homepage and will appear on LCD and LED screens across the University.
Community Safety Training
Prevention is always the first step in any safety training, and to that end, the University advocates for positive bystander behaviors that can help halt violence before it begins. Green Dot is the school's evidence-informed bystander intervention program that provides training to students, faculty and staff members on how and when to safely intervene in concerning situations.
Available safety training options extend to situations in which students may fear harm from those around them. Students can sign up for UVA Police-led self-defense classes or R.A.D. – Rape Aggression Defense – where they are taught methods for risk avoidance, escape, countering physical attack, greater personal awareness and procedures for prosecution.
After Hours Transportation
University Transit Service buses normally operate until 12:30 a.m., and when school is in session they operate until 2:30 a.m. on Thursday, Friday and Saturday nights. The late-night buses run approximately every 20 minutes on the Northline and U-Loop outer routes. Students can download a bus tracking app, Transloc, for arrival estimates near them.
The University-operated Safe Ride program offers students on-demand van shuttle service as an alternative to walking alone when buses are not in service. To request Safe Ride pickup, students may call 434-242-1122 or send requests through their Transloc OnDemand app.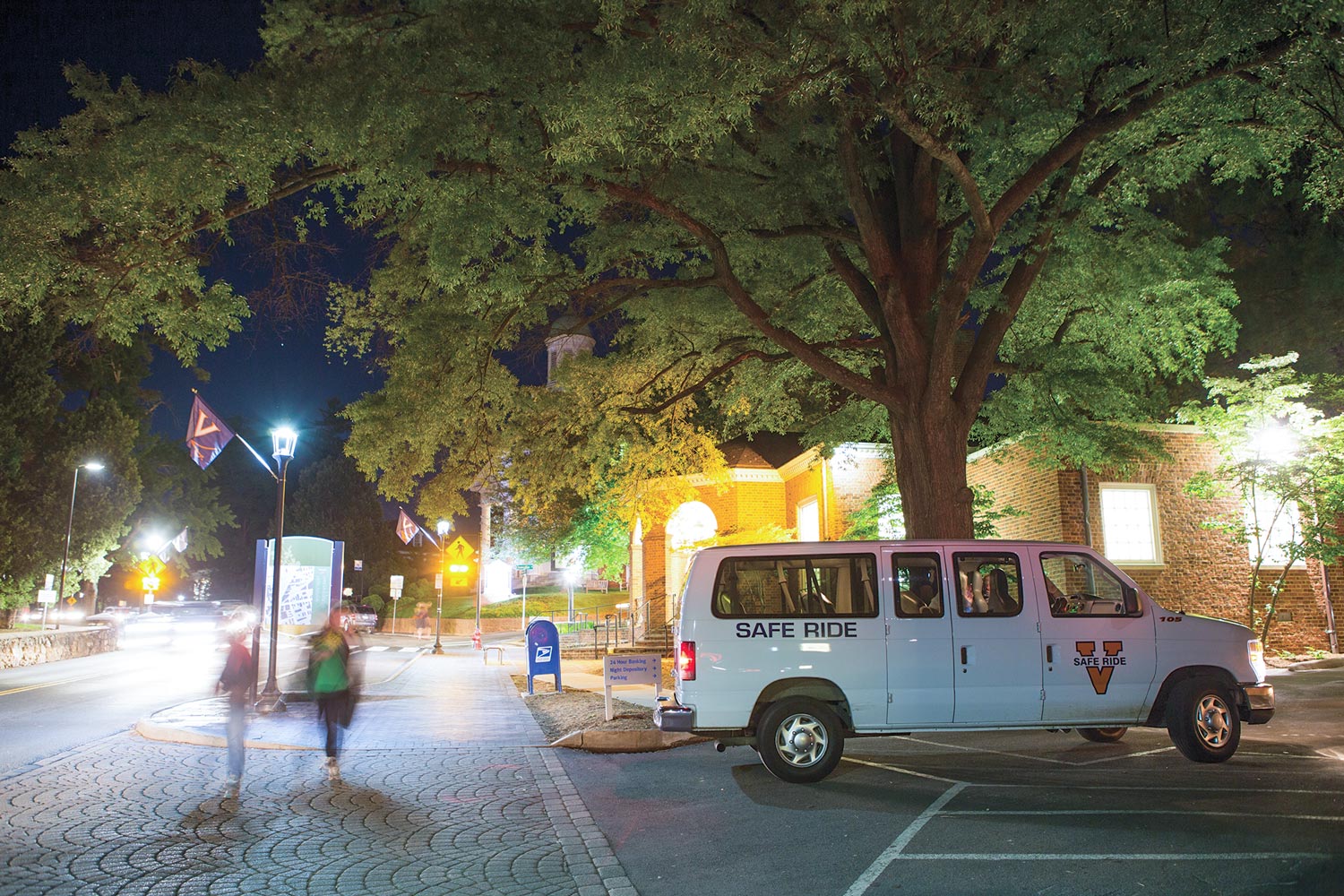 Safe Ride offers students safe transportation during overnight hours. (Photo by Kristen Finn)
During the fall and spring semesters, Safe Ride operates from 12:30 a.m. to 7:30 a.m. on Sunday through Wednesday and from 2 a.m. to 7:30 a.m. on Thursday through Saturday. Hours vary during academic breaks, but the full schedule is available on the Safe Ride website.
Students who find themselves in precarious situations without a reliable or safe means of local transportation may also take advantage of UVA's Charge-a-Ride program with Yellow Cab. Using a valid UVA ID card, students can call Yellow Cab Charge-a-Ride at 434-295-4131 and the charge their ride to UVA. The fare is then charged to the student via the school's Student Information System account – no questions asked.
Reporting Tools
The University has four different reporting channels for different kinds of hazards or barriers. Just Report It provides a place for any University community member to report an incident where they believe they've been the victim of bias. The UVA online portal for safety hazard reporting provides space to report any safety concerns that are spotted on Grounds, such as malfunctioning street lights. Report a Barrier is a space to report any obstacles or barriers that would prevent persons with disabilities from equally accessing and participating in University programs. Finally, TipSoft is a confidential platform that allows members of the community to supply information to the University Police.
Counseling Services
The University encourages students to seek help and support through its Counseling and Psychological Services, or CAPS, whenever needed. Located in the Elson Student Health Building, the outpatient clinic offers clinical services, suicide prevention and educational outreach.
Students who have questions about UVA's safety programming are encouraged to further review the Office of Safety and Emergency Preparedness website or speak to their resident advisers about the resources that can best fit their needs.
"We need everyone's help to always be alert for anything or anyone that looks unusual or dangerous," said Pat Hogan, the University's executive vice president and chief operating officer. "We encourage people to call 911 or use the blue phones. Safety is a community issue and we are safer if everyone is on alert."
Article Information
August 15, 2017
/content/7-resources-help-students-stay-safe-university-virginia