The University of Virginia's Academical Village, which is nearing its 200th anniversary, is unique in many respects, not the least of which is that it is the vision of one man, Thomas Jefferson, who conceived of the University and designed it.
Richard Guy Wilson, Commonwealth Professor of Architectural History in UVA's School of Architecture, was on Grounds Wednesday narrating an aerial tour of the center of Grounds.
The Academical Village represented Jefferson's vision of a school with students and professors living together in a secular learning environment. The layout hinged on the Rotunda, which contained classrooms and the library. There were also classrooms in the pavilions, with the professors living above.   
"There was no chapel, which represented a separation of church and state," Wilson said. "All the other schools were religiously affiliated, such as Harvard and Yale with the Congregationalists. This was the first time an American university campus had a library at its center, not a chapel."
Wilson said the Rotunda, which had been modeled after the Pantheon in Rome, was a good example of spherical architecture. The main section of the building was round, with a domed roof containing a round oculus.
"To Jefferson, there were perfect forms, such as the cube and the sphere," Wilson said. "And the top floor of the building was the library, the mind of the University."
In designing the Academical Village, Wilson said Jefferson worked with symmetry and asymmetry.
"One of the principles of classic architecture is that the right equals the left," Wilson said. "At first glance, the Academical Village looks symmetrical because of how it is laid out. But then the pavilion fronts are different and the gardens on the east side are deeper."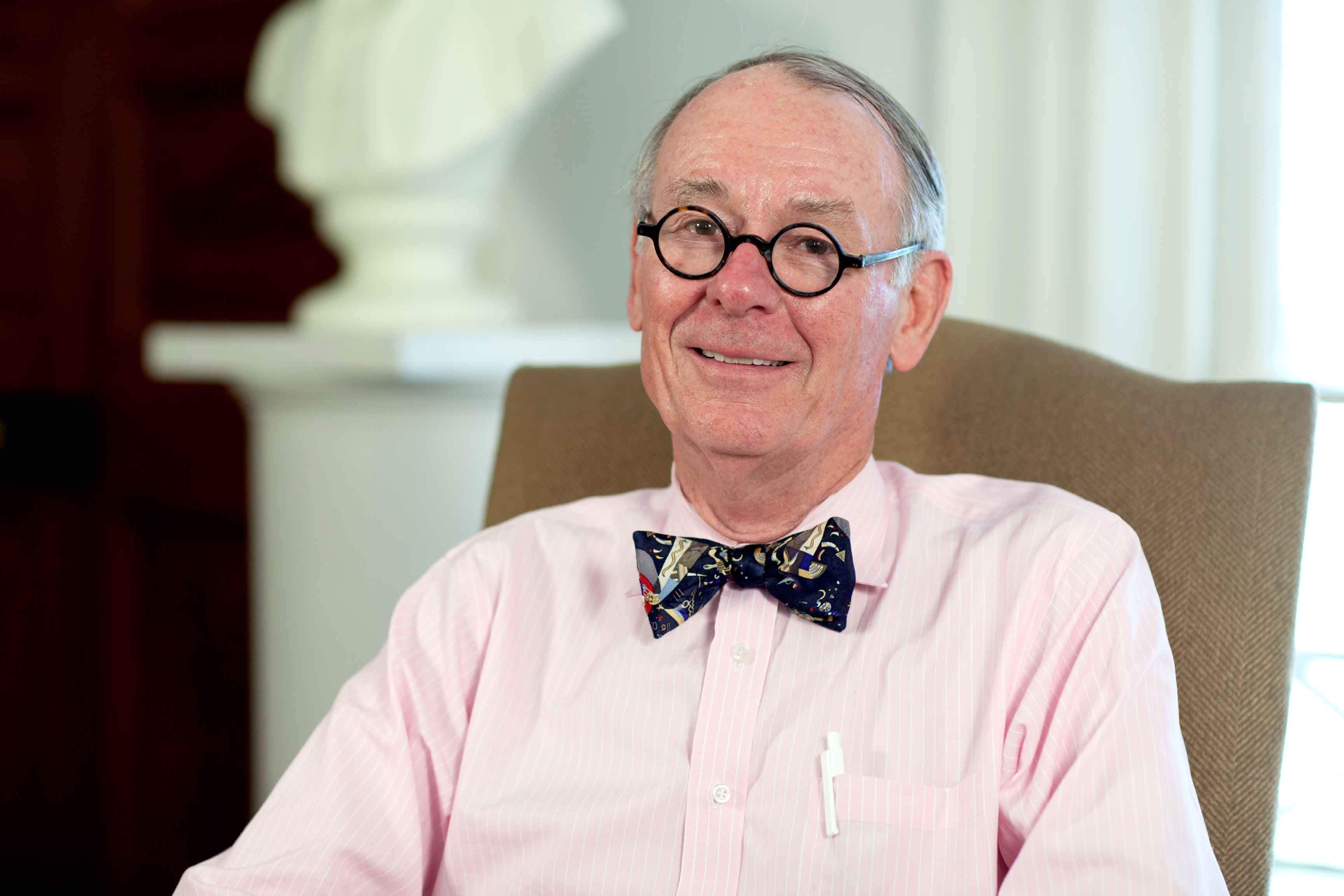 Richard Guy Wilson
There is also the contrast of interior versus exterior space. The village is built around a central open area, or common, while the gardens are enclosed, contemplative areas. And the colonnades and the arcades provide sheltered exterior space.
The original viewscape was open to the south, which was Jefferson's preferred entrance to the Lawn, ascending the terraces toward the Rotunda. While the view to the south on the Lawn is blocked now by the addition of Old Cabell, Cocke and Rouss halls, Wilson noted that the south hills are still visible from the Rotunda's upper floors.
Jefferson also envisioned trees on the Lawn, bringing the outside environment onto the enclosed space on Grounds.
"The trees on the lawn set up a dialogue between nature and the man-made structures," Wilson said.
The asymmetry of the pavilions on the Lawn, with the variety of features, was also Jefferson's textbook on architecture.
"Jefferson believed that the environment teaches as much as a professor talking in a classroom," Wilson said. "Jefferson believed that architecture was part of the students' education."
Article Information
November 2, 2016
/content/academical-village-still-represents-designer-thomas-jeffersons-vision