Three graduate students, working on two research projects on the University of Virginia's Academical Village, have received Kenan Research Awards.
In one funded project, Kyle Chattleton of Rancho Santa Margarita, California, a fourth-year Ph.D. student in critical and comparative studies in the McIntire Department of Music, will investigate how the early soundscape of the Academical Village communicated competing visions of the ideal learning environment.
Also awarded was the team of Neal D. Curtis of Randolph, New Jersey, a second-year Ph.D. student in 18th-century literature and bibliography in the Department of English, and Samuel V. Lemley of Placerville, California, a third-year Ph.D. student in the Department of English whose dissertation examines antiquarianism – ruins, relics and the history of things. They plan, through digital means, to restore and represent the library-like qualities of Jefferson's original vision for the Rotunda, the centerpiece of his University.
Their research is being funded by the William R. Kenan Jr. Endowment Fund of the Academical Village, which awards grants supporting students who conduct summer research projects that increase public understanding of the University's original, Thomas Jefferson-designed precinct. The Kenan fund provides recipients with up to $4,000 for their projects, with an additional $1,000 for a faculty adviser.
"With the University's bicentennial approaching, the Kenan Fellowship plays an important role in helping us understand the mission of the Academical Village," said Brian Cullaty, director of undergraduate research opportunities at the Center for Undergraduate Excellence. "These projects will shed new light not only on the purposes of the Academical Village, but on the history of our University as well."
Kyle Chattleton: Historic Sounds
Chattleton's broader research explores how sound is used in particular spaces to create sites for personal and collective expression, as well as how these expressions are regulated. He will apply this approach to the Academical Village over the summer.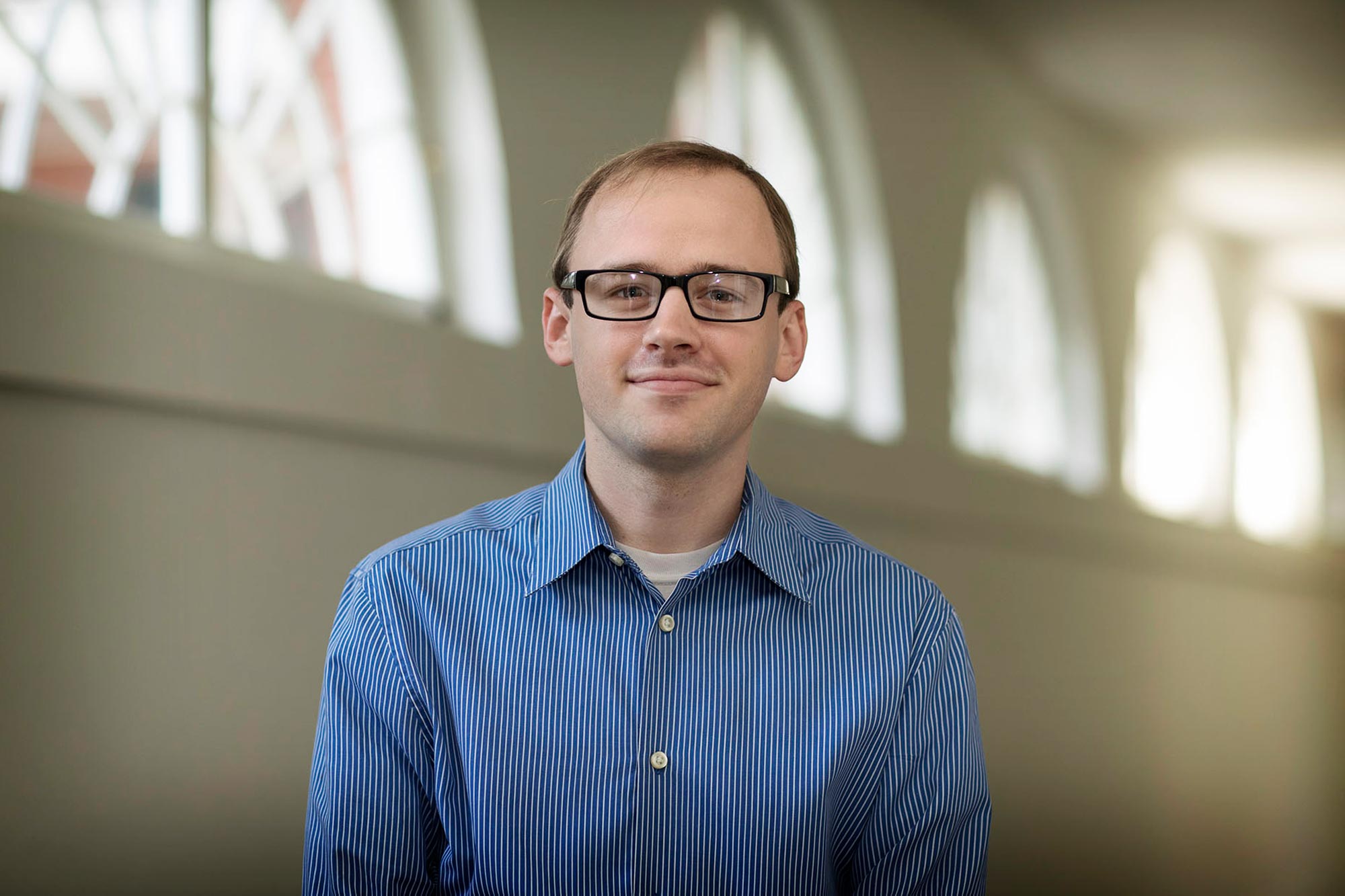 Kyle Chattleton
"With the bicentennial approaching, I think we should consider how Jefferson's original vision for the University – a quiet, tranquil learning environment – never truly fostered," he said. "Instead, the Academical Village has been consistently sound-ful with protests, music and other activities.
"Consider, for example, how students rioted in 1831 against the expulsion of a colleague for refusing to wear a uniform; how students occupied the Rotunda and Lawn in 1970 following the Kent State shootings; and the 2012 protests in response to President Sullivan's resignation. These events, often characterized by and through their sounds, clarify what the Academical Village means as a part of the University. They have helped give UVA meaning from its earliest days and well into the present."
Chattleton said he is fascinated with the history of the Academical Village.
"This space has been here for quite some time, yet its identity is constantly evolving," he said. "I often find myself looking at the architecture around the Lawn and wondering what students before me thought of these buildings."
A magna cum laude graduate of Chapman University in Orange, California, with bachelor's degrees in music and composition, Chattleton has hosted radio programs at WTJU for more than three years, with his current show focusing on classical music since the beginning of the 20th century.
"I believe my specific focus on how sound relates to the identity of this historical space can help inform our understanding of Jefferson's project in the present," he said.
Neal Curtis and Sam Lemley: The Rotunda as a Library
Curtis and Lemley's project will illustrate the Rotunda's history as a library.
"Our project will let us transfer some of our bibliographical training into an exciting new context as we study the transformations of the Rotunda and its history as a library," Curtis said. "We hope the resulting digital exhibit will be of interest to both a public audience and serious scholars across disciplines."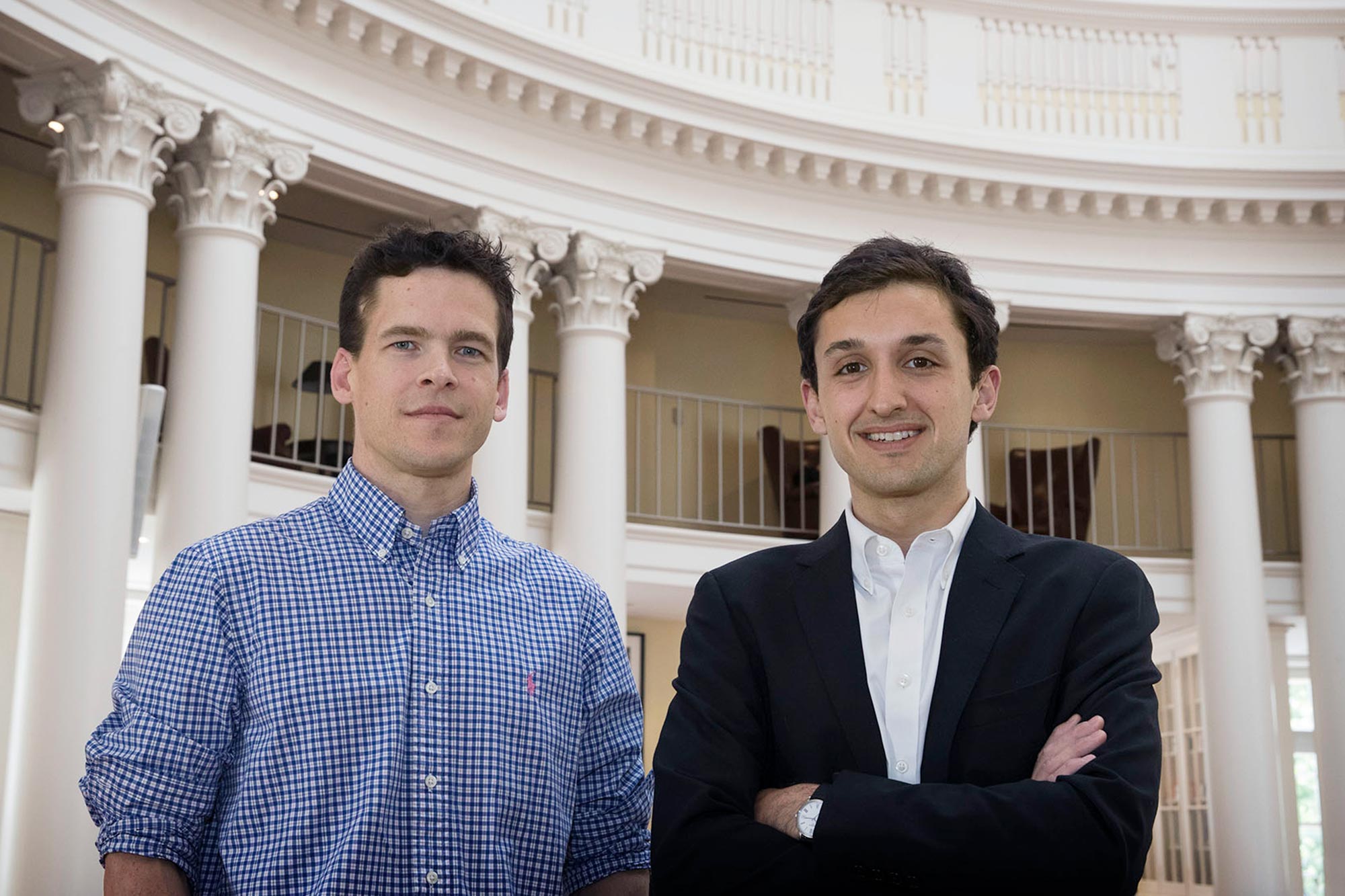 Neal Curtis, left, and Sam Lemley
Lemley and Curtis said the project will add to the understanding of the Rotunda as a monument and a UNESCO-designated World Heritage Site and explore how it once functioned as a library.
"Now more than ever – as university libraries evolve, adapt and grow – it's essential to revisit Jefferson's views about libraries: what they are and what they can be," Lemley said. "Jefferson's own library at Monticello was a sun-lit cabinet of curiosities, a mix of printed books and inventions among which he often worked: multi-tiered book stands, spinning tables, magnifying glasses, a pantograph, compasses, telescopes and microscopes, specimens, orreries, maps and globes. Jefferson's library anticipated the interdisciplinary and dynamic library of the future, a maker-space inside an expansive and expanding repository of the written word – Jefferson ultimately shelved his books two-deep.
"We hope our project will place the Rotunda's book-holding past within this context and, by doing so, celebrate the presence and prevalence of books at the University in its first decade."
Curtis is a summa cum laude graduate of Columbia University with a bachelor's degree in English. He is a fellow at UVA's Institute of the Humanities and Global Cultures and a fellow at the Thomas Jefferson Foundation's Robert H. Smith International Center for Jefferson Studies, part of Monticello. He has received the Buckner W. Clay Award in the Humanities.
Lemley is a summa cum laude graduate of the University of North Carolina at Chapel Hill with a bachelor's degree in English. He has a Katharine F. Pantzer Jr. Fellowship in Descriptive Bibliography at Harvard University, a fellowship at the Robert H. Smith International Center for Thomas Jefferson Studies; a fellowship at UVA's Institute of the Humanities and Global Cultures and a fellowship at the UVA Rare Book School. He has received an Arts, Humanities and Social Sciences Research Award, and a Battestin Fellowship from the UVA Bibliographical Society.
Article Information
May 5, 2017
/content/academical-village-student-researchers-explore-sounds-rotunda-library