It was a big weekend for the University of Virginia men's basketball team. They won the Atlantic Coast Conference Tournament for only the third time in school history on Saturday. Then Sunday, they earned the top overall seed in the upcoming NCAA Tournament.
Here come the Hoos! Check out the team's reaction as the South Region is announced. #GoHoos #MarchMadness pic.twitter.com/J2cmK3BADF

— Virginia Men's Basketball (@UVAMensHoops) March 11, 2018
UVA will make its school-record fifth straight and 22nd overall NCAA Tournament appearance. The No. 1 seed marks the third in the past five seasons and sixth overall for the Cavaliers.
The Cavaliers (31-2) will face No. 16 seed University of Maryland-Baltimore County (24-10) in an NCAA Tournament first-round game on Friday at Spectrum Center in Charlotte, North Carolina. Tipoff time and broadcast information is still to be announced.
The winner of the Virginia's first-round game will meet either No. 8 seed Creighton University (21-11) or No. 9 seed Kansas State University (22-11) in the second round on March 18.
The other pod of teams competing in Charlotte includes squads from the West Region. Those matchups are No. 2 seed University of North Carolina (25-10) vs. No. 15 seed Lipscomb University (23-9) and No. 7 seed Texas A&M University (20-12) vs. No. 10 seed Providence University (21-13).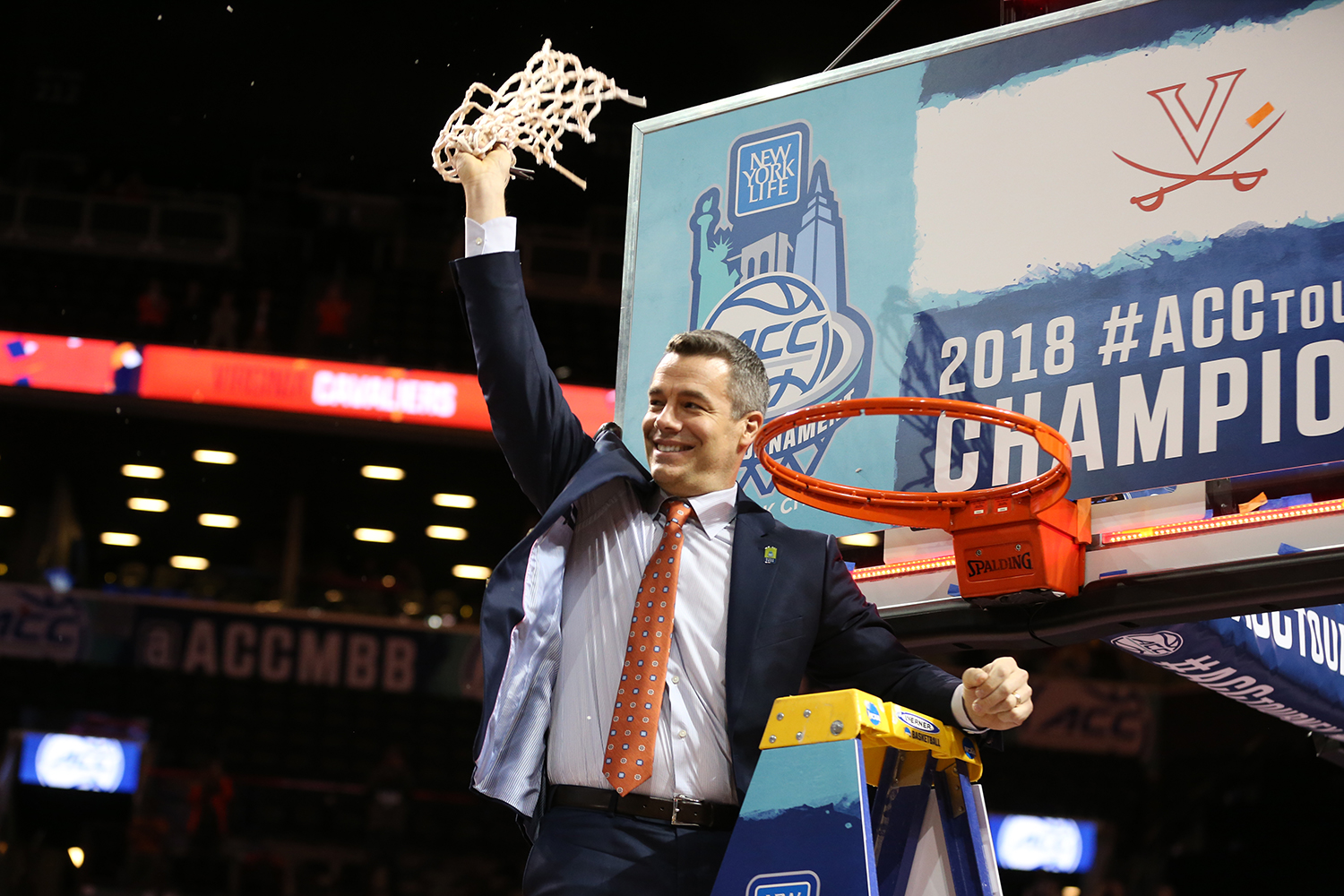 This is Virginia's sixth NCAA Tournament appearance under three-time National and ACC Coach of the Year Tony Bennett. The Cavaliers have compiled an all-time record of 29-21 in 21 NCAA tournaments. UVA advanced to the NCAA Final Four in 1981 and 1984.
Ticket Information
The NCAA provides a limited number of tickets to schools participating in the NCAA Tournament's first and second rounds. As a result, ticket requests are limited to Virginia Athletics Foundation donors and Virginia men's basketball season ticketholders in UVA's block at Spectrum Center.
Ticket requests for NCAA Tournament first and second-round games will begin online at VirginiaSports.com at 9 p.m. Sunday. Donors eligible to request tickets should use their registered online account. Tickets may also be requested by calling the Virginia Athletics Ticket Office at 1-800-542-8821 on Monday from 9 a.m. until 2 p.m. The deadline to request tickets is Monday at 2 p.m. Requests for the limited number of lower-level seats and available upper-level seats will be filled according to Virginia Athletics Foundation priority points order. Account holders who receive tickets will be notified by email Monday night with information about the location and hours to pick up tickets in Charlotte.
UVA students may request tickets for NCAA Tournament first- and second-round games in Virginia's ticket block online at UVAShots.com. The online request period will run from 9 a.m. to 2 p.m. on Monday. Student tickets will be filled from requests based on Sabre point totals. Students awarded a ticket will be notified by email. Payment will be for one ticket for both the first- and second-round games. Students will only receive a ticket to the second round if Virginia wins its game in the preceding round. If Virginia does not advance to the second round, refunds for those tickets will be issued to a student's credit card in a timely manner. Student orders will be limited to one ticket per student.
Tickets outside of Virginia's seating block at Spectrum Center may be available to purchase through the arena box office. Visit the Spectrum Center Box Office to review ticket availability and to purchase tickets.
For information on ticket availability in Virginia's block throughout the 2018 NCAA Tournament, click here.
ACC Champs
On Saturday night, the team completed one of the most successful seasons in ACC basketball history, beating No. 12 North Carolina 71-63 in the tournament championship game to finish 20-1 against league competition.
They set a school record for victories, going 31-2 so far on the season. With plenty of their fans packing Barclays Center in Brooklyn, New York, the Cavaliers beat sixth-seeded UNC for the second time this season and snapped a seven-game losing streak to the Tar Heels in ACC Tournament play.
A wonderful season to be a Hoo (but then again, isn't that always true?). Congratulations to our @UVAMensHoops student-athletes on their ACC regular season and tournament titles. Such a terrific mix of great coaching, selfless play, and steely grit when it's needed.

— Allen Groves (@UVADeanGroves) March 11, 2018
Kyle Guy, the tournament Most Valuable Player, scored 11 of his 16 points in the second half and Devon Hall added 15 points, five rebounds and four assists. Ty Jerome had 12 points, six assists and six rebounds for Virginia.
Not bad for a bunch that started the season unranked and was picked to finish sixth in the ACC. With no "one-and-dones" and no lock NBA lottery picks, the Cavaliers dominated the ACC with efficiency and tenacity. They went 17-1 in the regular season, the one loss by one point in overtime, and finished in first by four games.
"This is one of the most connected groups I've ever coached,"' Bennett said.
Article Information
March 11, 2018
/content/acc-champion-cavaliers-riding-high-ncaa-tourneys-no-1-overall-seed