Becker's Hospital Review, a national health care publication, has named the University of Virginia Medical Center to its 2020 list of "100 great hospitals in America."
According to Becker's, the listed hospitals are known for their innovation and for being nationally recognized for patient care and patient outcomes. Along with nominations, the publication considers awards and rankings from third-party groups when assembling its 100 great hospitals list.
In its description of UVA Medical Center, Becker's highlighted UVA's ranking as the No. 1 hospital in Virginia for 2019-20 by U.S. News & World Report. UVA had three adult specialties and eight pediatrics specialties nationally ranked by U.S. News.
Becker's also highlighted UVA's research efforts during the COVID-19 pandemic. As an example, the writeup cited a clinical trial that is examining convalescent plasma as a potential COVID-19 treatment.
"We are pleased to earn this honor from Becker's Hospital Review," said Dr. K. Craig Kent, UVA's executive vice president for health affairs. "This award not only recognizes the breadth of excellent specialty care we provide for our patients across Virginia and in neighboring states, but it also highlights our nationally acclaimed programs in education and research."
Landscape Architecture Group Lauds West Lawn Ramps
The Potomac Chapter of the American Society of Landscape Architects presented the Rhodeside & Harwell firm with a Merit Award for Social Impact for its work on the West Lawn Accessibility Design, which constructed unobtrusive ramps to enhance accessibility in the heart of Thomas Jefferson's Academical Village.
"Although an enduring icon of democratic values, the terraced character of the Lawn and its adjacent brick walkways and stairs have long created a barrier to travel for persons with disabilities, diminishing their educational and social experiences and increasing travel time," the chapter noted in making the award.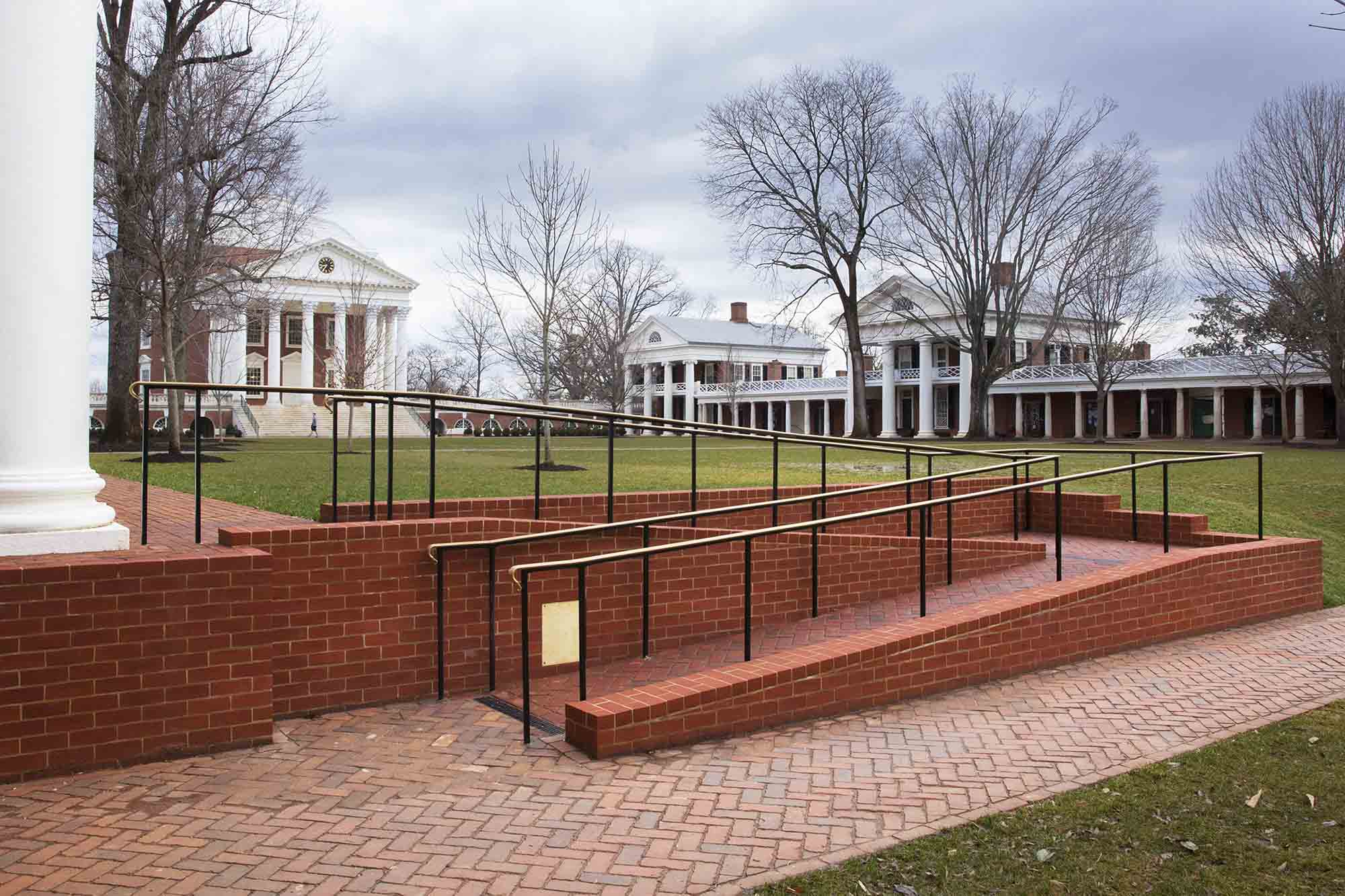 Rhodeside & Harwell's design for accessibility ramps on The Lawn won recognition from a regional landscape architecture association. (Photo by Dan Addison, University Communications)
In 2016, the University commissioned Rhodeside & Harwell to create barrier-free connections between the Lawn's upper two terraces. Extensive stakeholder consultation and numerous design alternatives ultimately resulted in the 2019 installation of two permanent brick ramps on the Lawn's west side, making much-needed connections between the three central terraces.
"Through detailed studies, objective perspectives, and collaborative design processes the landscape architect met the challenge of artfully inserting barrier-free circulation features into an iconic setting while establishing a precedent for inclusion and equity at historic sites," the chapter's citation said.
Madden, Perkins Earn Top Student-Athlete Honors
UVA's Department of Athletics honored Paige Madden and Bryce Perkins as UVA's top male and female athletes for the 2019-20 academic year. Madden claimed the IMP Award as UVA's top female athlete, while Perkins earned the WINA Award as the top male athlete.
Madden was named Atlantic Coast Conference Swimmer of the Year and ACC Swimmer of the Meet after capturing three individual titles (in the 200-, 500- and 1,650-yard freestyle) and two relay titles (in the 400- and 800-yard freestyle relay). Madden earned five All-America honors and was the co-ACC Scholar-Athlete of the Year. She also received the athletics department's Distinguished Student-Athlete Scholarship Award
Perkins set UVA single-season records for passing yards (3,538) and total offense (4,307 yards), leading the Cavaliers to their first ACC Coastal Division title, first ACC Championship game and first Orange Bowl appearance. Perkins, who earned All-ACC second-team honors, was one of two players in the nation with more than 3,000 passing yards and 700 rushing yards. He recorded the UVA top single-game efforts in total offense in victories against North Carolina and Virginia Tech.
Track and field athlete Derek Pekar was named Male Rookie of the Year and swimmer Kate Douglass was named Female Rookie of the Year. 
Pekar earned the ACC title in the heptathlon, becoming only the second UVA athlete to win a conference title in the indoor event. Pekar recorded a score of 5,362 points at the ACC Championships in the heptathlon, the second-highest score in UVA history.
Douglass was named ACC Freshman Swimmer of the Year after scoring 91 points for the Cavaliers at the conference championships, winning individual titles in the 200-yard individual medley and 100-yard butterfly and capturing relay titles in the 200-yard medley relay, 200-yard freestyle relay and 400-yard freestyle relay.
Football's Bryce Hall earned the Wahoowa Award, which goes to the individual who best displayed selflessness, commitment, school pride and leadership, all while contributing to the betterment of the team. Hall, whose final season at UVA was cut short by a season-ending leg injury, was recently drafted by the New York Jets.
The men's lacrosse team earned Comeback of the Year for its thrilling victory over Maryland in the 2019 NCAA Tournament quarterfinals. The Cavaliers trailed by five goals with 10:38 remaining, but scored the game's last six goals, including the game-winner in overtime, to squeak past the University of Maryland and advance to Championship Weekend, where they went on to win their sixth NCAA title.
The field hockey team claimed the Women's Play of Year with its dramatic 1-0 overtime win against Maryland in the NCAA Elite Eight. Annie McDonough deflected in a shot from Rachel Robinson 5:28 into the overtime period for the lone goal of the game, sending the Cavaliers to the national semifinals.
Men's soccer player Daryl Dike earned the Men's Play of the Year with his electrifying strike off a long pass from Andreas Ueland in the 19th minute of Virginia's 2-1 win over Wake Forest in the NCAA semifinals. Dike gathered in Ueland's long pass from the Cavaliers' side of the field on a bounce and cracked a shot into the top left corner of the net. 
Laurel Ivory of women's soccer earned the Sportsmanship Award, while Jackson Appelt of men's lacrosse and Beau Bradley of men's soccer earned Ernest H. Ern Jr. awards for outstanding contributions to student life at Virginia. 
Olivia Schildmeyer of women's lacrosse was the recipient of the Ralph Sampson Scholarship Award.
Associate Director of Athletics for Development Barry Parkhill was honored with the Bus Male Memorial Service Award for his untiring and devoted years of service to the athletics department.
Football's Ryan Swoboda and Rosie Johanson of women's tennis received the Craig Fielder Memorial awards for overcoming adversity. Volleyball's Kiley Banker netted the Life Skills Scholarship Award.
Manager Atoria Ragland was the recipient of Bob Goodman Memorial Award for her dedicated service to the football and track and field programs.
Sydney Takata of football and track and field received the Tim Abbott Memorial Award, honoring the student assistant athletics trainer most dedicated to, and possessing empathy for, student-athletes.
Carl Söderlund of men's tennis and Jocelyn Willoughby of women's basketball each earned ACC Scholar-Athlete awards for the second straight year. Field hockey's Carolyn Topps earned the Susan J. Grossman Memorial Award in recognition of outstanding service to student-athletes and contributions to the Student-Athlete Mentor Program.
Golf's Nathan Chuwait received the Gus Tebell Memorial Award as the fourth-year male student-athlete with the highest scholastic average through his four years at Virginia, while soccer's Zoe Morse was the recipient of the Jettie Hill Memorial Award as the fourth-year female student-athlete with the highest scholastic average through her four years at UVA.
Virginia's ACC Top VI Award recipients included Maddie Rennyson of women's track, Kira Maguire of women's soccer, Bradley of men's soccer, Ben Hogg and T.C. Harrison of football, and the softball team.
In addition, 92 student-athletes will be honored as recipients of 2020-21 Virginia Athletics Foundation endowed scholarships. Recognized by the VAF and the Athletics Department for their contributions to the athletics program, these student-athletes excel academically, athletically and as leaders in the community. In coordination with the UVA athletics administration and head coaches, the VAF recognizes student-athletes who meet the criteria of each named scholarship. Seven of these scholarships will be awarded for the first time during the 2020-21 academic year.
Team Awards  
Baseball – Billy Word Memorial Award – Logan Michaels
Men's Basketball – Sidney Young Memorial Award – Mamadi Diakite
Women's Basketball – Coaches Award for Excellence – Jocelyn Willoughby
Men's Cross Country – Coaches Award for Excellence – Peter Morris
Women's Cross Country – Coaches Award for Excellence – Hannah Moran
Field Hockey – Coaches Award for Excellence – Rachel Robinson
Football – John Acree Memorial Award – Jordan Mack
Men's Golf – F. Dixon Brooke Memorial Award – Andrew Orischak
Women's Golf – William E. Eacho Memorial Award – Julia Ford
Men's Lacrosse – Henry Gaver Memorial Award – John Fox
Women's Lacrosse – Coaches Award for Excellence – Lauren Martin
Rowing – Coaches Award for Excellence – 2020 Team
Men's Soccer – Stanley Lerner Memorial Award – Robin Afamefuna
Women's Soccer – Coaches Award for Excellence – Zoe Morse
Softball – Coaches Award for Excellence – Alyssa Rayle
Men's Squash – Coaches Award for Excellence – Toby Hansford
Women's Squash – Coaches Award for Excellence – Julia Thompson
Men's Swimming & Diving – Brooke Maury Memorial Award – Casey Storch
Women's Swimming & Diving – Diane Montgomery Greene Memorial Award – Kyla Valls
Men's Tennis – Norton Pritchett Memorial Award – Spencer Bozsik
Women's Tennis – Coaches Award for Excellence – Rosie Johanson
Men's Indoor Track & Field – Coaches Award for Excellence – Jordan Scott
Women's Indoor Track & Field – Coaches Award for Excellence – Andrenette Knight
Volleyball – Coaches Award for Excellence – Jennifer Wineholt
Wrestling – David Senft Memorial Award – Jack Mueller and Jay Aiello
Energy Efficiency Council Recognizes 'Delta Force'
The Division of Facilities Management's Delta Force Program is one of two green building programs in the state honored by the Virginia Energy Efficiency Council for innovative efforts to drive energy efficiency in schools, libraries, university construction and government buildings.
UVA and Henrico County received the council's fifth Virginia Energy Efficiency Leadership Awards on May 14 at the council's Spring Forum.
The Delta Force Program is responsible for achieving energy efficiency and savings across the University's nearly 18 million square feet of building space. Since 2009, UVA has invested $17.4 million in energy projects, for a savings of $28.7 million in energy costs and 180,000 metric tons of CO2 emissions. The program is overseen by Jesse Warren, sustainability program manager for buildings and operations.
Nursing Professor Honored for Mentoring, Leadership, Research
Ishan Canty Williams, professor of nursing and the School of Nursing's assistant dean for diversity and inclusion, was recently celebrated by the organization she leads.
At the Southern Gerontological Society's virtual awards ceremony in mid-May, Williams was one of two scholar-mentors to earn the Gordon Streib Distinguished Academic Gerontologist Award, which recognizes academic members of the society who demonstrate exceptional mentoring and leadership skills, as well as an impressive scope of quality scholarly publications. The award also recognizes individuals who have a significant positive impact and influence on students and those training to become service providers. Williams was honored with Stephen Marson, a sociology and gerontology professor emeritus at the University of North Carolina at Pembroke.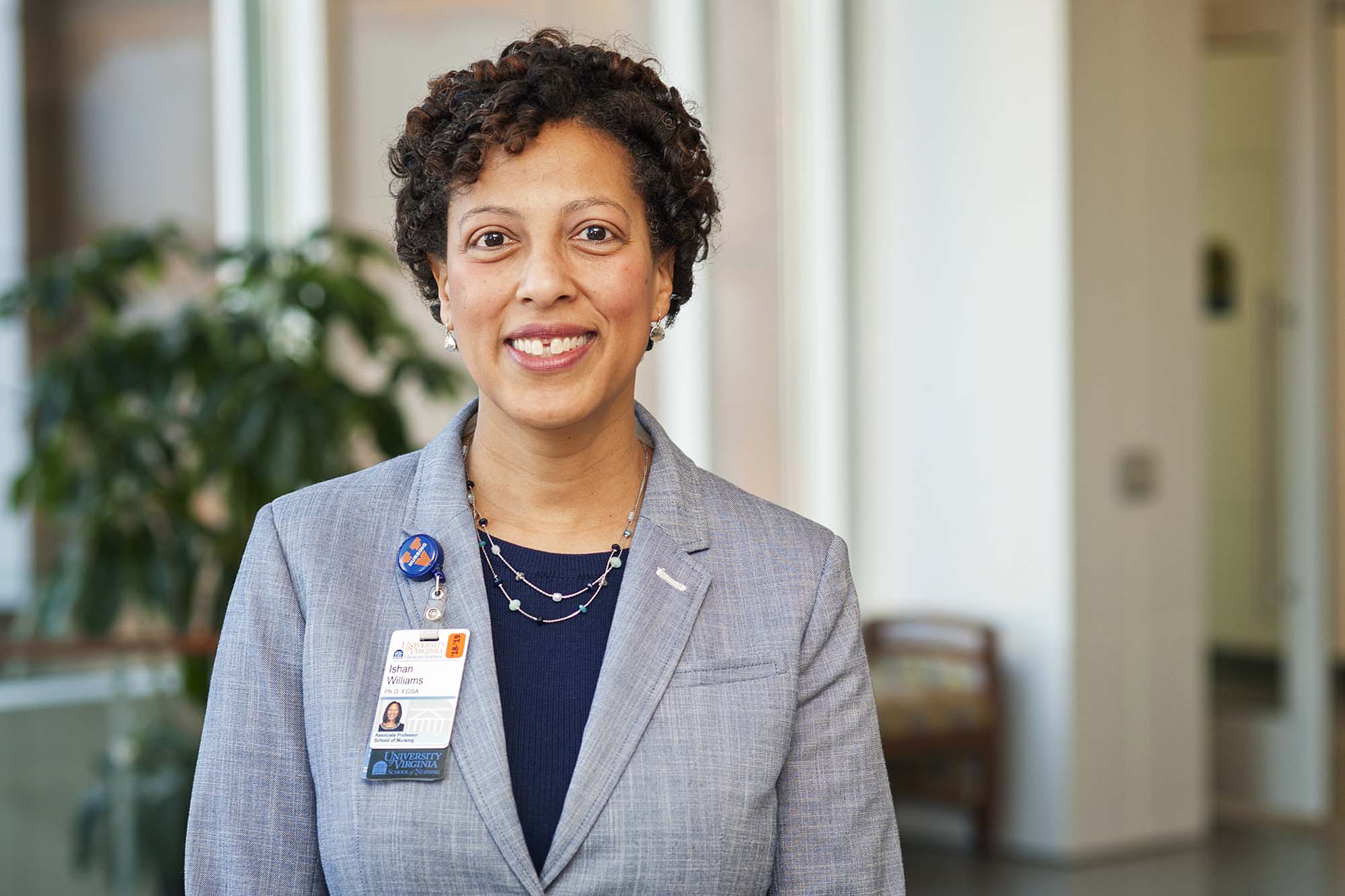 Nursing professor Ishan Canty Williams is president of the Southern Gerontological Society. (Photo by Kay Taylor)
Williams is also the society's president, a role she's occupied since 2019 and will continue through 2021.
Williams is no stranger to accolades. In 2019, she earned UVA Health's MLK Award; in 2016, the Southern Gerontological Society's Applied Gerontologist Award; and in 2015, the University of North Carolina-Greensboro's Pacesetter Award, which recognizes leadership and scholarship among alumni from that institution's School of Health and Human Sciences.
Williams is a fellow of the Gerontological Society of America, the nation's largest interdisciplinary organization devoted to aging, and was elected in 2018 to its board. She also serves on the AARP's Public Policy Institute Roundtable and the Lindsay Institute's Caregiving Advisory Council, and is associate editor for the Journal of Ethnicity & Health. At UVA, where she teaches public policy to graduate and undergrad nursing students, she earned the 2016 Faculty Leadership Award from the School of Nursing's Alumni Association.
Spanish Professor Lands Prestigious Fellowship
Anne Garland Mahler, associate professor of Spanish in the Department of Spanish, Italian, and Portuguese, is among the national cohort of 2020 American Council of Learned Societies Fellows. The program awards fellowships to individual scholars working in the humanities and related social sciences with the potential to make significant contributions to knowledge in their fields.
This year, ACLS Fellowships totaling $4.3 million will be distributed among 81 awardees selected from nearly 1,200 applicants through a multi-stage, peer review process. The awards range from $40,000 to $75,000 and support six to 12 months of full-time research and writing.
Mahler's project, "South-South Solidarities: Racial Capitalism and Political Community From the Americas to the Globe," unearths networks of politically radical activists and artists in the American hemisphere and around the world in the 1920s and '30s, examining the impact of their vision for a "rebellious humanity" in social movements today, specifically on the subjects of black and indigenous labor, immigrant rights and racial policing.
Students Win Environmental Law Writing Competition
Justin Aimonetti and Christian Talley, May graduates of the School of Law, won a writing competition for their analysis of religious liberty and environmentalism. 
The duo won the annual White River Environmental Law Writing Competition, sponsored by the Vermont Journal of Environmental Law and Vermont Law School, for their paper "Religion as Sword, But Not as Shield: Rectifying the Estrangement of Environmentalism and Religious Liberty."  
They donated their $1,000 prize to an emergency fund established during the COVID-19 pandemic for Law School and University contract workers and employees.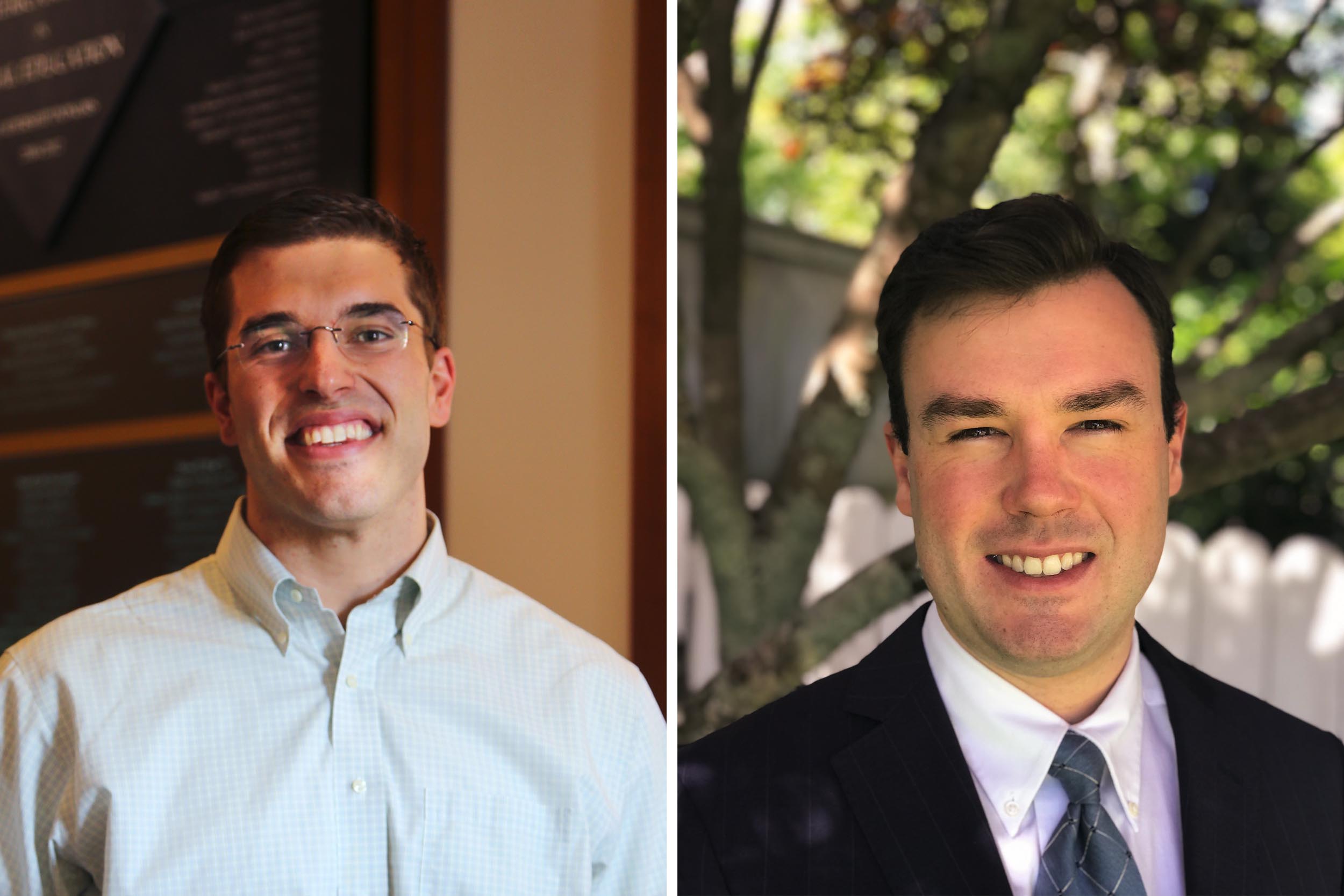 May Law School graduates Justin Aimonetti, left, and Christian Talley won the annual White River Environmental Law Writing Competition. (Contributed photos)
Forthcoming in the Vermont Journal of Environmental Law, Aimonetti and Talley's paper explores how religious liberty and environmental law evolved from allied concerns to competing legal interests.  
"For a brief period in the late 1980s, there appeared to be a real chance that religious litigants could prevail on religious liberty claims to halt environmentally harmful development projects that infringed their religious practice," the pair said in a statement. "But the court foreclosed this possibility when it tightened, and eventually rejected, strict scrutiny for incidental burdens on religion."  
The paper discusses how religious liberty would go on to be invoked in order to evade environmental regulations. 
"By contrast, relying on later-enacted statutes like the Religious Land Use and Institutionalized Persons Act, modern litigants have enjoyed a measure of success asserting religious liberty challenges to gain exemptions from environmental regulations," they said. 
The writing competition victory builds on their previous win in Stanford Law Review's inaugural Student Essay Competition in January. The topic is pertinent, they said, as the U.S. Supreme Court agrees to hear more cases concerning the scope of the free exercise clause. 
The White River competition is open to original essays addressing any relevant topic in the fields of environmental law, natural resource law, energy law, environmental justice, land use law, animal law and agricultural law. 
May Grad Receives UVA Law's Outstanding Clinical Student Award
The School of Law named May graduate Andy Kriha this year's recipient of the Clinical Legal Education Association's Outstanding Clinical Student Award. 
Students are nominated by their law school's faculty for excellence in clinical field work and for exceptionally thoughtful, self-reflective participation in an accompanying clinical seminar. 
Kriha, along with rising third-year law student Dani Gibbons, helped an Environmental and Regulatory Law Clinic client present arguments before the Virginia State Corporation Commission. Responding to arguments raised by the clinic, on Jan. 28 the commission ordered Appalachian Power Co. to model plans to meet state targets for renewable power.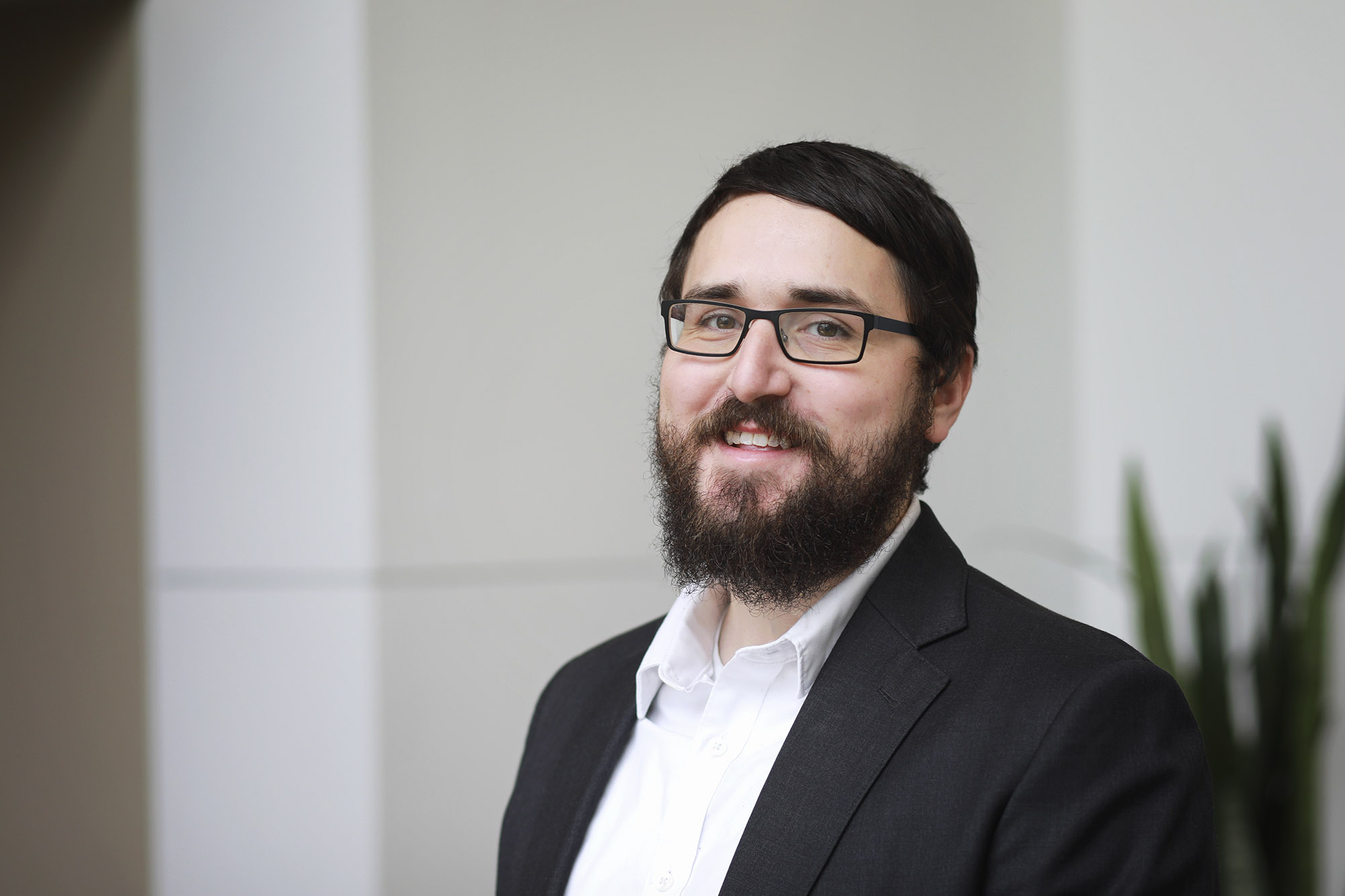 Andy Kriha, a May graduate of the School of Law, led an effort to force Appalachian Power Co. to model plans to meet state targets for renewable power. (UVA School of Law photo)
The students participated in every phase of advocacy, including brainstorming issues to raise and arguments for those issues, researching support for their arguments, formulating and drafting discovery requests, and drafting and editing portions of the statement that law professor Cale Jaffe, the clinic's director, read at the commission hearing. 
"This award shines a light on the high quality and impactful work that Professor Jaffe has been able to draw to the clinic," Kriha said. "The work I did over the past year was the result of being given meaningful assignments and being guided by an excellent mentor. I am grateful that I was put in a position to do some good work and succeed." 
Kriha said he learned the detailed mechanics of participating in the administrative process at both the state and federal levels. He added that participating in the clinic also greatly improved his legal writing and advocacy skills. 
Kriha will work for the Washington, D.C., office of Eversheds Sutherland and hopes to join the energy and infrastructure practice group. 
"We had an amazing group of students in the clinic this year who really came together as a team, generously pitching in to help each other," Jaffe said. "Andy's brilliant insights and thoughtful contributions across a wide array of projects exemplified that spirit." 
Virginia's 20 clinics, many of which offer contact with clients, build experience with real-world problems. Students also advance their skills through courses in public speaking, trial advocacy, professional responsibility and legal research and writing, as well as extracurricular moot court and mock trial competitions. 
Article Information
June 8, 2020
/content/accolades-national-100-great-hospitals-list-includes-uva-medical-center