Jim Donovan, an adjunct professor at the University of Virginia School of Law and a managing director of Goldman Sachs, has been nominated to fill the post of deputy secretary of the U.S. Treasury Department.
"Jim Donovan has been teaching courses in our Law & Business Program for eight years, and during that time he has given our students unique and invaluable instruction in corporate strategy and client relations," Law Dean Risa Goluboff said. "We are fortunate to have him as a member of the UVA Law community and hope to have him back when he concludes his public service."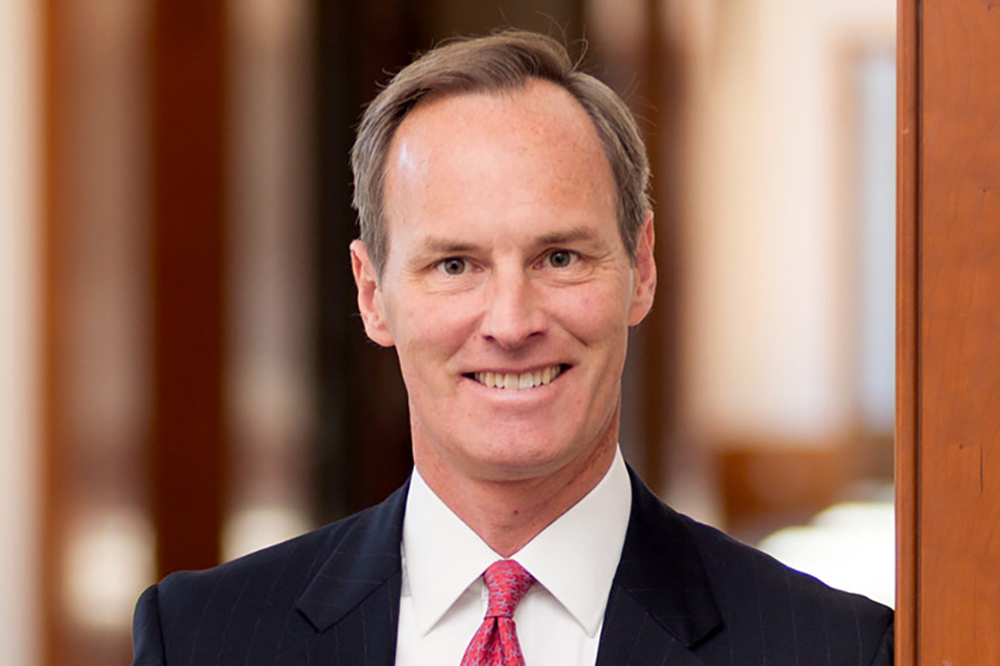 Jim Donovan has taught short courses on corporate strategy and leadership at UVA since 2009. (School of Law photo)
Donovan is responsible for advising many of the largest corporate and individual clients of Goldman Sachs. He joined the firm in 1993 and was named a partner in 2000. During his career at Goldman Sachs, he has worked in investment banking and investment management, and on corporate strategy.
– Mary Wood
NAACP Image Awards Go to Professor, Alumna
Poet Rita Dove, Commonwealth Professor of English, and alumna Margot Lee Shetterly, author of "Hidden Figures," are among winners of the NAACP's 2017 Image Awards, celebrated last month in Los Angeles, for their outstanding literary work.
Dove was awarded for her "Collected Poems: 1974-2004," which also was a National Book Award finalist. Shetterly, a 1991 McIntire School of Commerce graduate, published the nonfiction book, "Hidden Figures" in 2014, and Hollywood immediately snapped up for film the true story of African-American female mathematicians who made John Glenn's successful orbit of the Earth possible. The movie was nominated for three Academy Awards, including best picture.
Hedgehog Review Receives First Ellie Award Nomination
The Hedgehog Review, an interdisciplinary journal published by UVA's Institute for Advanced Studies in Culture, was one of five finalists for the 2017 National Magazine Awards for Print and Digital Media.
The journal received its first "Ellie Award" (named for the elephant-shaped trophy that the winners receive) nomination in the essays and criticism category, recognizing interpretive and critical journalism. The nominated essay, which appeared in the fall 2016 issue, is "Ladies in Waiting" by Becca Rothfeld, a doctoral candidate at Harvard University. Rothfeld investigates the figure of the waiting woman in literature, film and life, arguing that women often create "a passivity over which [they] assert ownership."
The New York Times Magazine won the award for "David's Ankles," by Sam Anderson. The winners were announced Feb. 7.
UVA Black Law Students Association Wins National Chapter of the Year
The Black Law Students Association at the UVA School of Law won National Chapter of the Year honors at the organization's national conference in Houston earlier this month – the fourth time it has received the national chapter award since 2002.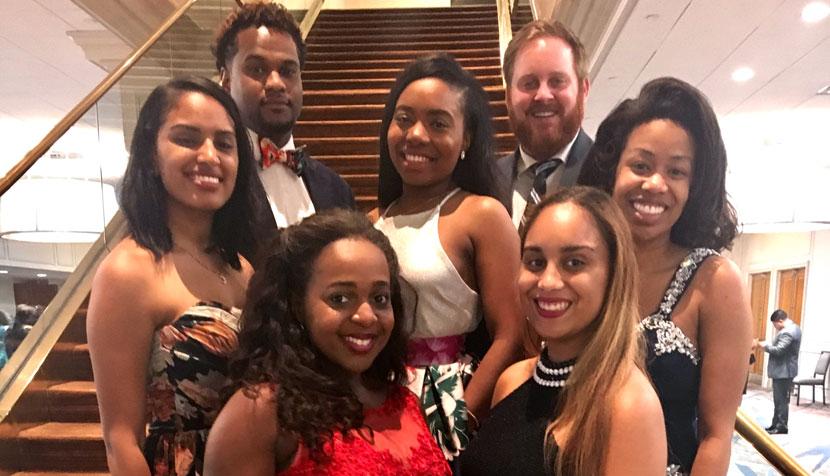 Members of UVA's Black Law Students Association chapter include, left to right, Marwa Abdelaziz, Steven Morris, Deitra Jones, Charis Redmond, Jeremy Lofthouse, Nel-Sylvia Guzman and Keyawna Griffith.
Chapters were judged based on students' efforts as advocates for the National Black Law Students Association's service ideals, both at their home law schools and in the broader community, and their programming in several categories: community service initiatives, sociopolitical awareness, pre-law programming, alumni relations, education and career development, regional programming and international relations. The associations are required to submit an application and scrapbook, and judges interview its representatives. There are more than 200 chapters in the United States.
More than 300 students from 80 law schools attended the conference.
UVA Law BLSA member and first-year student Subulola Akere also brought home an award for Best Negotiator of the Second Preliminary Round for the Nelson Mandela International Negotiation Competition.
The chapter regularly sponsors programs, community outreach projects and panel discussions. The organization's popular biannual diversity receptions provide students with opportunities to network with representatives from law firms interested in recruiting a diverse group of lawyers.
– Kimberly Reich
UVA Surgeon Elected to Transplant Organization's Board
Dr. Kenneth Brayman, surgical director of kidney transplantation at the UVA Health System, has been elected to a two-year term on the United Network for Organ Sharing/Organ Procurement and Transplantation Network board of directors.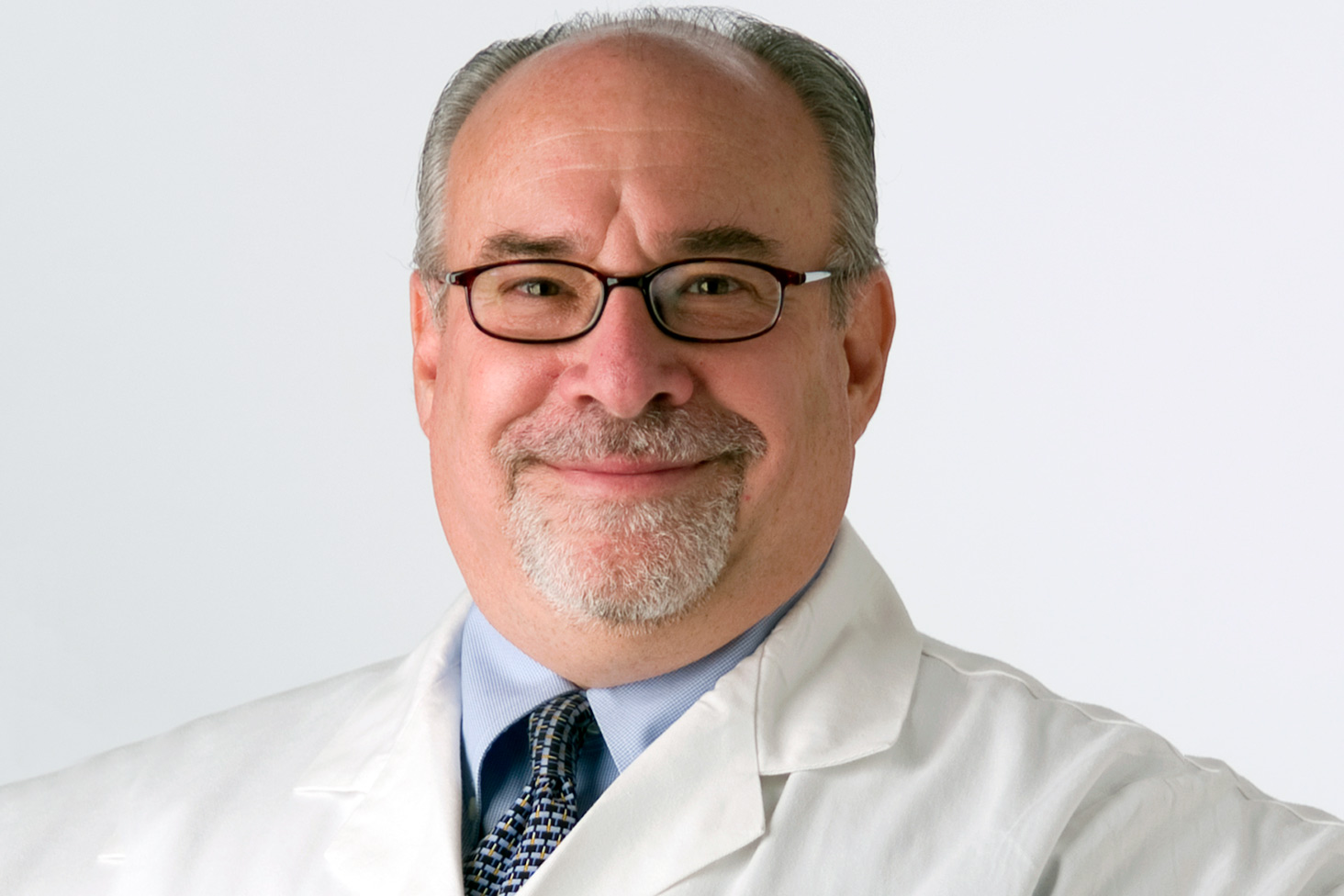 Dr. Kenneth Brayman is surgical director of kidney transplantation at the UVA Health System. (UVA Health System photo)
UNOS serves as the Organ Procurement and Transplantation Network by contract with the U.S. Department of Health and Human Services. The network brings together medical professionals, transplant recipients and donor families to develop national organ transplantation policy.
Brayman's term begins July 1. He has worked as a transplant surgeon and researcher at UVA since 2002.
Nursing Professor Named to Research Hall of Fame
Christine Kennedy, an associate dean in the School of Nursing, will be inducted into Sigma Theta Tau International's Nurse Researcher Hall of Fame in July.
The honor – which lauds Kennedy's four decades of scholarship, mentoring of nurse faculty and her expansive contributions to the profession – is one of a series of national recognitions the pediatric nurse practitioner has received during her career.
With the 23 inductees this July, the nursing fraternity's Research Hall of Fame will include Kennedy and 155 other nurse researchers and scholars from around the world – representing Australia, Belgium, Canada, Finland, Lebanon, Mexico, South Africa, South Korea, Taiwan, Thailand, the United Kingdom and the United States.
Kennedy, the Sly Professor of Nursing, is a professor of pediatrics in the School of Medicine and associate dean for academic programs. Her work – which has focused on the influences on children's developing health habits – has garnered more than $11 million in research funding over a four-decade career and yielded more than 90 publications. Currently, she is studying the role of health literacy and health disparities among underserved populations.
Kennedy's many honors include UVA's 2015 Mentor of the Year award and a Health Literacy Research Award from the Institute of Health Care Advancement in 2013.
– Christine Phelan Kueter
Med School's Diversity Dean Honored for 'Giving Back'
Dr. Gregory Townsend in February received the 2017 Giving Back Award from INSIGHT Into Diversity magazine, which honors college and university administrators who go above and beyond their everyday leadership duties and "give back" to their campuses and communities. Townsend,, the associate dean for diversity and medical education and an associate professor in the School of Medicine,and 38 other recipients will be featured in the magazine's April issue.
As associate dean, Townsend provides leadership, information and counsel to students, faculty and staff to facilitate a positive experience for all as part of a diverse community. He leads the school's Diversity Consortium and serves on its Admissions Committee and Diversity Steering Committee. He also sits on the University-wide Diversity Council.
INSIGHT cited Townsend's "ongoing engagement within his community, as well as his advocacy in the School of Medicine. Dr. Townsend encourages a broad sense of inclusion and also embraces the breadth of diversity within the education realm. Dr. Townsend has been a role model of inclusivity and has advanced the vital mission of creating a more diverse environment at the School of Medicine."
According to the School of Medicine's announcement, Townsend has been a leader in promoting all realms of diversity, including disability, gender identity and expression, sexual orientation, age, religion, race/ethnicity, nationality, and other social dimensions that are important for the school and academic medicine.
Media Studies Professor Earns China Fellowship
The National Committee on United States-China Relations has named Aynne Kokas, an assistant professor of media studies, as a fellow of its Public Intellectuals Program.
"The program is designed to nurture a new generation of China specialists who have the interest and potential to play significant roles as public intellectuals," according to the announcement. "Funded with a generous grant from Carnegie Corporation of New York, the goal is to expand the American public's understanding of China by strengthening links among U.S. academics, policymakers and opinion leaders."
 The program's fifth cohort of fellows includes 21 American China scholars.
The multi-year enrichment opportunity is intended to complement the fellows' primary academic or professional positions. Activities include trips to China as a cohort; meetings in Washington to visit the D.C.-based China policy community; participation in National Committee programs; and a requirement that the fellows organize local public education programs.
Kokas lists her academic interests as media policy, media industries, U.S.-China trade, U.S.-China cybersecurity relations and China-Hollywood relations.
Survey Research Group Honors Guterbock
Thomas Guterbock, professor of sociology and director of the Center for Survey Research at UVA, has been named the 2017 recipient of the John M. Kennedy Achievement Award, given by the national Association of Academic Survey Research Organizations for his service and leadership to academic survey research.
As founding director of the Center for Survey Research, now in its 29th year, Guterbock has led the organization through numerous changes, including leading the introduction of dual-frame telephone surveys, developing multi-mode survey capabilities and using text messages as survey reminders. He is highly respected within the field of academic survey research, with many peer-reviewed publications and media interviews.
– Anne Bromley
English Professor's Book Takes Award for 18th-Century Studies
"Literature Incorporated: The Cultural Unconscious of the Business Corporation, 1650-1850," by John O'Brien, associate professor of English and the NEH Daniels Family Distinguished Teaching Professor, has been awarded the Louis Gottschalk Prize, presented annually "for an outstanding historical or critical study on the 18th century" by the American Society for Eighteenth Century Studies.
Long before the Supreme Court's ruling in Citizens United and modern debates over corporations as people, these organizations already stood between the public and private as both vehicles for commerce and imaginative constructs based on groups of individuals. O'Brien explores how this relationship played out in economics and literature, two fields that gained prominence in the same era.
Covering authors such as John Locke, Eliza Haywood, Harriet Martineau and Edgar Allan Poe, each chapter is oriented around a type of corporation reflected in their works, such as insurance companies or banks. By revealing the intricate ties between literary models and economic concepts, "Literature Incorporated" shows how the business corporation has shaped understanding of our social world and ourselves.
– Anne Bromley
Albert Choi Chosen to Edit American Law and Economics Review
School of Law Professor Albert Choi has been named one of two top editors of the American Law and Economics Review.
He previously served as an associate editor of the review, and from 2011 to 2014, was a director on the American Law and Economics Association's board.
Published twice a year by Oxford University Press on behalf of the American Law and Economics Association, the publication is a highly respected, peer-reviewed academic journal. Choi will co-edit with J.J. Prescott of the University of Michigan Law School.
Choi, the Albert C. BeVier Research Professor of Law at UVA, specializes in contracts, corporations, corporate finance, and mergers and acquisitions. He joined the Law School as an associate professor of law and associate director of the John M. Olin Program in Law and Economics in 2005, after teaching as an assistant professor in the University's Department of Economics.
– Eric Williamson
Nursing Professor Wins Fulbright for Research in South Africa, Thailand
Associate Professor of Nursing Cathy Campbell has received a Global Fulbright U.S. Scholar Award to study cultural context of death and dying and the palliative care skills and practices of South African and Thai community health workers.
Campbell, a palliative care expert, will interview 120 community health workers to make cross-cultural comparisons between the two countries' practices with scholars from the University of Venda and the Prince of Songkla University.
She begins data collection this June, and expects to finish the project by fall 2018.
UVA Dining Gets Solid National Ranking
The University of Virginia ranked No. 15 in lendEDU's rankings of the nation's Top 30 College Dining Halls, announced in February.
In its summary, the website wrote: "UVA's food options are solid across the board, with three dining halls located throughout campus along with several other restaurant options open beyond the dining halls' 14 hours. The $5,080 price tag is worth it for students who appreciate diverse menus catering to multiple dietary preferences. The University of Virginia also sets a high standard with its green initiatives, including sourcing ingredients locally and composting dining hall waste. It's an ideal option for anyone who is conscientious about where their food comes from and what happens after they drop off their tray."
UVA Dining, operated by ARAMARK, has 34 locations around Grounds ranging from large dining halls to cafes and convenience stores.
LendEDU describes itself as "a marketplace for student loans and student loan refinance" and offers related information. According to the announcement, it drew upon the following criteria: number of dining halls, hours of operations, cost of meal plan, overall menu options and special diet menu options.
Article Information
March 22, 2017
/content/accolades-trump-nominates-adjunct-law-professor-deputy-treasury-secretary