To honor the co-founder who has helped thousands of patients across Virginia and the world better access health care, the University of Virginia Center for Telehealth has been renamed the Karen S. Rheuban Center for Telehealth.
A pediatric cardiologist by training, Rheuban said she was inspired to help create the center through the challenges she would face seeing her own patients. "We would be driving all over Virginia to see patients. But when we're not there, we're not there," she said.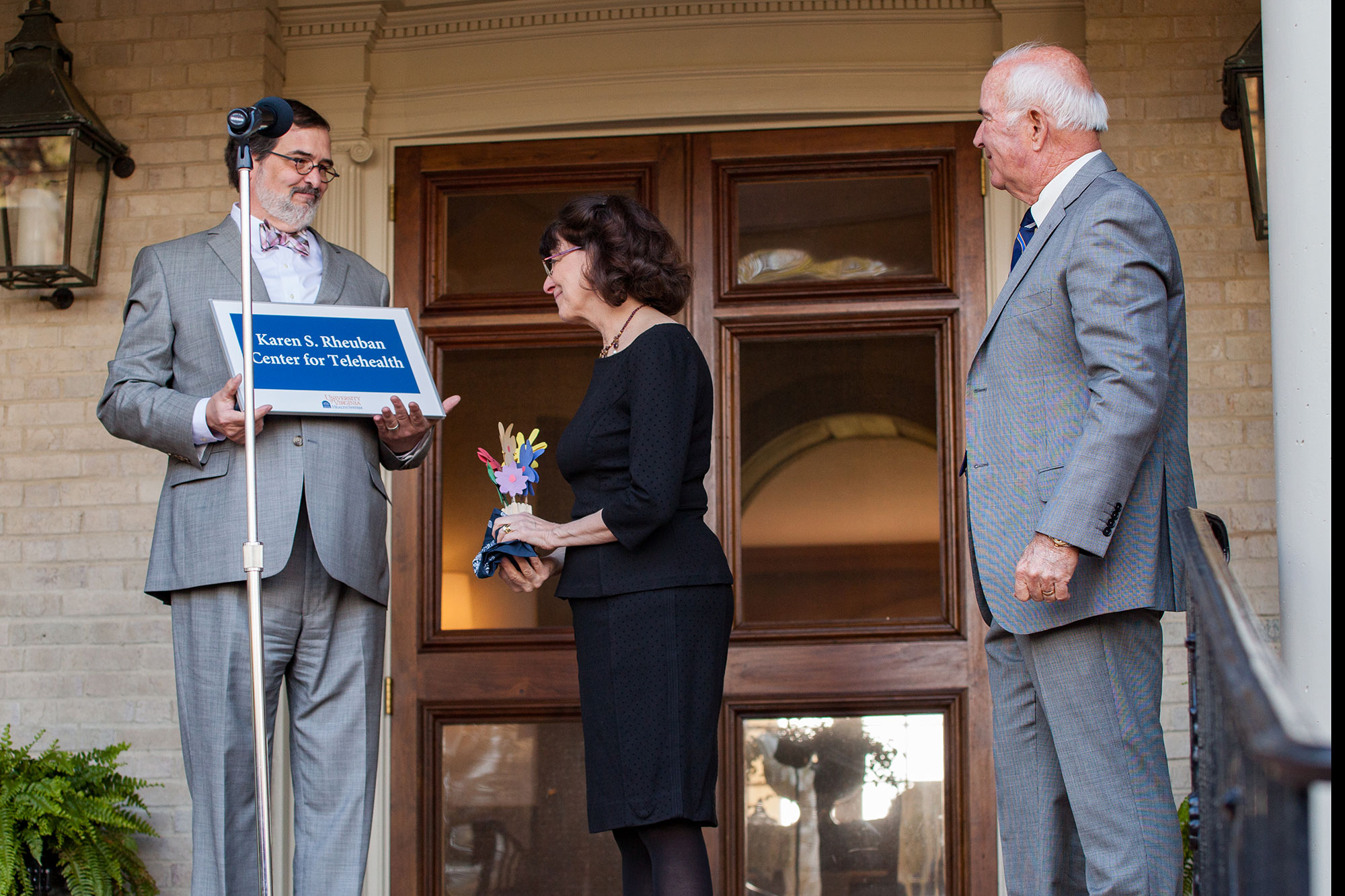 The UVA Health System celebrated telemedicine pioneer Karen S. Rheuban by naming its Center for Telehealth in her honor.
That drive to do more for her own patients – and to figure out how technology could be harnessed to help patients with a range of conditions – led to the telehealth center's founding more than 20 years ago. Since then, the center has facilitated more than 50,000 patient encounters, in more than 40 specialties, through secure video at more than 150 sites throughout Virginia as well as locations around the world.
The center has helped patients more easily access care closer to where they live while saving them an estimated 16 million miles of travel to get the care they need. The care provided through the center ranges from cystic fibrosis and high-risk pregnancy clinics to psychiatry and diabetes education.
Rheuban and the telehealth center have also worked to expand access to care throughout the mid-Atlantic, receiving a $1 million federal grant in 2011 to create the Mid-Atlantic Telehealth Resource Center that is based at UVA. The telehealth resource center works to expand telehealth expertise in the District of Columbia, Delaware, Kentucky, Maryland and North Carolina, along with Virginia.
Rheuban also serves as a trustee of the Swinfen Charitable Trust, which connects more than 300 hospitals in developing countries around the world via telemedicine with hundreds of medical specialists, including dozens at UVA.
– Eric Swensen
Casteen Receives National Mentoring Award
UVA President Emeritus John T. Casteen III received the 2016 Council of Fellows/Fidelity Investments Mentor Award during the opening plenary of ACE2016, the American Council on Education's 98th annual meeting, held recently in San Francisco.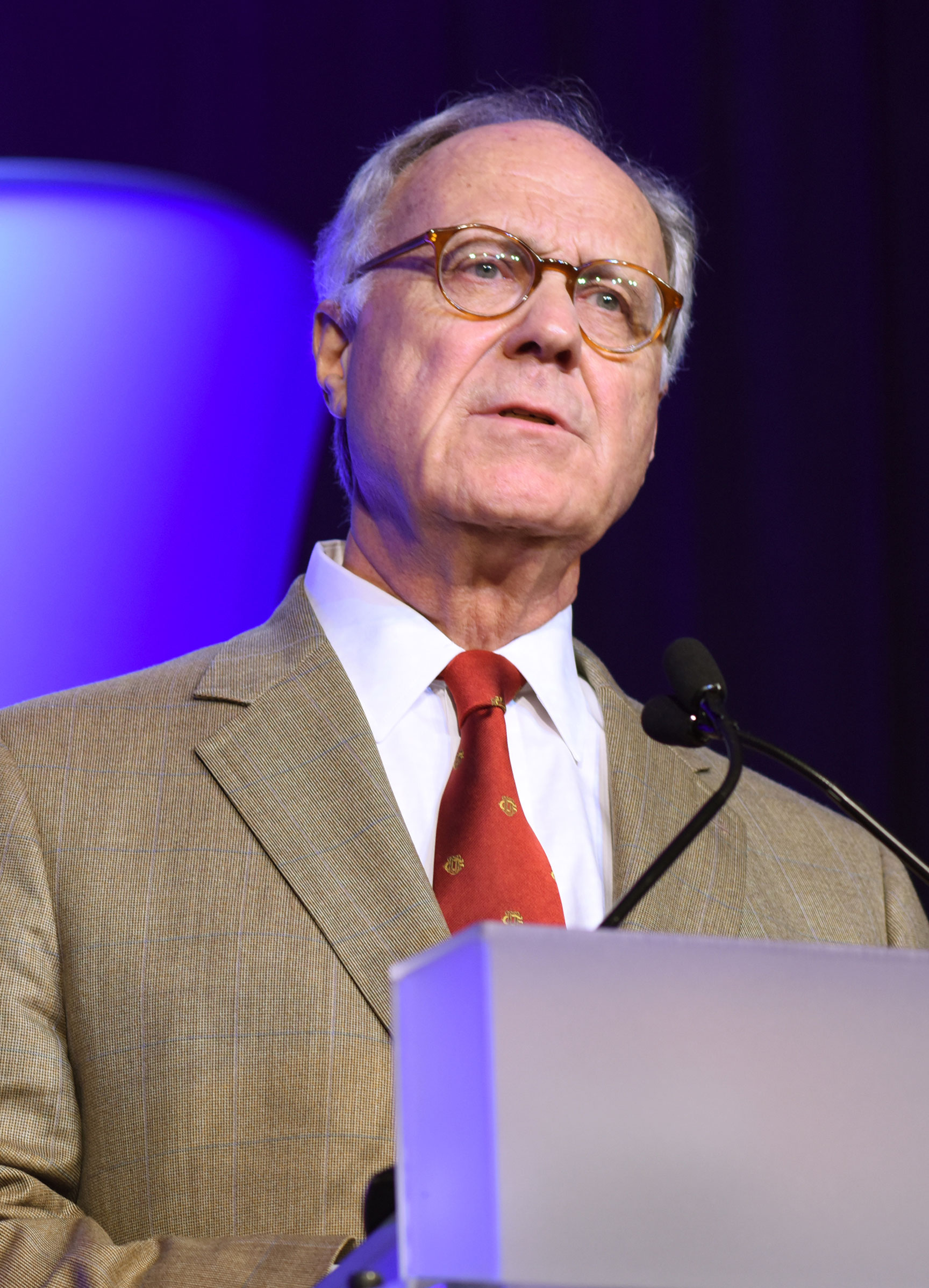 UVA President Emeritus John T. Casteen III speaks after receiving the American Council on Education's 2016 Council of Fellows/Fidelity Investments Mentor Award.
The award is bestowed annually to acknowledge the substantial role of mentors in the success of ACE Fellows Program participants. Established in 1965, the program is designed to strengthen institutions and leadership in American higher education by identifying and preparing faculty and staff for senior positions in college and university administration. Nearly 2,000 higher education leaders have participated since its inception, with more than 300 fellows having served as chief executive officers of colleges or universities and more than 1,300 having served as provosts, vice presidents and deans.
Casteen, UVA's president from 1990 to 2010, has mentored six fellows and nominated two others to participate in the program. 
"President Emeritus Casteen's dedication to the Fellows Program exemplifies his commitment to helping pave a path for future higher education leaders," said Lynn M. Gangone, ACE's vice president of leadership programs. "Mentors are a driving force in what makes the Fellows Program so unique, and we are grateful to him and the thousands of other mentors who have devoted such extensive time and effort over the years to the program."
Casteen continues to teach at UVA. His current courses include one primarily for graduate students on intellectual history in Venice, a multi-year series of graduate seminars on the governance of colleges and universities, and introductory courses in Old English and Old Icelandic. He is an active Fellow of the American Academy of Arts and Sciences.
Gies Shares Lifetime Achievement Award in Spanish
David T. Gies, Commonwealth Professor of Spanish, is one of two prominent professors and university researchers to share the 2016 Enrique Anderson Imbert Prize of the North American Academy of the Spanish Language.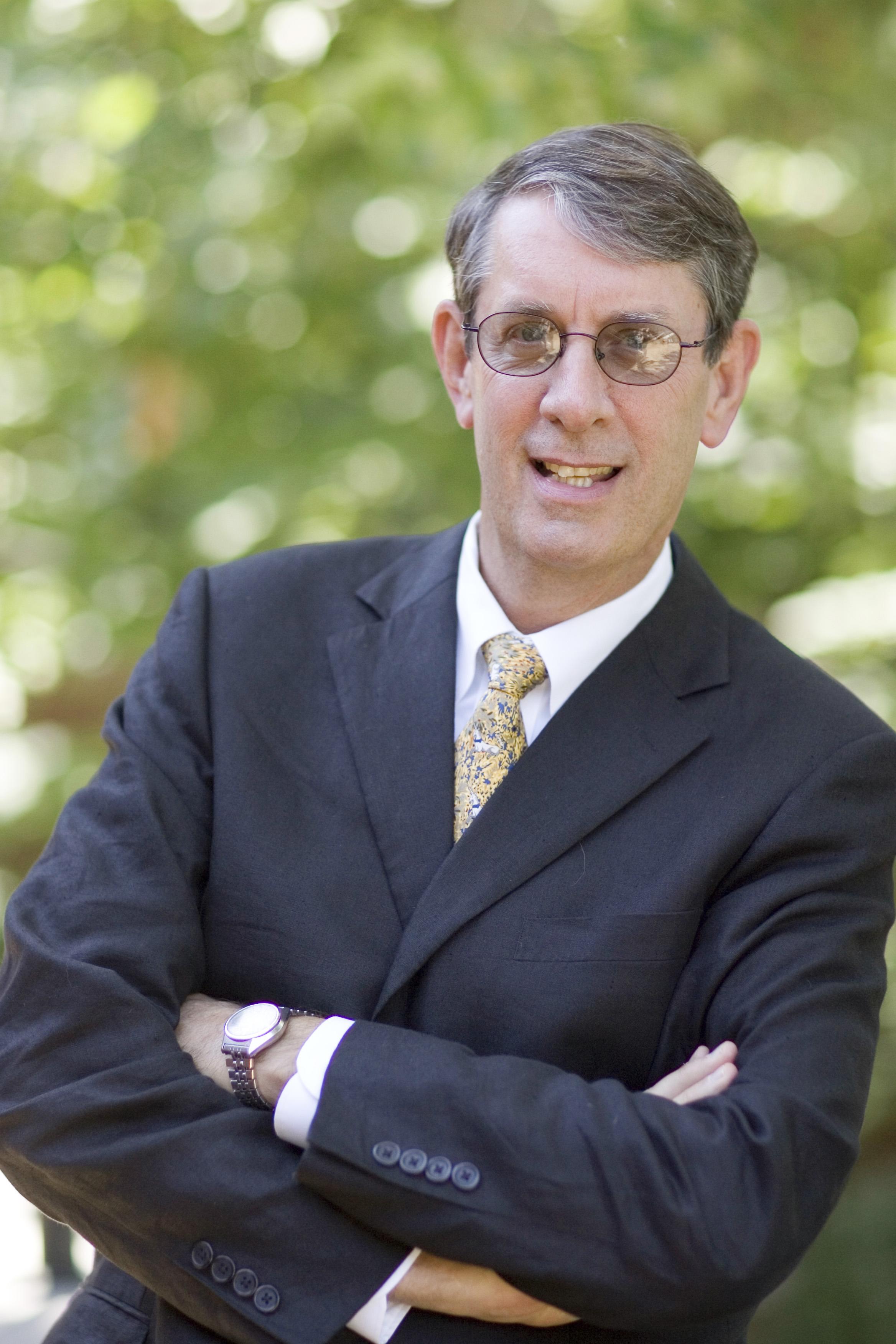 Commonwealth Professor of Spanish David T. Gies was honored for his contributions to "the understanding, appreciation and promotion of the Hispanic cultures of the United States."
 The prestigious award, given annually since 2012, recognizes the career achievements of academics, writers and artists who have greatly contributed to the understanding, appreciation and promotion of the Hispanic cultures of the United States, especially in the fields of language and literature. Institutions are also eligible.
For the first time, the jury split this year's honor. Gies shared the award with Raquel Chang-Rodriguez of the City University of New York.
Gerardo Piña Rosales, who directs the academy, commented that both winners "have been bridges between different generations of students whose work has had extensive repercussion inside and outside the United States."  
Carlos Paldao, the academy's secretary and head of the Prize Committee, added, "Without a doubt, this year's winners honor our academy with their national and international prestige; they hold unique places in Hispanic letters in this century."
Shayn Peirce-Cottler Elected to Lead Microcirculatory Society
Shayn Peirce-Cottler, a professor of biomedical engineering with joint appointments in ophthalmology and plastic surgery, has been voted president-elect of the Microcirculatory Society in online balloting conducted in March. Her term began April 3 during the society's annual meeting in San Diego; she will take on the presidency next April in Boston.
The Microcirculatory Society seeks to actively encourage and promote innovative research and teaching, leading to an increase in understanding of microcirculatory function in health and disease. Its membership integrates multiple disciplines with a common interest in improving understanding of microcirculation and its role in a variety of pathologies, and includes molecular biologists, cell biologists, developmental biologists, biophysicists, physiologists, immunologists, biomedical engineers, computational and theoretical biologists, and other scientists and medical professionals with an interest in microvascular function.
Nursing Ph.D. Student Earns Graduate Diversity Award
School of Nursing Ph.D. student Holly Edwards – a former Charlottesville city councilor, Jefferson Area Board for Aging nurse, nursing researcher and a clinical instructor – received UVA's first Excellence in Graduate Diversity Award.
Nominated by Nursing Professor Susan Kools, the school's Director of Inclusion, Diversity & Excellence Achievement; nursing doctoral student Karen Moss; and public health professor Janita Richardson, Edwards received the award at an April 8 celebration with UVA President Teresa A. Sullivan and Dr. Marcus Martin, UVA's vice president and chief officer for diversity and equity.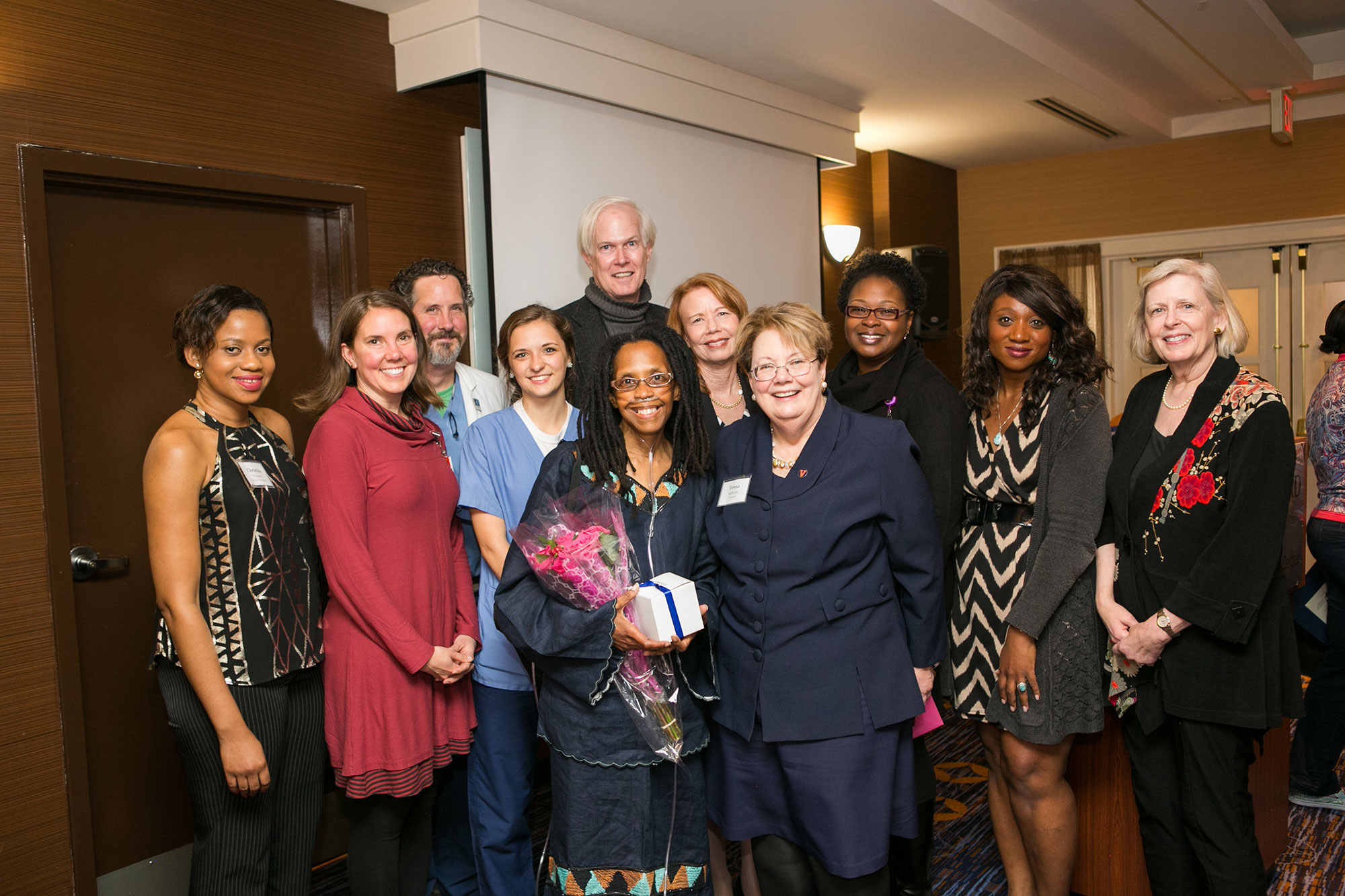 Nursing Ph.D. student Holly Edwards, front left, stands with UVA President Teresa A. Sullivan, front right, and colleagues after receiving UVA's first Excellence in Graduate Diversity Award.
Professional Society, UNC-Greensboro Honor Nursing Professor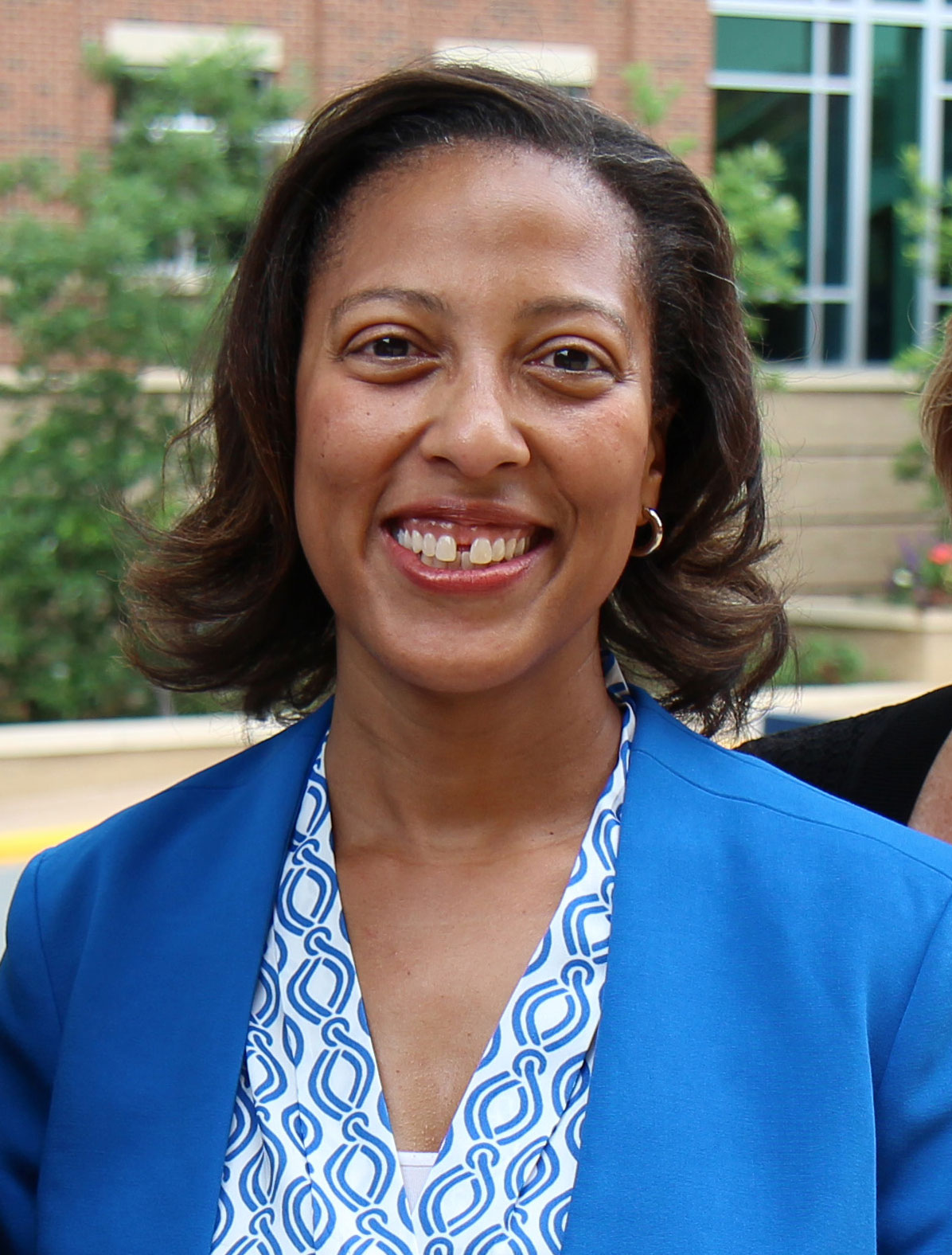 Ishan Williams
School of Nursing assistant professor Ishan Williams has received both the Southern Gerontological Society's annual Applied Gerontologist Award for 2016, given at the group's annual meeting in Charlottesville, as well as the University of North Carolina-Greensboro's Pacesetter Award, which recognizes leadership and scholarship among alumni from that institution's School of Health and Human Sciences.
Williams, a member of the School of Nursing's Aging Research Team, studies chronic illness and mental health among vulnerable populations of older adults and their caregivers.
American College of Cardiology Cites Young UVA Investigator
Dr. Travis Moss of the School of Medicine earned honorable mention in the American College of Cardiology's Young Investigator Awards competition, which encourages and recognizes young scientific investigators of promise. The awards were presented April 4 at the Convocation Ceremony during the group's 65th Annual Scientific Session in Chicago.
Moss, a cardiovascular disease fellow in UVA's Division of Cardiovascular Medicine, competed in the "Cardiovascular Health Outcomes and Population Genetics" category. His presentation was on "The Impact of Incident Atrial Fibrillation in the Intensive Care Unit."
Candidates submitted an abstract summarizing any problem relating to cardiovascular disease, whether in etiology, pathophysiology, diagnosis or therapy.  Five finalists were selected in each of four award categories and invited to attend the Scientific Session to present their work during the Young Investigator Awards Competition.
Rosenbloom Awards Made to Generous Law Students
School of Law students Ria Caldwell and Greg Rustico received the school's 2016 Rosenbloom Award for academic service this month.
The award recognizes academically strong third-year law students who have significantly enhanced the academic experience of their peers by unselfishly volunteering support and assistance to them.
"Both students were lauded for their dedication to helping others, which is a keystone for Mr. Rosenbloom's award," said Sarah Davies, assistant dean for student affairs. "The award is supposed to go to someone who unselfishly assists others with whom he or she would otherwise be considered to be in competition."
Before attending UVA Law, Caldwell, a Seattle native, received her bachelor's degree in economics from the University of Washington. She was a member of the Virginia Law Review.
Rustico, a native of Middletown, New York, attended the University of Notre Dame, where he earned his bachelor's degree in political science and economics, as well as his master's degree in education. At UVA, Rustico served as vice president for fellowship of the Law Christian Fellowship, executive editor of the Virginia Law Review, vice president of Street Law, alumni coordinator for the Program in Law and Public Service, vice president for events of the St. Thomas More Society and a resident adviser for UVA Housing.
– Lyndsey Raynor
Article Information
May 3, 2016
/content/accolades-uva-center-telehealth-renamed-co-founder-karen-rheuban