The University of Virginia Board of Visitors today adopted an innovative program of "Affordable Excellence" that significantly reduces student indebtedness for qualifying Virginia residents, affirming U.Va.'s position as one of the best values in higher education.
The new model reduces student indebtedness for both low- and middle-income Virginians and increases grant aid, while offering options for a stronger degree of predictability for families over the course of a student's four-year career on Grounds.
For about 70 percent of Virginia households, Affordable Excellence reduces the net cost of a U.Va. education.
"The University of Virginia is committed to providing an outstanding education at an affordable price, without saddling Virginians with unreasonable burdens of debt," Rector George Keith Martin said. "Affordable Excellence secures this commitment."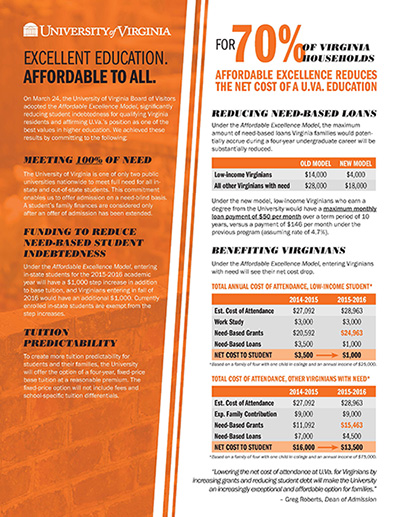 Under the new model, the maximum amount of need-based loans Virginia families would potentially accrue during a four-year undergraduate career will be reduced by $10,000. Beginning this fall, for Virginians demonstrating high financial need, maximum student loan indebtedness drops from $14,000 to $4,000. For all other in-state students qualifying for need-based loans, maximum indebtedness drops from $28,000 over four years to $18,000. Starting in the fall, the lowered indebtedness will be extended to all current in-state students with demonstrated need.
Under the revised plan, a high-financial-need Virginian who earns a degree from the University would have a maximum monthly loan payment of $50 per month, versus a payment of $146 per month under the previous program.
Through its AccessUVa financial aid program, U.Va. meets 100 percent of the demonstrated need of all undergraduate students. It is one of only two universities to meet full need for all in-state and out-of-state students and also to offer admission on a need-blind basis. A student's family finances are considered only after an offer of admission has been extended.
"Lowering the net cost of attendance at U.Va. for Virginians by increasing grants and reducing student debt will make the University an increasingly exceptional and affordable option for families," Dean of Admission Greg Roberts said.
With national concern in recent years intensifying on student debt and the cost of a college degree, Martin in June formed a new finance subcommittee of the Board of Visitors, charging its members with developing recommendations on an integrated approach to tuition, financial aid, the operating budget and implementation of the Cornerstone Plan, U.Va.'s five-year strategic plan. The primary goal of the work was to develop a multi-year financial framework that benefits students and their families, supports the commonwealth's higher-education service to Virginians and sustains AccessUVA.
"As one of the nation's top public universities, U.Va. has a responsibility to take a leadership role on affordability, access, value and sustainable excellence," Board of Visitors member and finance subcommittee chair John Griffin said. "With today's vote, the board demonstrates that U.Va. has a clear and compelling response to this challenge."
The subcommittee explored many avenues during the last eight months for sustaining and further advancing U.Va.'s excellence while increasing affordability. The work included identifying sustainable funding for Cornerstone Plan strategic initiatives and for investments necessary to meet an anticipated generational turnover of University faculty in the coming seven years, as well as increases in base operating costs. 
"Fully implementing the Cornerstone Plan is critical because this plan provides the vision and foundation for a superb education for all U.Va. students," President Teresa A. Sullivan said. "Only superb faculty can deliver on this promise. As the generation of faculty who built excellence here begins to retire, it is imperative that we fill the next generation with the very best teachers, researchers and providers of clinical care."
Key to the finance subcommittee work was consideration of a series of "revenue levers" explored to determine if their use could generate efficiencies, create new revenue streams or augment existing efforts to identify sustainable funding for the Affordable Excellence plan and the Cornerstone Plan, while also addressing base operating increases. 
The subcommittee recommended a series of levers:
Organizational Excellence: An established U.Va. effort to achieve operational efficiencies, savings and productivity increases;
Endowment spending: An increase to 4.62 percent from 4.22 percent of the spending associated with the University's endowment;
Debt restructuring: Adjustments approved previously by the Board of Visitors resulted in lower interest rates and more favorable servicing of debt;
Investment earnings: Use of investment earnings on working capital and operating reserves, with approval occurring annually;
Philanthropy: Focused alignment of fundraising with strategic priorities, including emphasis on endowment-building to fund need-based scholarships.
Read the subcommittee's resolution. 
Under Affordable Excellence, in-state students entering this fall will have a $1,000 step increase in addition to base tuition, and Virginians entering in fall of 2016 would have an additional $1,000. Currently enrolled in-state students are exempt from the step increases.
On Tuesday, the Finance Committee voted to approve a 3.9 percent increase in base tuition for the 2015-16 academic year for in- and out-of-state students. With full board approval on Wednesday, the total price of an education – including tuition, fees, room and board, books and travel – for Virginians entering in the fall will increase 3.3 percent, or $895, plus the $1,000 step increase.
The University also will offer the option of a four-year, fixed-price base tuition at a reasonable premium. The fixed-price option will not include fees and school-specific tuition differentials.
"By ensuring the University remains one of the best values in all of higher education, and by leading on efforts to address student indebtedness, we expect graduates of U.Va. will enjoy far greater flexibility to explore a range of opportunities not constrained by excessive borrowing to finance a degree," Martin said.
Article Information
March 25, 2015
/content/affordable-excellence-model-significantly-lowers-student-indebtedness