University President Teresa A. Sullivan offered thanks Sunday to students, faculty, staff, public safety and health officials who persevered through two days of violence brought on by white supremacists who descended on the city for a rally that turned deadly.
The extraordinary weekend began Friday evening when members of an alt-right group, which had obtained permits for a public protest in downtown Charlottesville on Saturday, marched with torches across the Rotunda steps and Academical Village.
Authorities cleared the area, declaring an unlawful assembly, but not before tensions cracked and violence erupted. In downtown Charlottesville the following day, clashes escalated rapidly. Injuries mounted. And images of a car burrowing into a crowd of counter-protesters, killing a woman, horrified what had become an international audience stunned at the intensity of racial hatred on display.  Two troopers from the Virginia State Police supporting law-enforcement operations tragically died in a helicopter crash.
Sullivan spent Saturday morning walking the Grounds and talking with prospective students and had intended to spend the afternoon attending a series of sessions organized as constructive alternative programming to the downtown rally. Those sessions, however, and all other University events were cancelled when Gov. Terry McAuliffe approved a Declaration of Local Emergency.
Sullivan, instead, spent the day consulting with emergency officials, monitoring the worsening situation downtown, and hoping the day would not end — as it did— with the loss of lives.
She sat down with UVA Today on Sunday to assess things and evaluate the path forward.
Q. Traumatic and emotional events have occurred in the last 48 hours. People have been killed and many in our University community remain frightened, angry, confused, frustrated. What is on your mind right now?
A. The first thing I have to say is how indescribably sad it is that three lives were cut short. There were 35 or more people who were injured. And that was needless. The University is about freedom of speech, but free speech is not the same as violence. We strongly condemn this kind of abhorrent and intimidating behavior whose purpose is only to create fear and cause divisions in the community.
Q. What was the range of emotions that you experienced over the course of the weekend?
A. A fair amount of anger. Enormous sadness. Certainly frustration. Pride in how people rose to the occasion. I have to compliment the Health System. They worked magnificently well under very trying circumstances to handle some complicated cases that all came in at the same time in a mass-casualty incident. Our emergency workers, our police officers, they all worked very long hours. They've worn themselves out, trying to do the right thing. And now this week we have hundreds of new faculty and staff coming, and we have thousands of new students coming. And we have to gear up to give them a good welcome and help them understand what this community, and what this University is really like, regardless of what they saw on TV last weekend.
Q. Will the declaration of emergency affect University operations or events any further?
A. We have resumed normal business operations.
Q. While your preference was for people to not engage with the white supremacists at the rally downtown on Saturday, they showed up en masse with torches to intimidate our community on Grounds Friday night. How did our students and University community comport themselves in such a challenging and dangerous situation?
A. There were, I'm told, about 30 people who are members of the community who were there. They were not violent. They were not armed, except with signs. They formed a protective circle for one another around the statue of Thomas Jefferson. Dean of Students Allen Groves came to their assistance. And as Allen came, he himself was hit with a torch by one of the protestors. And then a general melee broke out in which the protestors threw torches and released pepper spray at the students and the community members there. So, it might have started as a march of intimidation, but it ended as a mob.
These are literally young UVA students age 17-23 standing up to a sea of white supremacists and neo-Nazis surrounding them #Charlottesville pic.twitter.com/VEU3mU9d3o

— sophia armen (@SophiaArmen) August 12, 2017
Q. How can our University community bring something good out of what can only be described as a tragedy this weekend? Where do we go from here?
A. It's really important for us to reflect on what it is we believe in. And what we believe in is not something that is partisan. It doesn't belong to one party or the other, although the country is very polarized right now in political terms. But the violence here yesterday was denounced by both Democratic and Republican elected leaders. The hateful things that we heard were beyond the pale for that political polarization. We heard chants about killing people, killing whole groups of people. Because the chants were directed at people in our community, we reject their message.
When we say diversity is a value of the University, that is not a politically correct code word. It refers to the fact that the Commonwealth of Virginia has a diverse population, and we're a public institution. And we represent that whole public. Some of those people are white and some are black. Some are Latino and some are immigrant. Some of them are straight and some of them are gay, lesbian, bisexual, transsexual. They come from all religious faiths. Some are Christian. Some are Jewish. Some are Muslim. Some are from other faiths. We don't reject any of those groups. But we recognize that it is a diverse community and we are seeking to bring it together rather than find ways to divide it further.
Q. You often talk about how the messages of the alt-right and others who were affiliated with this rally and demonstrations do not reflect the values that the University embraces. Simply, what are those core values?
A. I've just spoken at length on diversity. And another way we talk about that is inclusion. For a lot of the University's history, there were specific demographic groups who were excluded. Well, we're not about that. We're seeking to include them. We believe in mutual respect. And that means that you can discuss a variety of issues with one another, including with disagreements, but you still respect the other person. Disagreement is not the same as saying, 'I disagree with you, so, therefore, you must die.' That's some of what we were hearing yesterday. That's a really objectionable message.
Q. Are there elements of your background that have influenced your thinking on the kind of hatred on display over the weekend?
A. My mother's church was burned by the Ku Klux Klan in 1922 in Illinois. Then my mother was in the Army in World War II, and she was a nurse in Europe. She ended up in Germany and attended the Nuremberg Trials as the Army nurse on duty. I grew up with a true revulsion to the values that are expressed by people who call themselves the Ku Klux Klan and call themselves Neo-Nazi. That was one of the reasons I was personally caught in the gut by what happened yesterday.
Q. For parents of students, or for students who are about to begin their academic careers at UVA later this week, how do we reassure them about safety, and that UVA remains a place for them to achieve their academic and personal goals?
A. We have a lot of resources in place to keep our students physically safe. Besides our police force and security force, we have the Ambassadors who are patrolling and were very helpful to us this past weekend. Those are all people there to keep students safe. But we do expect our students to take personal responsibility. They should not expect that no matter what they do, there will be somebody there to save them. But there is another kind of safety. We also want out students to feel a certain amount of psychological safety, but that does not mean they will never hear anything they disagree with. We want students to become open and able to civilly engage with points of view they don't agree with. That is how we grow as educated individuals. It is an important part of our education.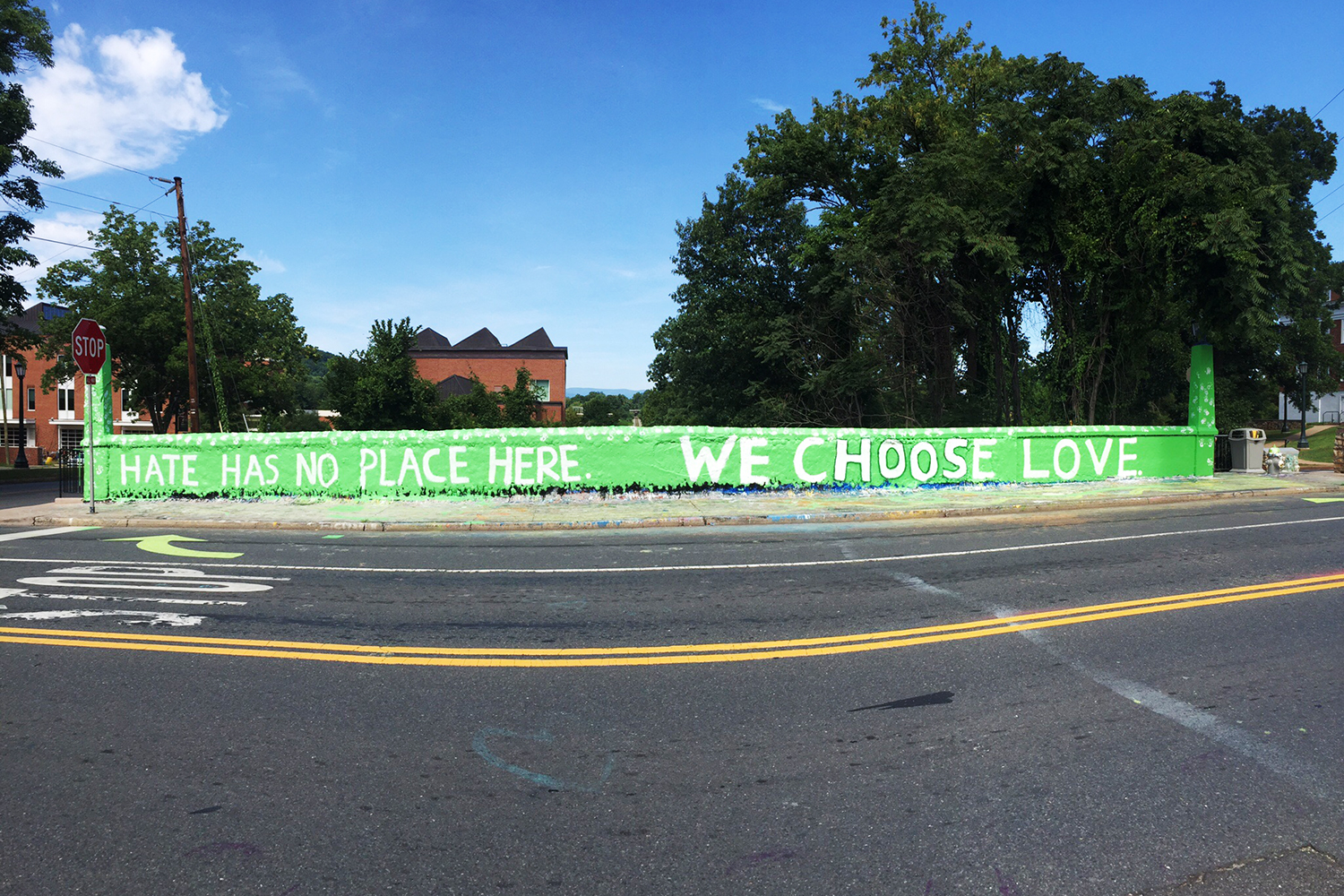 Q. UVA also prides itself as a place that contributes to the strength and sustainability of the republic. How can the University help our community and country heal from this event, and then grow stronger?
A. There are a number of events that are being planned in the community by religious congregations and others that are peace and unity vigils. That is one way in which people come together and look for constructive ways they can seek to heal. At the University we will continue the kinds of dialogues our faculty were willing to engage in on Saturday. Just because they couldn't do it Saturday doesn't mean that they aren't still willing and able, and don't have a good message to share with an audience and lead a discussion with that audience.
It is not about being politically correct. It is not about choosing sides between political parties. But it is about talking about issues and bringing data and argument to bear on those issues.
Article Information
August 13, 2017
/content/aftermath-violence-sullivan-reflects-challenging-weekend