After retiring from a job in the health care industry in 2008, Charlottesville resident Glenda Davis had allowed her Type 2 diabetes to worsen.
Davis' A1C test – which measures a person's average blood glucose level – was 9.8, well above the 7.0 threshold to be considered diabetic. As she started to lose kidney function, Davis was on a collision course with dialysis.
She wanted to improve her health. She was just having trouble doing it all on her own.
It was then that Davis' primary care doctor at the University of Virginia Health System suggested she try BEATDiabetes – a new pilot program that, through text messaging, sends patients daily tips, reminders and words of encouragement, while also offering financial incentives.
For Davis, it worked like a charm. A year later, she had dropped 70 pounds and no longer needed insulin injections. On her most recent A1C test, she registered a 6.0.
These days, the 72-year-old great-grandmother has become an avid walker, and said she feels like a new person.
Davis – who also earned $500 through BEATDiabetes for reaching several predetermined goals – can't say enough about the program and its founder, Dr. Susan Blank.
"I think the program is so good," said Davis last week, as she was putting a neighbor's baby down for a nap. "I'm just so thankful I got to participate in it. I hope more people will learn about it."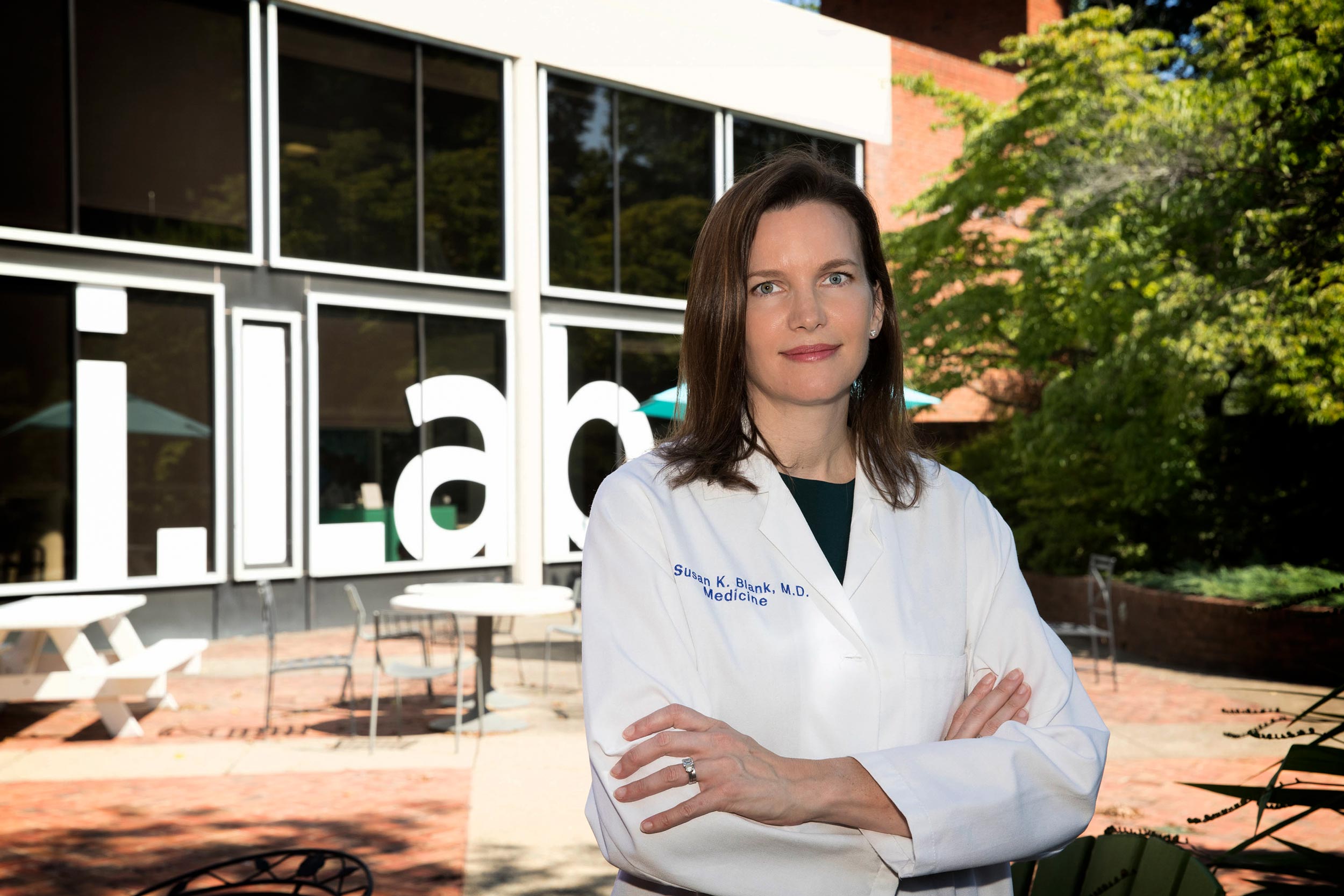 BEATDiabetes founder Susan Blank wants her company to help patients who have limited access to health care.
Blank, a Tennessee native who graduated from UVA in 1995, worked at Bain & Company before attending Harvard University Medical School. She worked as an endocrinologist in Charlottesville before stepping away from the medical field to start BEATDiabetes in 2017.
In the United States, 29 million people have Type 2 diabetes, while another 84 million are classified as being pre-diabetic.
"I wanted to try and address diabetes on more of a macro scale," Blank said.
The idea for the non-profit company – which Blank is currently growing in UVA's i.Lab – was born out of Blank's frustrations in treating Type 2 diabetes patients. She just couldn't get patients to follow through on changes to their diet and exercise, among other things.
Blank came to the realization that a large degree of her success as a doctor wasn't necessarily dependent on anything she was doing, but on the patients themselves.
"The way we usually treat it is by giving people lots of fancy new expensive medications, which is great for individual patients, but not great for a societal approach to a problem that is really driven by lifestyle," Blank said.
Blank wanted to come up with a way to support the patient in the time between office visits. She eventually landed on the concept for BEATDiabetes after reading about behavioral economics and a study out of India in which text messaging was used to dramatically reduce the number of people with diabetes.
"I just really felt in my gut that it would work," she said.
As Blank built her company, she met with Ben Castleman, an associate professor in UVA's Curry School of Education and Human Development who had achieved great success in the education sector through a text-message based program of his own known as "nudging."
"He said it had been very successful in the setting where they had used it, and he gave me some pointers on who to talk to from a technological standpoint," Blank said.
Blank's program features customizable alerts based on the patient's preferences. Patients can be alerted anywhere between five and 60 times per week.
The texts include reminders to take insulin shots and get some exercise, and offers little tips and tricks to motivate them to make lifelong changes.
"Time to check your blood sugar."
"Use the half plate rule. Fill half your plate with fruits and vegetables."
"Search for the WORST parking spot. Park farther away and get some exercise."
"Wait 20 minutes before you go back for seconds. It takes that long for your body to sense that it is full."
"They're just simple, practical things to encourage people," Blank said. "We keep it very short and sweet because I think a lot of the diabetes advice can be very complicated and it can get to be overwhelming.
"I think just giving people a little nugget instead of everything all at once can be really helpful. I don't expect every message to resonate with everybody, but just a little tap on the shoulder will maybe help people make slightly better choices."
In the first pilot program, patients received $100 for hitting certain benchmarks, which then put them in position to earn another $500.
One of Blank's favorite parts of the program is observing some of the personalized messages that patients can set up to try and motivate themselves – an idea she says she got from UVA School of Medicine professor Dr. Mohan Nadkarni.
"Some people say, 'Get your butt off the couch!'" Blank said, smiling. "Or, 'Do it for your grandkids!' or 'Do it so you can keep fly fishing in Yellowstone!' It's really all over the map. You realize how different people really need very different messages."
In Blank's pilot program, which included 45 patients from around Central Virginia, patients improved their A1C between 0.8 and 1.0 points.
"It's a small sample size, so we have to be careful in extrapolating that," Blank said. "But if we can get that on a bigger scale then it has real impact."
Jason Brewster, director of the i.Lab's incubator program, has high hopes for Blank's company.
"Using technology and incentives to promote a healthy lifestyle can achieve similar outcomes to pharmaceutical approaches, at a lower overall cost and without accompanying side effects," Brewster said. "The audience of diabetics and those with pre-diabetes is huge. Combined, the total addressable market for BEATDiabetes is over 100 million [people] in the U.S." 
Blank said a one-point improvement in Type 2 diabetes is associated with a 37% reduction in microvascular complications, such as blindness and amputation, and a 21% reduction in diabetes-related deaths.
Blank said some of the frequently used, new, Type 2 diabetes medications can cost between $5,000 and $10,000 per year; she is estimating her program to run between $100 and $200 annually.
BEATDiabetes is in the process of looking for health care partners, insurance companies and employers and applying for 501(c)(3) status, which would enable it to accept grants needed for another pilot program in rural Southwest Virginia.
"We want to be able to offer it to people in free clinics who might not have access to it otherwise," Blank said. "It's an exciting way to reach patients who typically have limited access to care."
Article Information
August 12, 2019
/content/alumna-taking-type-2-diabetes-one-text-message-time