He arrived at the University of Virginia in the summer of 1991 as part of a heralded recruiting class whose other members were Cory Alexander, Junior Burrough, Jason Williford and Yuri Barnes. At 6-foot-9, Chris Alexander (no relation to Cory) was the tallest of the newcomers in the UVA men's basketball program.
That wasn't the only way he stood out, according to Williford.
"He was the smartest guy in our class," Williford, now the Cavaliers' associate head coach, said with a laugh. "He had the best SAT and the best GPA, and he was a Comm School graduate."
Alexander, who grew up near the shore in Long Branch, New Jersey, was a two-year starter at center for the Wahoos, whose head coach then was Jeff Jones. He wasn't much of a threat offensively, but Alexander was a stout defender whose 148 career blocked shots rank third at UVA, behind Ralph Sampson (462) and Mamadi Diakite (156).
"A more athletic version of Jack Salt," Williford said.
As a redshirt junior in 1994-95, Alexander helped Virginia advance to the NCAA Tournament's Elite Eight. Twenty-four years later, he was in the stands at U.S. Bank Stadium in Minneapolis, along with dozens of other former UVA players, for the Final Four. Alexander saw UVA defeat Auburn in the semifinals and Texas Tech in the championship game to secure the program's first NCAA title.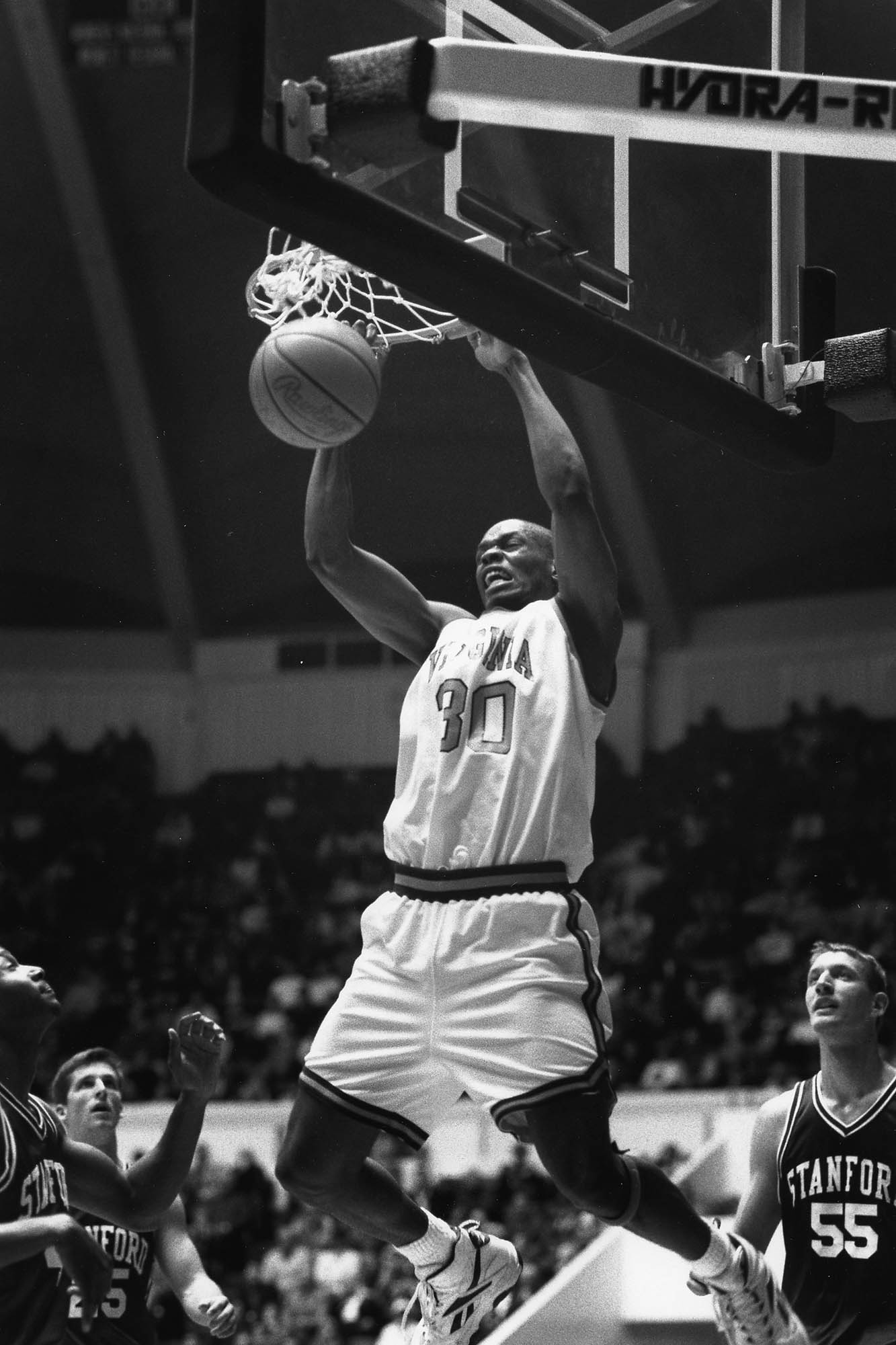 Teammate Jason Williford, now a UVA assistant coach, remembers Chris Alexander (30) as a physically imposing defender – "a more athletic version of Jack Salt." (UVA Athletics photo)
"Even though I've been away from the program for 20 years now, it felt like a dream come true," said Alexander, a 1995 graduate of the McIntire School of Commerce. "We were kind of right there, on the precipice, and to see that team be able to take those next two steps, not only to get to the Final Four but to win the whole thing, it was just total elation for the whole weekend. It was unbelievable."
Alexander and his wife, Jennell, a James Madison University alumna, live in Washington, D.C., with their children: daughter Savannah, 14, and son Xavier, 9. Alexander, a database developer at Teaching Strategies LLC, an education technology company in Bethesda, Maryland, has been working from home during the COVID-19 pandemic. He's not alone.
"I've got a house full of people here," Alexander said. "My wife's working at home, too. Everybody has their own little area. She's upstairs in the office. My daughter is in her room, my son's in the middle floor, I'm in the basement."
In high school, Alexander had an Apple II computer and "tried to teach myself Basic and play little video games on there," he recalled. "So it was always an interest of mine." He considered applying to UVA's Engineering School, but ended up following a different path.
"I thought engineering was probably going to be tough of a load to carry, with playing basketball at the same time," Alexander recalled.
But the Commerce School, where Alexander's concentration was marketing and management, posed challenges of its own.
"It was tough," he said. "The biggest thing was, we had a lot of group projects, and most groups wanted to meet right during that time when [the basketball team] would have practice. I would not be able to do that, so we would have to rearrange our groups to a later time. So I'd go to practice for two, three hours, and then I'd have to go back to the Comm School or the library for group work for two or three more hours. I was able to manage it, because the teachers were supportive and the classes were interesting, but it was definitely a challenge."
As a schoolboy star in Jersey, Alexander also considered such schools as Connecticut, Seton Hall, Vanderbilt and George Washington before choosing UVA.
"There were a couple of factors that really impressed me about Virginia," Alexander said. "No. 1 was Jeff Jones. A lot of people were skeptical about his age at the time, but that really appealed to me, because it seemed like he would be able to relate to some of the younger players a little easier. And then there was just the school overall. It was a good distance from home, and it was in the ACC."
He redshirted in 1991-92, in part because he weighed only 205 pounds when he joined the Cavaliers' program. (He weighed about 255 as a fifth-year senior in 1995-96.)
"Being an inside player, I needed to get a lot stronger, and so that year really helped me start on that and gave me a really strong foundation," Alexander said. "Back then the ACC had [North Carolina's] Eric Montross and [Clemson's] Sharone Wright and all these giants that we were playing against, night in and night out. So I needed to put on at least 30 more pounds of muscle to be able to compete with them. I was really fortunate I was able to have that redshirt year."
Cory Alexander, Williford, Burrough and Barnes moved on after the 1994-95 season, but Chris Alexander had another year of eligibility. He took classes in the Curry School of Education while starting for a team that, beset by off-the-court issues, finished 12-15 overall in 1995-96.
"We had a lot of distractions on that team, and I think we were missing something," Alexander said. "I can't exactly put my finger on it. We had talent, we had effort, but we didn't have that same level of concentration [as the 1994-95 team], I guess you could say."
The ACC comprised only nine schools in that era, and basketball teams played home-and-home series with each of their counterparts every season.
"I understand the economics of [ACC expansion]," Alexander said, "but that round-robin was great, because you got to intensely know what all the other teams wanted to do on the court, and they knew what you wanted to do. So it was really more a matter of willpower [in trying to] accomplish what you wanted to do on the court.
"I just remember having a lot of great experiences playing. In those Tobacco Road arenas, you'd have the crowd yelling at you, and being able to go in and compete and kind of outwork a lot of those quote-unquote more talented teams and come away with the W were some of the best memories I had."
Alexander's teammates during his college career included, in addition to his classmates, such players as Ted Jeffries, Cornel Parker, Doug Smith, Harold Deane, Jamal Robinson, Norman Nolan, Curtis Staples, Courtney Alexander (no relation), and Mike Curtis, who's now the Cavaliers' strength and conditioning coach.
"We had some great players and some unique personalities on those teams," Alexander said. "We had some great times."
He played professionally in Finland after leaving UVA in 1996. "It was a great experience living abroad and playing," Alexander said, "and living tax-free was great."
After two years in Europe, though, Alexander decided he was ready to start a new chapter in his professional life. Back in the United States, he took a job in finance, "but that's when the Internet and the dot-com era were starting," he said. "So I transferred over to that, and I've been working in technology ever since."
His weekends are often full. He's involved with programs that help young people learn about technology. In one of them, Alexander and some of his neighbors teach Lego robotics to local children, and he recently started working with Howard University's chapter of the National Society of Black Engineers.
"We teach robotics, mathematics, programming, a lot of those basic fundamentals to introduce technology to some of the young kids around here," said Alexander, who took only one computer class at UVA. "A lot of that takes place on Saturdays and Sundays, so I don't get to come to Charlottesville as much as I would like to, but I try to get down there at least once a year."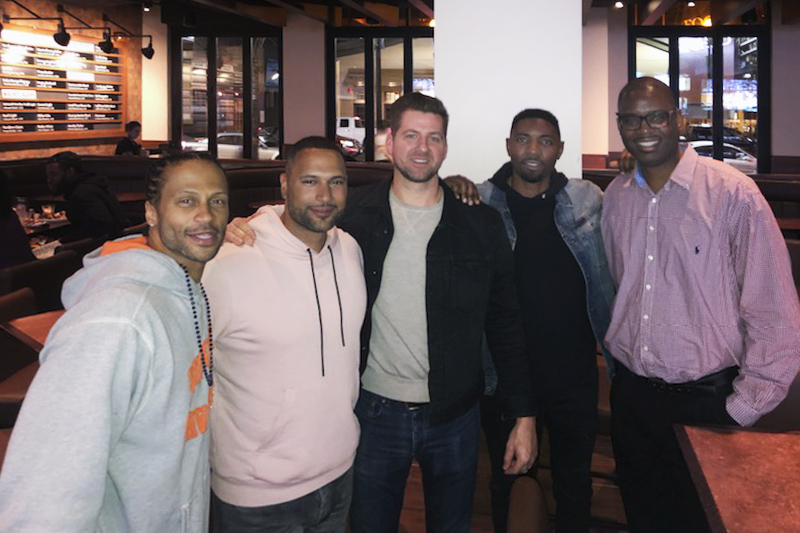 Alexander, right, at the 2019 Final Four with former UVA players (from left) Harold Deane, Josh Hare, Willie Dersch and Roger Mason. (Contributed photo)
He talks regularly to former teammates online, and they also meet periodically for get-togethers at Jones' home in Norfolk. "So we keep up as much as we can," Alexander said.
Of his UVA experience, Alexander said, "I think I loved everything about it. I met a lot of great friends on the team and outside the team, people I still keep in contact with quite frequently. Academically, it really prepared me for a totally new career I had no idea that I'd be interested in, but because of everything that I learned, I was able to switch gears and jump into technology. So I'm a database engineer now, but it's been an easy transition, because I think my foundation was so strong."
In February, when Diakite passed him in career blocks, Alexander tweeted out his congratulations. A quarter-century after he left Charlottesville, his passion for the program hasn't waned.
"I'm the biggest UVA fan," Alexander said. "If the game is on, you can forget about calling me. My whole family knows, don't even bother me when the game is on. Just close the door and keep it moving."
Article Information
July 29, 2020
/content/alumni-spotlight-chris-alexander-elite-eight-database-engineering