The University of Virginia has been named the No. 2 public university in the country in the 2017 edition of the U.S. News & World Report rankings, up one spot from No. 3 in 2016.
"UVA's rise in the rankings this year is a testament to our steadfast commitment to make our University both excellent and affordable for our students," UVA President Teresa A. Sullivan said. "The Cornerstone Plan has given us clear direction for continued prominence in the University's third century, and this should give us great confidence and optimism as we approach the launch of UVA's bicentennial next year."
U.S. News & World Report has compiled its Best College rankings for 32 years in an effort to help prospective college students evaluate their higher education options. UVA has ranked among the top three public schools every year.
Overall, UVA ranked No. 24 among the 310 public, private and nonprofit "national universities" – institutions that offer a range of undergraduate and graduate majors and receive federal money for research support.
UVA shares second place among the publics with the University of California, Los Angeles, behind the No. 1 public institution, the University of California, Berkeley, which ranked No. 20 overall.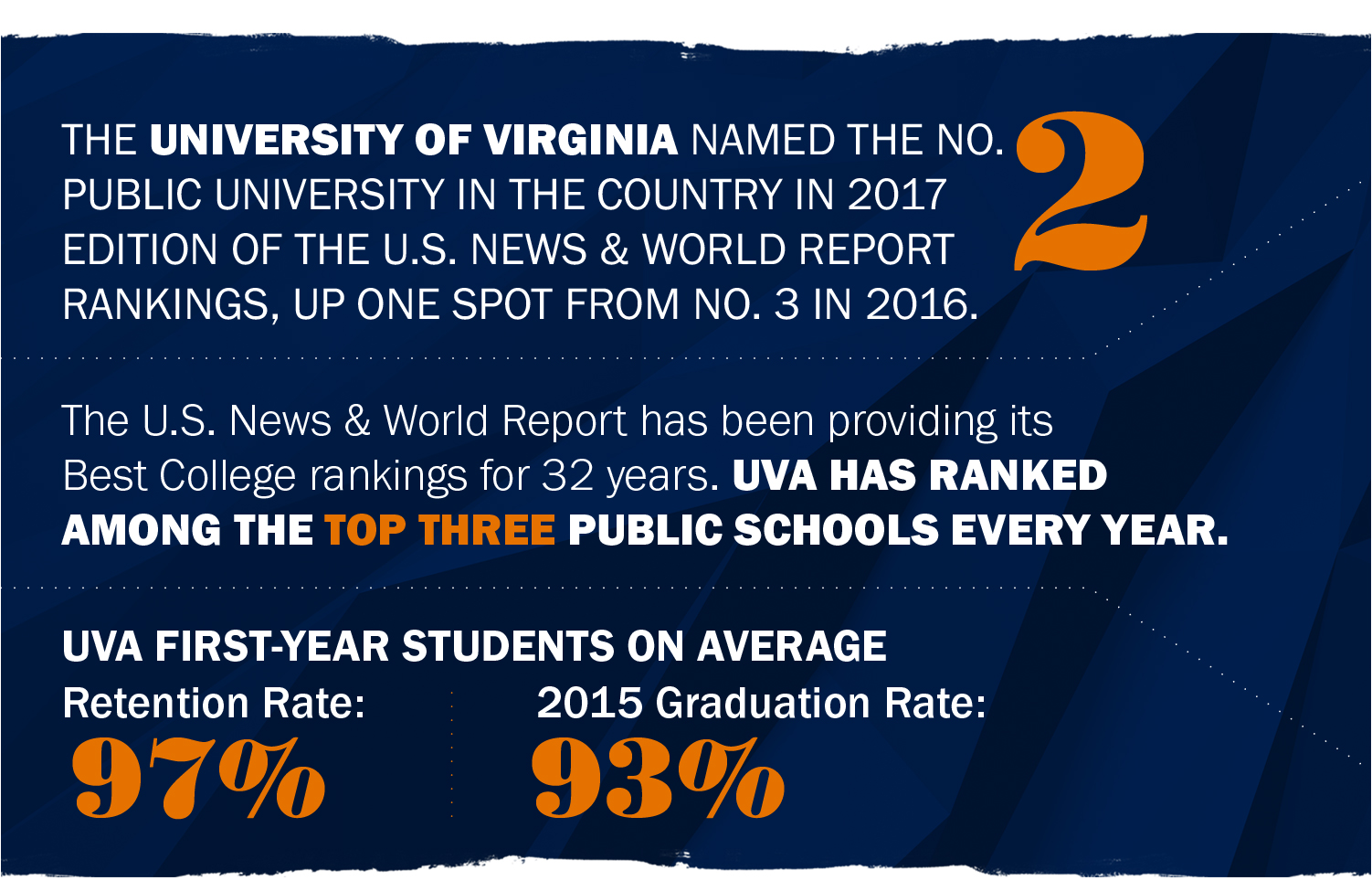 The U.S. News rankings are based on a combination of factors, including graduation and retention rates, assessments of excellence, faculty resources, student selectivity, financial resources, graduate rate performance (the difference between actual and predicted graduation rates) and alumni giving.
An improvement in the U.S. News metrics for faculty and financial resources contributed to UVA's rise in this year's rankings.
Faculty compensation at UVA increased in both 2014-15 (by 4.75 percent) and 2015-16 (4.5 percent). Additionally, the proportion of undergraduate class sections with fewer than 20 students at UVA increased, while the proportion of undergraduate sections with 50 or more students decreased.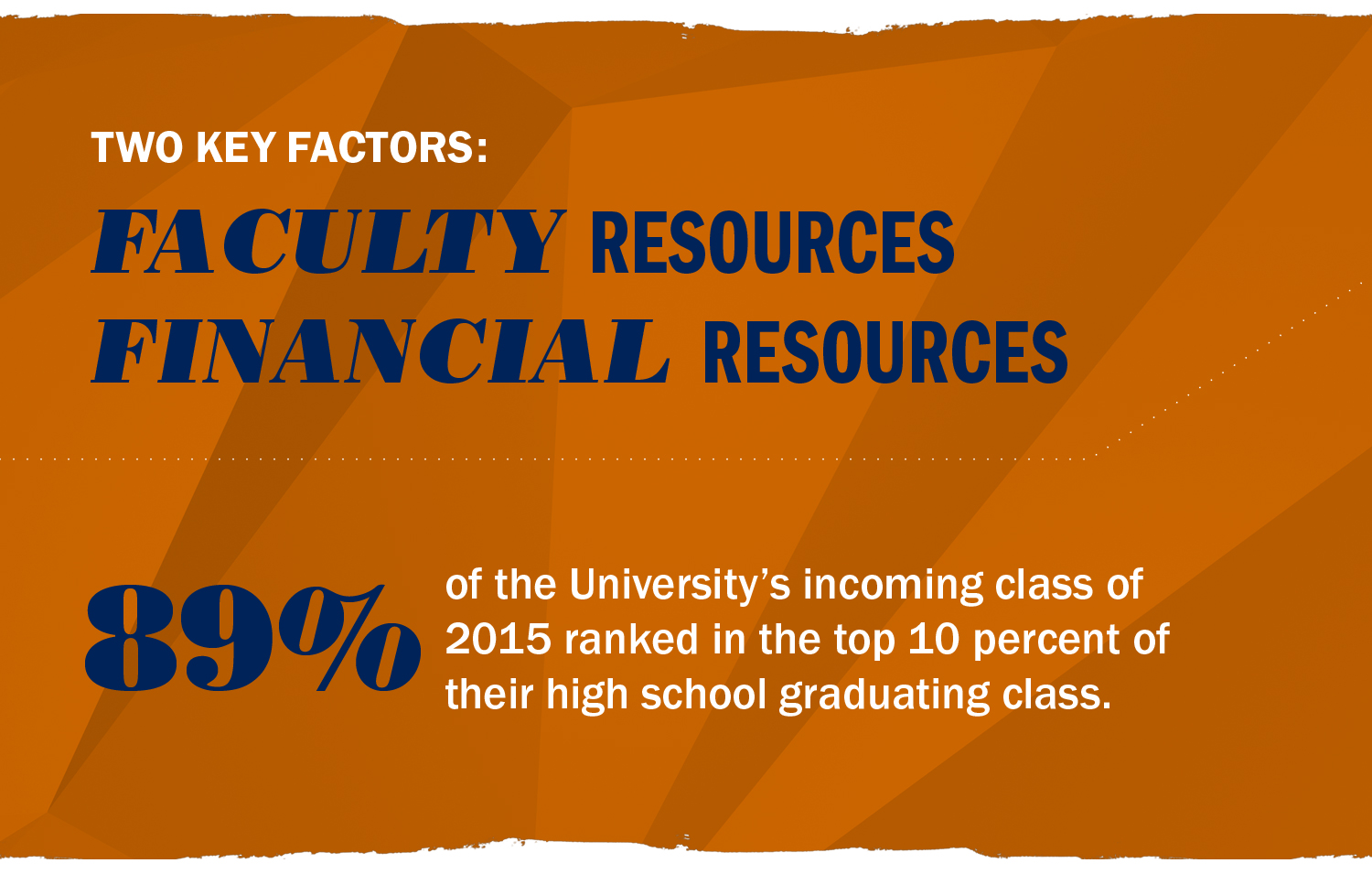 Financially, the average expenditures per full-time equivalent student at the University increased by an average of $1,800 during the 2013-14 and 2014-15 school years. Furthermore, total expenditures increased by approximately $100 million between 2012-13 and 2014-15, encompassing the areas of academic support, student services, institutional support and public service.
The rankings also showed that UVA's national profile continues to shine, as the University earned a reputational score of 4.2 (on a 1-to-5 scale) from its peers, and a score of 4.5 among high school guidance counselors.
UVA fared best among public universities with an average first-year student retention rate of 97 percent and a 2015 graduation rate of 93 percent.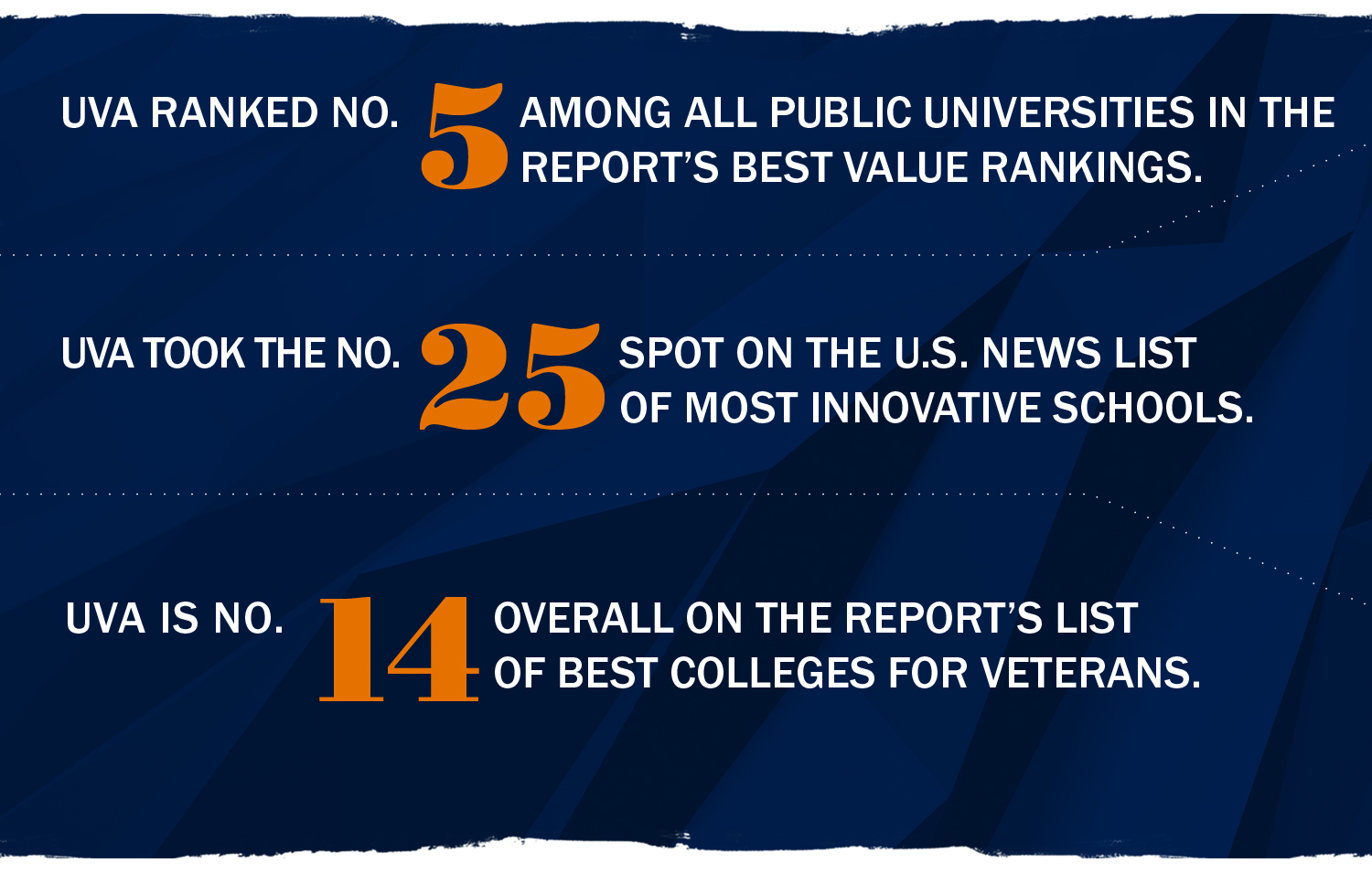 Further demonstrating the quality of students who attend UVA, U.S. News also noted that 89 percent of the University's incoming class in 2015 ranked in the top 10 percent of their high school graduating class.
The U.S. News & World Report rankings also listed UVA No. 5 among public universities in its Best Value category, a testament to UVA's ability to provide a top-notch education at a relatively low cost.
UVA earned still more accolades from the report, taking the No. 25 spot on the U.S. News list of Most Innovative Schools – an honor earned by institutions that are making improvements in the areas of curriculum, faculty, students, campus life, technology or facilities.
On the report's list of Best Colleges for Veterans – which includes schools that are certified for the G.I. Bill and either participate in the Yellow Ribbon Program or are public schools that charge in-state tuition to all out-of-state veterans – UVA is tied for No. 3 among public universities and No. 14 overall.
In addition to the national university rankings, U.S. News also ranks undergraduate business and engineering programs according to surveys of deans and senior faculty at accredited programs. UVA's McIntire School of Commerce ranks No. 3 among publics and ties for No. 6 overall, while the School of Engineering and Applied Science ranks No. 21 among public schools that offer a doctoral degree and ties for No. 32 overall.
Also according to the report, UVA's College at Wise, which is ranked in the second tier of "National Liberal Arts Colleges" (listed alphabetically), leaves its students with the lightest debt load (an average of $14,424) among all public institutions in its category.
Article Information
September 12, 2016
/content/among-nations-elite-us-news-gives-uva-no-2-public-university-ranking