Returning to "normal" – whatever that looks like – has become part of the vernacular as people around the world eagerly anticipate the end of the pandemic.
But could our "new normal" of juggling work and school from home become a permanent way of life?
Hamilton Lombard, a researcher at the Weldon Cooper Center for Public Service at the University of Virginia, says his research indicates that the homeschooling (for K-12 children) and telecommuting that has become so prevalent since March might be here to stay.
"Certainly, in 2020 most Americans have had to renegotiate the boundaries between their public and private lives as they have adapted to the pandemic," Lombard said. "When the pandemic is over, it appears likely that the boundaries between public and private life will not return to past norms.
"Telecommuting, which was already growing rapidly in Virginia, has been boosted substantially by the pandemic, with many employers planning to continue offering telecommuting as an option in the future."
For a deeper dive into the subject, UVA Today caught up with Lombard.
Q. Why do you expect homeschooling and telecommuting to become more commonplace than it was before the pandemic? What did the numbers tell you?
A. Based on trends over the past few decades, the number of homeschoolers and telecommuters were both expected to continue growing rapidly even before the pandemic. If Virginia's homeschoolers were a school division, they would be one of Virginia's largest school divisions, and easily its fastest growing. The growth in working from home had been so robust and widespread in recent years that when you and I discussed telecommuting in Virginia in January, (before COVID-19 was reported in the U.S.) it already seemed likely to become the commonwealth's biggest demographic trend in the 2020s.
The pandemic has pushed up the number of telecommuters and homeschoolers in Virginia years ahead of schedule, the same way it has many other technology-based trends that were growing before the pandemic, such as online shopping. When the pandemic is over, many if not most people who temporarily switched to telecommuting or privately homeschooling their children this year will likely return to their office and/or send their children to school. But after the pandemic, the share of Virginians who work from home or homeschool will undoubtedly be even higher than was predicted before the pandemic.
Q. In your study, you said you believe that the future growth of telecommuting is likely to occur in synchrony with the growth of homeschooling and other home-based activities. Can you expand on that a little?
A. Yes, homeschooling is not always thought of as a technology-based trend but if you plot the growth in homeschooling in Virginia on a graph, it has grown in tandem with the number of Virginians who telecommute or who have internet over the past few decades. Increased access to educational resources, which the internet provides, is one of the main reasons for this. The more flexible work schedule that telecommuters typically have also makes homeschooling a little easier for parents who work from home. In Virginia, the 10 counties with the highest telecommuting rates also on average have homeschooling rates more than double the statewide rate. The Asheville, North Carolina, metro area has one of the highest telecommuting rates in the country and also has a homeschooling rate four times higher than the U.S. as a whole.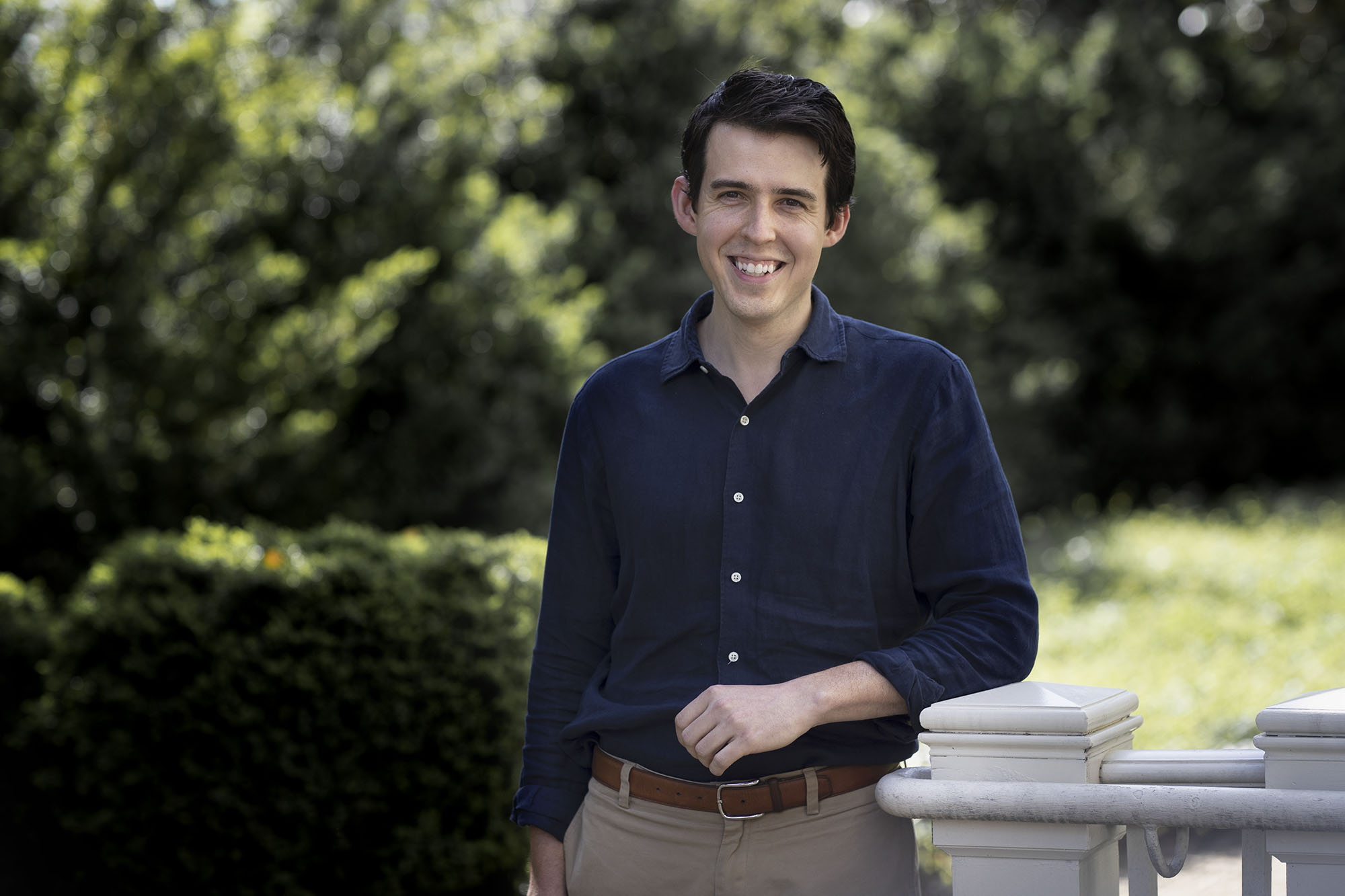 Lombard says the pandemic has pushed up the number of telecommuters and homeschoolers in Virginia years ahead of schedule. (Photo by Sanjay Suchak, University Communications)
Homeschooling also fits into a larger cultural shift that has been taking place in U.S. during the last few decades towards more home-based activities. Working from home is one example, the growth in online shopping and entertainment are others. A key difference though between homeschooling and most other homebased activities that are growing in popularity is that homeschooling is typically the least convenient education option for parents. While more and more parents will likely choose to homeschool their children, I doubt homeschooling will become as commonplace in Virginia as telecommuting may become.
Q. What did your research reveal about the reasons why parents were choosing to homeschool their children (prior to the pandemic)?
A. National surveys conducted by the Department of Education show that there are a wide variety of reasons why parents choose to homeschool their children. In 2016, about a third of surveyed parents cited concern about the environment in schools as their main reason for homeschooling followed by 17% who were dissatisfied with academic instruction in local schools. Given that religious families, particularly evangelical Protestants, are more likely to homeschool their children, I found it a bit surprising that only 16% of parents said that access to religious education was their main reason for homeschooling their children. Many parents also cited having more family time, a flexible schedule and more opportunities for travel as the primary reason they chose to homeschool.
Q. Is there a correlation between being homeschooled and having one or both parents working full-time?
A. Not nearly as much as might be expected. Only a small majority of homeschooling families have one parent who works full-time while the other stays home. Most other homeschooled students live with two parents who both work, or with a single parent who works.
Q. Which counties in Virginia currently have the highest homeschooling rates, and do you expect those same counties to continue to have the highest rates following the pandemic – or are there other ones you think might overtake them?
A. Surry County, which is located between Richmond and Hampton Roads, had the highest homeschooling rate in Virginia in 2019 at 15%, or about one in seven of the county's school-age children. Most other counties with high rates of homeschooling, such as Floyd or Powhatan, are similar to Surry County in that they are located on the outskirts of a metro area and attract a disproportionate amount of young families.
As the share of Virginians who telecommute continues to grow after the pandemic, I would expect more families to move out of large urban areas to nearby counties that are more affordable and offer access to outdoor recreation. Some counties near the coast or mountains may see a spike in homeschooling but many of Virginia's exurban counties that already attract families and have high homeschooling rates may attract even more homeschooling families.
Q. What ramifications could there be due to shrinking enrollment in schools?
A. If homeschooling families are moving into counties rather than pulling their children out of local schools to homeschool, the growth in homeschooling may not have a disproportionate impact on specific school divisions. However, in the large majority of Virginia's public school divisions, student enrollment has been declining for over a decade now, even as the number of homeschool students has risen in most divisions. Some school divisions have lost a fifth of their students in the last ten years. For divisions that are more dependent on state education funding, the decline in enrollment has also meant a significant cut in state funding.
Increasingly many public schools in Virginia are trying to be more inclusive of homeschool students, allowing homeschoolers to enroll in specific classes and use other school resources. The state also provides school divisions additional funding based on how many homeschool students take public school classes.
Q. Is there anything else you'll be keeping your eye on as the pandemic wears on or that you'd like to add?
A. I think it is easy to underestimate how much of a social change the growth in homeschooling may be. In most counties where homeschooling is growing the fastest, public schools are the largest employer and a major community institution. The smaller role that public schools may play in the future of most Virginia counties has the potential to increase social fragmentation in communities. But at the same time, homeschooling families may invigorate other local institutions that they are likely to use, such as libraries, sports leagues or volunteer groups. It is also possible that the skills public schools have developed in providing virtual classes during the pandemic will allow them to enroll even more homeschool students in classes than they were able to before the pandemic.
Article Information
September 15, 2020
/content/are-homeschooling-and-telecommuting-here-stay