Jacob Shapero, a cadet lieutenant in the University of Virginia's Army ROTC program, says that every day, he wants to "add a little value" to a team, whether it be the Army, an economics class, or a comedy club.
The Navy Federal Credit Union has selected Shapero, who graduated as an economics major in May and is currently a second-year graduate student at the Frank Batten School of Leadership and Public Policy, as one of four Army ROTC All-Americans nationwide.
The ROTC All-American Award Program, created in 2018, honors the best and brightest ROTC seniors across the nation for their leadership, military excellence, scholarship and service.
"In my first two years at UVA, I was very focused on individual accolades and accomplishments," Shapero said, "and while I was pretty successful at doing that, I never felt more satisfied or proud than when I extended my influence beyond myself to other members of the team. It took me a while to recognize this, but that's why it's so important to me that I bring a positive attitude every day.
Shapero believes this is particularly necessary in the U.S. Army, which he said requires soldiers to achieve the difficult.
"The Army gives me an opportunity to challenge myself to smile and make a few jokes, despite the elements or adversity," he said. "And by doing so, I can foster an environment where we 'embrace the suck' and get through the toughest situations together."
Lt. Col. Geraldo Peralta, commander of the Cavalier Battalion, described Shapero as a scholar-athlete-leader who consistently excels through hard work in his classes, while also seeking to help others with their work.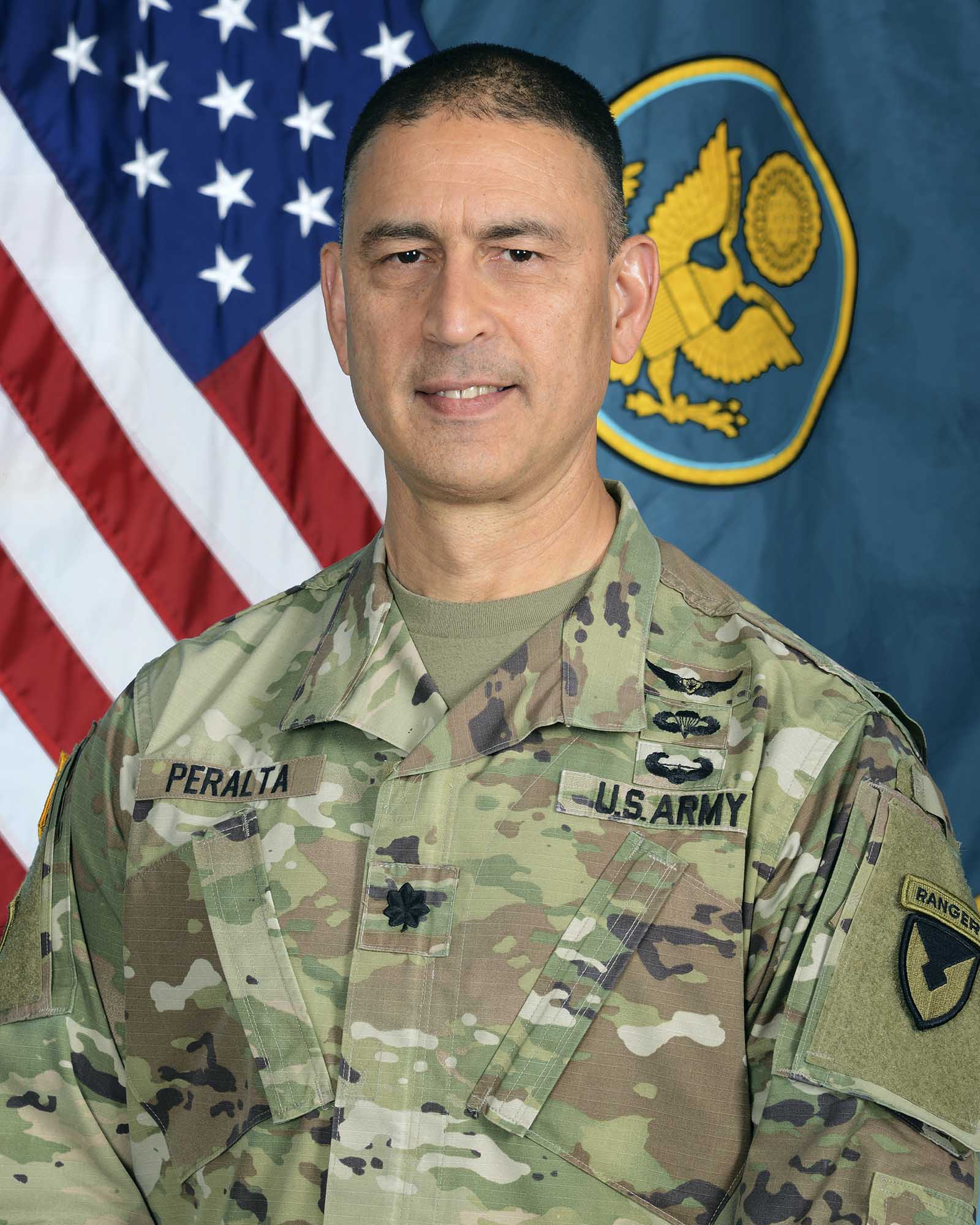 Lt. Col. Geraldo Peralta, above, commander of the Cavalier Battalion, described Shapero as "highly mature, professional and dependable, an excellent leader and consistently high performer." (Contributed photo)
"He is always ready to lead, follow or actively assist, making him an excellent member of any team," Peralta said. "When I interact with him, he is eager to complete assignments and assist with Cavalier [Battalion] operations. He is highly mature, professional and dependable, an excellent leader and consistently high performer who is also in peak physical shape."
Shapero was an undergraduate economics major and said he "absolutely loved it."
"It was my regular attendance in my teaching assistant's office hours that sparked my interest in teaching economics," he said. "I was constantly reframing new ideas in terms of intuition, asking myself 'why does this make sense?' Whenever I would study with friends from class, I enjoyed breaking down complicated concepts. And by the time we finished studying, we would more than memorize formulas and processes. At every step, we would understand the purpose behind what we were doing and check if our results were aligned with economic intuition."
Adam Leive, an assistant professor of public policy and economics at the Frank Batten School of Leadership and Public Policy, taught Shapero in a course on social insurance programs and described him as an exceptional student.
"Jacob's work is thorough and of consistently high-quality," Leive said. "He is thoughtful and approaches challenging questions with an open mind, which allows him to comprehensively weigh evidence to develop an informed perspective. Moreover, his positivity and enthusiasm help to bring out the best in any group he is a part of." 
His attitude and energy helped Shapero become a good teacher. As a third-year student, he served as an undergraduate teaching fellow for economics professors Kenneth Elzinga and Lee Coppock. This was a learning experience for him that he was able to apply as a graduate teaching assistant for Batten's "Economics of Public Policy I" course.
"Teaching is great because it combines two things that I love to do: explain difficult subjects and make people laugh," Shapero said. "These things make for a really rewarding experience. Whenever I hear that I've helped my students understand something or that I've made them laugh, it makes me feel like I made a valuable contribution, especially because Batten's students tend to be hard-working and service-oriented. They've also supported me through the many times when I've made lame jokes or when I've crashed and burned explaining an economic concept. I'm proud to be a part of this community."
Isaac Mbiti, an associate professor of public policy and economics at the Batten School, said Shapero is very deserving of the award. Shapero served as Mbiti's teaching assistant for the "Economics of Public Policy I."
"Jacob was a great teaching assistant during one of the most challenging semesters we've ever had," Mbiti said. "The students really appreciated his empathy, availability, enthusiasm and sense of humor. His efforts really made this semester a lot easier for everyone."
Savannah Rogers, a first-year student in Batten's Master's in Public Policy program, knew Shapero as the teaching assistant who taught the discussion section of Economics of Public Policy I.
"Jacob is approachable, kind and incredibly supportive," Rogers said. "He is always willing to go the extra mile for students to really help them understand important and oftentimes difficult concepts and material.  He is a true servant leader who leads by example and with grace and humility."
Retired Lt. Col. Kelly Montgomery, Shapero's former ROTC commanding officer, praised Shapero for his abilities as a scholar.
"He is the first cadet in working memory on track to graduate with a bachelor's degree and a master's degree in public policy in four years," Montgomery said. "His academic interests go beyond the classroom. Shapero served as a research assistant for professor William Shobe at the UVA Center for Economics and Policy Study and worked on the Virginia Solar Initiative. His writing ability, knowledge and leadership reflect a level of maturity that far exceeds expectations of a third-year cadet."
"In baseball terms, I was a utility player," Shapero said of his work on the Virginia Solar Initiative. "I did many different things, including analyzing solar projects in the mid-Atlantic region and building a survey of utility-scale solar land-use issues across Virginia. The overall goal of my research was to better understand the climate of solar energy in Virginia, including identifying sticking points for developers, citizen concerns and areas for improving legislation."
Montgomery also lauded Shapero's leadership abilities and said he sets an example for other cadets.
"He forges strong connections with fellow cadets, using his sense of humor to bond with classmates," Montgomery said. "He provides mentorship and constructive feedback to younger cadets to facilitate their development as future lieutenants. Shapero leverages his experience as a member of a comedy club to uplift the morale of his peers. As an active member of the community, he is serving in multiple leadership roles in groups both within the University and the city of Charlottesville."
Shapero was a member of Hot Kids Comedy, a sketch comedy club at UVA.
"I had never done comedy before, but wanted to try something new and fun and the people were really great," he said. "Comedy serves as a creative outlet where we can collaborate to make ourselves and others laugh. I did it for my first two years and really enjoyed it."
When not a student or a cadet, Shapero has been a mentor for at-risk youth in Charlottesville through Big Brothers/Big Sisters of the Central Blue Ridge, a resident adviser and has served on a religious life council.
"Shapero uses his experience in leadership positions to positively influence others, reduce stress on the group and provide necessary direction to maximize output," Montgomery said.
"I understand how much my impact on others matters to me," Shapero said. "Trying to make a positive impact on others is one of those things that I take pride in. This applies to teaching, to ROTC, and to community service. Each gives me an opportunity to make a bigger impact than if I focused solely on myself."
Shapero recently learned that he will be an Air Defense Artillery officer when he commissions into the Army in May.
"I'll be leading a platoon of soldiers to provide warning, detection and protection for armed forces from aerial attack," he said. "This is a great opportunity for me to be part of a meaningful organization where I can become a better leader. I'm also excited for all of the experiences coming my way. I get to travel around the world and see some of the Army's coolest technology. I might even have the opportunity to teach at an ROTC program or a military academy."
Shapero is also considering trying to become an Army Space Operations Officer and earn his Army Space Badge. While he is unsure of whether he will make a career out of the military, he is sure about one thing.   
"No matter what I do, whether in the Army, in industry or in policy, I want to be part of a team with a mission I can buy into."
Article Information
January 8, 2021
/content/armed-humor-student-named-among-nations-top-four-army-rotc-cadets