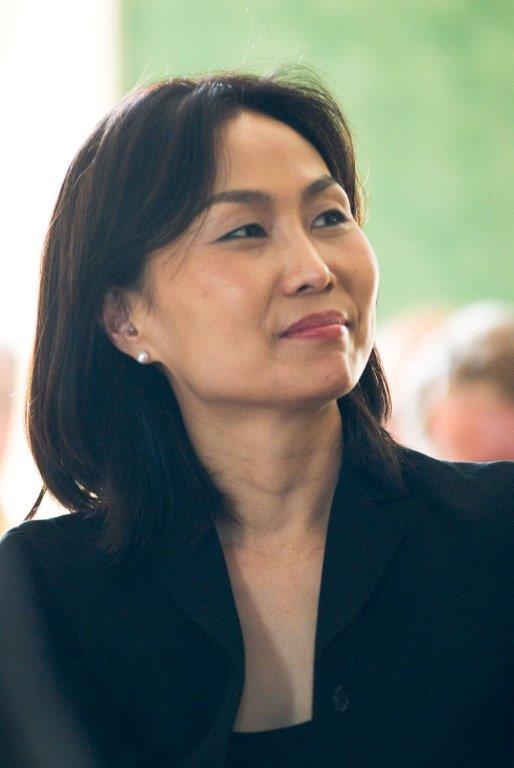 For her leadership efforts in strengthening the University of Virginia's College and Graduate School of Arts & Sciences, Dean Meredith Jung-En Woo will receive the 2013 Elizabeth Zintl Award from the U.Va. Women's Center.
Woo, Buckner W. Clay Dean of Arts & Sciences, assumed her post in 2008 and has skillfully elevated the fields of arts and sciences by bringing her experience as an administrator, reformer and fundraiser to bear, according to her nominators for the award.
In addition to improving the quality of the academic program, she has enhanced the performance of the College's administrative and fiscal operations. Under her leadership, graduate programs underwent a comprehensive restructuring resulting in more competitive offer packages for students. Annual philanthropic support for the College nearly tripled, from $24 million in 2008 to over $60 million in 2012.
The Women's Center presents the leadership award annually in memory of Elizabeth Zintl, an accomplished writer and journalist who served as chief of staff in the Office of the University President. The award, given annually to a female employee at U.Va., honors the high degree of professionalism, creativity and commitment that characterized Zintl's contributions to the University.
"One of the underappreciated facts about the University of Virginia is the role that women administrators have played in moving the University forward," Woo said. "They have done so quietly, often in the background, but effectively. That important fact is recognized by the Zintl Award. I have long admired the women who have received the Zintl Award in the past. I am humbled to have been selected this year and honored to join their distinguished ranks."  
She will receive the award and be honored at a reception on Sept. 26 at 5 p.m. in the auditorium of the Mary and David Harrison Institute for American History, Literature and Culture/Albert and Shirley Small Special Collections Library.
"Dean Woo has been a trailblazer throughout her career and continues that trajectory as the dean of the largest and most complex school on Grounds," wrote University Librarian Karin Wittenborg in supporting Woo's nomination. "Doing the right thing, even when it rocks the boat, is another indication of Dean Woo's courage and resilience. She does not seek out conflict, but she does not flee from it either."
As the University's intellectual core, the College and Graduate School comprise more than 12,000 students and more than 700 faculty members. Offering more than 50 undergraduate majors and concentrations and more than two dozen graduate programs, Arts & Sciences spans the liberal arts and incorporates the social sciences and sciences.
Another nominator, English professor Cynthia Wall, a member of the Council of Chairs, which comprises the heads of Arts & Sciences departments, wrote that the council sent a letter earlier this year praising Woo for "listening to our priorities during constrained economic times," finding ways to give raises to 93 percent of the Arts & Sciences faculty and working to improve funding for graduate study.
Facing a retirement surge of eminent faculty, the College has focused on providing a smooth transition while bolstering the quality and reach of its faculty. Hiring has moved ahead in areas of strategic priority. With the support of the College Foundation Board, Woo led the creation of a $130 million fund for faculty excellence, including an innovative $10 million initiative for "bridge funds" to replace leading faculty before they actually retire, enabling new faculty to work alongside the scholars whom they will replace.
Woo and her administrative team, in partnership with the Andrew W. Mellon Foundation, also secured a $10 million pool for a new faculty hiring initiative emphasizing collaborative and multidisciplinary research. One result of the grant has been the establishment of the Institute of the Humanities & Global Cultures.
Woo also has initiated or supported the Quantitative Collaborative, the Asia Institute and an institutional partnership between U.Va., Peking University and Hong Kong University of Science and Technology, through which the inaugural Jefferson Global Seminars was launched this summer.
In the sciences, the College has invested in areas in which it is well-positioned for distinction, including global environmental challenges, life sciences in the post-genomic era, human life span development and cosmic origins and astro-chemistry. Thanks in part to these investments, plus faculty hires and retentions, external research grants in Arts & Sciences have increased to $47.3 million in the 2011 fiscal year.
An expert on international political economy and East Asian politics, Woo has written and edited seven books, and was the executive producer of an award-winning documentary film, "Koryo Saram: The Unreliable People," about Stalin's ethnic cleansing of Koreans living in Far Eastern Russia during the Great Terror.
A native of Seoul who was educated in Seoul and Tokyo through high school, Woo earned her bachelor's degree in history from Bowdoin College in Maine. She completed her master's and doctoral degrees in international affairs, Latin American studies and political science at Columbia University.
In addition to her leadership and administration, Woo has reached out to students.
Elizabeth Bickley, a fourth-year English and Latin American Studies major, wrote: "Dean Woo's dignified, organic and cultured literary voice immediately won my respect and admiration, and more importantly, the words of her blog entry empowered me into action.
"Dean Woo is a remarkable teacher, mentor, writer, leader and woman. She helps me become my most true self. She empowers the University community to embody its best self," Bickley wrote.
The Elizabeth Zintl Leadership Award uses a University-wide nomination and selection process. The award is made possible through the support of the late David A. Harrison III, a friend of Zintl's and one of the University's greatest benefactors. It carries a $1,000 prize for the honoree to use for professional or personal development. For more information and a list of past recipients, click here.
Media Contact
University News Associate Office of University Communications
anneb@virginia.edu (434) 924-6861