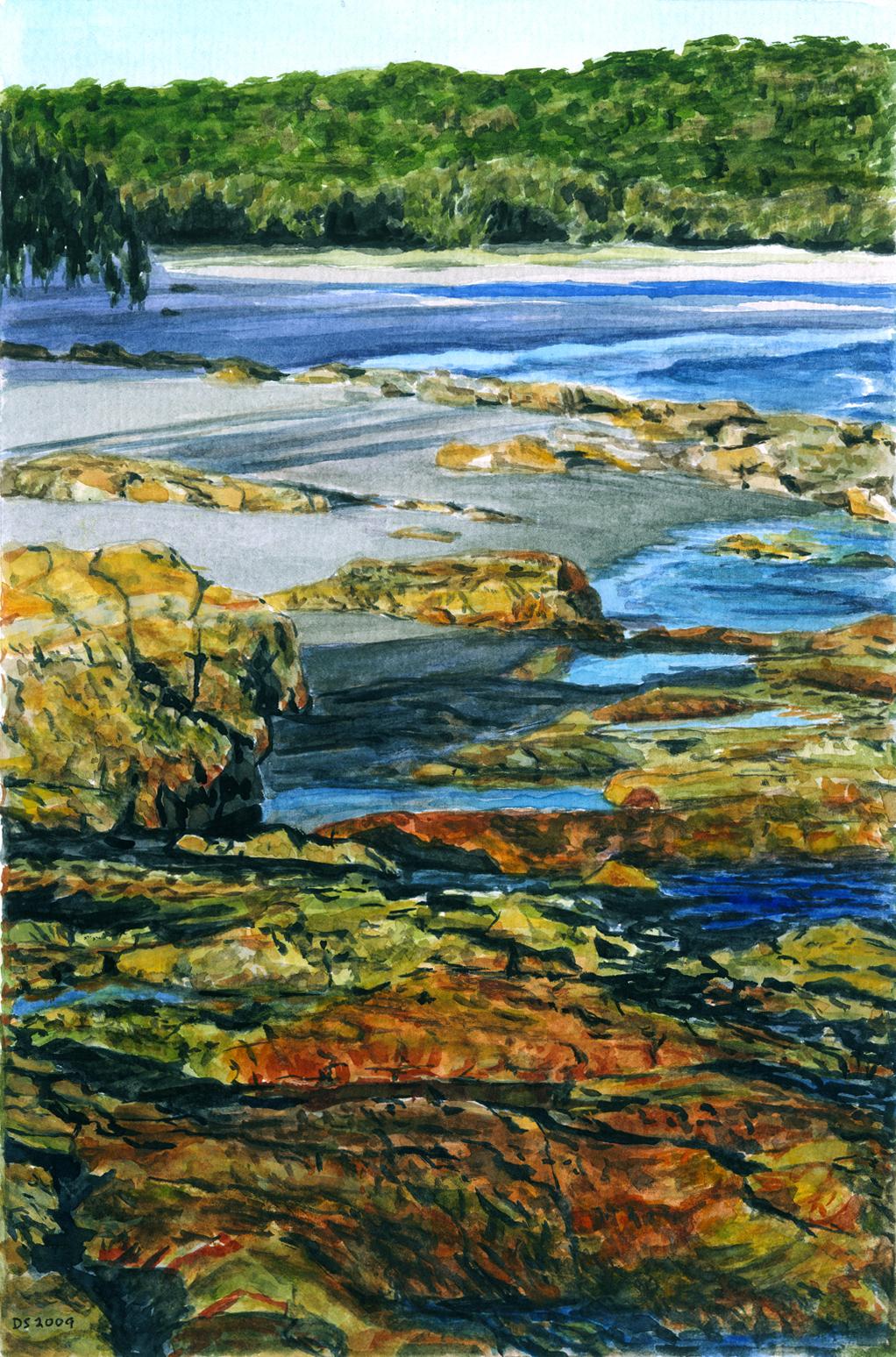 May 25, 2010 — Watercolor landscapes by self-taught artist David Duncan Sorensen will be on view in the University of Virginia's Newcomb Hall Art Gallery through Sept. 4.
"Australia" is the result of Sorensen's 35-year love affair with the country and represents a selection of his body of work.
"I spent a year exploring the entire continent in an old Volkswagen van with my mate, Murray, an Australian exchange student to my high school," Sorensen wrote in his artist statement. "We had worked together on a photographic project in school and carried on that collaboration on our tour of the Outback. I also documented our adventure in watercolor sketches.
"Upon returning to college, I continued to paint Australia landscapes, holding up my slides to the light for inspiration or abstracting from memory."
Other visits over the years provided continued inspiration.
Sorensen's technique involves building 20 to 40 transparent layers of paint on heavily absorbent paper "to achieve a richness and depth of color," Sorensen said.
In addition to original watercolors and ink drawings, the exhibit includes large-format giclée reproductions – digital scans printed with archival quality ink – of Sorensen's works in collections from around the world that were not available for the show.
Sorensen, who lives in Yorktown, is a member of the U.S. National Watercolor Society, the Virginia Watercolor Society and the Hampton Arts League. He is a charter member of the Kluge-Ruhe Aboriginal Art Collection's "Mara Tjuta Circle." His work is in more than 60 private collections worldwide and has been exhibited in state and national juried shows.
Admission to the Newcomb Hall Art Gallery is free and it is open Mondays through Fridays from 8 a.m. to 5 p.m. For information, call 434-924-3601.
"Australia" is sponsored by the University Programs Council's Arts and Entertainment Committee.
— By Jane Ford