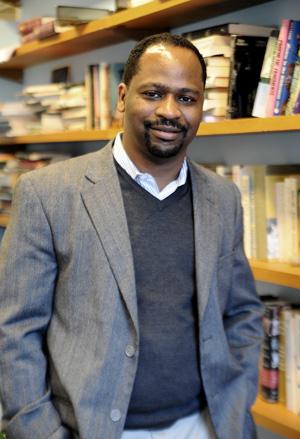 Barack Obama's success in winning the presidency took a heavy toll on black politics, according to Fredrick Harris, professor of political science at Columbia University and author of the new book, "The Price of the Ticket: Barack Obama and the Rise and Decline of Black Politics."
Harris will speak at the University of Virginia Oct. 3 at 7:30 p.m. in Minor Hall auditorium as part of the Carter G. Woodson Institute of African-American and African Studies' fall open house. Harris will also moderate a discussion following the live streaming of that night's presidential debate on domestic policy.  
The open house events start with "Meet the Fellows" at 3:30 p.m. in the Newcomb Hall Kaleidoscope Room, followed by a reception in the Newcomb Main Lounge. Every year the Woodson Institute, part of U.Va.'s College of Arts & Sciences, accepts five or six pre- and post-doctoral students for two-year fellowships. Each will make remarks about their research projects.
The events shift to Minor Hall at 7 p.m., and the debate will air 9 to 10:30 p.m. All events are free and open to the public.
Harris directs the Institute for Research in African-American Studies and the Center on African-American Politics and Society at Columbia University. His research interests include American politics with a focus on political participation, social movements, religion and politics, political development and African-American politics.
His most recent book puts Obama's career in the context of decades of black activism, showing that his presidency has not addressed the issues and concerns of the very movement that made it possible.
An earlier book, "Something Within: Religion in African-American Political Activism," was awarded the V.O. Key Award by the Society for the Scientific Study of Religion and the Best Book Award by the National Conference of Black Political Scientists. He is also the co-author of "Countervailing Forces in African-American Civic Activism, 1973-1994" with Valeria Sinclair-Chapman and Brian McKenzie, which received the 2006 W.E.B. DuBois Book Award from the National Conference of Black Political Scientists and the 2007 Ralph Bunche Award from the American Political Science Association for the best book on ethnic and cultural pluralism.
Harris received his B.A. from the University of Georgia and a Ph.D. from Northwestern University. He has been a visiting scholar at the Russell Sage Foundation and a fellow at the Woodrow Wilson International Center for Scholars in Washington, D.C.
Media Contact
University News Associate Office of University Communications
anneb@virginia.edu (434) 924-6861