The University of Virginia's first student autonomous racing club will be a pioneer in another way: The students and their faculty adviser, Madhur Behl, will compete against 30 other university clubs next winter at the Indianapolis Motor Speedway in the inaugural Indy Autonomous Challenge, with a $1 million prize for the winner.
Behl, an assistant professor with joint appointments in UVA Engineering's Department of Computer Science and Department of Engineering Systems and Environment, was recently awarded a $50,000 grant from the Jefferson Trust to mentor students in the Cavalier Autonomous Racing Club.
The club will offer students from across Grounds the opportunity to collaborate in real-world experiences like the ones Behl offers in his "F1/10 Autonomous Racing" course. With his guidance, the club will build and race a fully autonomous electric go-kart, in addition to its work on an Indy light autonomous car.
Mentoring the Cavalier Autonomous Racing Club students is a logical new undertaking for Behl, who refers to robotics as "his craft." He cannot remember a time when he was bored with building robots and autonomous systems.

Behl received awards for excellence in robotics and led the robotics club while earning his bachelor's in electronics and electrical communications engineering from Punjab Engineering College in India. He went on to receive his master's and Ph.D. degrees in electrical and systems engineering from the University of Pennsylvania, where he expanded his research in autonomous systems. While at Penn, he won the World Embedded Software Challenge and the Richard K. Dentel Memorial Prize for research and excellence in urban transportation.
In 2015, he co-founded the F1/10 International Autonomous Racing Competitions, for which he still serves as race director. 
Behl came to UVA Engineering in 2017 to join the Link Lab, where he focuses on research to accelerate the adoption of self-driving vehicles. The Link Lab has assembled nearly 40 faculty members and more than 200 graduate students in a research incubator for multidisciplinary cyber-physical systems research.
"Autonomous vehicles are a reality and not just an idea anymore," Behl said. "For driverless cars to be successful, they need to solve the same tasks that humans do subconsciously while driving. The car must dynamically perceive its surroundings, use sound judgment to predict the path of other cars, pick the safest plan of action and then compute the steering and acceleration commands – or control – to follow that path."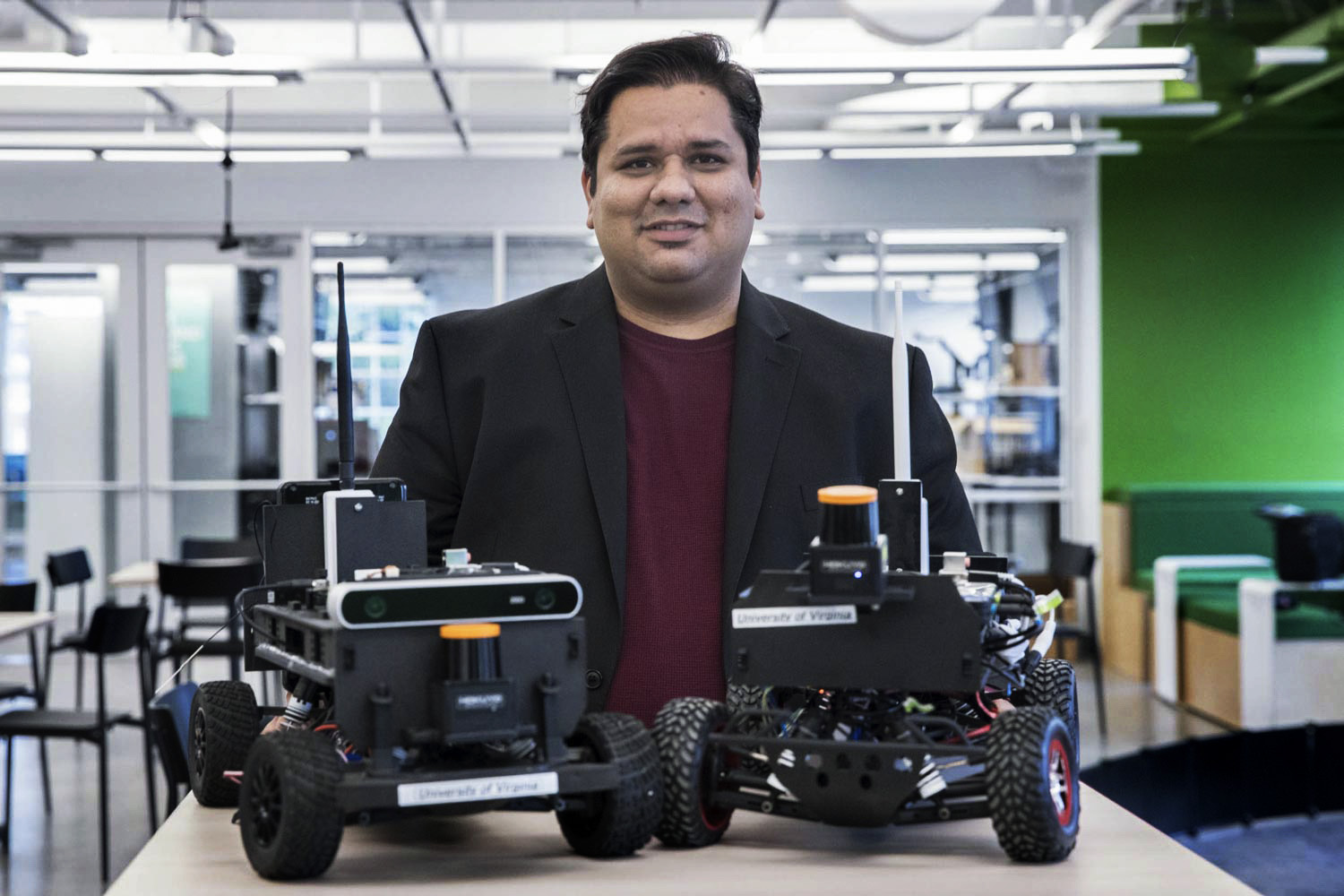 Madhur Behl, assistant professor of computer science and engineering systems and environment, will mentor the Cavalier Autonomous Racing Club as members race a self-driving vehicle at the Indianapolis Motor Speedway.
A big challenge arises in ensuring that an autonomous car can make safe decisions when it encounters situations that are uncommon and difficult to predict. Drivers deal with such situations when other drivers suddenly cut them off, signal right but turn left, run red lights and break the rules for rights-of-way at stop signs.
Behl is exploring the idea that, if an autonomous vehicle is more agile, it can react quickly in these types of situations by aggressively braking or steering when a collision is imminent. In the Link Lab, he has been racing driverless vehicles that are at one-10th scale to accelerate researchers' ability to design agile, safer vehicles.
"We use autonomous racing as proving grounds to learn expert, agile driving behavior," Behl said. "In motorsport racing, there is a saying that, 'If everything seems under control, then you are not going fast enough.' We are building an artificial intelligence-driven vehicle with that as the objective function."

Most agile behavior data has been gathered through self-driving car studies that are restricted to highways. The testing is valuable, but has limitations; highway driving is more structured and has fewer variables. Off-highway driving is much more complex, with frequently changing variables requiring autonomous vehicles to have acute perception.

"Urban settings are a huge hurdle in designing autonomous vehicles that can deal with unexpected situations in traffic. People do not act rationally when they drive, so many things can go wrong," Behl said. "There will always be one more thing that could not possibly have been predicted in off-highway driving."
This is where testing autonomous vehicles in racing scenarios has advantages. There are so many more extreme scenarios that can be created and observed. Even at the one-10th scale, the autonomous vehicles can reach speeds of up to 16 to 20 mph.
"By putting the one-10th scale autonomous vehicles in close proximity on a racetrack, they are forced to use expert driving behavior and deal with the largest number of extreme challenges in compact timeframes," Behl said. "The speed and proximity factors allow the capture of a lot of data about expert driving behaviors."

Researchers can use the data gathered in the racing case studies to create algorithms that constantly lead the autonomous vehicle to more expert driving behaviors. The idea is to push autonomous vehicles to their limits of control and teach them to go safely off-highway when they encounter a problem or when a collision is imminent.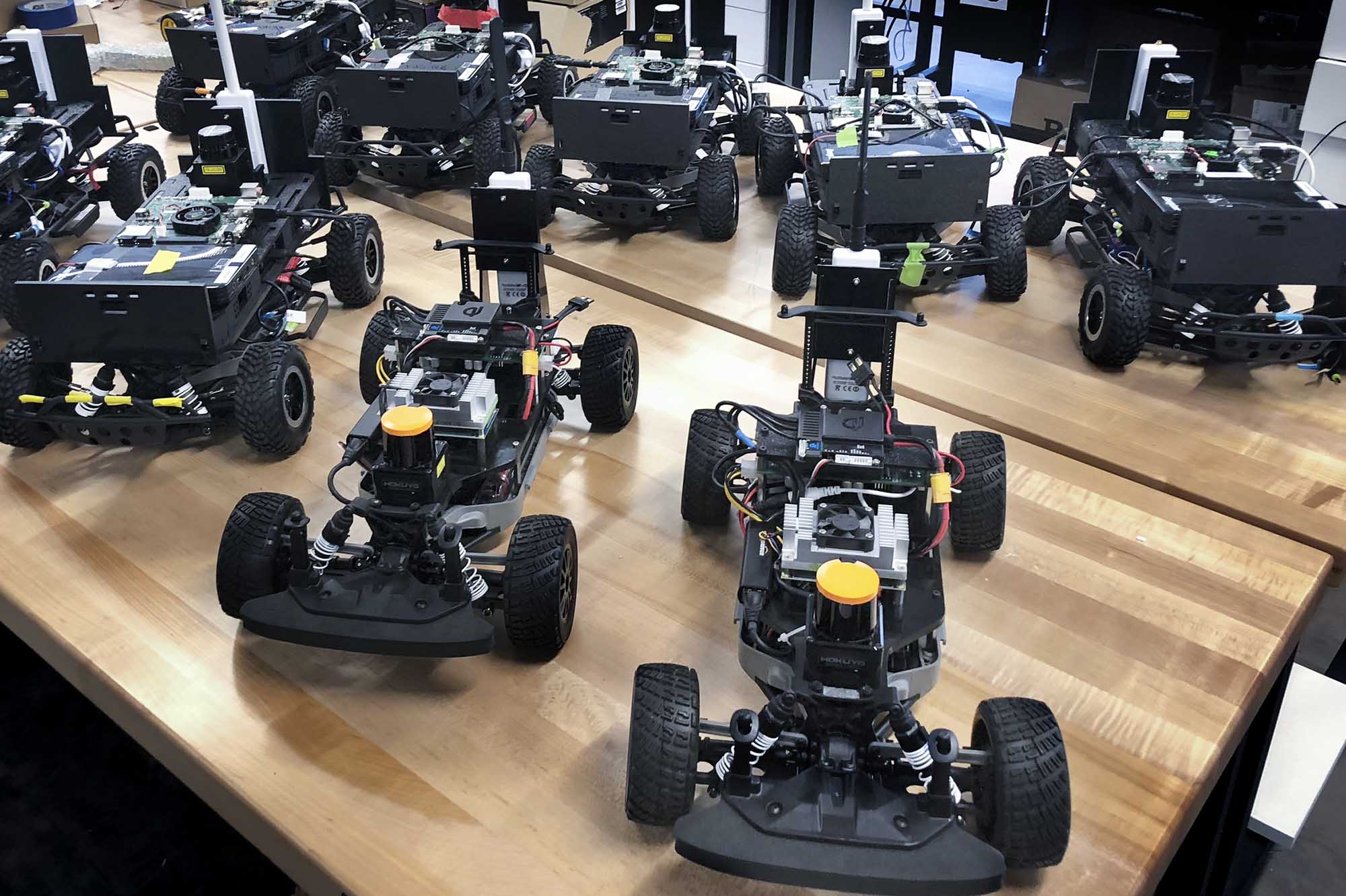 In his lab at UVA Engineering, assistant professor Madhur Behl has been building artificial intelligence-driven vehicles to use in racing scenarios.
In addition to his research, Behl has headed up six international competitions as race director for the F1/10 International Autonomous Racing Competitions. The success of these competitions led to the introduction of Behl's "F1/10 Autonomous Racing" course, where students learn how to build, drive and race one-10th scale autonomous vehicles.
The undergraduate computer science course is one of the first of its kind in the nation, and Behl shares his course materials with other universities that teach similar classes. It is also one of the most popular courses at UVA Engineering.
Last year Behl decided it was time to scale things up, and out. His vision prompted the proposal to the Jefferson Trust for the Cavalier Autonomous Racing Club. With the grant, Behl will include students from the School of Engineering and the College of Arts & Sciences in the effort to build a fully autonomous electric go-kart.
Behl felt it was important to engage students from different areas of study across the University. He likens the club to a traditional engineering capstone class, offered through a multidisciplinary lens. Participating students will receive credits toward their degrees.
"Marketing students can help with branding, communications students can create videos and team insignia, while business students can help with operational aspects of the club," Behl explained. "Engineering students will also contribute in their respective areas of study – including computer science, systems, mechanical, materials science and electrical engineering."
The club offers additional levels of challenge to engineering students. Those with autonomous systems experience get to lead and mentor team members. Those with foundational engineering backgrounds get exposure to the cyber-physical systems that make the go-kart autonomous.
"Madhur has created a fun learning experience that will prepare engineers to lead the future of autonomous vehicle design," said Kevin Skadron, who chairs UVA Engineering's Department of Computer Science. "Now his mentorship of the Cavalier Autonomous Racing Club will offer many more UVA students the opportunity for real-world learning about autonomous systems, while also providing practical experience in team communication and collaboration."
Sandesh Banskota, who graduated from UVA in May with a bachelor's in mechanical engineering, will participate in an advisory role as the club's sensor integration lead. He was a teaching assistant for the F1/10 Autonomous Racing course and is thrilled that students of all backgrounds will get the same hands-on experience he had building autonomous vehicles.
"Creating an autonomous vehicle from the ground up builds confidence," Banskota said. "Because of this very realistic club experience, many more students will leave UVA with the proven ability to work in the field and collaborate with others in a creative process."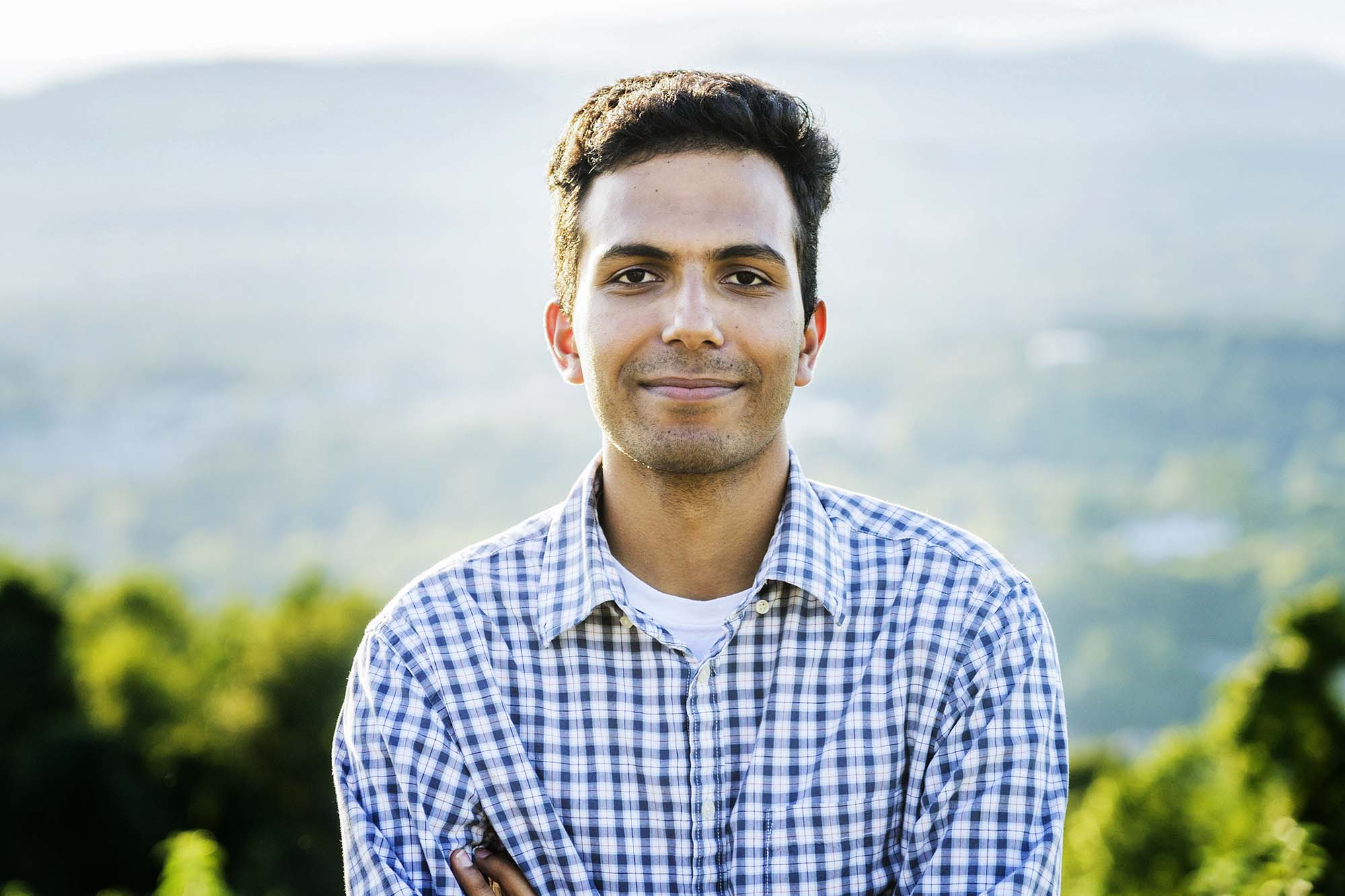 Sandesh Banskota, who graduated in May from UVA with a bachelor's in mechanical engineering, was a teaching assistant for the F1/10 Autonomous Racing course.
Banskota was recently recruited by Outrider autonomous fleet yard for an internship because of his practical experience in building and driving the autonomous vehicles. "The fact that I had hands-on experience made me stand out and I was sought out by the company," he said.
Kenny Brown, a UVA Ph.D. student in mechanical and aerospace engineering, will serve in a chassis design and mechatronics role.
While earning an undergraduate degree in mechanical engineering at Clemson University, Brown was active in the Clemson Formula SAE program where students collaborated to design, build and then compete against other universities with their formula car. After graduating from Clemson in 2015 and prior to entering UVA Engineering in January 2019, he worked as a design engineer for Team Penske's NASCAR race teams.
Brown brings a wealth of motorsports experience, but this will be his first time building and racing an autonomous vehicle. He is looking forward to gaining new experience in the cyber-physical systems aspects of engineering that are becoming so prevalent and intertwined with mechanical systems.
"Professor Behl is offering a window into the cyber components like machine learning, deep learning, modeling and autonomous applications that are central to his cyber-physical systems research," Brown said. "These aspects of engineering are increasingly important for the future."
The club officially launched in the spring, but due to COVID-19 restrictions, students have not been able to attend in-person club meetings or start assembling the go-kart. Behl has offered virtual meetings using an online autonomous racing simulator until meetings can take place on Grounds.
This fall, Behl will host a seminar to invite more students to join the club and participate in competitions. Behl stresses that the competition aspect of the club is critical because it creates natural camaraderie in the push toward a common goal.
The Indy Autonomous Challenge will kick off with a virtual simulation race in February. In October 2021, club teams will get an opportunity to program and race a full-scale Indy light autonomous vehicle at the Indianapolis Motor Speedway. Leading up to that pinnacle event, club team members will continue developing their autonomous electric go-kart to gain more experience.
"UVA has a long history of offering hands-on learning experiences that prepare our students to be future leaders," said Brian Smith, professor and chair of the Department of Engineering Systems and Environment. "I am grateful to Madhur for creating a club that will offer UVA students the opportunity to collaborate as a team on a real-world autonomous systems challenge."
Media Contact
Article Information
July 29, 2020
/content/autonomous-racing-students-get-chance-take-it-track-indy