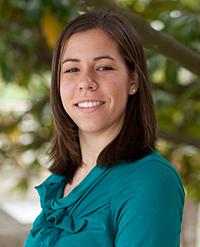 May 20, 2010 — As a member of the Jewish Social Justice Council, University of Virginia degree candidate Julie Schiff visited nursing homes, served in soup kitchens, helped build houses and participated in "Sleepout for the Homeless."
The latter event annually brings together members of the University and local communities from all religions and backgrounds to camp on Grounds for a week, not only to increase awareness of homelessness in Charlottesville, but also to raise money. Over the past two years, the sleepout has generated more than $10,000 for local organizations that aid the homeless.
"While the sleepout's fundraising component is certainly important, as money has the power to bring about immediate and far-reaching change, the awareness element is what really makes the event so worthwhile," Schiff said. "By the end of the sleepout's seven days, participants have a much greater understanding of homelessness, in general, as well as a much better working knowledge of what they can do as community members to address such an issue, which is prevalent in Charlottesville's own backyard."
Schiff, an English major, also served on Student Council and volunteered in the U.Va. Women's Center's Young Women Leaders Program as a "big sister" mentor, and for Madison House as a tutor and a boys' soccer coach.
Extending this wide range of activities, she co-curated an exhibit on the history of Scottsville, now on two-year display in the town's museum.
Schiff, who has been admitted to the U.Va. Law School, recently received the Sheri Gayle Richman Memorial Scholarship, a $5,000 award for a fourth-year Echols scholar in the humanities or social sciences intending to enter a graduate program in the fall.
A native of Birmingham, Ala., Schiff said she considers her B.A. in English good preparation for going into law.
"Law, like English, is all about the power of language, the ability of words to influence perception and behavior," she said. "As an English major, I have worked tirelessly to improve my communication skills, and being able to express myself in a clear, well-reasoned manner will hopefully serve me well in the practice of law."
Alison Booth, one of her English professors, has no doubt about that.
"She's a brilliant English major," Booth said. "Julie's research is conceptually original, and she's just an all-around sterling individual."
Schiff conducted research with doctoral history student Lauren Turek to create the exhibit, "Where the River Bends: Scottsville and the James," while an intern last summer at the University's Institute for Public History. She researched Scottsville's history back to 1732, locating relevant historical documents and interviewing townspeople and local experts, she said.
The exhibit includes material "from the Monacan Indian days, through the founding of the town, its batteau and canal eras, the Civil War and Reconstruction, the great floods and the recreational uses of the river today," the exhibit text says.
"After reading through countless books and master's theses, combing through old letters and newspaper clippings, and chatting with Scottsville elders and University of Virginia professors, we composed the exhibit text, selected which images and artifacts to display and created the exhibit floor plan." Schiff said.
The proposal she and Turek presented first to Phyllis Leffler, history professor and director of U.Va.'s Institute for Public History, also included cost estimates that helped make the exhibit feasible. At the end of the summer, they presented their plans to the Scottsville Museum's Board of Directors.
Schiff said the people she has met and worked with at U.Va. and in the surrounding community have been her greatest inspiration and fueled her efforts to get more involved. As a result, her efforts – even sleeping outside – have improved the communities of U.Va. and the surrounding area.
"The enthusiasm, dedication, kindness and passion I see amongst the members of this community are truly exceptional, and when I am in Charlottesville, I feel as though I am the best version of myself," she said.
Luckily for the community, Schiff will be here for three more years.
— By Anne Bromley