When University of Virginia first-year student Meg Greenhalgh woke up from an induced coma nearly nine years ago, the first words out of her mouth were about polo.
When was practice? When could she ride again? Would her boots still fit?
At the time, polo meant everything to Greenhalgh. Her father, grandfather and great-grandfather had all played, and now the Berryville native was following in her father's footsteps by doing so at UVA.
Thanks to a team of doctors at the UVA Health System, Greenhalgh was able to return to the sport she loved, playing competitively for the Cavaliers' club team for two more years.
But in the aftermath of surviving a rare bacterial infection, Greenhalgh knew she wanted to push herself to do different things, to leave a mark on the world she nearly left. Armed with degrees from the McIntire School of Commerce and the Darden School of Business, she believes she's doing it with Brandefy, a startup tech company born out of UVA's i.Lab business incubator program.
Greenhalgh and her team have devised a smartphone app that helps consumers decide between generic and name-brand products through ingredient comparisons and user reviews.
"What I love most about the app is that it can help people of any socioeconomic background save a tremendous amount of money over a period of time," she said. "If you make it a regular part of your grocery shopping experience, you are guaranteed to see huge savings.
"There is no reason to be spending your hard-earned money on a bottle of shampoo that is essentially the same as the generic version, but is twice as expensive. Conversely, you don't want to waste your money on that same shampoo if it is nothing at all like the brand-name product." 
In June, Brandefy closed an initial funding round. Last month, the company – which also includes UVA alumni Carolyn Kochard and James Graham – was awarded residence at the Lighthouse Labs Accelerator in Richmond.
Greenhalgh isn't doing any celebrating yet, though. Not by a long shot. She said the fledgling company could really use the help of the UVA community. "Downloading our free app" – available in Apple's App Store – "and following us on Twitter so that you can give us your feedback would help us tremendously," she said.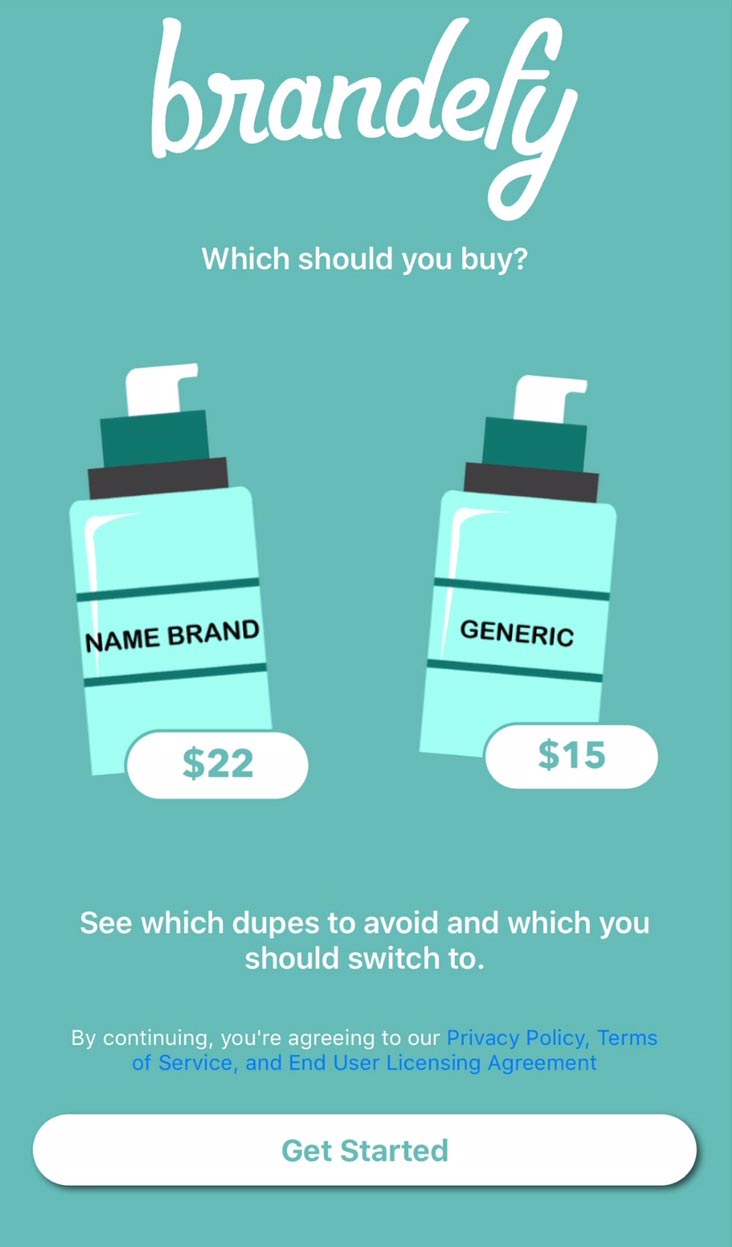 The latest version of the app can be downloaded for free in Apple's App Store. The company's founders are also seeking feedback via Twitter (@BrandefyA).
Born in Berryville, Greenhalgh grew up riding horses. She came to UVA because of its academic reputation – and to continue playing polo.
For George Greenhalgh, returning to his alma mater to watch his daughter play was a great thrill. "She played at full speed," he said. "She didn't slow up for much."
Greenhalgh, then a first-year student, was looking forward to playing in the national championships when she became ill. She was preparing to take an economics exam and just wasn't feeling herself. Soon she had a fever soaring over 104 degrees and could barely stand. Doctors at UVA believed she had the flu; her mother brought her home to Berryville.
But a day later, she was on a ventilator at Winchester Medical Center, in an induced coma and clinging to life.
Doctors there were befuddled. None of the antibiotics they had administered were having any effect, and now Greenhalgh had sepsis.
George and Robin Greenhalgh's first conversation with a doctor was one they'll never forget.
"He told us that if she makes it, she won't be out of the hospital for six weeks, minimum," said Robin Greenhalgh, Meg's mother.
That's when the Greenhalghs knew they had to get their daughter back to UVA.
"We wanted her at UVA Hospital, so that she could have a lot of eyes on her by being in a teaching hospital and being in a teaching setting," Robin Greenhalgh said, "where you have a lot of students anxious to prove themselves."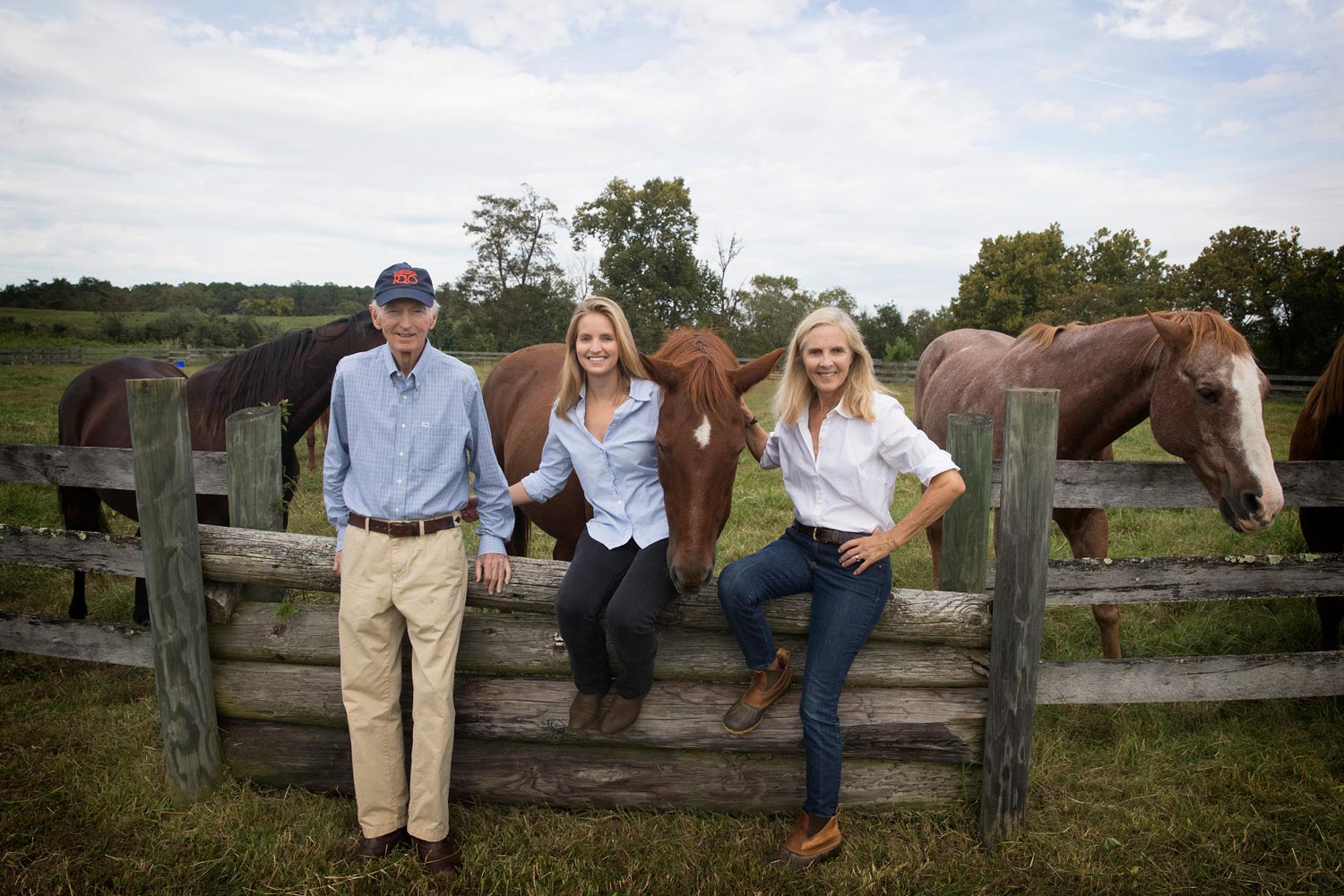 George Greenhalgh, left, with his daughter, Meg, and wife, Robin, at their home in Berryville. (Photo by Dan Addison, University Communications)
With the full support and assistance of Winchester Medical Center, the decision was made to airlift Greenhalgh to UVA via Pegasus. "Putting her on that helicopter to get to Charlottesville was traumatic," George Greenhalgh said. "It was a very bad situation."
At UVA, the Greenhalghs slept by their daughter's bedside while doctors worked tirelessly to figure out what was wrong.
Eventually, they landed on Lemierre syndrome, a rare bacterial infection that a member of Greenhalgh's care team – nearly a decade later, no one remembers exactly who it was – happened to have written a paper on.
Striking roughly one in a million people, the syndrome occurs when bacteria invade the lymph nodes in the neck and cause blood clots, according to everydayhealth.com.
"I remember we were very puzzled by the microbiology and the fact that she didn't have any risk factors for this sort of thing," recalled Dr. Max Weder, the medical director of UVA's lung transplant program. "It's normally the type of thing you expect in the context of a tooth abscess or something like that, but usually not out of the blue."
The Greenhalghs are just thankful that their daughter was able to get back to UVA.
"The doctors and nurses were fabulous in dealing with Meg's medical status – and also with our family being on edge," Robin Greenhalgh said. "They were absolutely amazing."
Greenhalgh's parents said UVA polo coach Coach Lou Lopez and everyone at UVA couldn't have been more supportive throughout the ordeal.
"They were all right there for us," Robin Greenhalgh said. "It was amazing. The polo community is a tight-knit community throughout the country, and at UVA especially."
Due to the blood thinners she was on, Greenhalgh couldn't play for several months. But eventually she returned to action before deciding to focus on entrepreneurial endeavors.
"That was the biggest decision I had ever made in my life," she said.
Greenhalgh had plenty of career options. What appealed to her about starting Brandefy was the chance to create something that could benefit people from all walks of life.
"I love the way it feels to produce something that other people can experience or touch," she said, referring to the free app. "That feeling means so much to me."
The recently married Greenhalgh – who still loves to ride horses – said she doesn't know if she would have had the moxie to start Brandefy had it not been for her brush with death.
"I try to live," she said, "like this is all a bonus."
Article Information
October 3, 2018
/content/back-horse-life-saving-diagnosis-helps-spawn-alumnas-smartphone-app