It looked like a traffic stop, except for the camera crew.
University of Virginia Police and a Charlottesville Police officer pulled over a black Scion sport utility vehicle carrying students on University Avenue, under the watchful eye of a Light House Studio film crew and student volunteers, who recorded the choreographed event.
The mini-movie is part of the Youth, Blue & U Engagement Project, created by Brian N. Williams, an associate professor of public policy at UVA's Batten School of Leadership and Public Policy, against the backdrop of the national Black Lives Matter movement that questions the role of policing in American society, and specifically the relationships between police and people of color.
The Youth, Blue & U Engagement Project "is all about trying to connect people who share the same place, space and time, but with different lived experiences, who aren't necessarily connected or engaged with one another," Williams said.
Williams wants to connect local youths, area police departments and UVA students to develop better relationships. Students from Charlottesville High School and Buford Middle School are participating through City of Promise, a community-building organization in Charlottesville. The University Police Department and the Charlottesville Police Department are part of the program, as are the Groundskeepers, an organization of UVA football players who seek to bring greater unity to the Grounds and the local community.
And it all starts with a conversation, Williams said.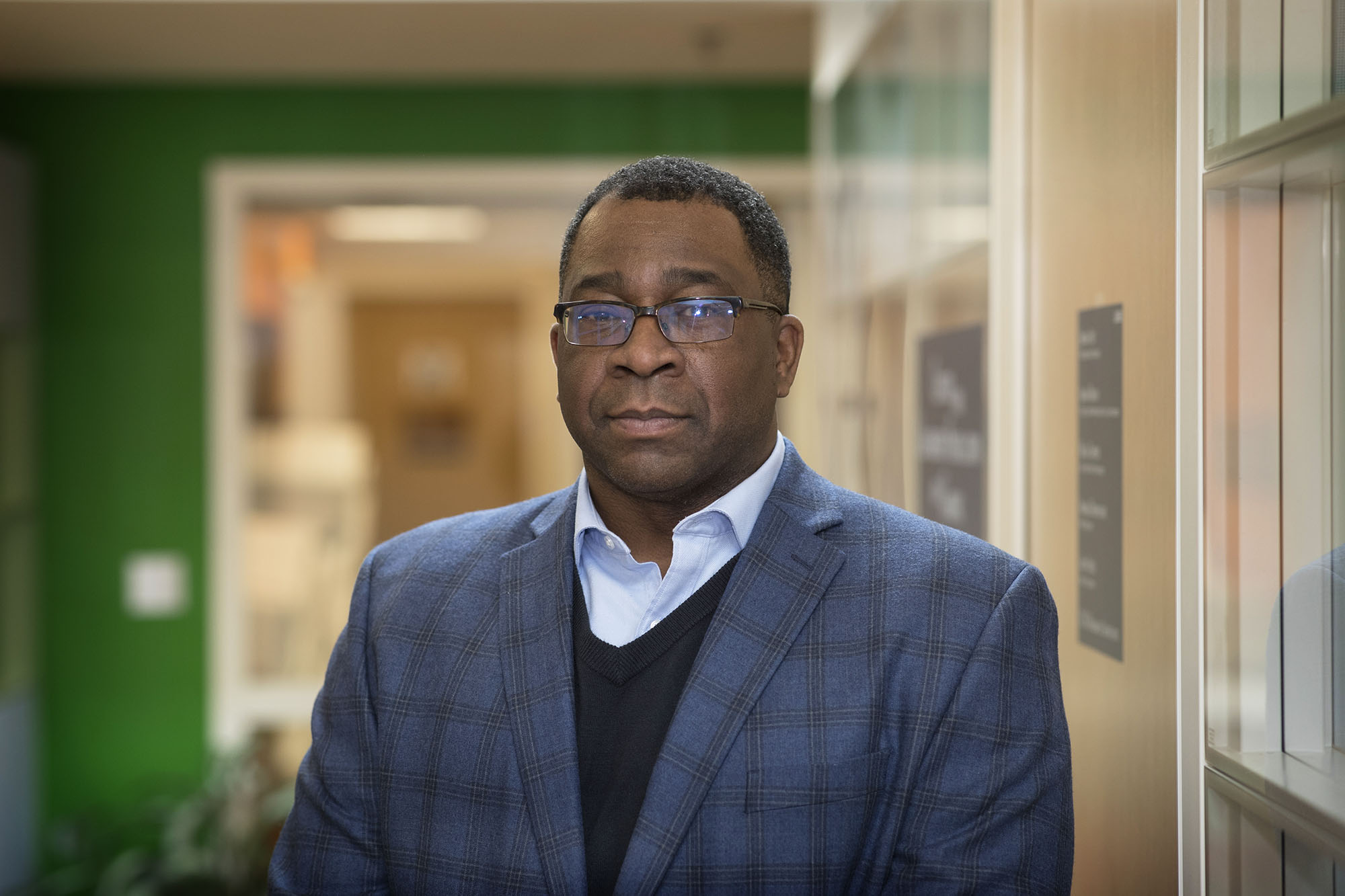 Brian N. Williams, associate professor of public policy at the Batten School of Leadership and Public Policy, is the architect of Youth, Blue & U.
"What we try to do is connect on a very, very human level, so we start at asking folks to identify themselves in terms of their names, their pronouns, their hometowns and one interesting fact about them," he said of the participants. "That is a process that allows us to look beyond what we might see. I use the concept of invisibility a lot – things that are hidden in plain sight. Often we cannot appreciate things that are invisible to us. Sometimes the humanity of police officers is invisible and vice versa. Sometimes the humanity of people might be invisible, hidden in plain sight."
Two days prior to the filming on University Avenue, the participants held a two-hour pre-production meeting, with Williams providing an overview for everyone. They then split into two subgroups, each comprising participants from City of Promise, UVA and Charlottesville police, UVA Groundskeepers athletes and Light House filmmakers.
"During pre-production, participants shared personal stories and ideas, and each group developed a plan for their vignette," said Deanna Gould, executive director of Light House Studio. "The locations were predetermined. Additional details such as who was playing which role were finalized prior to filming. The participants decided the roles that they would like to play."
On the night of the filming, they reviewed their scripts and outlines, seated at tables under a tent near the Medical School, and then split into two groups – one group staging its "traffic stop" on Hospital Drive, while the other set up on University Avenue, to get the Rotunda as a backdrop. Even with the pre-planning, there was opportunity for improvisation.
"The idea was planned in advance, but we did not have an opportunity to choreograph the action prior to filming," Gould said. "The action was worked out during the shoot and the group members continued to play their roles as we filmed multiple takes and various shot types, such as wide shots and close-ups that showed different perspectives, including that of the police officers inside the police cars."
Zach Marotta, the production manager for Light House Studio, worked with the City of Promise students on camera angles and shot framing, and setting up a student in the back seat of the Scion with a handheld camera to get interior shots. Students and passers-by observed.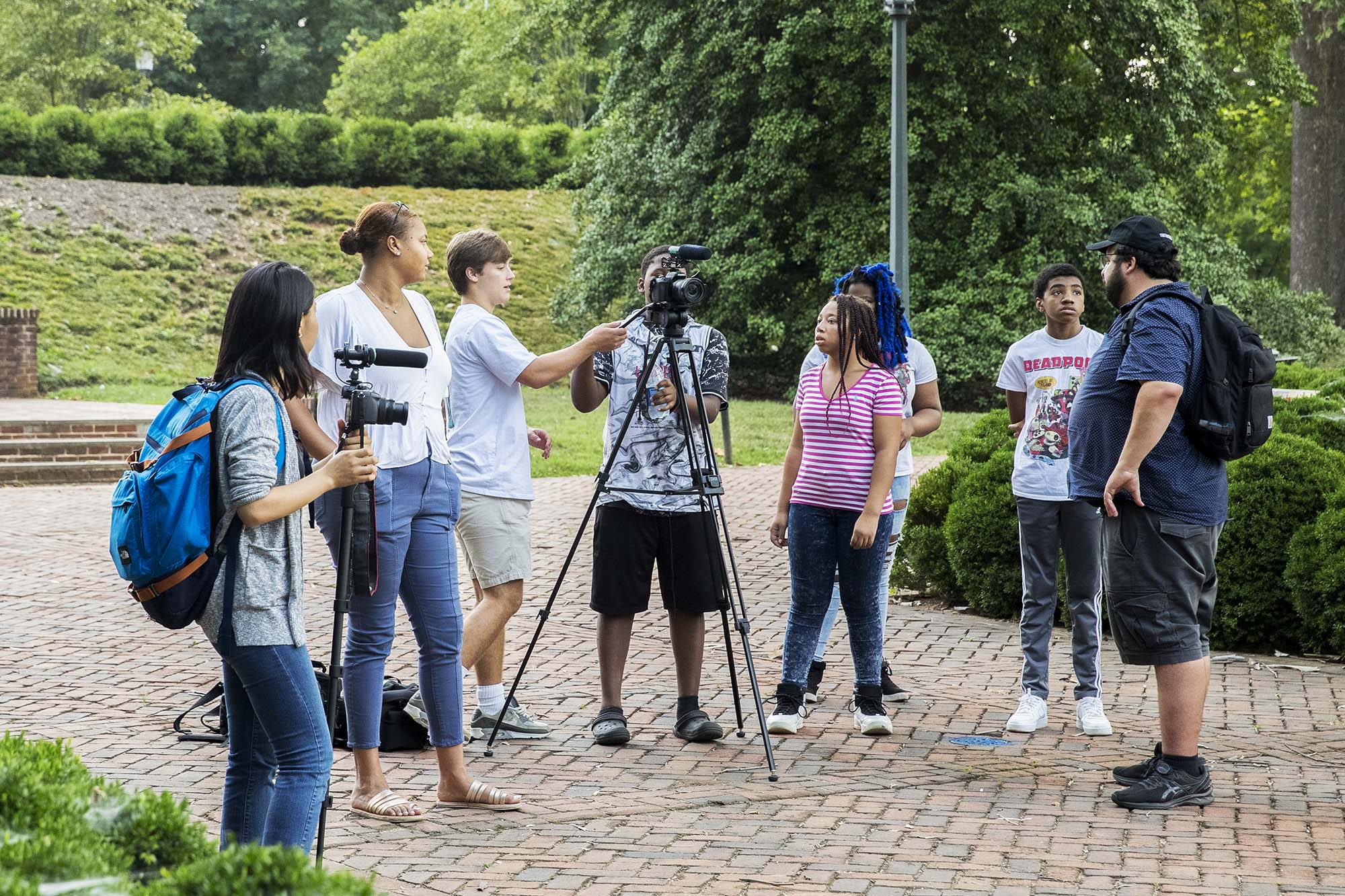 Local youth volunteers work with a Light House Studio film crew to capture a vignette of a traffic stop.
"The filming was very successful, especially given there were 40 people involved and we did not have a lot of time to prepare and rehearse prior to filming," Gould said. "Everyone involved was dedicated to the project and they were great about taking direction."
While the students were filming the vignettes, another Light House filmmaker, Jacqueline Yeon, captured behind-the-scenes footage and interviewed the participants.
After the filming, the students returned to City of Promise's 10th Street location for food and fellowship.
"The filming went very well," University Police Capt. Bryant Hall, who oversaw the exercise, said several days later. "We were able to finish both scenes and we actually saw a rough cut yesterday."
Hall and UVA Police Chief Timothy Longo are active in the Youth, Blue & U project, as are several UPD officers.
"Dr. Williams approached me because he knows that community relations are a high priority for myself as well as Chief Longo," Hall said. "My role is to facilitate conversation and communicate with UPD officers about upcoming events."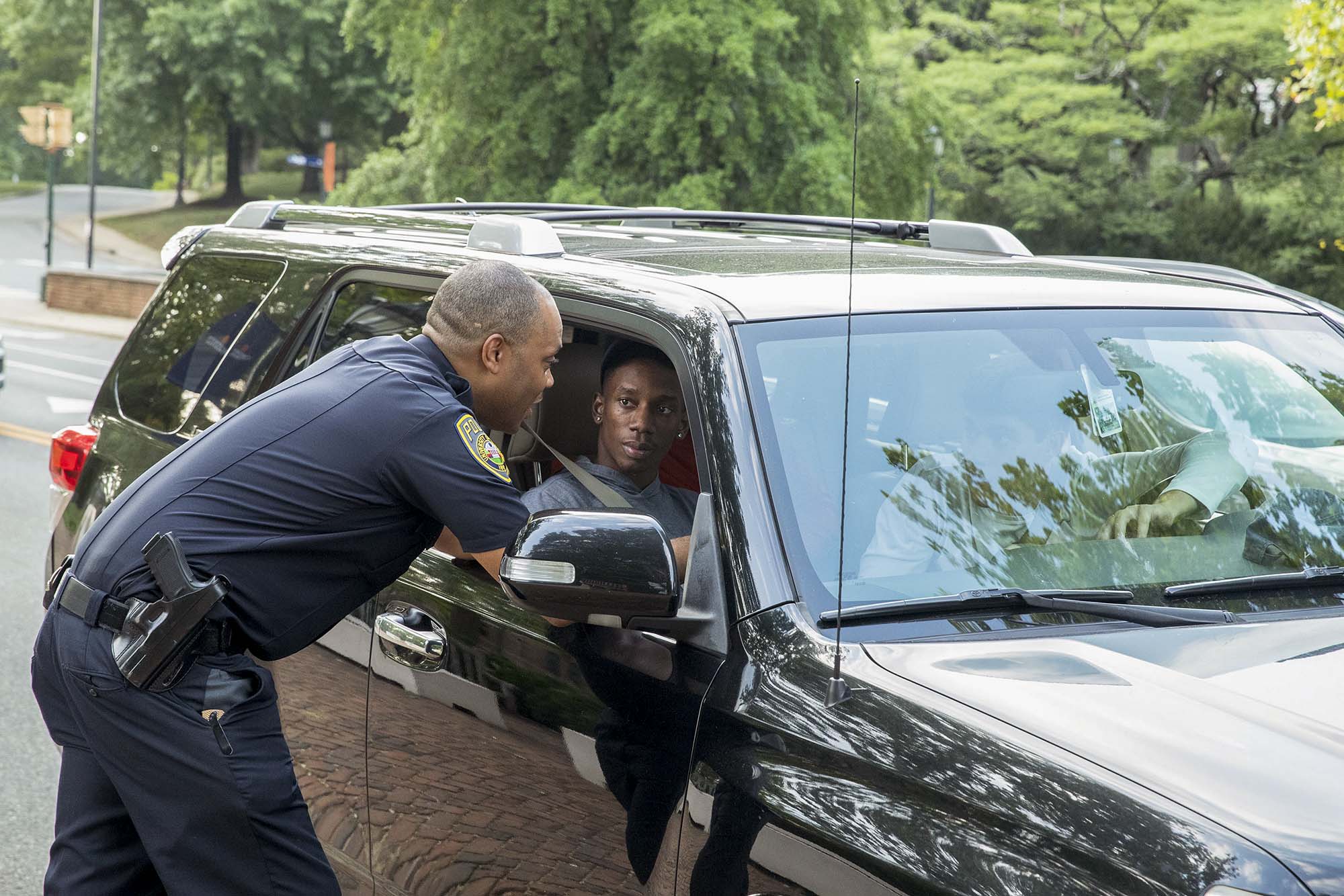 University Police Capt. Bryant Hall confers with students in the "stopped" SUV before filming starts.
Hall said one role of the University Police Department is to change hearts and minds.
"There is a lot of work to do in policing surrounding connecting with our community and regaining the trust of people," Hall said. "They need to see that we are genuine and truly care about our community. We take our responsibility seriously. This will absolutely benefit the University by way of positive interactions. Each person that we impact in a positive way works toward building the bridge within our community. We are unique in the way that we serve the University, the county and the city. They are all our community."
Hall, who worked gang investigations for nine years as part of the Portsmouth Police Department and worked with the FBI on federal Racketeer Influenced and Corrupt Organizations Act cases, operated the Portsmouth department's mentoring and tutoring program with local schools. He also created the "Teens and Traffic Stops" program to help them navigate interactions with police officers.
The filmed vignettes are short, but take a long time to film and put together.
"They will be like three-minute video clips that highlight a prelude to an encounter," Williams said. "So we would see something that happens that brings together some officers with some residents and students and also viewed by various bystanders. And it forces us to really appreciate the different perspectives that might be at play, that could possibly impact or affect those encounters."
Williams, who has participated in police training and ride-along programs, said he monitors Officerdown.com, a website that alerts subscribers when a police officer is killed in the line of duty.
"I am a little more sensitive to the 'random traffic stop,'" Williams said. "There is no such thing as a normal traffic stop and oftentimes the traffic stop, the domestic violence call, can be some of the most dangerous for officers. And how that plays out with traffic stops and kids who don't know any better – if you make a certain move, how that officer perceives that sudden move is totally different from what you are intending to communicate."
The Youth, Blue & U videos will shown Monday at 6 p.m. at 220 W. Market St., Light House Studio's Vinegar Hill Theater, which has a 100 person seating capacity.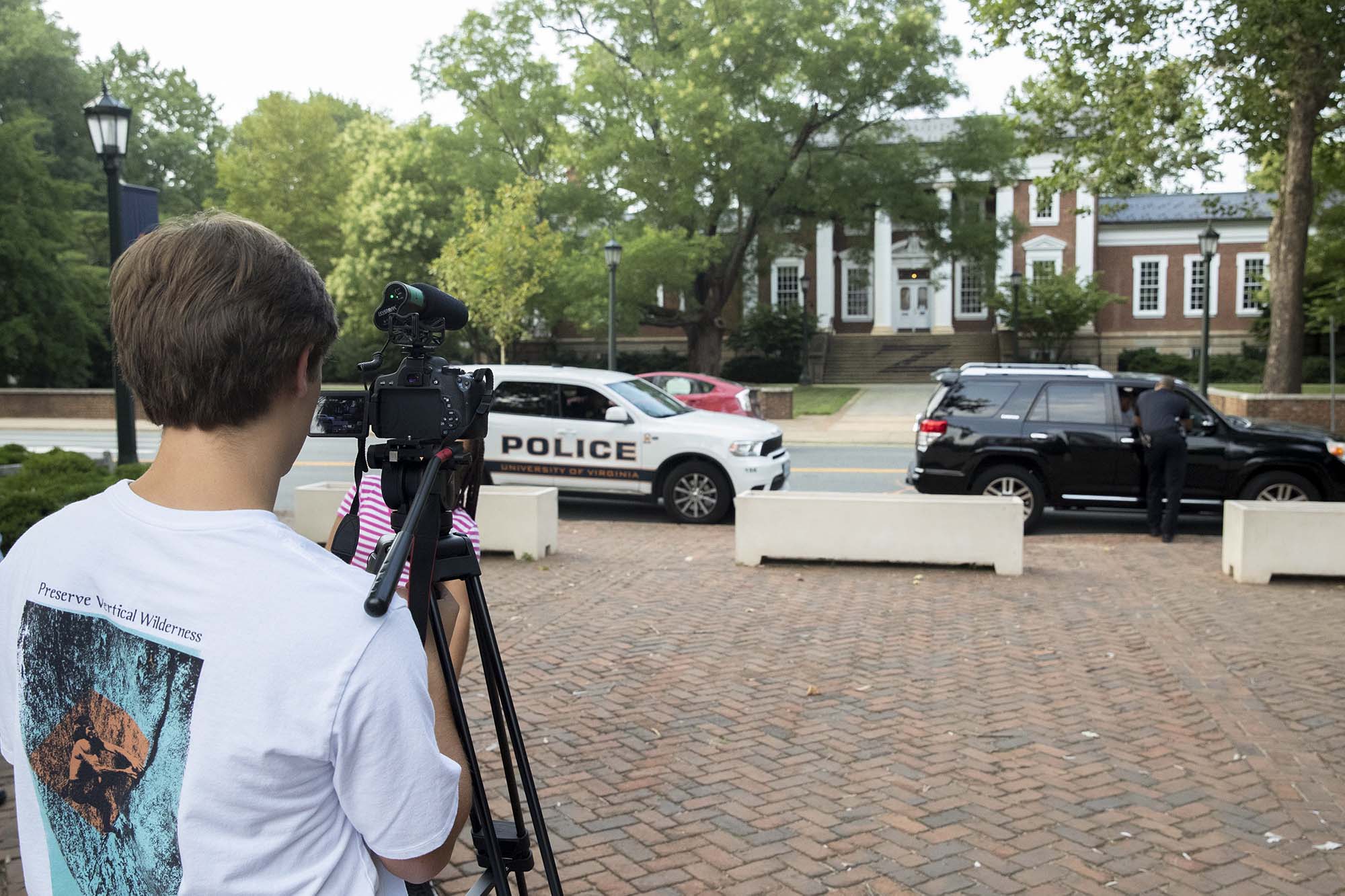 A student volunteer with Light House Studio film the staged traffic stop on University Avenue.
"We will host a community forum to premiere it, where we would like to invite different stakeholders, activists, advocates for police reform, police officers, youth-based organizations," Williams said. "We will view both vignettes and then we will unpack what people can appreciate from the different perspectives. And then really challenge people as to what is the real problem behind the problem."
Williams said these encounters reveal blind spots and how these play out in encounters between and among people. He wants people to broaden their perspectives.
"One of the exercises we do is to visualize a fully-loaded pizza and I ask the participants 'what do you see?'" Williams said. "But before that, I ask 'What do we see?' What we all see is a pizza, but when you break it down on an individual level, different people might see different things. Someone who doesn't eat pork might see something that goes against what they eat. Someone lactose intolerant they might see a stomachache.
"And that begins the process of those things that might be hidden in plain sight, invisible," he said. "What we see is based on our perspectives and life experiences of who we are, and how that creates space to appreciate these different perspectives that flow out of this meaningful and intentional engagement."
Williams involved local youths through the City of Promise, on whose board of directors he serves.
"He saw an opportunity for our students to participate in a meaningful project that might improve community-police relations in Charlottesville," said Mary Coleman, executive director of City of Promise. "This project aligns with our mission because we are committed to providing access to youth who are often overlooked for unique opportunities that broaden their horizons and build skills."
She said there are approximately 10 to 12 students involved in the project.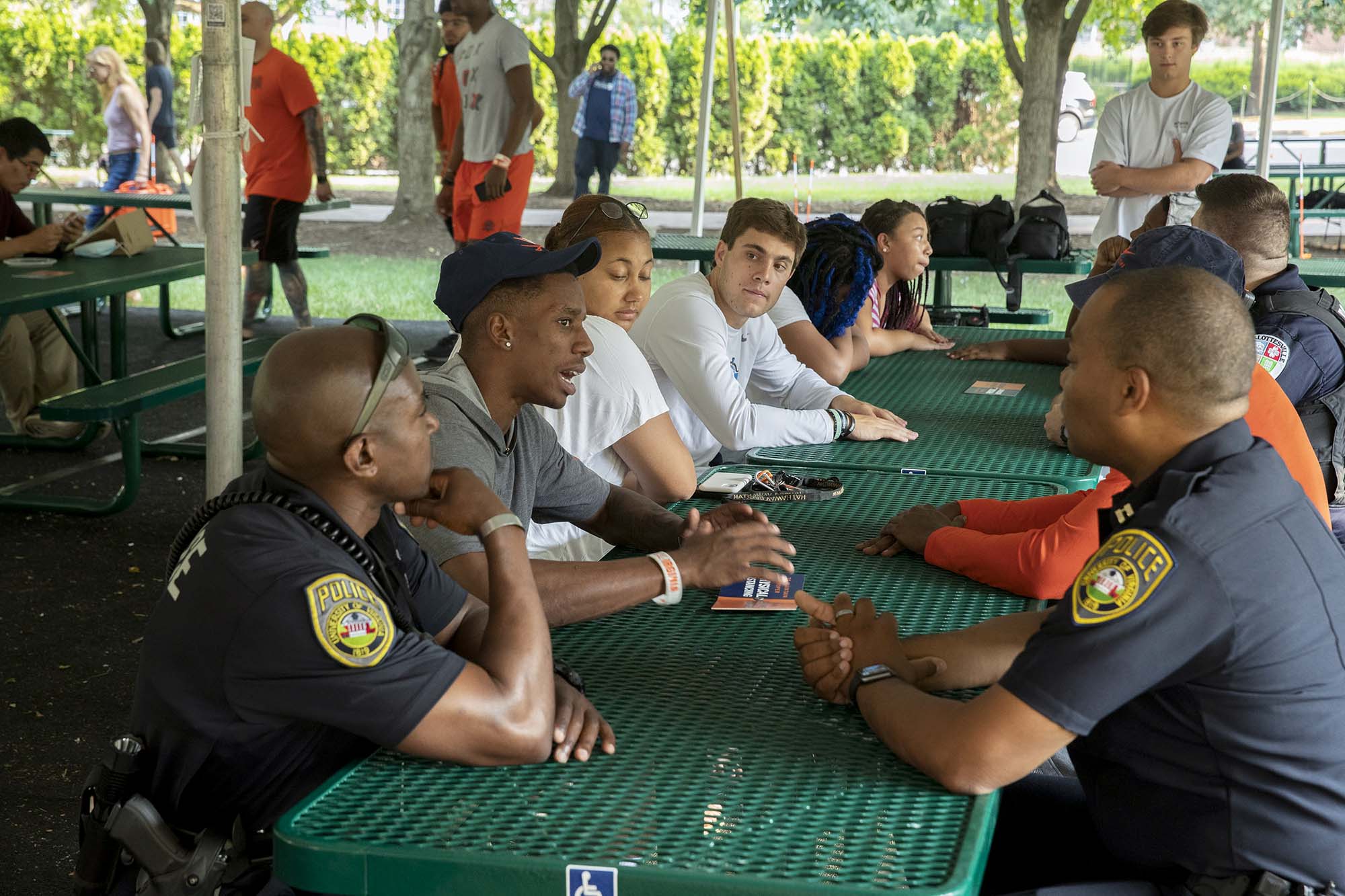 Officers from the University and Charlottesville police dDepartments review their scripts before staging a traffic stop.
"They have learned about community policing, built relationships with officers and developed dialogue, filmmaking and storytelling skills," Coleman said. "We are proud of our students for their willingness to learn about policing and to bridge the gap that often exists between officers and teens. Likewise, we are honored to elevate their voices and perspectives."
While the City of Promise students develop relationships with police officers, they also develop relationships with University students through the Groundskeepers, a community outreach program formed by UVA football players.
"The Groundskeepers volunteer to take part in this," Williams said. "I know they are committed to trying leave Grounds better than they found it."
Williams cited Terrell Jana, one of Williams' students who graduated in May and was a founder of Groundskeepers.
"With any group process you form, it might storm a little bit before 'norming, performing and transforming,'" Williams said. "We have had some meaningful conversations and we facilitated really powerful exercises that allow us to begin norming and performing and [we] hope, that when we create these video vignettes, to begin the process of transforming the community and the Grounds a bit, to bridge some the gaps that exist right now that we see."
As part of the program, Williams said the local students will visit football players after a practice and maybe attend a football game, as well as UVA women's basketball, softball and baseball games.
"These will be periodic opportunities for folks to re-engage with informal kind of things," Williams said. "We have also talked about extending those food-and-fellowship types of gatherings where we invite folks back over to City of Promise and have a meal and get together again and have some food and fellowship."
Williams, who started at UVA as a visiting professor in January 2018, followed by a permanent appointment later that year, had good relations with police officers as a youth, especially one he knew as a good neighbor on his street in Thomasville, Georgia.  
"As I grew older and went off to college I had some different experiences, but those [in Thomasville] were my anchoring experiences," Williams said. "I could think, 'OK, that's just a cop who made some bad decisions.' But that was based on me knowing them, appreciating them, identifying with them as a person, not necessarily their profession."
These experiences led Williams into his research.
"I have been doing this kind of work for a while," he said. "I am a different kind of researcher. I believe in engaged, grounded research, but I am a qualitative dude as well, and I spend a lot of time in the field to appreciate the different lived experiences of people. I have been exposed to some things that have allowed me to have a growing appreciation of both worlds – the world of law enforcement and the world of those served by law enforcement but are sometimes in under-resourced and oftentimes over-policed types of areas."
Williams says that policing policy and practices have changed because "we have added more seats to the table," and sees his research moving beyond public safety.
"It can apply in education settings, health care, transportation," he said. "It is about impacting the policymaking process, because typically you have a limited set of actors who, based upon their limited life experiences, try to put into place polices that impact all of us. And because of their limited life experiences, those policies and practices don't really connect with them."
Williams wants to expand the policy process to include people who have been left out or ignored in the past, including the young.
"I would like to see to see how we make sure policies are better created by adding more seats to the table and unmuting those voices that have been muted for quite some time," Williams said. "That is why I want to have that younger population. This is a process to train tomorrow's leaders today, to be actively engaged and contributing to the society in which they live. As they grow, this project plays out on a couple of different fronts."
Article Information
August 26, 2021
/content/batten-researcher-brings-police-students-together-better-understand-each-other