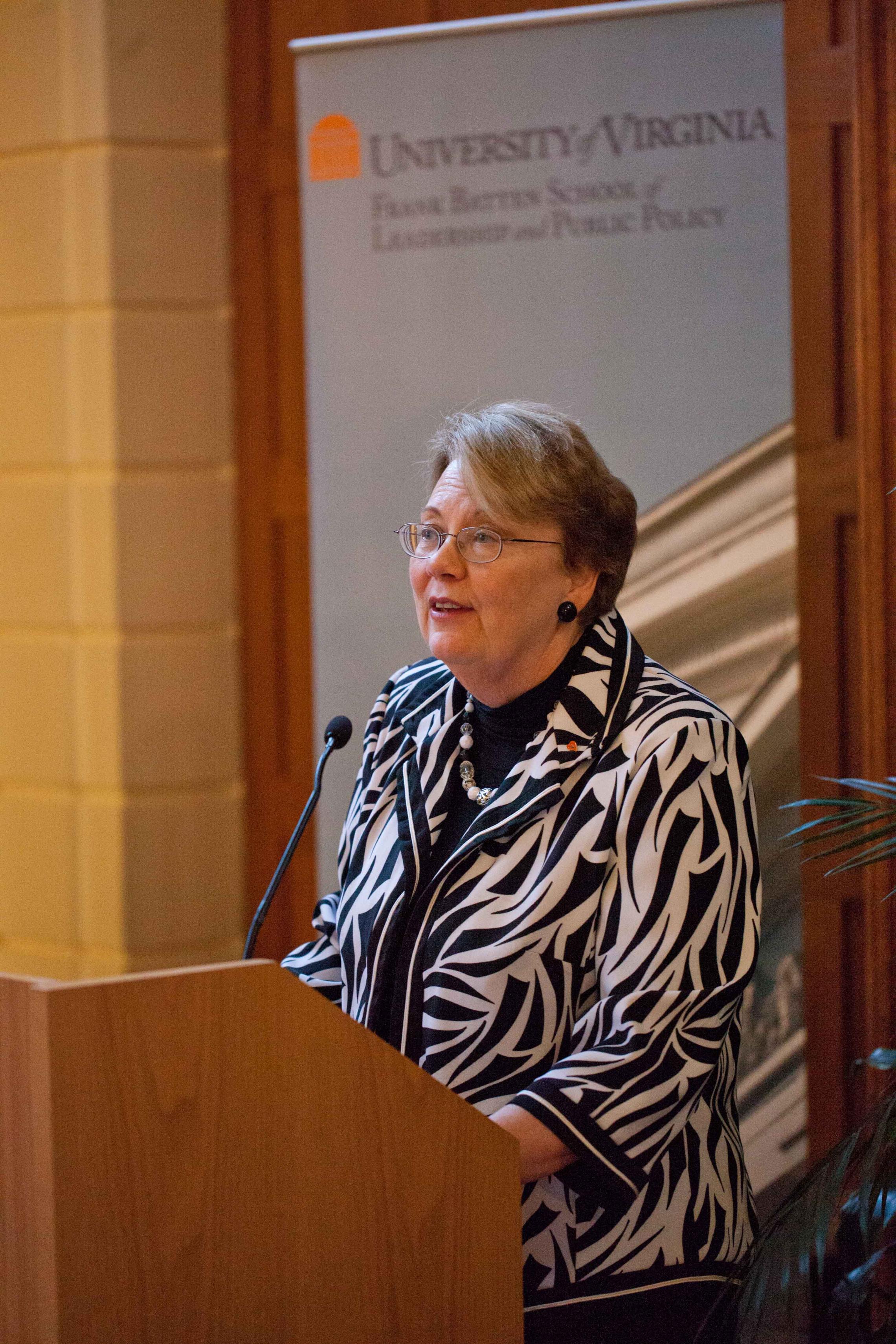 A little more than five years ago, the retired chairman of Landmark Communications, Frank Batten Sr., made the largest single philanthropic gift in University of Virginia history – $100 million – to endow the Frank Batten School of Leadership and Public Policy. On Friday, the school announced eight new fundraising successes, including two $1 million gifts, during a fifth-anniversary celebration.
Speaking to a crowd of about 75 Batten School alumni, faculty, students and supporters assembled in the Garrett Hall Great Room, Dean Harry Harding likened the gifts to new fuel for a spaceship that has blasted off successfully and reached a sustainable Earth orbit, but still has far greater objectives to reach.
In what Harding called "a remarkably generous vote of confidence in the successful launch of this new school," Jane Batten, widow of the school's founding benefactor, gave a $1 million unrestricted cash gift that will fund three key initiatives: student fellowships, global initiatives and faculty hires.
Former U.Va. Rector John O. Wynne, who chairs the Batten School Board of Advisors, committed $1 million toward a $5 million fund for the school's first endowed faculty chair, in leadership, Harding said.
Harding announced six other gifts:
A $20,000 unrestricted gift from U.Va. Council of Foundations chair Jeffrey C. Walker will fund a Leadership Speakers Series in 2013.
Harding made a personal $20,000 donation to support an initiative to globalize the entire Batten curriculum.
A Batten Board of Advisors member who asked to remain unnamed committed $75,000 over three years to help ensure course offerings and faculty hires that support a focus on a key 21st-century challenge: technology policy.
College of Arts & Sciences alumnus Richard Billmire pledged $100,000 to support Batten School co-curricular programs, panels and conferences in Charlottesville and Washington designed to build Batten's reputation as a reliable source of data and nonpartisan discussion on current public policy challenges.
Batten board member Brian Siegel, a principal at Deloitte Consulting, worked with former U.S. Rep. Thomas M. Davis III, director of federal government affairs at Deloitte & Touche, to secure a $125,000 commitment from Deloitte partners, matched by $125,000 from the Deloitte Foundation, to fund $250,000 of graduate student scholarships over the next five years.
In brief remarks following the gift announcements, U.Va. President Teresa A. Sullivan congratulated the school on its "extraordinary achievements" during its first five years. In addition to having "virtually doubled in size each of the last two years," she said, the school has added a post-graduate master's degree program and a new undergraduate major.
"I especially want to single out the pioneering alumni among us," Sullivan said. "You were the first students to enroll in the first new school created on Grounds since 1950. You are our living endowment and your work as ambassadors will go to great lengths to secure a top-notch reputation for the school."
In his luncheon keynote address earlier in the day, Jeffrey M. Lacker, president of the Federal Reserve Bank of Richmond, made national news by criticizing the Federal Reserve's latest round of monetary stimulus and the Fed's roadmap for very low interest rates until at least mid-2015, as reported by Bloomberg News and Reuters.
Media Contact
Media Relations Associate Office of University Communications
brevy@virginia.edu (434) 243-0368