Vocalists, musicians, dancers and singers from the University of Virginia, Charlottesville and beyond raised their voices together for a powerful performance over the weekend.
More than 150 performers, including UVA's University Singers and a local youth choir, DMR Youth Chorus, took the stage in downtown Charlottesville's historic Paramount Theater to perform American composer Leonard Bernstein's "Mass." It was one of the largest performances UVA's McIntire Department of Music has ever produced.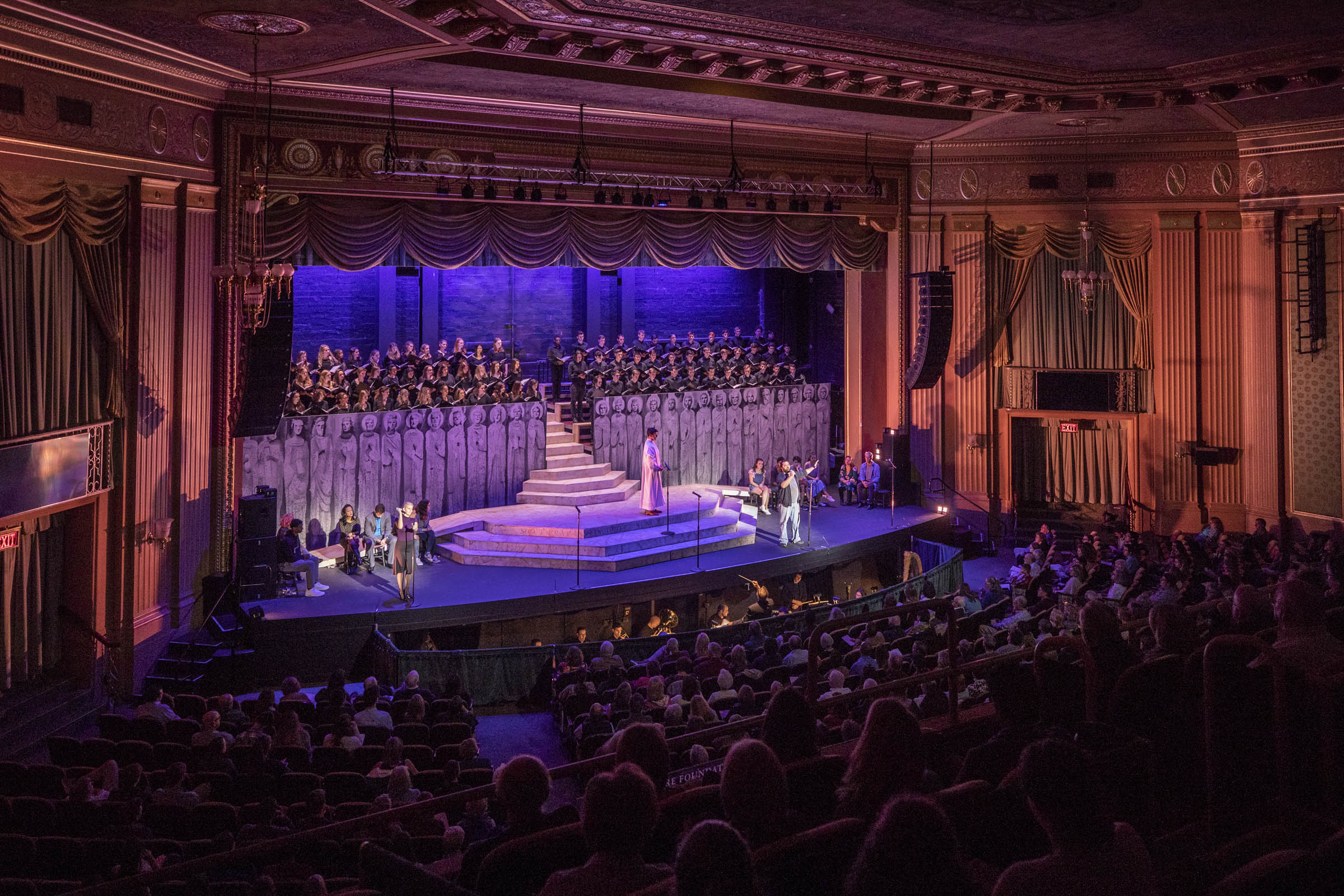 "It's a one-of-a-kind piece," said conductor Michael Slon, UVA's director of choral music. "I have seen firsthand the transformative power it can have for both performers and audiences."
The performance was directed by UVA drama professor emeritus Robert Chapel, with set design by drama associate professor Tom Bloom. It was part of national and international centennial celebrations for Bernstein, one of the foremost American composers, who was born in 1918 and died in 1990.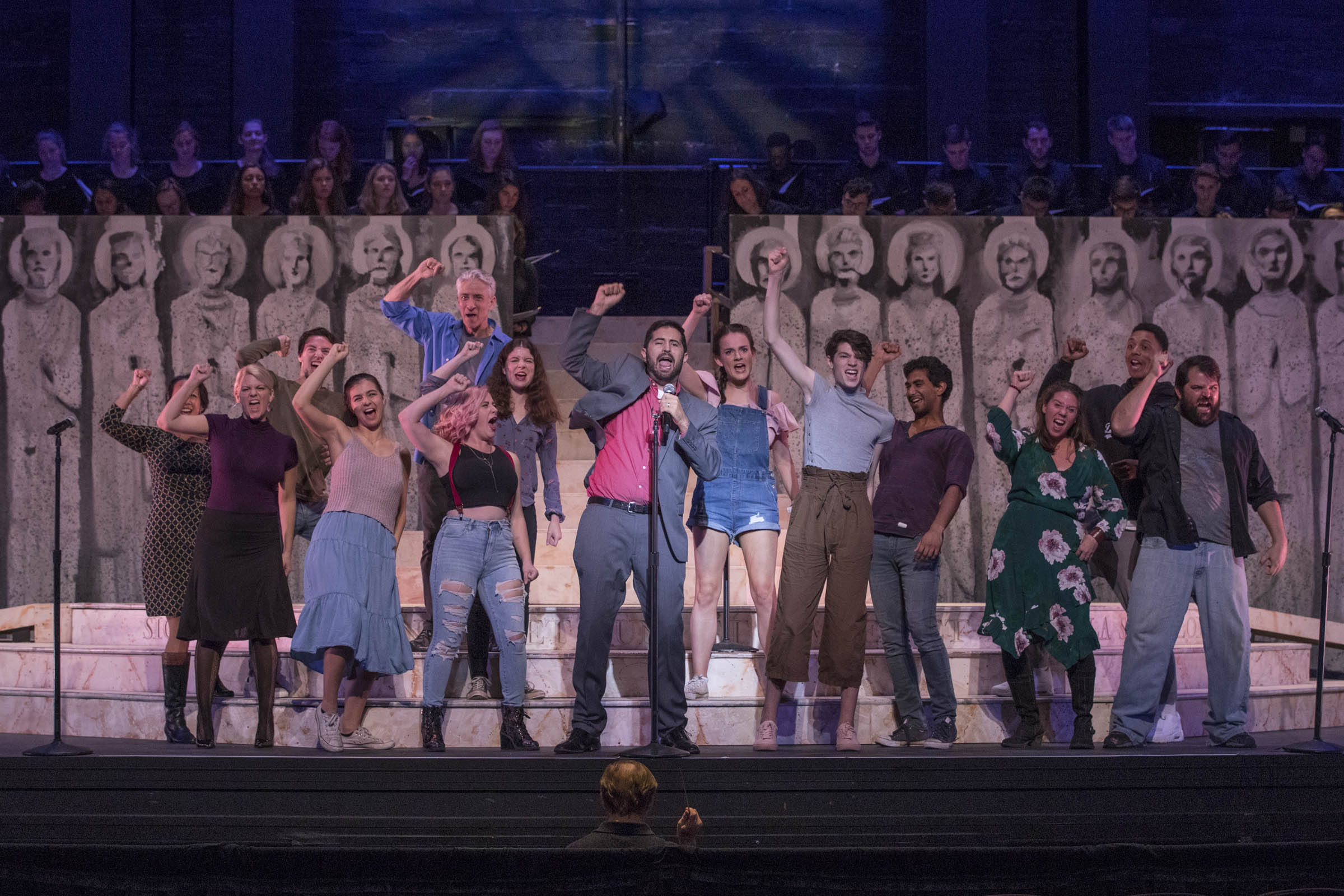 Members of the "street chorus," backed by a formal choir of students in University Singers, during the dress rehearsal Friday.
Jacqueline Kennedy Onassis commissioned this particular piece, "Mass," for the opening of the John F. Kennedy Center for the Performing Arts on Sept. 8, 1971. The former first lady admired Bernstein after he conducted the music for Robert F. Kennedy's funeral a few years earlier, in 1968.
Given Onassis' commission, Bernstein created a piece to capture what he saw as a crisis of faith in the 20th century, particularly after John F. Kennedy's assassination and ongoing debate and anguish around the Vietnam War.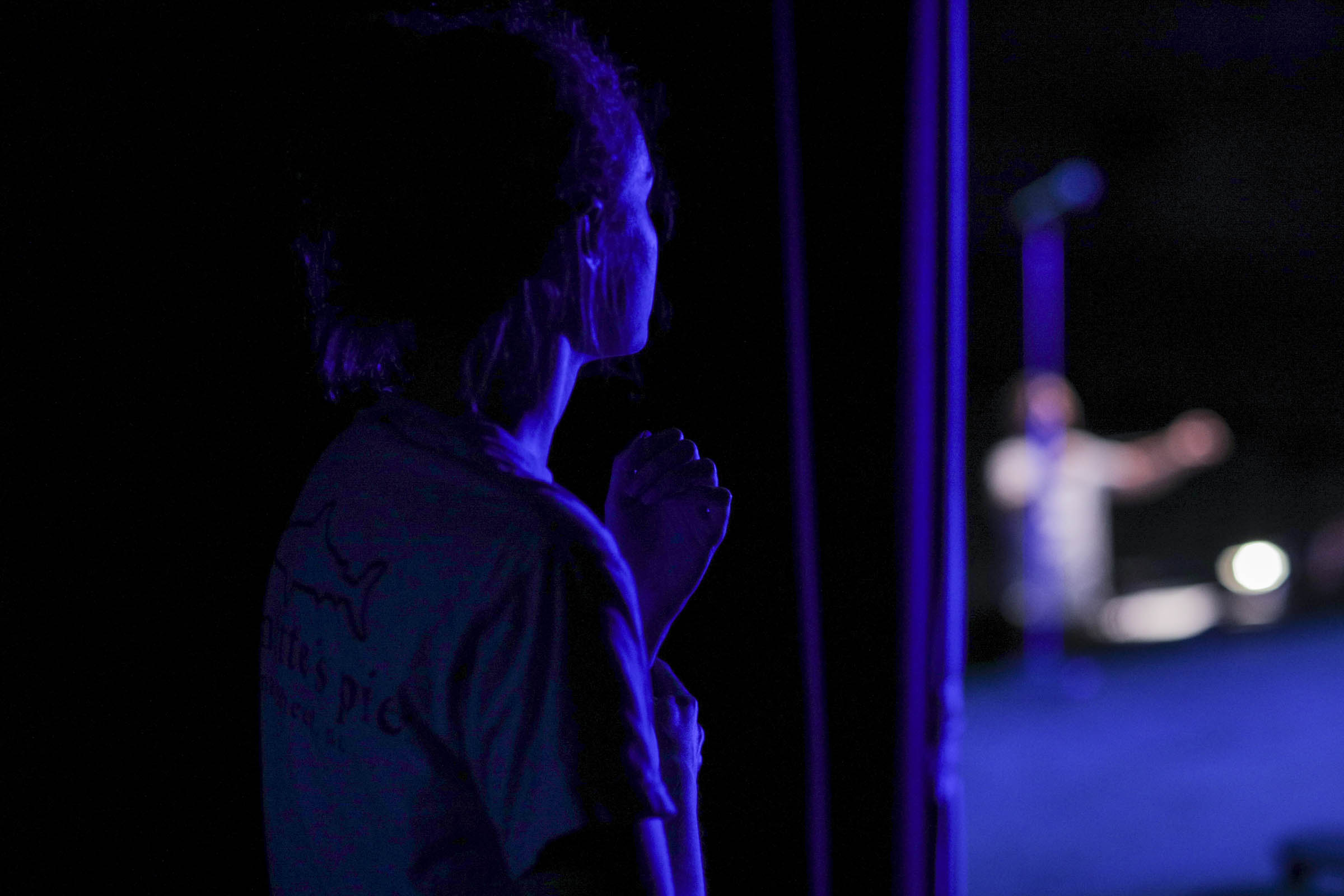 Dancer and second-year UVA student Claire Netemeyer waits in the wings.
"He was very much a citizen of the world, and his work frequently engaged contemporary issues through music and text," Slon said. "This piece is a prime example of that. It is very much of its time, but there are many themes that also feel relevant today."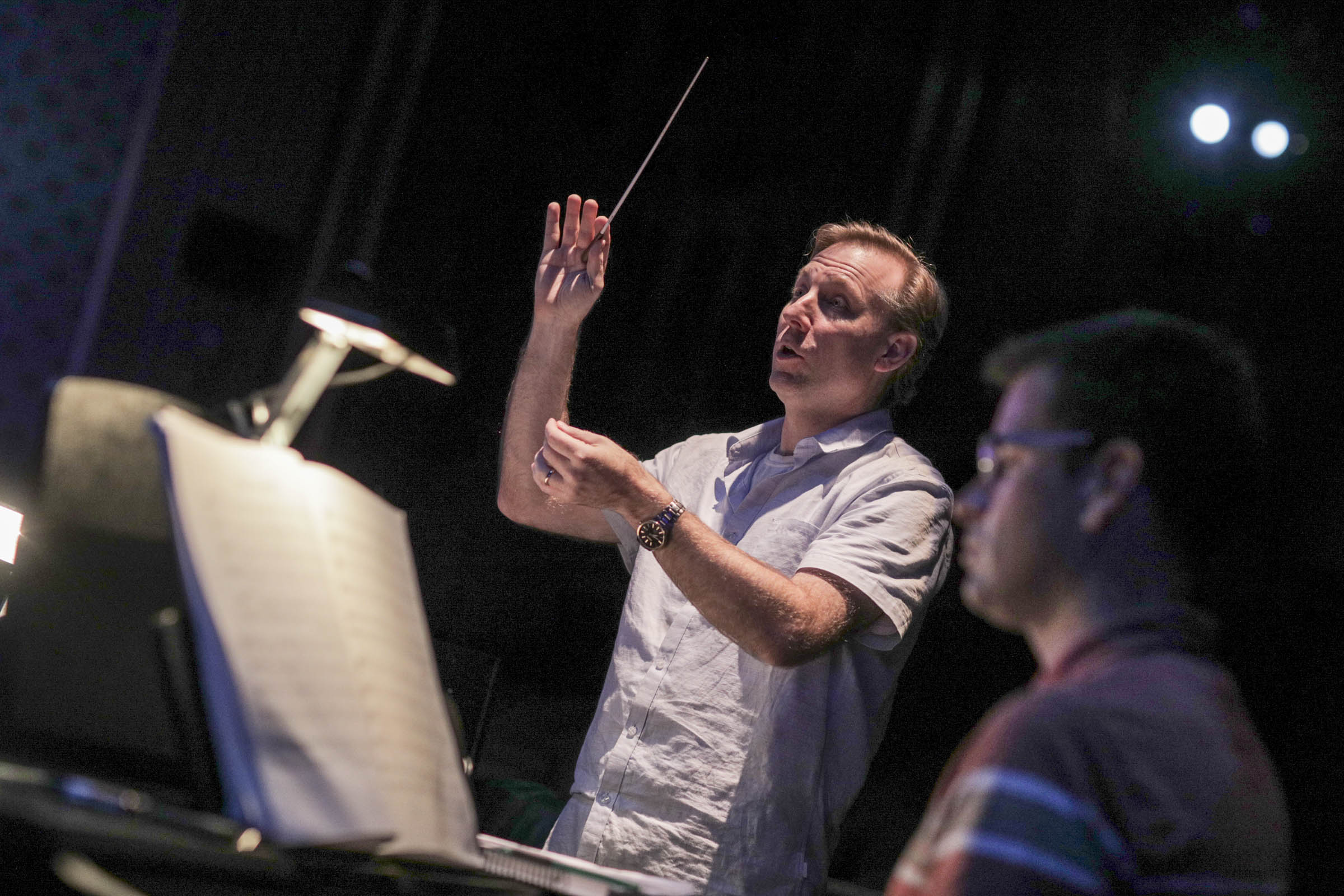 Michael Slon, UVA's director of choral music, conducted the show.
Bernstein, who was the son of Russian Jewish parents and a frequent humanitarian activist, structured the piece around the traditional rhythms of a Roman Catholic mass, using a mixture of sacred and secular texts, formal choirs, "street choirs" and juxtaposing elements of blues, rock and jazz with solemn hymns.
The street choir, shown here during rehearsal last week, provided a modern counterpoint to the traditional structure of the mass and introduced doubts and questions about religion.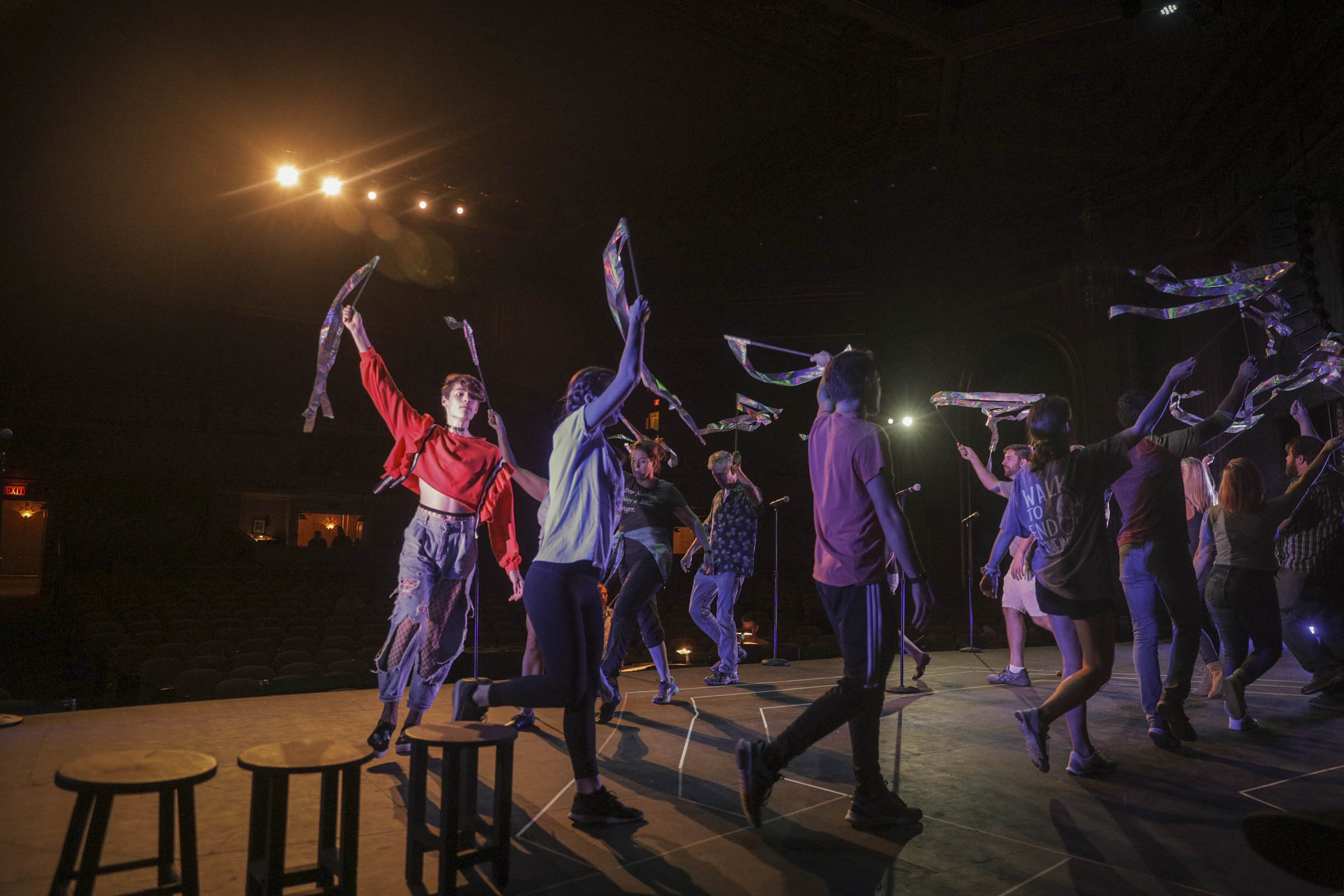 "Mass" divided the Roman Catholic Church when it first premiered, with some Catholics appreciating it and others being offended by it. However, in a full-circle moment a decade after Bernstein's death in 1990, Pope John Paul II requested a performance at the Vatican in 2000.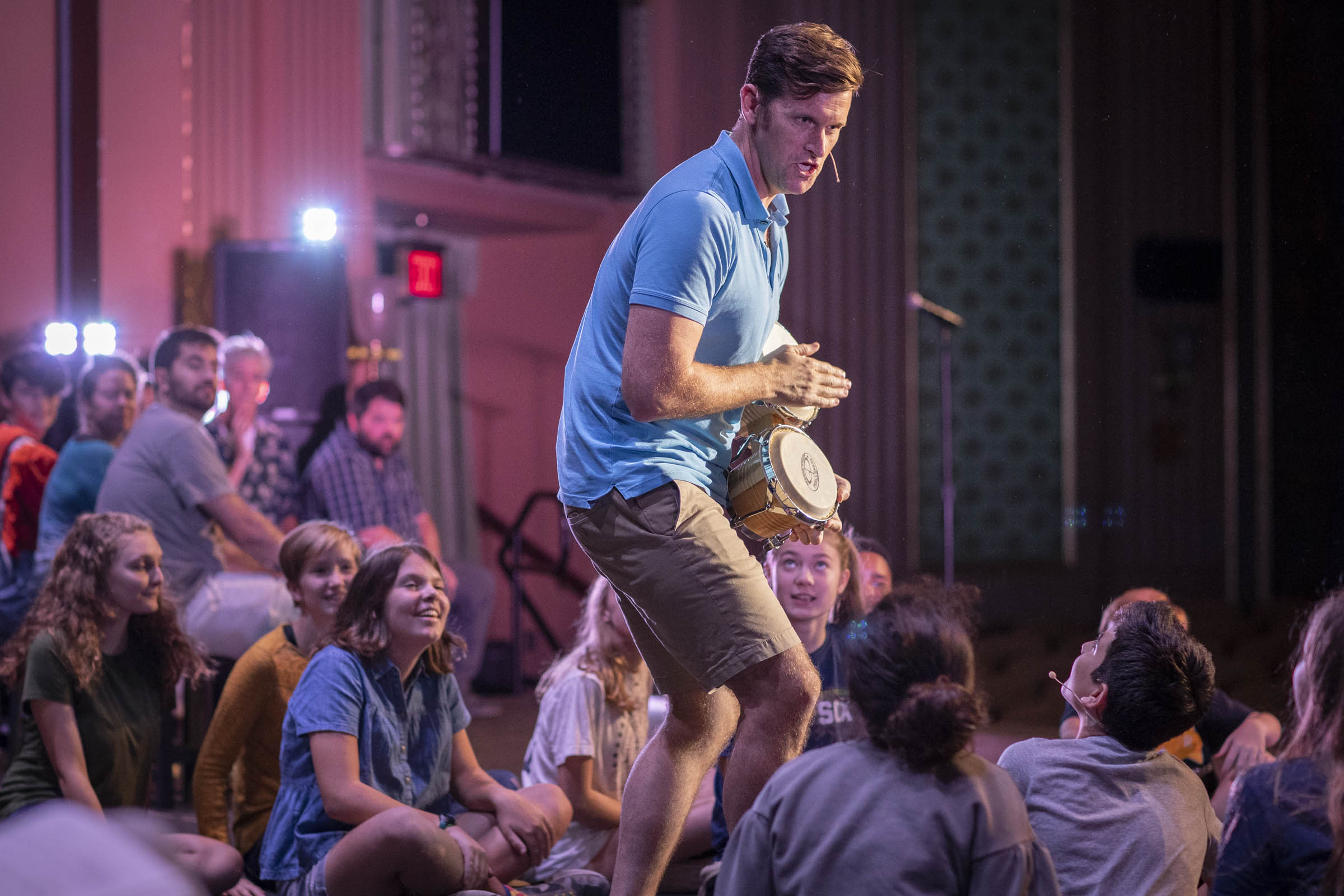 The composition is, by turns despairing, humorous and wry, leading the audience through a crisis of faith and ultimate catharsis experienced by the "celebrant," played by vocalist and actor Kevin Vortmann, shown here rehearsing with members of the DMR Youth Chorus.
Vortmann's credits include both Broadway and off-Broadway productions, as well as performances with the Philadelphia Orchestra, New York Philharmonic and San Francisco Symphony.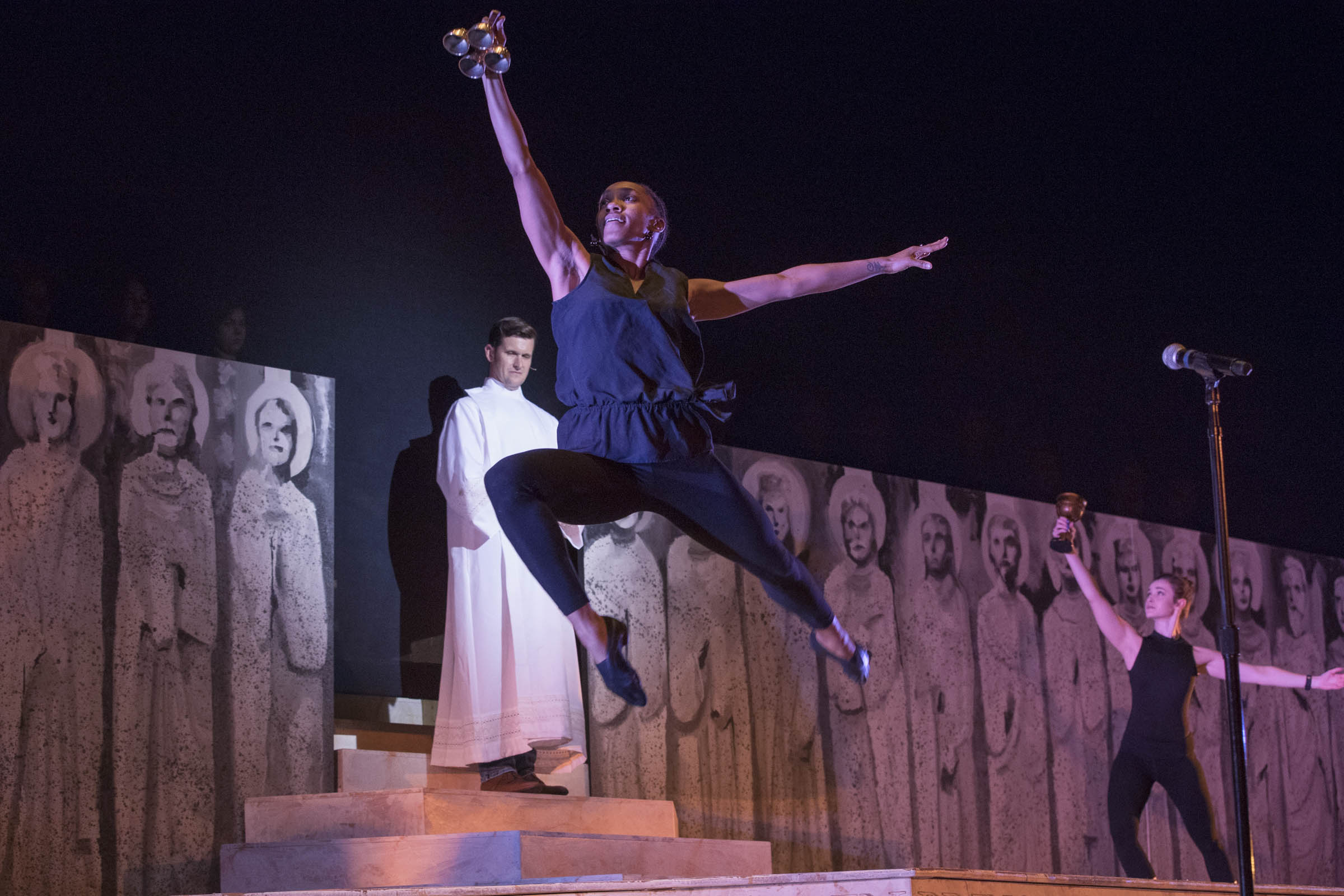 Dancer Demetia Hopkins-Greene takes flight.
Vortmann was joined by a large cast drawing from many different parts of the University and the city. The University Singers, UVA's choral ensemble directed by Slon, provided a full, formal chorus, while other students and community members had various solo parts. A "street chorus," composed of both students and local residents, gave voice to the concerns of the day, asking Vortmann's character how his church could explain suffering and social ills.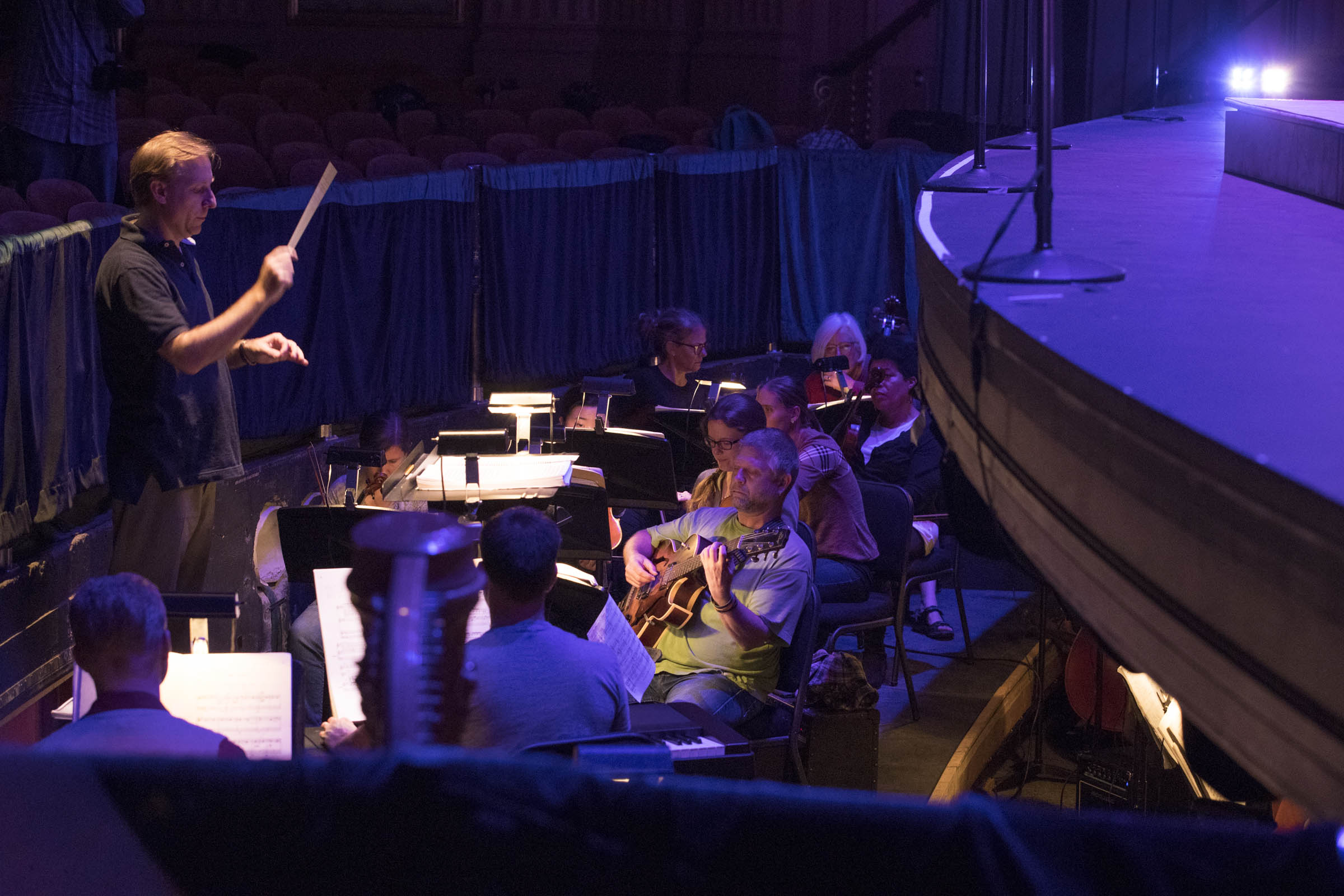 "The show puts forward a lot of questions, in this case about religion," second-year UVA student Julia Guarneri said. "In the end, it is not about religion being wrong or right, but about having an understanding of religion, accepting different parts of it and recognizing that things are not always black and white."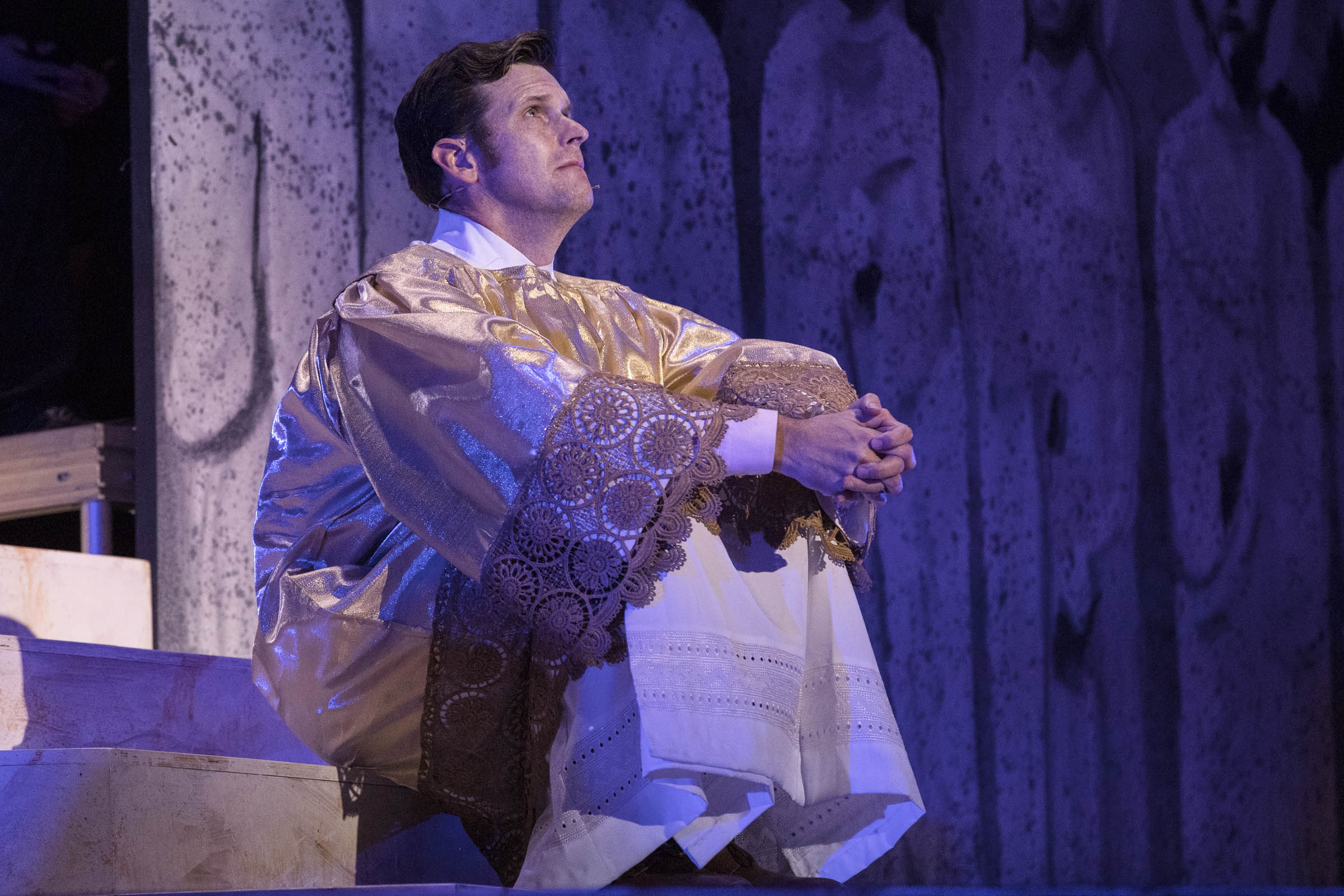 Guarneri, a member of University Singers who also had a solo role in the street chorus, said she enjoyed meeting and working with performers outside of UVA.
"It's really cool because this show has so many different parts – dancing, singing, the choir, a full orchestra," she said. "It's been great to work with and get to know people from Charlottesville, especially since I am out-of-state, from New Jersey."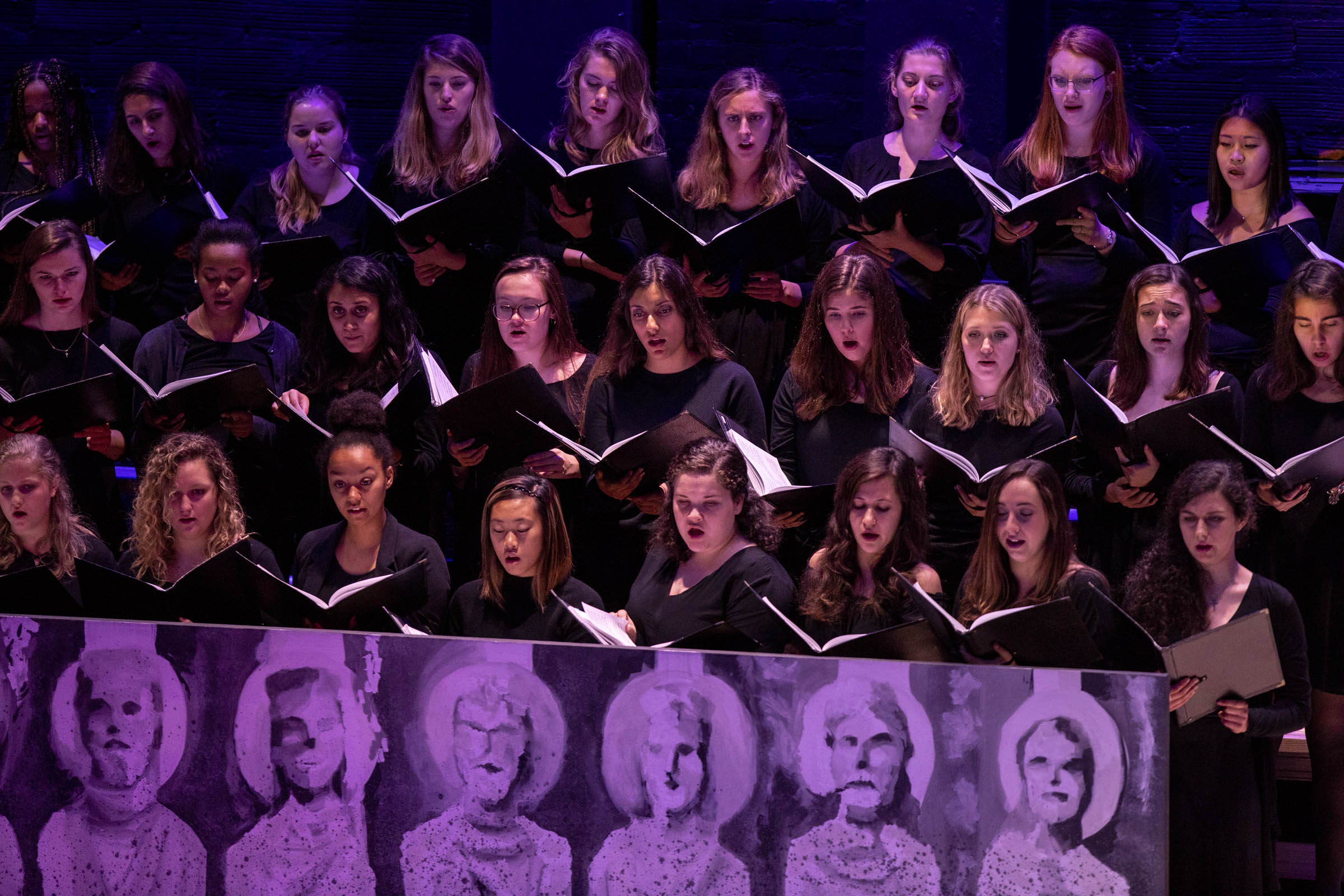 Slon believes the piece's collaborative focus is an important part of Bernstein's overall intentions for it.
"This piece is so demanding, in terms of the number and types of performers required, and it opened the door to many collaborations across UVA and with our Charlottesville community," Slon said. "By design, it draws many people together. I think that is part of Bernstein's point, that performing together brings us together in a unified way."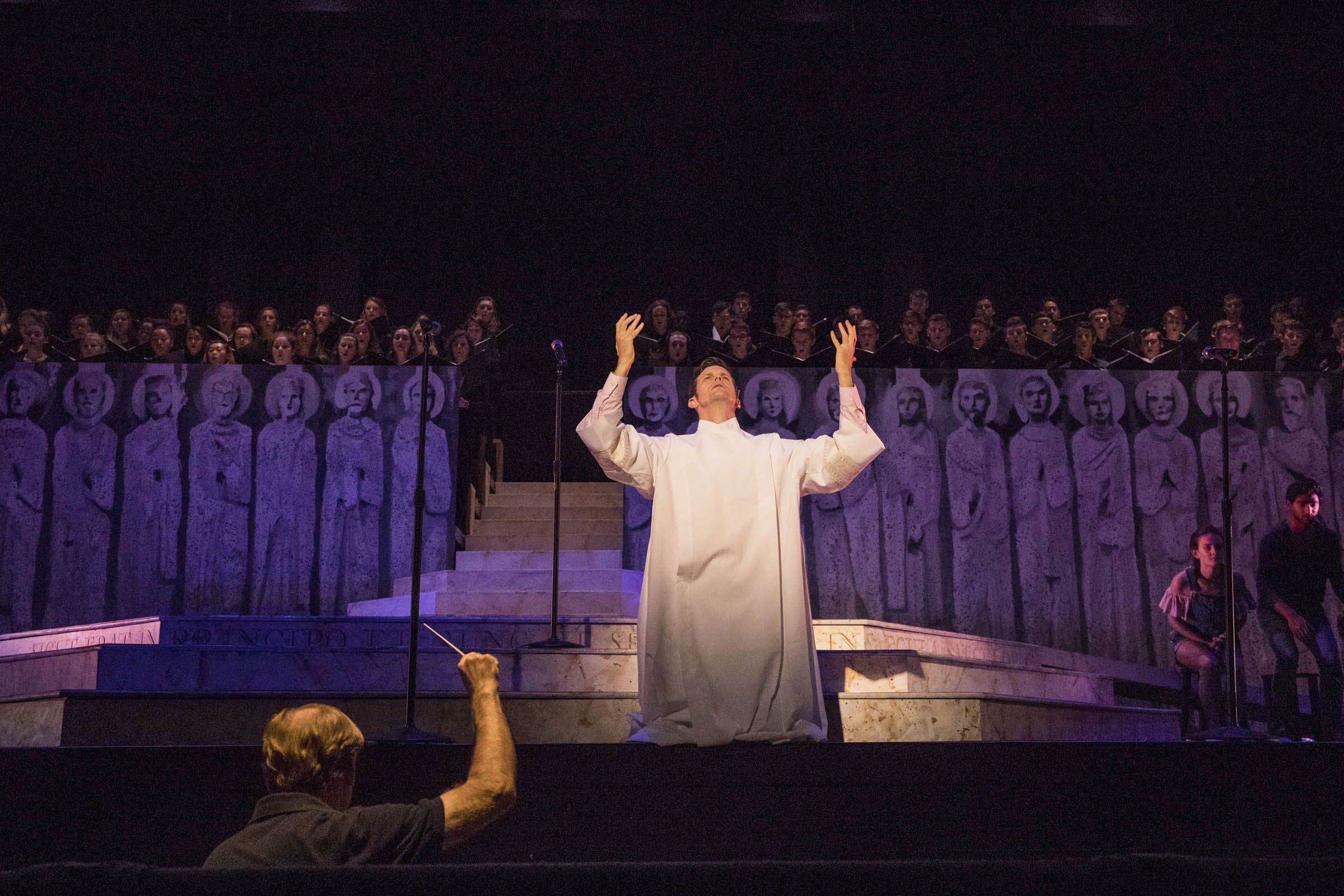 Media Contact
Article Information
October 15, 2018
/content/behind-scenes-uva-charlottesville-singers-unite-stunning-performance