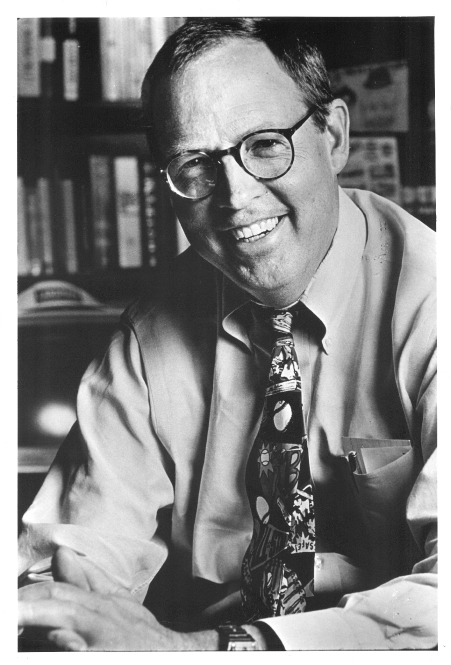 William H. Wood, the former newspaperman who became founding director of the Sorensen Institute for Political Leadership at the University of Virginia, died Nov. 16. He was 69.
The cause was complications of Alzheimer's disease, said his wife, Carol Wood, a U.Va. associate vice president. Bill died only weeks after he and Carol had moved to Birmingham, Ala., to be near their son and his family.
Wood launched the institute, an educational and training organization for Virginia's emerging political leaders, at U.Va. in 1993, as part of the Weldon Cooper Center for Public Service.
The institute's 10-month curriculum, held at universities around the state, emphasizes three areas: public policy, ethics and campaigning. Faculty include university professors, current and former elected officials, and specialists in fields such as transportation, education, the environment and government finances.
Today, more than 1,000 Virginians have graduated from the Sorensen Institute's programs. Many of the graduates, who are of all political stripes, hold elected and appointed office in Virginia, from school boards to the state legislature.
"People who lament the policy deadlock of extreme partisanship often plead with elected officials to 'reach across the aisle,'" said John P. Thomas, director of the Cooper Center. "Bill Wood personified the 'aisle.' He devoted his career to guiding us to that space of knowledge and reason where conflicting ideas and values can produce win-win outcomes for elected officials and the public."
Bob Gibson, who now directs the Sorensen Institute, said he considers Wood his role model. "Bill could listen to anyone on any side of an issue and find points of agreement or common interest with them," he said. "Behind his mild manner lurked a wonderful sense of humor that could catch people by surprise because he could deliver any message with perfect timing and a deadpan delivery."
Wood stepped down as executive director of Sorensen in 2005, and was recognized with a joint resolution by the General Assembly, commending him for his long career in journalism and his leadership of the institute. He continued to work part time until 2007 as editor of the Virginia Newsletter and director of the publications division of the Cooper Center.
A well-known and widely respected journalist, Wood had spent 26 years in the newspaper business before coming to the University – the last 10 as editorial-page editor of The Virginian-Pilot.
John O. Wynne of Virginia Beach, former CEO of Landmark Communications, which owned The Pilot, and former U.Va. rector, said Wood's editorial philosophy was a good fit with that of Landmark Chairman Frank Batten Sr. and publisher Perry Morgan.
"All of them hated editorial pages that stuck to ideologies –  they were always predictable," he said. "They thought newspapers had to do fresh thinking about issues and really inform readers. Bill absolutely did that."
Like Morgan and Batten, Wood worked hard to make sure he was being fair, Wynne said. "He was not preachy," he said.
Wood began his interest in politics when, as a 14-year-old in Luray, Va., he handed out campaign literature for the successful 1957 campaign of Gov. J. Lindsay Almond. After graduating from Duke University, where he was an editor at the student newspaper, he went to work at the Daily News-Record in Harrisonburg.
In 1970, Wood joined The Ledger-Star in Norfolk and for the next 13 years covered police, courts, city councils and the General Assembly and served a stint as sports editor. In 1981, the Ledger merged with The Virginian-Pilot and Wood became the newspapers' second ombudsman. In 1983, he was named editorial page editor.
Gerald L. Baliles, former Virginia governor who now directs U.Va.'s Miller Center, knew Wood from his days in the General Assembly. He said Wood personified civility, sought to elevate and educate, and wrote with clarity and conciseness.
 "He was courteous to all, even those with whom he shared a different opinion," Baliles said. "I valued his friendship and respected his judgment." He noted, with a smile in his voice, "I still treasure his endorsement when I ran for attorney general."
Wood, a pitcher for the Duke baseball team, loved the game and especially the Dodgers, starting when they were still in Brooklyn. He played a mean game of tennis, running opponents all over the court, and was fond of beach music, doo-wop and dancing.
In 2005, Wood, then 62, received a diagnosis of a type of dementia that took aim at his speaking, reading and writing abilities, Carol Wood recalled in her acceptance of U.Va.'s 2011 Elizabeth Zintl Award. "As the old Bill began to fall away, his core remained," she said. "His sweetness. His laughter. His jitterbug wiggle. His gentle touch on my arm."
He would still say, "I love you," but "my name had long ago been erased. It didn't matter. He knew who I was." She told a reporter from The Pilot last year: "When dementia comes calling, life changes, but it doesn't end." He died peacefully, at home, with Carol holding his hand.
Wood is survived by his wife; their son, Zachary Mather, and daughter-in-law, Kate Mather; three grandchildren, Will, Julia and Griffin; and his sister, Sally Heath, of Charlottesville.
A memorial service will be held on Tuesday, Nov. 27, at 2 p.m. in the University of Virginia chapel. It will be followed by a reception at Carr's Hill.

In lieu of flowers, donations can be sent in Wood's name to the Sorensen Institute, P.O. Box 400206, Charlottesville, VA 22904-4206.

 
Article Information
November 18, 2012
https://news.virginia.edu/content/bill-wood-founding-director-uva-s-sorensen-institute-dies-69