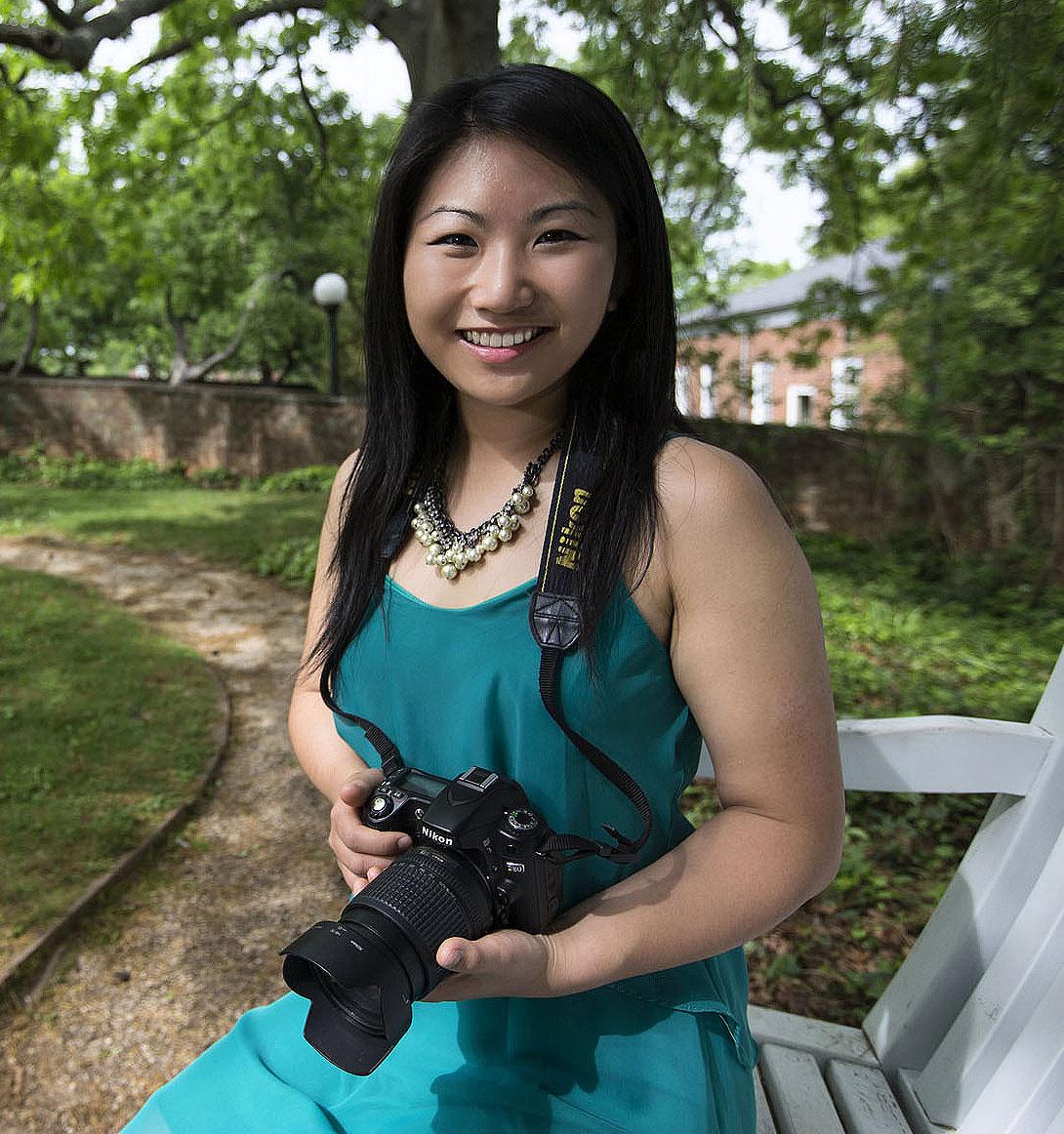 University of Virginia student Yiqi Cao took a journey through the past, one of miles and morsels, learning family history through her grandparents' recipes and developing a greater appreciation of ancestral culture through food.
Cao, 20, of Blacksburg, a rising fourth-year biomedical engineering major in the School of Engineering and Applied Science, received a University Award for Projects in the Arts last year. A native of China who moved to the United States when she was young and went on to earn the Reverend Calvin and Frances Blackwell Scholarship from the Jefferson Scholars Foundation, she wanted to learn more about Chinese culture and her own history, then share her findings.  
Cao thinks food traditions reveal a great deal about culture and history.
"I remember from my childhood that my grandparents are absolutely fantastic cooks," she said. "And they often commented on the reason behind their dishes as they served them. Chinese dishes are particularly chock full of symbolism, and often these dishes would have special value in my family."
Cao traveled through China, sampling foods, learning how climate and history shaped the cuisine, and spent time with her grandparents.
"This project has been an incredible opportunity to explore photography, cooking and Chinese culture – three of my passions outside my academic studies," she said. "However, this research, which involved cross-cultural interviews, photography and recipe development, challenged me in a very different way than research in the lab."
She developed cross-cultural and interdisciplinary collaboration skills she can transfer to her academic work.
"Through working with my grandparents in the kitchen, I've learned the valuable lessons of patience, understanding and humility."
She preserved her observations, memories, and stories, in a photo journal called "Ginger and Scallion," named after two staples in Chinese cooking.
"The velvety smooth and subtly sweet 'century egg' congee that my grandma simmers – low and slow – is the 'chicken soup' of my family," she wrote. "It has always been our panacea for ailments of the body and the soul, and it still tasted like a warm hug when I visited her for the first time in six years."
Her work provides recipes, preparation photographs and text about the food and its context within the family, such as Scallion Pancakes, a common bread in her home town.
"My paternal grandmother Lixiu told me that this is an old family recipe passed down from my grandmother," Cao wrote. "'Recipe' is used loosely, as there is not a single piece of paper documenting the amounts of the ingredients or the cooking time or preparation method. My grandmother had learned the techniques and mastered the kind of texture and taste to look for when she prepares the dough. My grandmother always insists that she 'does not know how to cook,' and just messes around until she gets things right."
In choosing food as her study focus, Cao is using something that touches everyone, said Brantly Womack, Cumming Memorial Professor of Foreign Affairs in the Woodrow Wilson Department of Politics and Cao's adviser on the project.
"Food is both universal and very personal," Womack said. "Yiqi's attempt to reconnect to her family's food culture through pictures, recipes and interviews was a personal journey, but it has also expanded the culinary horizons of everyone who makes the journey with her."
Cao is a Rodman Scholar and co-president of the Rodman Scholars Council, vice president of Engineering Students without Borders, a Flash Seminar co-organizer, a cultural cooking class leader at the Lorna Sundberg International Center, associate editor and publicity chair of The Spectra Engineering and Science Research Journal, and a member of the Engineering School's Dean's Ambassador Program.
She said she has had her horizons broadened by looking backward on a project that blended the technical with the aesthetic, "a goal that I strive toward in all my personal and professional endeavors, and definitely a skill I am still working on."
Media Contact
University News Associate Office of University Communications
mkelly@virginia.edu (434) 924-7291