Like many kids, 8-year-old Adelle Chulis – daughter of University of Virginia men's soccer associate head coach Matt Chulis – got an unexpectedly close look at her parents' work lives over the last year.
She was clearly paying attention.
Earlier this week, a video of the Albemarle County elementary schooler went viral as viewers cracked up over her impressions of her mom, Colleen, working from home. When Colleen Chulis posted the video to her LinkedIn account, it quickly racked up something like 400,000 comments and 14 million-plus views. By the next day, Adelle was being interviewed by local news stations.
There is lots of pointing and snapping – gestures familiar to parents and kids everywhere – some Zoom references, rapid keyboard tapping, stage whispering, and plenty of laughter.
"She's spot-on," said a laughing Matt Chulis, who played soccer at UVA from 1995-98 before playing professionally and, ultimately, returning to his alma mater.
"I love it, and think it's so positive for people to see," he said. "My wife works so hard, she's a great mom, she's great at her job, and my daughter knows that and sees it every day. It's something a lot of people can relate to."
Colleen Chulis is the regional vice president of sales for a human resources software company, SAP SuccessFactors. Normally, she would travel frequently for work. However, like many with office jobs, she has been working from home since the COVID-19 pandemic hit last March, joined in the beginning by Matt and their three kids, Luke, Adelle and Declan.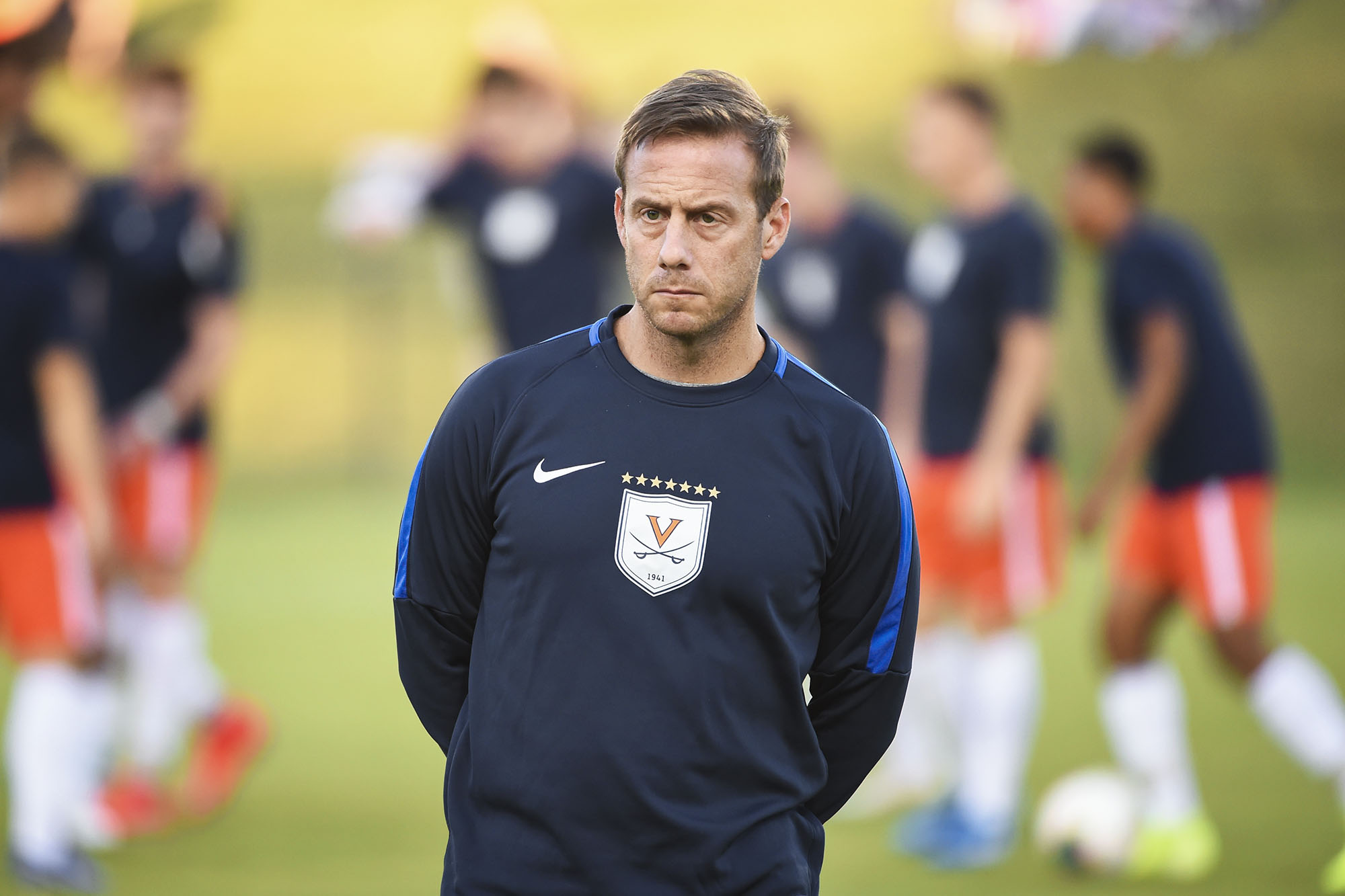 "Early on, I was home, Colleen was home, the kids were in remote learning … it was stressful for everyone," Matt Chulis recalled. He started going back into his office at UVA occasionally as his players returned in the fall. For Colleen, however, balancing her role at work and her role as a mom remained a daily juggling act, especially until the kids returned to school in-person. Even now, they come home from school around 3 p.m., several hours before Colleen wraps up her workday.
"Someone always needs a snack, or has a question," Chulis said.
It's a problem many working parents can relate to, and the family has been thrilled with the response to the video. 
"We've really been blown away," Chulis said. "It just keeps getting more and more pageviews, every time we check it."
They've tried to shield Adelle from some of the huge numbers, but her father said she's excited about it – and that it's very much in character.
"She's always impersonating people, making us laugh," he said. "She's just glad people can laugh about it, and see the positive in a tough situation."
Viral videos aside, life for the Chulis family is inching closer to normal.
Matt Chulis just completed his 15th regular season on the coaching staff of the men's soccer program, including his ninth as associate head coach. The Cavaliers were 7-8-1 on the year – and it was an exceptionally tough year.
"Everything with the pandemic was really hard on the team," Chulis said. "We were very strict in our protocols – we didn't gather in the locker room, we did lots of testing, we even watched videos outside to avoid being indoors together." The lack social activity was tough, he said, especially for first-year student athletes.
Next year, though, is looking brighter. Chulis and his fellow coaches are planning for some summer soccer camps for younger players, and just received word from the NCAA that they can begin in-person recruiting on June 1.
"We have not been able to do that for more than a year, which has been really difficult," he said. "I'm excited to get back to that. I enjoy finding new talent, meeting kids and getting to see them play."
As for Adelle, Chulis said he's grateful that the end of her school year has been more normal and positive than its start.
"Our kids have been fortunate, and we are very lucky that they get to go in-person to a school with great protocols in place, where we feel very safe," he said. "They have grown as people and as students this year, and I am thankful for that, even as I worry about so many other kids who haven't had those opportunities and who could be affected by this for a while."
Media Contact
Article Information
April 28, 2021
/content/break-internet-uva-coachs-daughter-goes-viral-work-home-video