Connie Zhang and Diana Damenova, second-year computer science students, became friends during their first year at the University of Virginia. They have a lot in common.
Both discovered a passion for cybersecurity in high school, were studying computer science in the School of Engineering, and had successfully completed summer internships. Damenova interned with the U.S. Trade and Development Agency as a security analyst. Zhang joined The MITRE Corporation as a cyber security intern.
The future computer scientists also share career interest in a male-dominated field.
The Global Information Security Workforce Study, now (ISC)², first reported in 2013 that women constituted just 11% of the cybersecurity workforce worldwide. Cybersecurity Ventures, a researcher and publisher covering the global cyber economy, reported that the figure had risen to 20% as of 2019. In 2020, Gartner reported the same statistic.
Despite this progress, challenges remain. Last year, The Forbes Technology Council shared results from a survey of 200 female cybersecurity professionals in the United States and the United Kingdom. One of the barriers reported by women looking to enter cybersecurity careers is a lack of role models.
"If young women see examples of role models they can relate to, it can make these roles seem more attainable, desirable and inclusive," wrote Edward Bishop in the Forbes blog. He suggests a way to fix this problem is through women's support organizations.
One such organization is Women in Cybersecurity. Founded in 2012 through a National Science Foundation Grant aimed at encouraging women to enter cybersecurity careers, Women in Cybersecurity is now a worldwide movement.
The organization seeks to create local communities of aspiring women cybersecurity professionals across the globe for collaboration, knowledge sharing, networking and mentorship. Women in Cybersecurity chapters also invite advocates in the mission to participate.
One of Zhang's fellow interns at The MITRE Corporation, who had herself started a Women in Cybersecurity chapter at University of New Hampshire, encouraged Zhang to launch a chapter at UVA. She seized on the opportunity and Damenova wanted to join the effort.
Now the duo has one more thing in common: They are proactively working to break down barriers for women in the field of cybersecurity.
Zhang, president, and Damenova, vice president, know firsthand what a game-changer the Women in Cybersecurity chapter can be. Both benefitted from high school cybersecurity-focused communities, where they could build relationships around the common interest.
"I want to create a supportive network for women in STEM and specifically cybersecurity," Zhang said. "I think it's intimidating for some people to approach cybersecurity competitions or classes that are focused on cybersecurity if they have zero background."
"Our goal is to make cybersecurity more accessible," said Damenova. "We want to foster a community that can build confidence and help people understand you don't have to be a super-genius to work in cybersecurity,"
The chapter is open to anybody at UVA who is interested in knowing the fundamentals of how cybersecurity works, or simply feel that they can benefit from a greater awareness. A general interest in the field is what prompted Damenova to join the cybersecurity club in high school.
"I had read so many news articles about the demand for cybersecurity, and how relevant and important it was for even an average person to know how to protect your own laptop and phone," she said. "I wanted to learn more because it seemed important and interesting."
As curiosity turned into a career aspiration, Damenova became aware of the lack of women in the field. "That inspired me to continue on this path, to show that women can do it," she said. "Our opinions and our perspectives matter in the field."
The students credit a role model at UVA for supporting them in starting the Women in Cybersecurity chapter. Angela Orebaugh, an assistant professor in UVA Engineering's Department of Computer Science and lecturer in the UVA School of Continuing and Professional Studies, is the faculty adviser for the new chapter.
"I have frequent conversations with female students about their interest in cybersecurity, but they are hesitant to take the course or pursue cybersecurity as a career. The Women in Cybersecurity chapter will provide an ongoing channel for communication, interaction and networking experiences for women interested in the field."

- Angela Orebaugh
assistant professor of computer science
Orebaugh spent the first half of her career in industry as a cybersecurity consultant. She has firsthand experience in breaking through barriers, having entered the field in the mid-1990s, when it was typical to be the only female on a computer networking or security team.
Orebaugh was beginning to see an increase in diversity in the early 2000s, and by 2015, as she was transitioning from private sector to academia, things seemed a little more balanced. But a lot depended upon geography.
"I was working in a very diverse company in the Washington, D.C., metro area," Orebaugh said. "There are still many places where the cybersecurity industry is not very balanced and there is a lack of role models."
She made the decision to move into academia with a goal to inspire future workforce leaders. Her career success offers a powerful example for students, like Zhang, who take her "Introduction to Cybersecurity" course.
"Learning that Professor Orebaugh was able to break down barriers in the workplace when she was selected as Booz Allen Hamilton's first Cybersecurity Fellow was incredibly inspiring," Zhang said. "She has been an amazing mentor and role model for me throughout this process."
Orebaugh views the Women in Cybersecurity chapter as a catalyst for engaging women who otherwise would not have the confidence to get involved.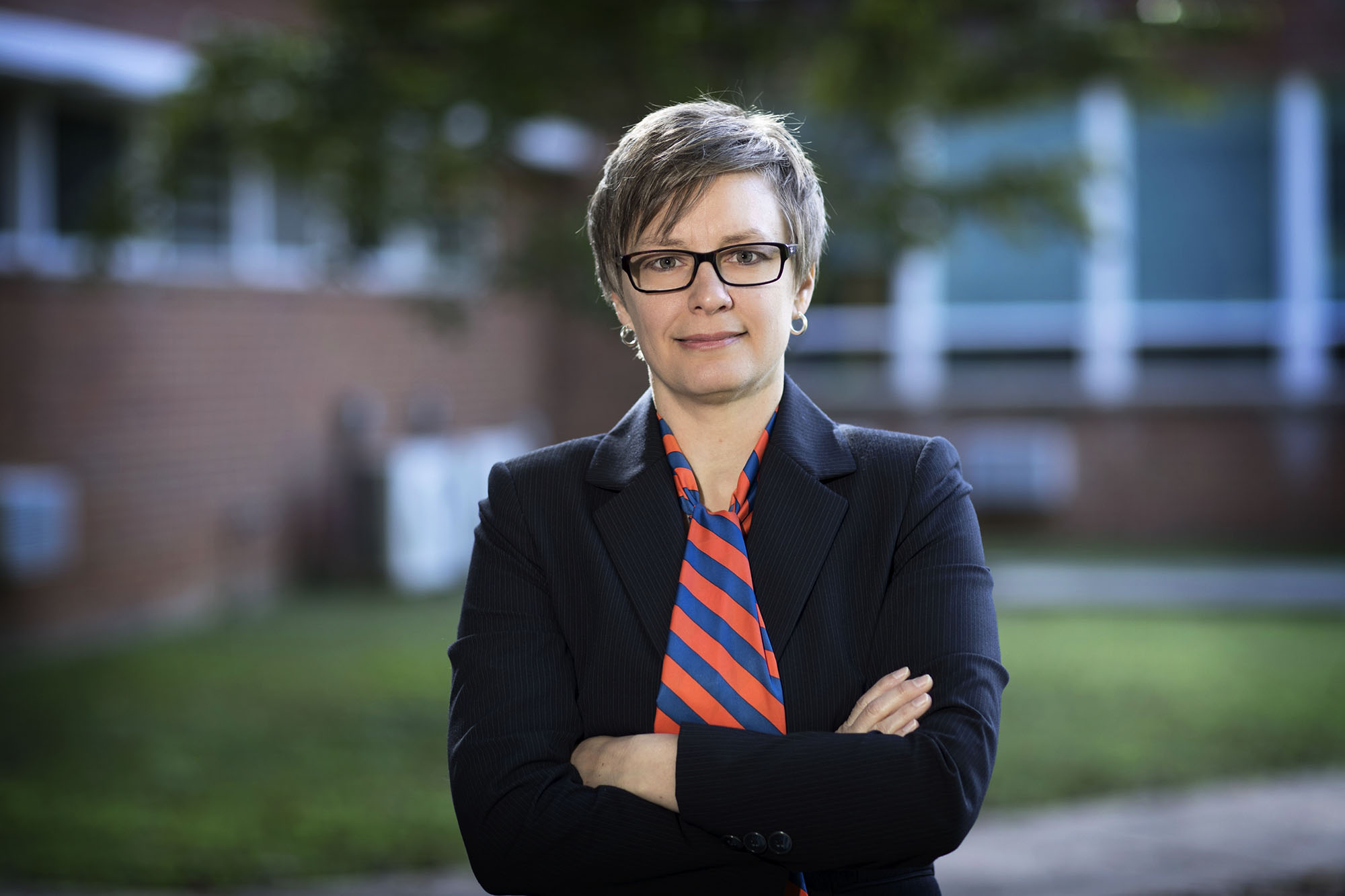 "I have frequent conversations with female students about their interest in cybersecurity, but they are hesitant to take the course or pursue cybersecurity as a career," Orebaugh said. "The Women in Cybersecurity chapter will provide an ongoing channel for communication, interaction and networking experiences for women interested in the field."
Zhang and Damenova hosted the first Women in Cybersecurity meeting virtually on Feb. 2. Forty-seven students attended to learn how to get involved. Throughout the year, the chapter will offer career advice workshops; social events like coffee chats and study breaks; and cybersecurity competitions that are sponsored by the national Women in Cybersecurity chapter.
Many of the upcoming events – featuring successful female cybersecurity professionals from organizations like The MITRE Corporation, Capital One, Morgan Stanley, Blue Voyant and the National Security Agency – will connect students to advocates and mentors who can offer direction and career advice.
It's a winning formula when a single supporter makes all the difference.
"It only took one person to believe in us and be able to see our passion and aspirations for this chapter. Professor Orebaugh was that person," Zhang said. "Because of her help, we are now able to provide a space where anyone can grow their cybersecurity skills and feel comfortable making mistakes while learning about such an important field."
Orebaugh is excited to help in the endeavor. It is especially rewarding to see students model the advice she has for all future cybersecurity leaders: "Be the pioneer, break barriers, and be a role model for others." 
Media Contact
UVA School of Engineering & Applied Science
Article Information
March 2, 2021
/content/breaking-down-barriers-students-launch-women-cybersecurity-chapter-uva