University of Virginia students have been hard at work preparing for this year's "light-tastic" Lighting of the Lawn, a beloved and shimmering spectacle that famously rings in the holiday season by drawing thousands to the Lawn to celebrate together as thousands of lights illuminate the Academical Village.
Festivities will begin Dec. 6 at 7 p.m. and feature a cappella and dance groups and a poem delivered by surprise guests, culminating in an elaborate musical light show.
This year's theme is "Brighter Together." Sara Zahir, the marketing director of the event, said it's an effort to "make Lighting of the Lawn a more inclusive, community-based, reflective event, where we can understand how we can do better as a community" in the wake of the 2017 white supremacist violence in Charlottesville.
Seeking to draw more community members to the event, organizers are moving up the finale to 9 p.m. instead of 10 p.m. "Hopefully we can encourage more community members to come out, because children cannot come out as late because it's a school night," Zahir said.
Students first launched Lighting of the Lawn as a way to bring the University community together following the Sept. 11, 2001 terror attacks. In the 17 years since, the event has grown in scale and participation.
Lots of New Programming
This year's organizing committee has held several pre-events to drum up interest. They launched a program called "Spotlight," in which "people who make our community brighter" are nominated by students across Grounds and featured on the UVA Class of 2019 Facebook page, Zahir said.
One of those community members is Susan Bro, the mother of Heather Heyer, the young woman who lost her life in the wake of the Aug. 12, 2017 "Unite the Right" rally when she was hit by a car driven into a crowd by an alleged white supremacist.
On Tuesday evening, Bro spoke at UVA's Jefferson Hall at the invitation of the Lighting of the Lawn committee. She talked about ways students can encourage unity in the face of negativity.
She said that now that she is a public figure, when people hurl insults at her, she has a strategy. "When people criticize me, I pause and I think 'Is what they are saying true?'
"Take criticism with a grain of salt," she offered. "Think about it and see what applies to you.
"Together, we are stronger," she continued. "Know your authentic self. Wrap yourself with people and ideas that you feel you can align with, but also be willing to step outside of your comfort zone, to talk to other people, to listen to other people and to be able to discuss the facts while understanding what their reality and their so-called facts might be."
The Lighting of the Lawn committee is also inviting members of the UVA community to offer suggestions for 200 new goals for the University in its next 200 years. They will be displayed Dec. 6 with the installation of 200 lighted balloons around the Lawn, with a poster describing each goal.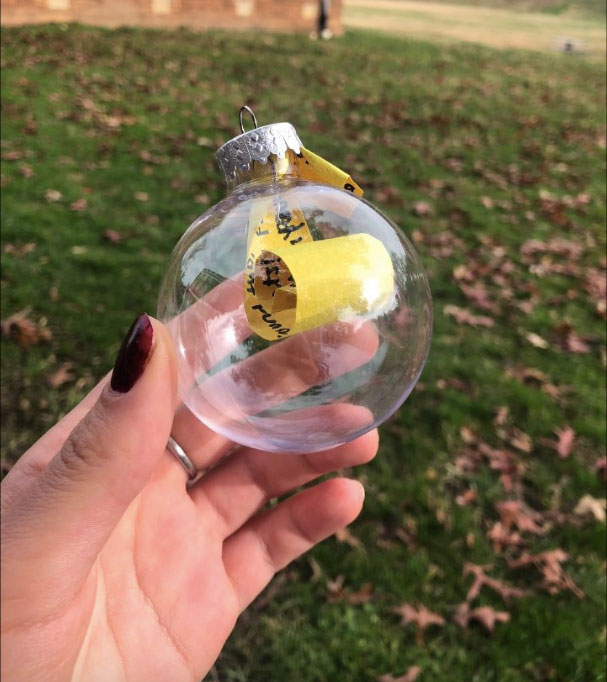 This week, the committee has hidden clear ornaments around Grounds filled with gift cards to Roots, a popular Corner restaurant founded by UVA graduates, and Lighting of the Lawn swag. In a recent Facebook post, they offered a hint to the whereabouts of some of the goodies: "Can you guess where today's light bulbs are hidden? (Hint: have you gotten a workout in today?)"
This year's Lighting of the Lawn is going green, too. Organizers are borrowing four large solar panels from a local business, Sun Tribe Solar, to help power the fantastical light show. It's a way to highlight the importance of solar energy, said third-year student Erik Toor, who spearheaded the effort.
During intermissions in the festivities, student speakers will talk about "how through different hardships, UVA has been a community for them and we've all come together and been brighter together," said Gordon Baily, a co-chair of the program.
A reception featuring food trucks, hot chocolate and cookies will begin at 7 p.m. on the south end of the Lawn.
Security Details
University officials said that in the interest of continued safety, the following security measures will be implemented:
The Lawn and the Rotunda will be restricted to Lawn residents beginning at 4:30 p.m. on Dec. 6. Both will open to the public at 6 p.m. and attendees are encouraged to arrive at least 45 minutes early to avoid long lines.
Old and New Cabell halls and Rouse and Robertson halls will have restricted access beginning at 4:30 p.m.
Walk-through metal detectors for the general public will be located on the north plaza of the Rotunda and the sidewalks leading to Garrett Hall and Rouss and Robertson halls.
Lawn residents may use those entrances or ones specially designated for them in Patterson and Key alleys.
Backpacks are allowed, although attendees are encouraged not to bring bags at all if possible. There will be specific lines for individuals entering without a bag at each public entrance.
Bags will be inspected by security personnel. Prohibited items include liquids, including all beverages; folding chairs; tents; glass; and animals, other than service animals. Empty water bottles are permitted. There will also be free water on the southern Lawn.
Livestream        
Lighting of the Lawn will take place even in rain or snow. If you cannot attend, tune in to the livestream.
Article Information
November 28, 2018
/content/brighter-together-years-lighting-lawn-aims-unite-uva-and-community