What Steve Swanson saw was a competitive, talented, intelligent, hard-working player clearly respected by her teammates.
What Swanson heard from Becky Sauerbrunn, however, was not enough. So when Swanson was Sauerbrunn's coach for the U.S. under-16 girls national soccer team in 2001, he encouraged her to take a leadership role. And when Swanson was Sauerbrunn's coach at the University of Virginia from 2003 to 2007, he again encouraged her to take a leadership role.
And when Swanson was among Sauerbrunn's coaches for the U.S. national team's World Cup runs in 2015 and 2019? Yes, he encouraged her to take a leadership role then, too.
"I constantly hammered that message home to her," Swanson said.
Evidence of comprehension was made clear this past May when Sauerbrunn, as national team captain and president of its players association, made an appearance on NBC's "Today" show announcing that the U.S. women had won their fight for salaries equal to those of the men's national team through a new collective bargaining agreement. Sauerbrunn, six years earlier, was one of five players on the team who filed a wage discrimination complaint with the Equal Employment Opportunity Commission.
A long battle was over, a significant step for equality was taken – and it was a Cavalier who led the charge.
This was part of what Swanson imagined for Sauerbrunn as she left UVA 15 years ago after a decorated college career that included three All-American seasons.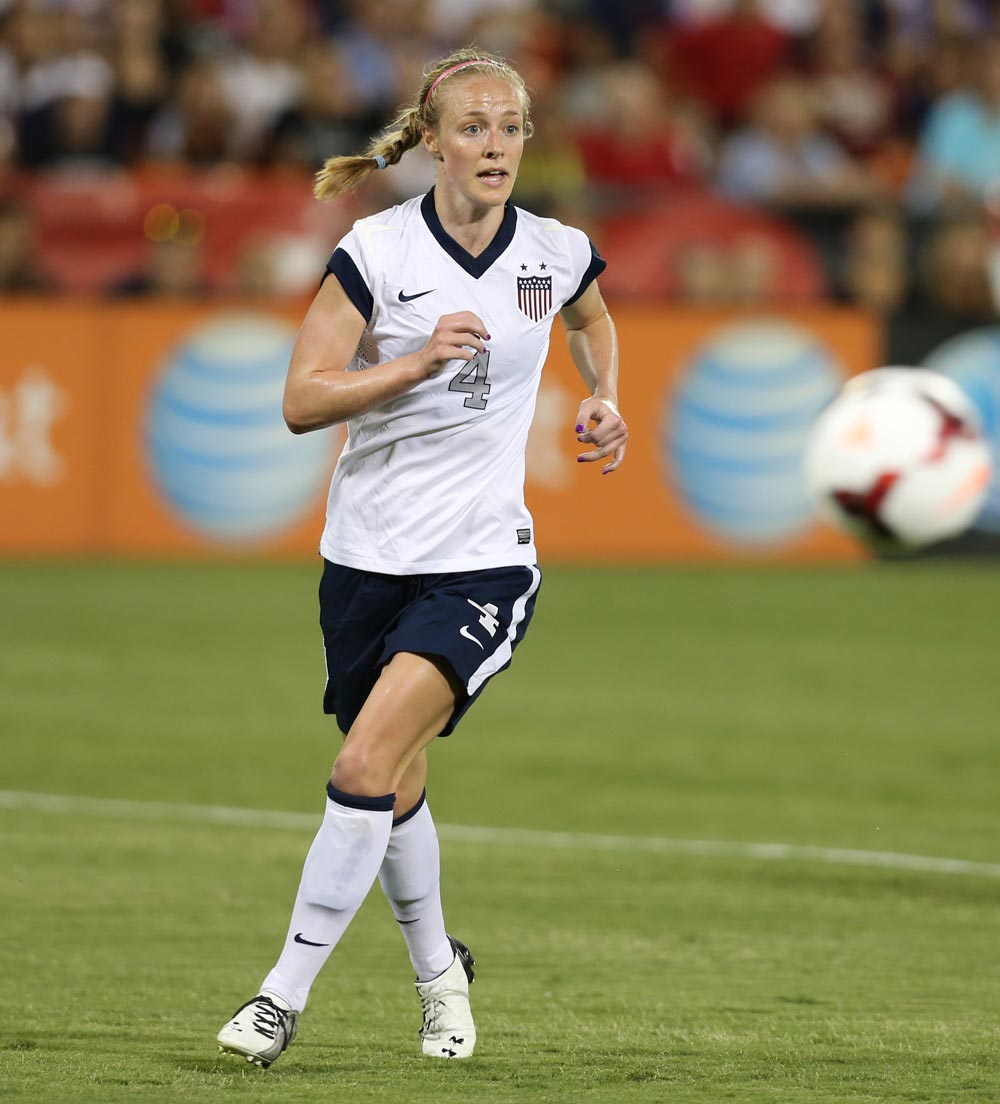 "We were lucky to have her with us for four years, in our own little world in Charlottesville," Swanson said. "But now that the world sees her, it's really neat. I'm glad because I think she has so many neat qualities that a lot of youth players, a lot of young girls, should emulate. She's a special person. And I'm really glad that the world can see what a great leader she is."
Those "neat" qualities – selflessness, compassion and composure, to start with – were always a part of Sauerbrunn's makeup. There was a future national team captain in there and Swanson, for a good chunk of their 20-year relationship, challenged Sauerbrunn to bring it out.
"The biggest thing Steve ever gave me was belief in myself," Sauerbrunn said. "I think I've always questioned my influence in the world and if I had anything to provide or give or if people really respected what I had to say or what I wanted to do. And he really instilled in me that, 'Yes, you earned the right to say these things and do these things because you built these relationships and you built this trust and respect. Use that and believe in yourself.'
"I think that has helped me so much on the field, but particularly off the field – just trusting that I'm doing things from a good place," she said.
Coach Steve, thank you for pushing me. I wouldn't be representing Team USA without you. This is our year! @PlayersTribune #MassMutualPartner #LiveMutual pic.twitter.com/Sp9NT1QfUC

— Becky Sauerbrunn (@beckysauerbrunn) May 30, 2019
On the field, Sauerbrunn is a world-class defender who has been part of gold medal-winning U.S. teams in the 2015 and 2019 World Cups and the 2012 Olympics. She plays professionally in the National Women's Soccer League, where she's been named Defender of the Year three times. She's currently with the national team as it competes in the Confederation of North, Central America and Caribbean Association Football, or CONCACAF, Championship. It's a primary qualifier tournament for next year's World Cup.
Off the field, Sauerbrunn, as president of the national team's players' association, oversees an alliance with a mission to advance the economic and social welfare of players. She's also one of 20 peer-elected members on the Athletes' Council, which represents the players in communication with the U.S. Soccer Federation. They played a role in the federation's recent public stances on stopping gun violence after the Uvalde, Texas, school shooting and supporting women's rights in wake of the Supreme Court's controversial Roe v. Wade reversal.
The latest UVA news, delivered to your inbox.
"In the past," Sauerbrunn said, "we've asked and we've pleaded with them like, 'Take a stance on this. It matters what the federation says.' And it's been really frustrating that, for whatever reason, they say, 'No, we can't do that,' or, 'We can't say that because it's going to ruffle these feathers or those feathers.'"
Sauerbrunn said she and the other players were weary of the soccer federation sitting on the sidelines as important social and political issues unfolded.
"We told them we need to pick a side and they need to support the players," Sauerbrunn said. "Obviously, this team is pretty clear about certain things, and to not have the backing of the federation can be really hurtful. It doesn't help the initiative that we're fighting. We need the support, we need the allyship."
Her advocacy got results.
"So the fact that they put out the gun violence statement and then the statement on the overturning of Roe v. Wade, they're great steps forward and it's something we need to see more of from them in the future," she said.
Taking pride in multiple responsibilities is a longtime passion of Sauerbrunn's. As a fourth-year player at UVA, the English major was named scholar-athlete of the year by the National Soccer Coaches Association of America. She was often seen finishing her assignments in a post-practice ice bath or on 3 a.m. trips back from away games.
"She has good time management," said Swanson, who will soon enter his 23rd season as UVA's coach. "She had that in college. She's just an avid reader. You always saw her reading books. She just read books for pleasure. She'd sit there on the bus with a science-fiction book. If she wasn't in one of her textbooks, she was reading something else.
"That was Becky."
Sauerbrunn, a St. Louis native, said she picked up that approach from her mother.
"She instilled in me and all her kids at a young age that you work hard," she said. "It might be difficult to turn this in, but you are going to turn this in and it's going to be the best that you can do. She was big on effort and the significance in showing effort in everything you do."
Sauerbrunn is now 37 and next year will likely make her fourth World Cup appearance. In numerous ways, her legacy is cemented as someone who brought change to women's soccer and beyond.
All that pestering from Swanson? It's paid off.
"You look at some of these issues that have come up and some of the things that she's fighting for and believes in," Swanson said, "there's nobody better than Becky to take the lead in those areas, given all of her experiences and given the platform she has.
"And I think she understands that now. Maybe when she was younger, she would have had this humility and say, 'Well, I'm not sure I'm the person for that.' I think now she understands that and accepts that. And I think everybody benefits in that regard."