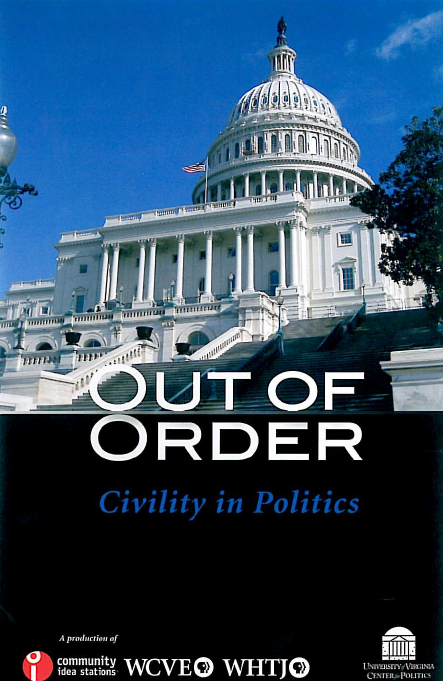 The University of Virginia Center for Politics' latest documentary, "Out of Order," has won an Emmy Award from the National Academy of Television Arts and Sciences for Best Topical Documentary.
The film, which was produced by the Center for Politics and the Community Idea Stations and directed by Paul Tait Roberts, analyzes political gridlock in Washington, D.C. The Capital Chapter of the National Academy of Television Arts and Sciences announced the award recipients at its 55th Annual Emmy Awards dinner in Baltimore on June 15. The 30-minute documentary was one of 129 winners, and there were 774 entries in 104 award categories.
"We thank the Academy for recognizing the work of the Center for Politics and our great partners at the Community Idea Stations," said center founder and director Larry J. Sabato, the documentary's producer. "It will take a lot more than an award-winning film to change the behavior of Congress, but I hope we've helped citizens think about what they can do to improve the situation."
"Out of Order: Civility in Politics" explores partisanship and dysfunction in American government through interviews with prominent academics, journalists, political observers and senior (current and former) elected officials, including: Sens. Susan Collins (R) and Mark Warner (D); former Sens. Evan Bayh (D) and John Warner (R); Bob Schieffer of CBS News; and Sabato.
To date, "Out of Order" has aired on more than 180 PBS stations across the country, including top markets such as Chicago, Los Angeles, San Francisco and Washington. John H. Felton was the executive producer with Community Idea Stations. An extended preview of "Out of Order" is available here.
The Center for Politics and the Community Idea Stations are currently producing a new documentary marking the 50th anniversary of President Kennedy's assassination. The documentary, which will also explore JFK's influence on subsequent presidents, will be released nationally in the fall.
The U.Va. Center for Politics is a nonpartisan institute that seeks to promote the value of politics, improve civics education and increase civic participation through comprehensive research, pragmatic analysis and innovative educational programs.