Under a nearly cloudless blue sky, the members of the University of Virginia's Class of 2015 earning degrees from the College and Graduate School of Arts & Sciences and their families cheered when Grand Marshal Gweneth West announced that – despite earlier forecasts of rain – the subsequent departmental diploma ceremonies would all be held in their fair-weather locations.
The first day of the 186th Final Exercises – split into two days for the first time, due to the Rotunda's ongoing restoration and growing attendance – went off without a hitch. On Sunday, candidates from the University's 10 other schools and the Data Science Institute will receive their degrees.
A small crowd of eager parents and relatives arrived before the gates opened at 7 a.m. to get seats close to the graduates. As the audience swelled, students in their black gowns sought the alleyways where they would begin their walk down the Lawn; the construction fencing around the Rotunda forced a slight detour of the traditional procession down the Lawn. A buzz of different languages could be heard on cell phones as family members made last-minute calls before the ceremony began.
Susan Besançon and husband Alfredo Ramirez flew in from Puerto Rico with daughter Emily and grandparents to see their daughter, Cristina Ramirez, graduate from the Environmental Thought and Practice Program, with a minor in urban and environmental planning, a School of Architecture program.
Besançon said her daughter accepted admission to U.Va. sight unseen. When they visited for the Days on the Lawn orientation program, Cristina and they "fell in love" with the place and were very happy about her choice, she said.
"It's been a perfect fit for her. She found her niche," Besançon said. Cristina will take up an internship with the Student Conservation Association as a Centennial Ambassador at Valley Forge National Historic Park in Pennsylvania.
Ellen and David Phipps of Charlottesville found a good spot from which to watch their son, Jake, graduate with a degree in English. David, a landscaper, and Jake had worked the day before at the home of Board of Visitors member Barbara Fried. Having attended Piedmont Virginia Community College before transferring to U.Va., Jake will apply to graduate school to continue studying English poetry. The proud parents said they were happy their son found his passion for scholarship at the University.
Becky and Tim Earhart of Fairfax, who arrived on the Lawn at 7:30 a.m., were deciding which side to sit on, in hopes of spotting their son, David, in the sea of graduates. Becky said David was excited about beginning the next chapter of his life, with David having had a promising job interview the day before. Their daughter, Rebecca, will attend the School of Engineering and Applied Science in the fall.
The graduating students processed carrying bouquets of bright balloons, including a menagerie of animals from hedgehogs to horses that swayed above decorated mortarboards. One group of "gal pals" held a swarm of blue sharks, just because they all like sharks, they said.
U.Va. President Teresa A. Sullivan acknowledged the contributions of parents and families, faculty and staff, alumni and donors to the students and the University. She also thanked John Simon, executive vice president and provost, for his service as he leaves next month to become president of Lehigh University.
To the graduates, Sullivan said, "You have committed yourselves to values that define this University: honor, service, diversity, leadership, accountability for yourself and your peers. You have lived what you have learned. Today, you achieve your degrees.  Tomorrow, the knowledge and habits of mind that you acquired here will become tools for understanding the world to which you go."
Sullivan mentioned that 91 students earned their baccalaureate degrees in three years and two did so in only two years. In recognition of their effort and as a symbol of their achievement, the students wore special orange stoles.
She also saluted the student-athletes who were unable to attend because they were still competing: members of the men's and women's track and field teams and women's rowing team, in ACC Championships; the men's golf team and men's and women's tennis teams, in NCAA tournaments; and the baseball team, in its regular-season finale at the University of North Carolina.
"What a glorious day!" exclaimed Rector George Keith Martin as he began his remarks before introducing keynote speaker Gov. Terry McAuliffe.
Martin reminded the graduates that when they walked down the Lawn, they passed a new white ash tree planted in honor of the slaves who helped build the University. He also thanked the graduates for their contributions and said they should thank each other. "We are nothing without our connections to each other," he said.
After beginning his speech with a rousing "Wahoo-wah!" McAuliffe said he was proud of the students: "You showed the world that this University can triumph over any obstacle because of the education and values this fine institution instills in students every single day."
Having been in their seat when he graduated from Catholic University 36 years ago, McAuliffe promised to keep his remarks to 10 minutes. He passed on three pieces of advice he said he has offered each of his five children: "Think big. Always take chances. And never be afraid to fail."
He used examples from his life to illustrate how those ideas had helped him: starting his first business, a successful paving company, at age 14; leaving law school to work for President Jimmy Carter's second presidential campaign; seeing other business ideas succeed or sink; and losing his first gubernatorial run.
"Failure is a part of life," he said. "It's what you do the next day that counts. … Every day that you wake up has the potential to be a great one."
From other things he has learned along the way, he said, "Never take yourself too seriously and always be positive. People want to be around winners, not whiners.
"And finally, if you remember one thing from this speech, in whatever you do, always, always have fun!"
Sullivan conferred bachelor's degrees to 2,500 students, master's degrees to 196 and doctoral degrees to 183 graduates.
From the cheers, shouts and roar of applause that followed, it appeared the U.Va. graduates would be taking that last piece of McAuliffe's advice seriously as the day's festivities continued.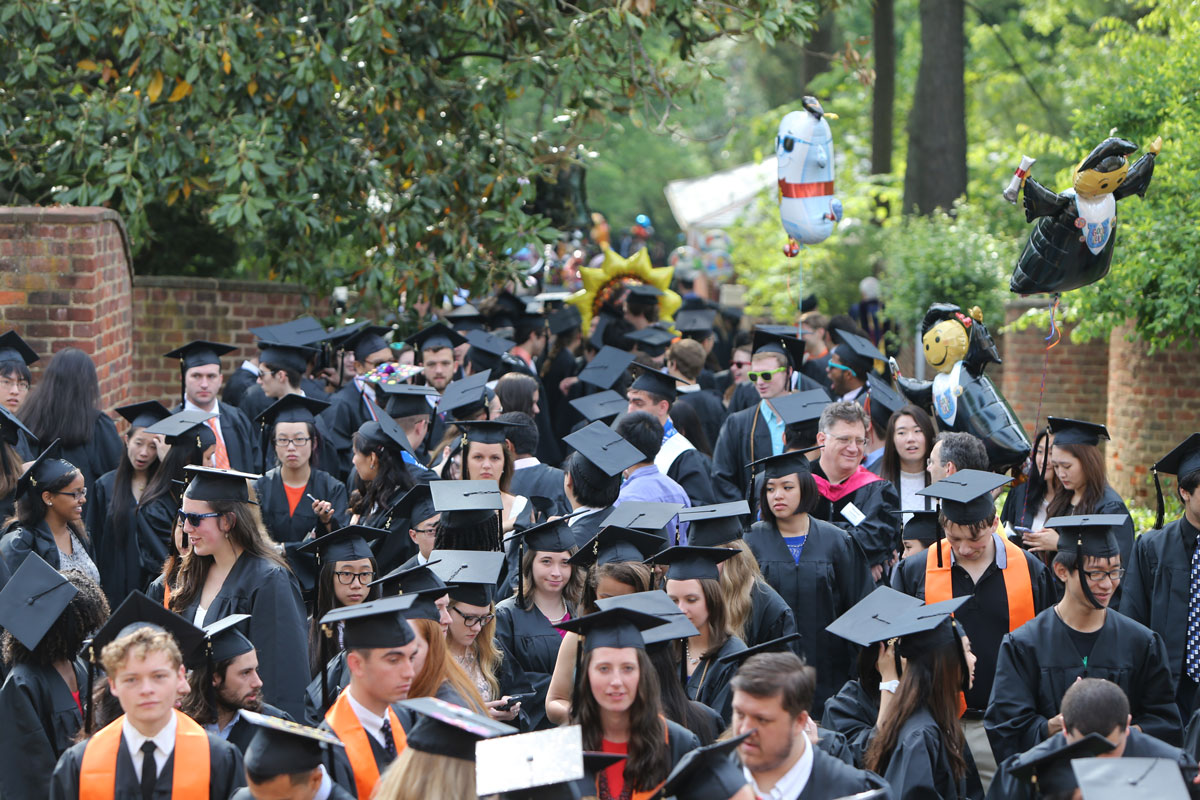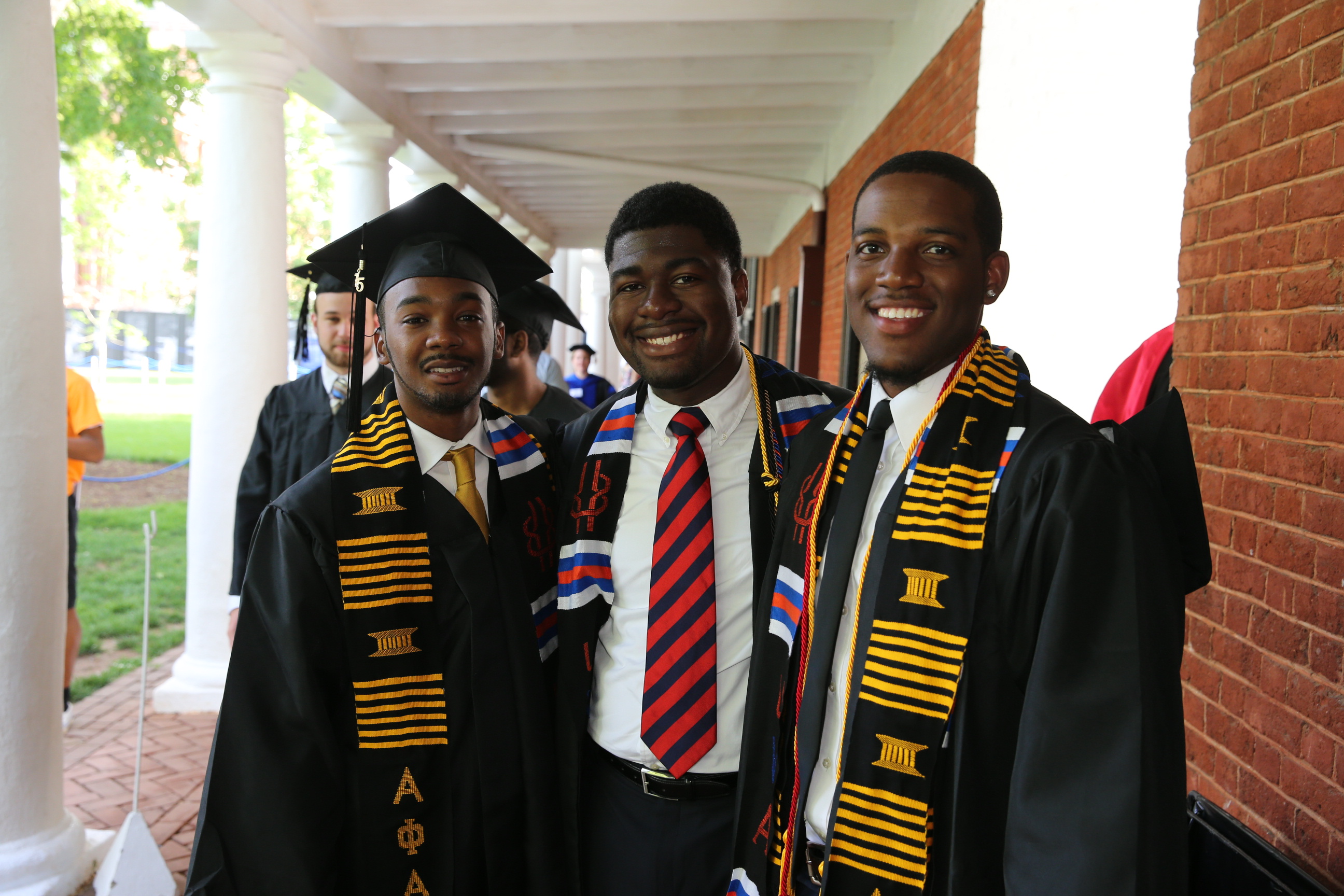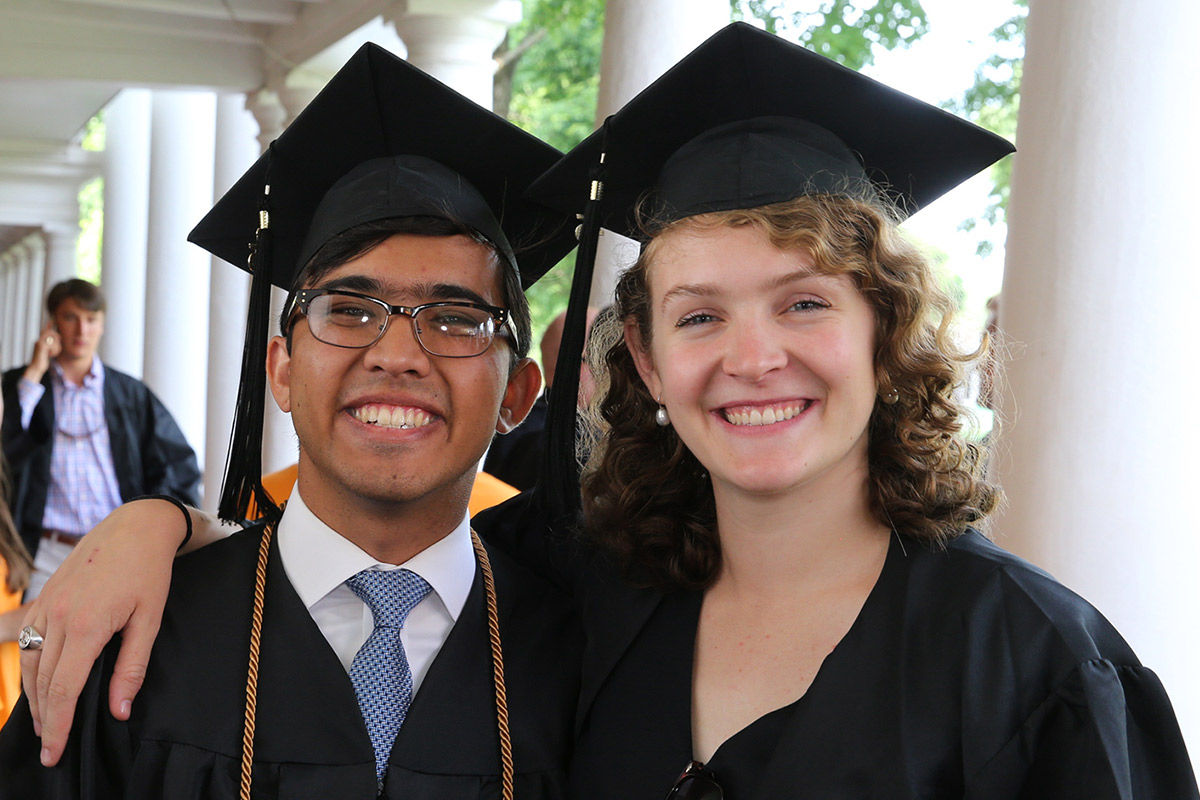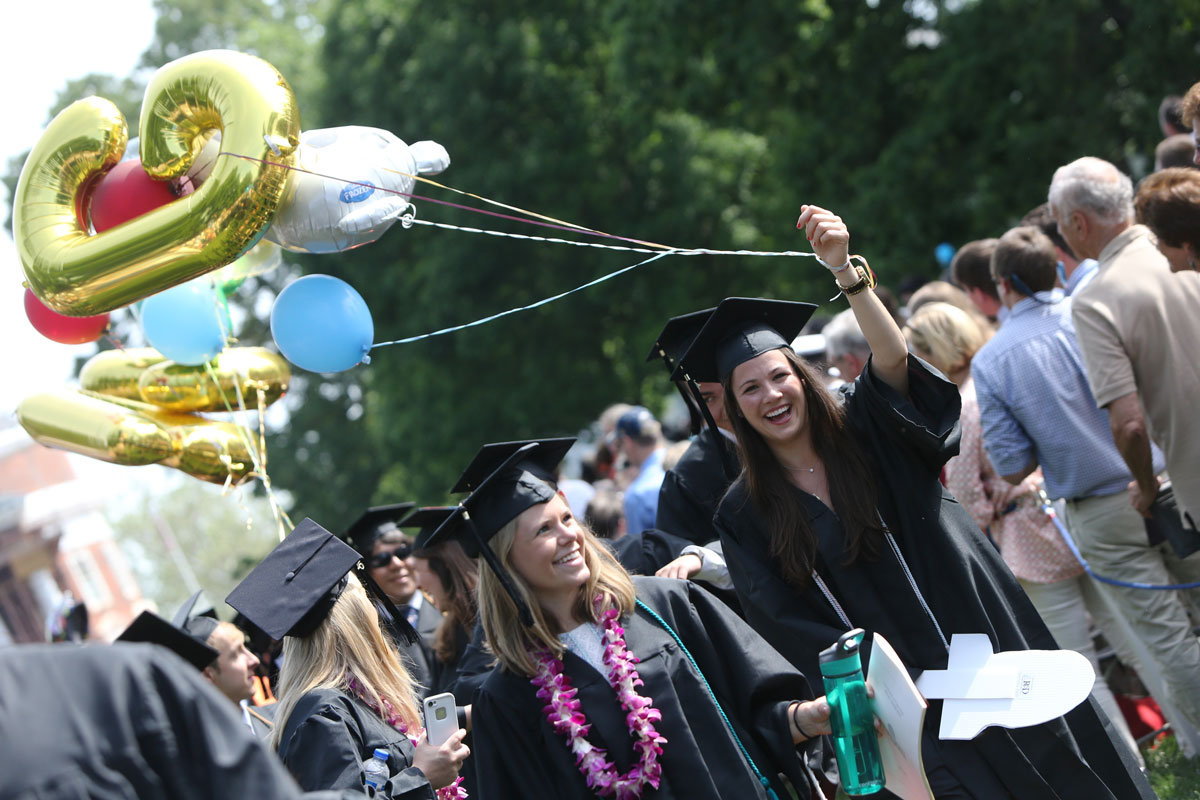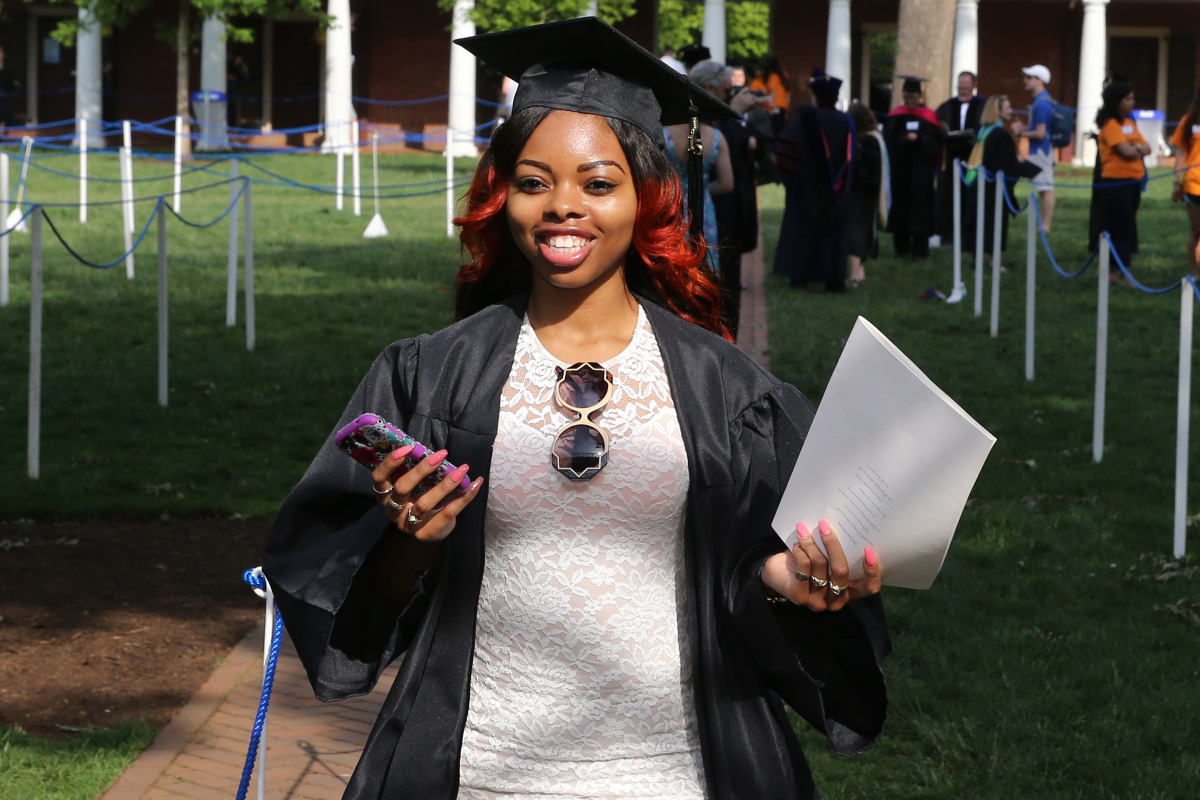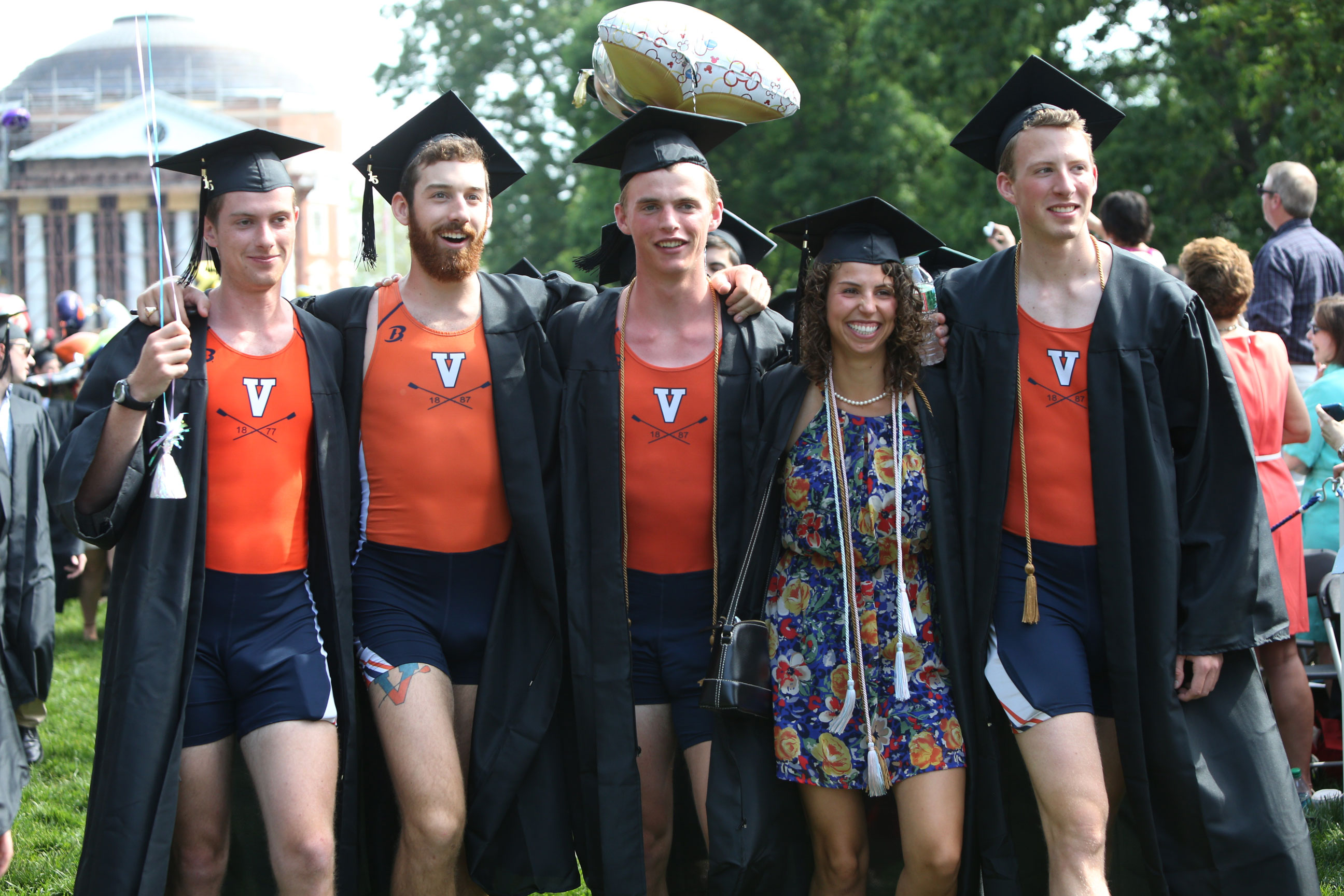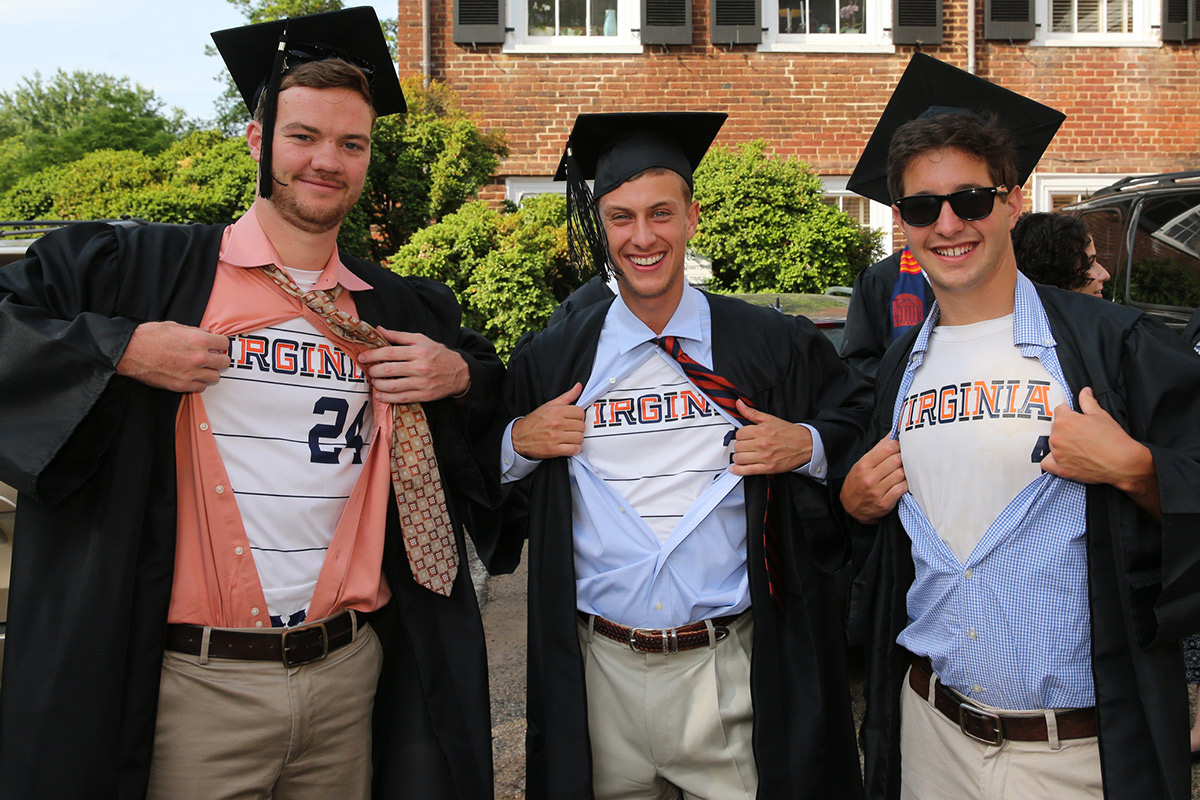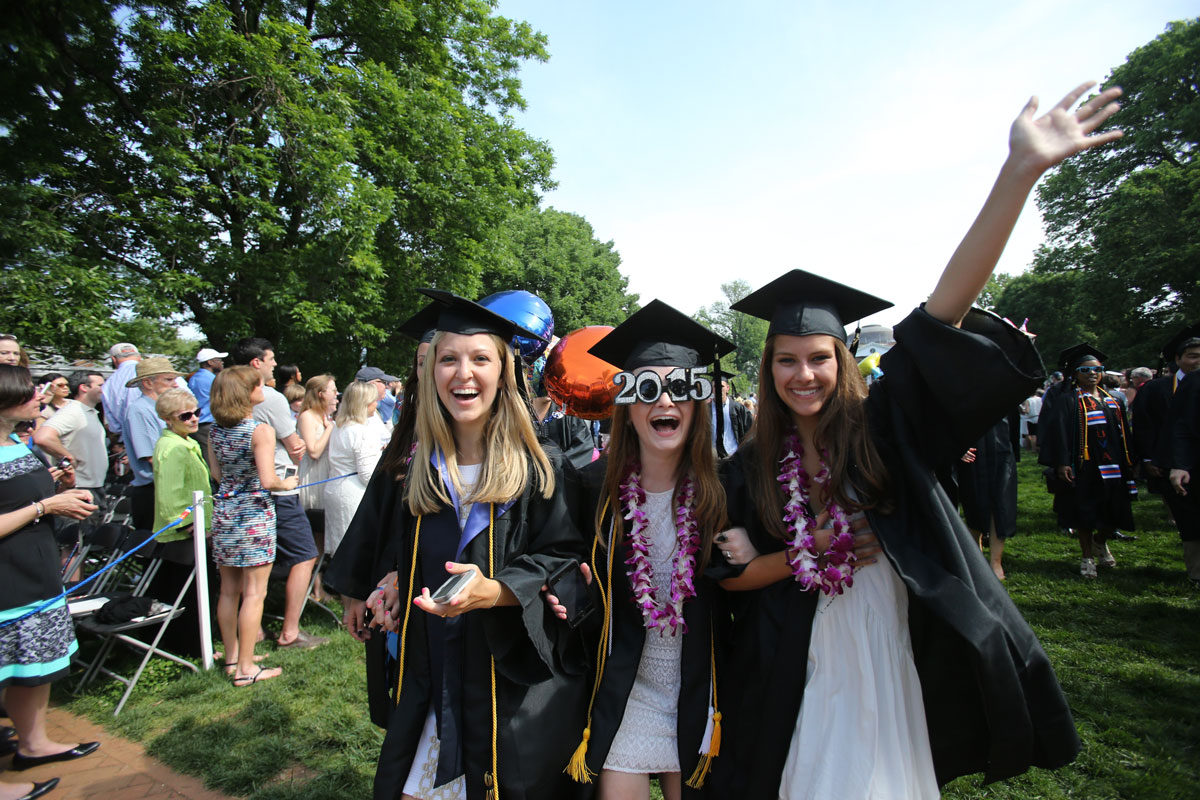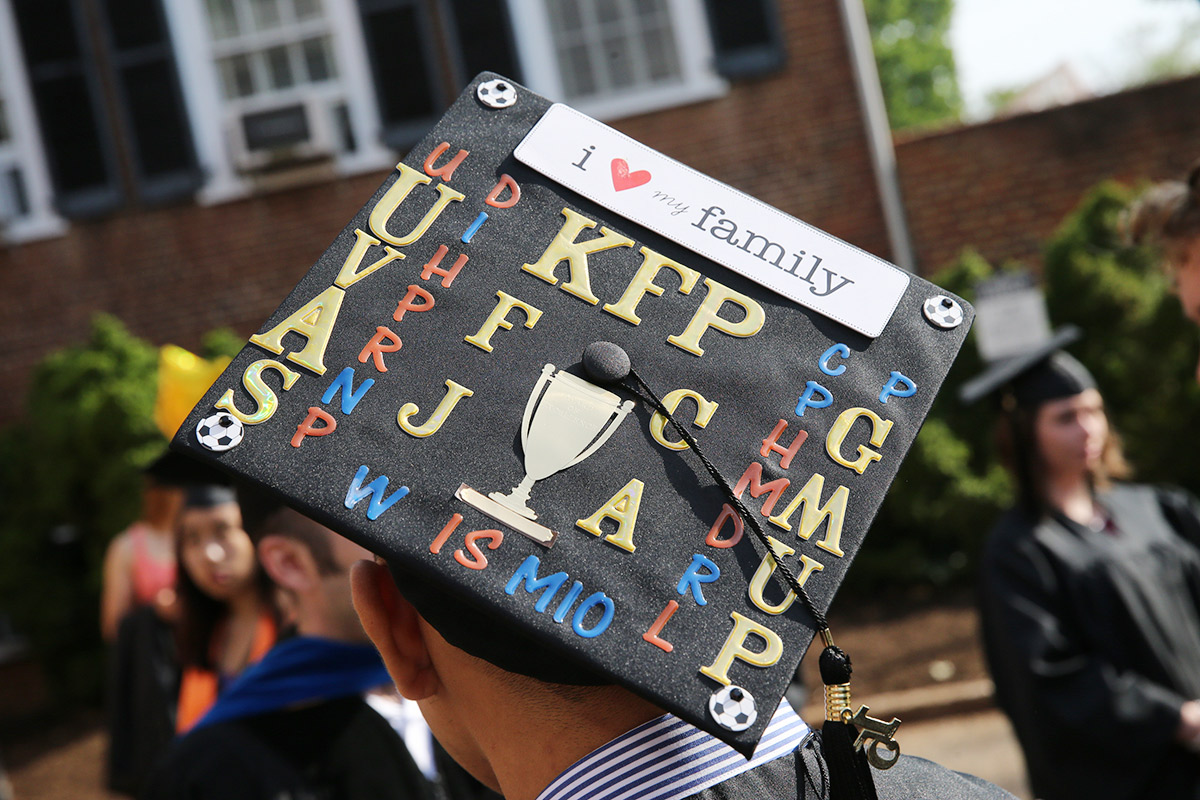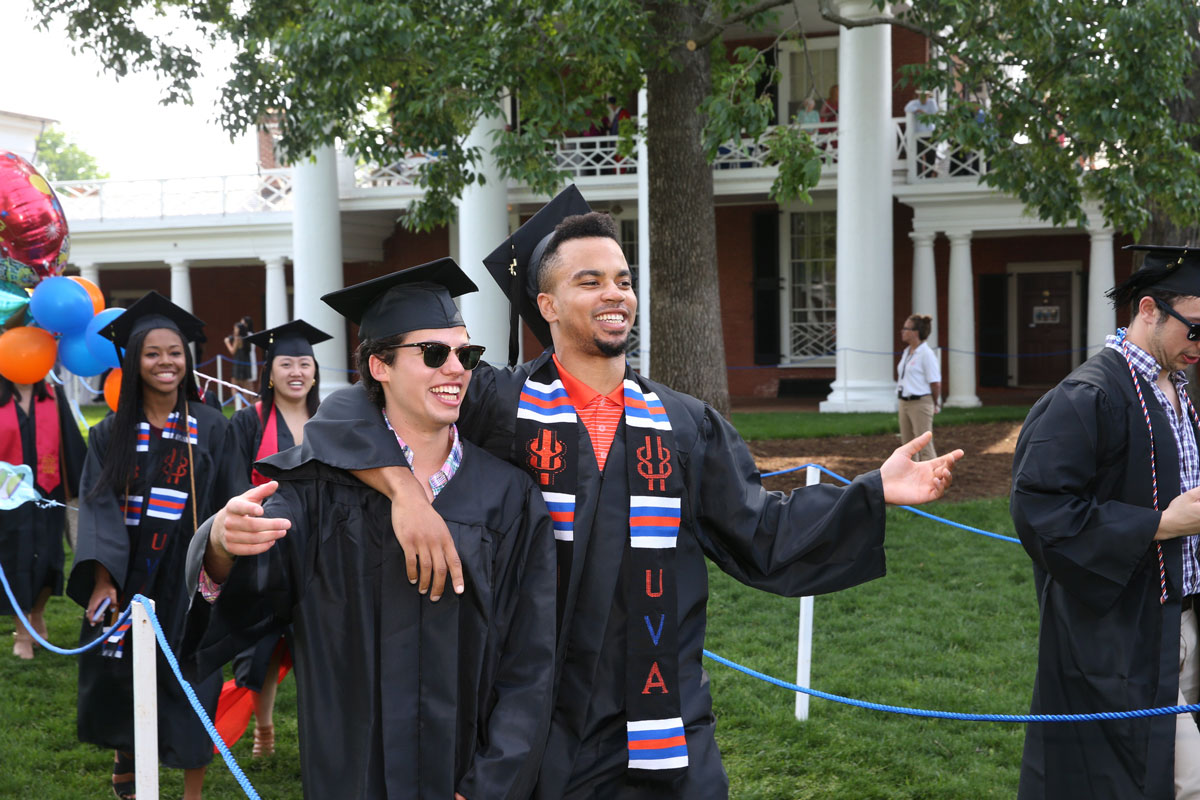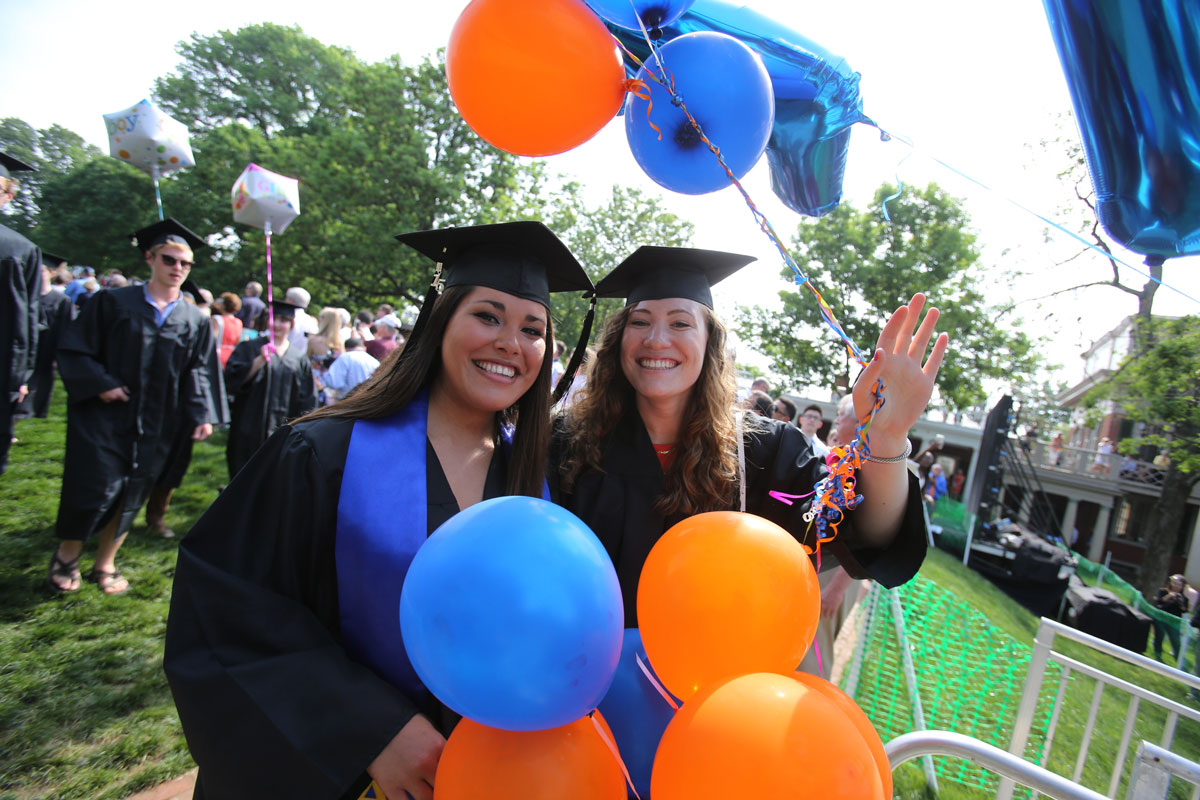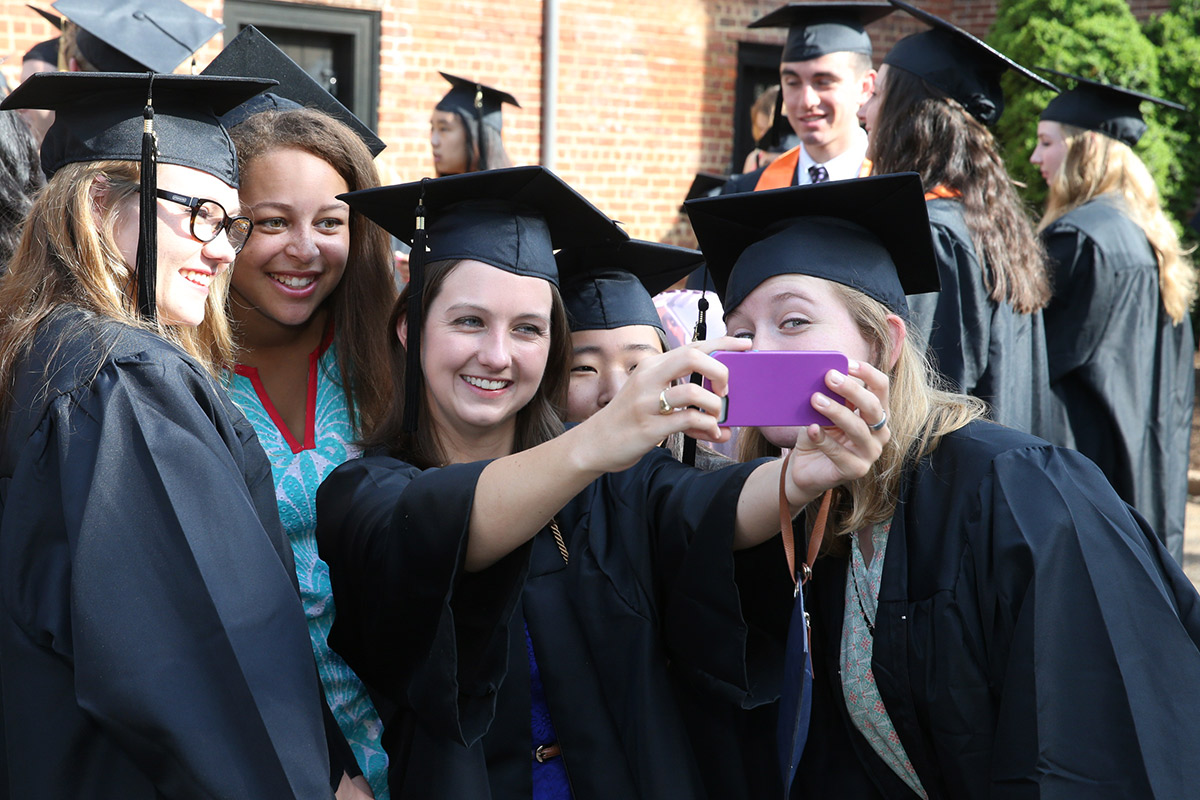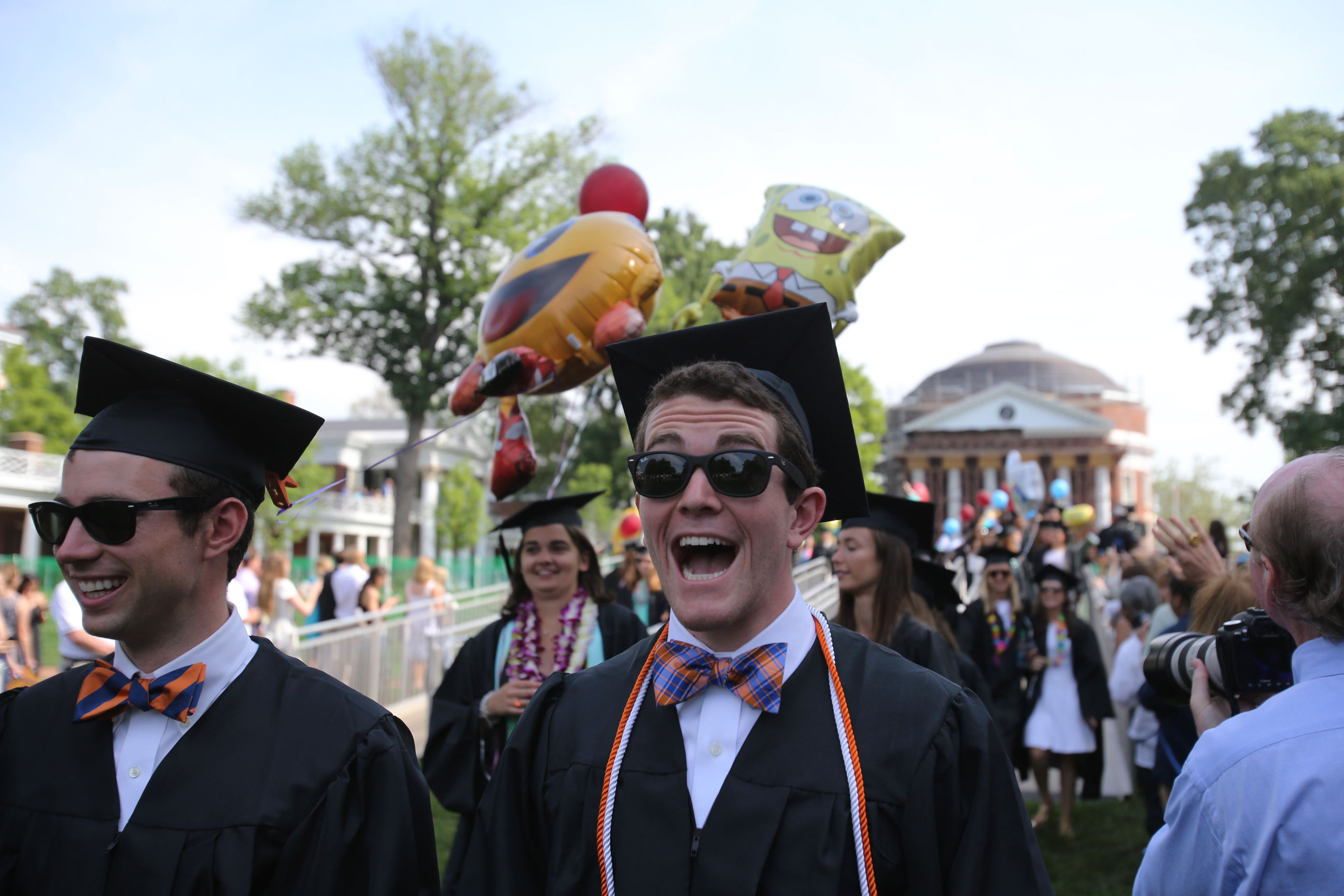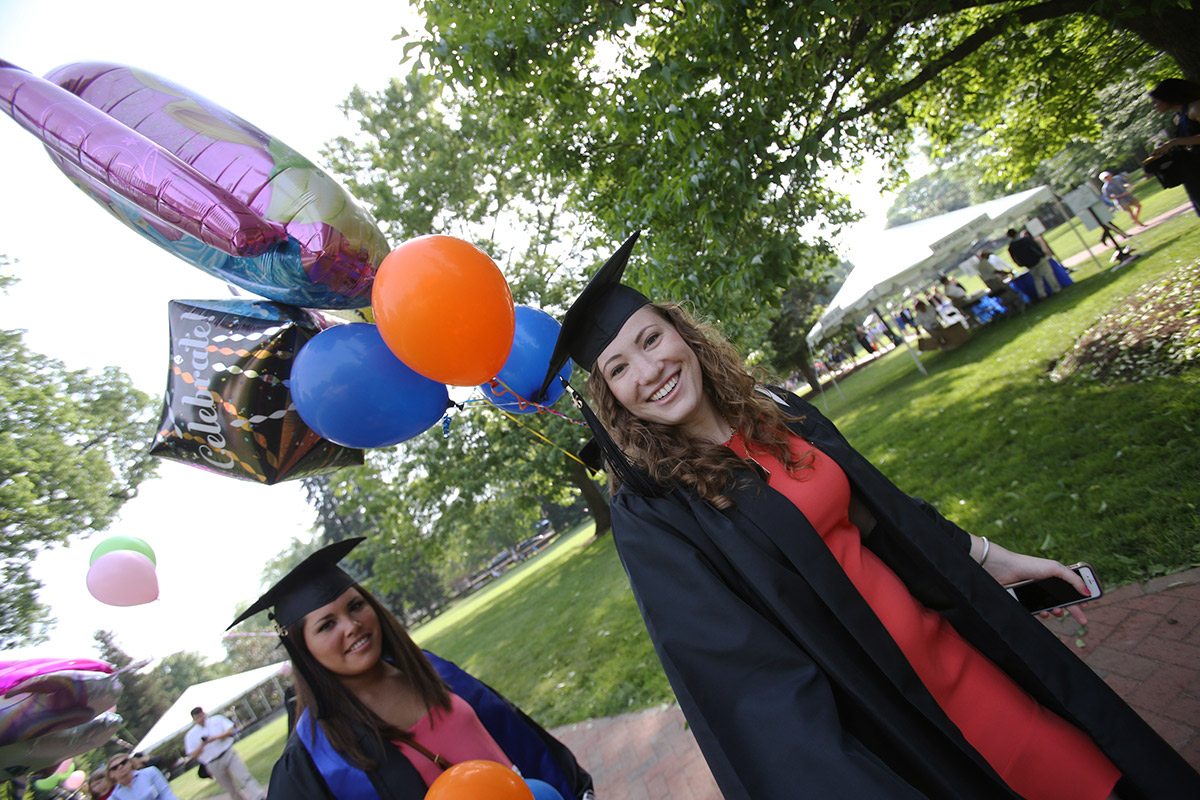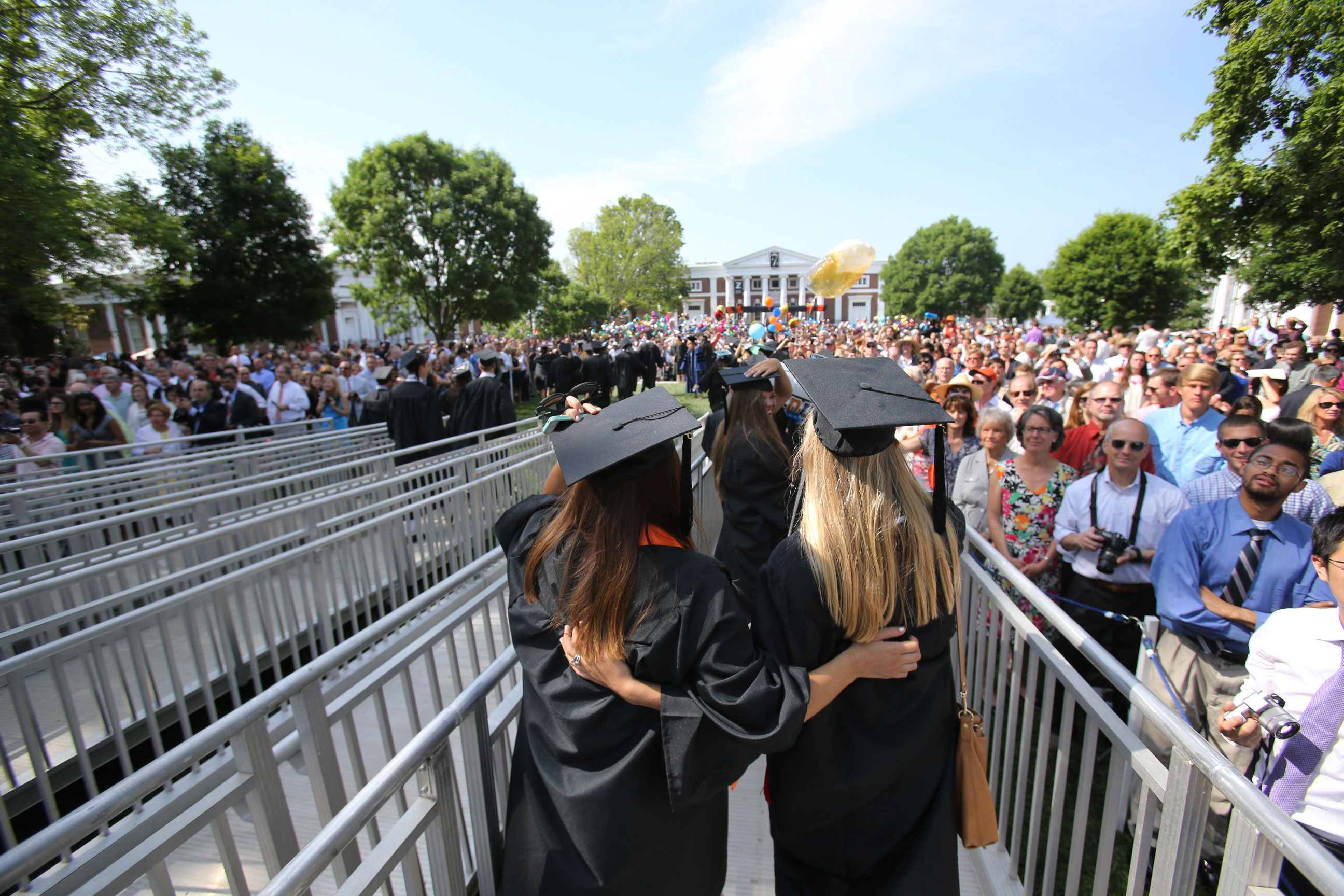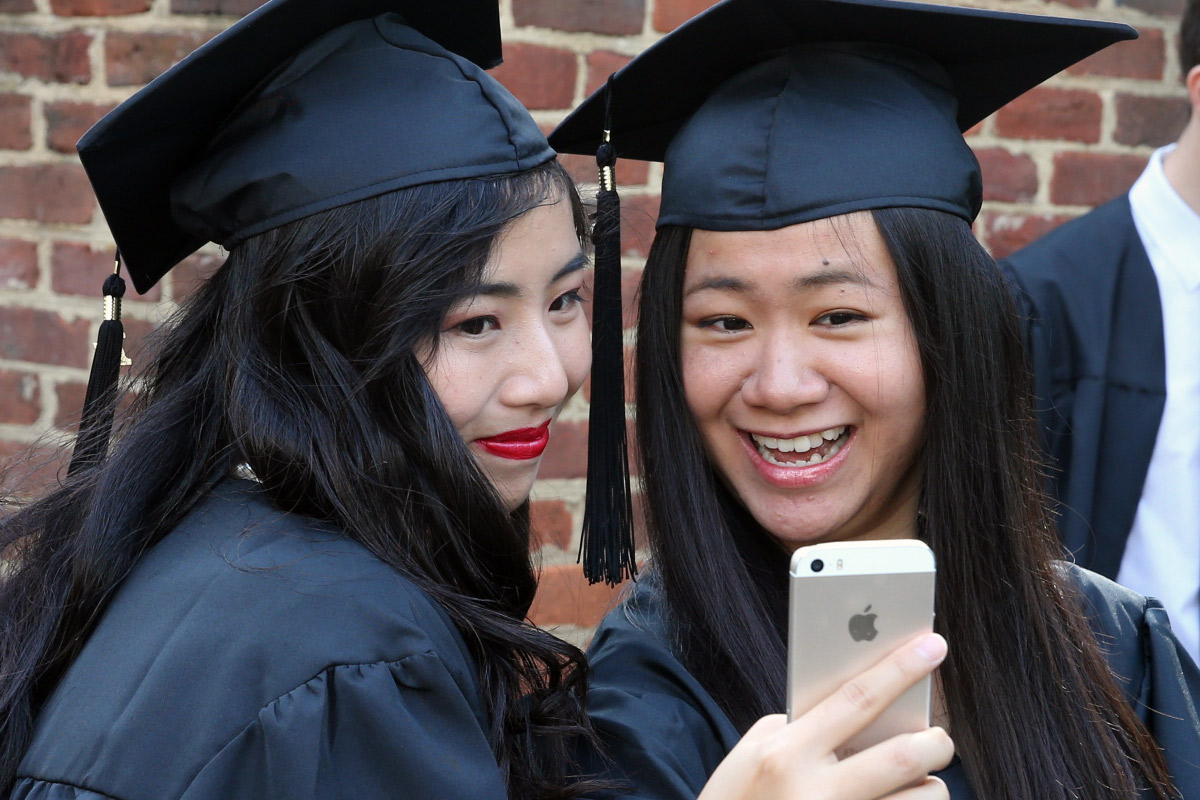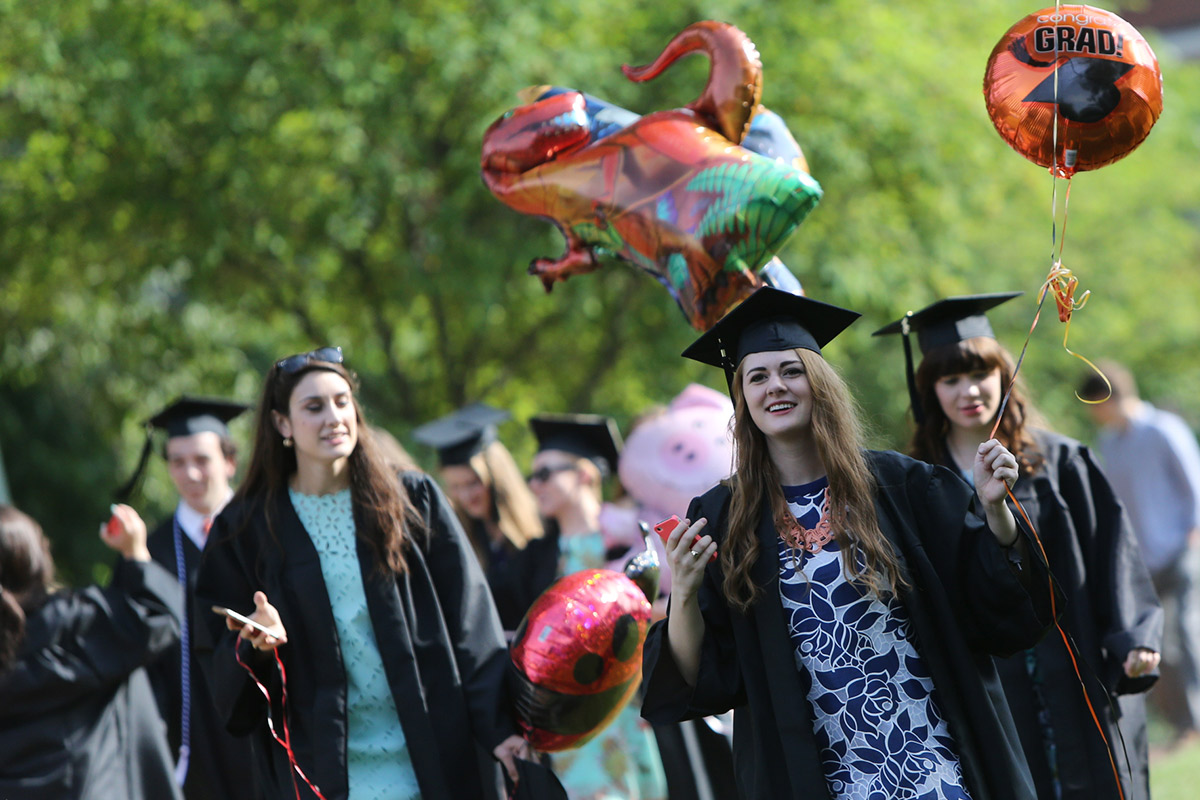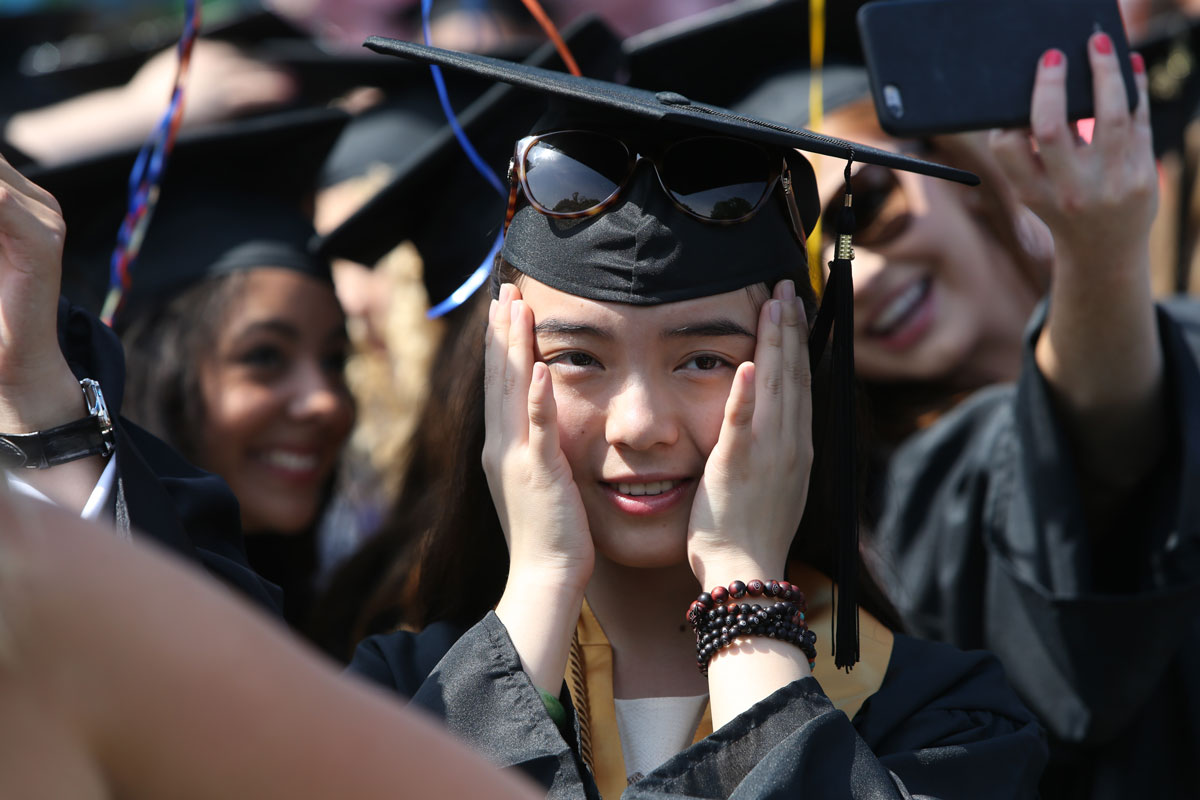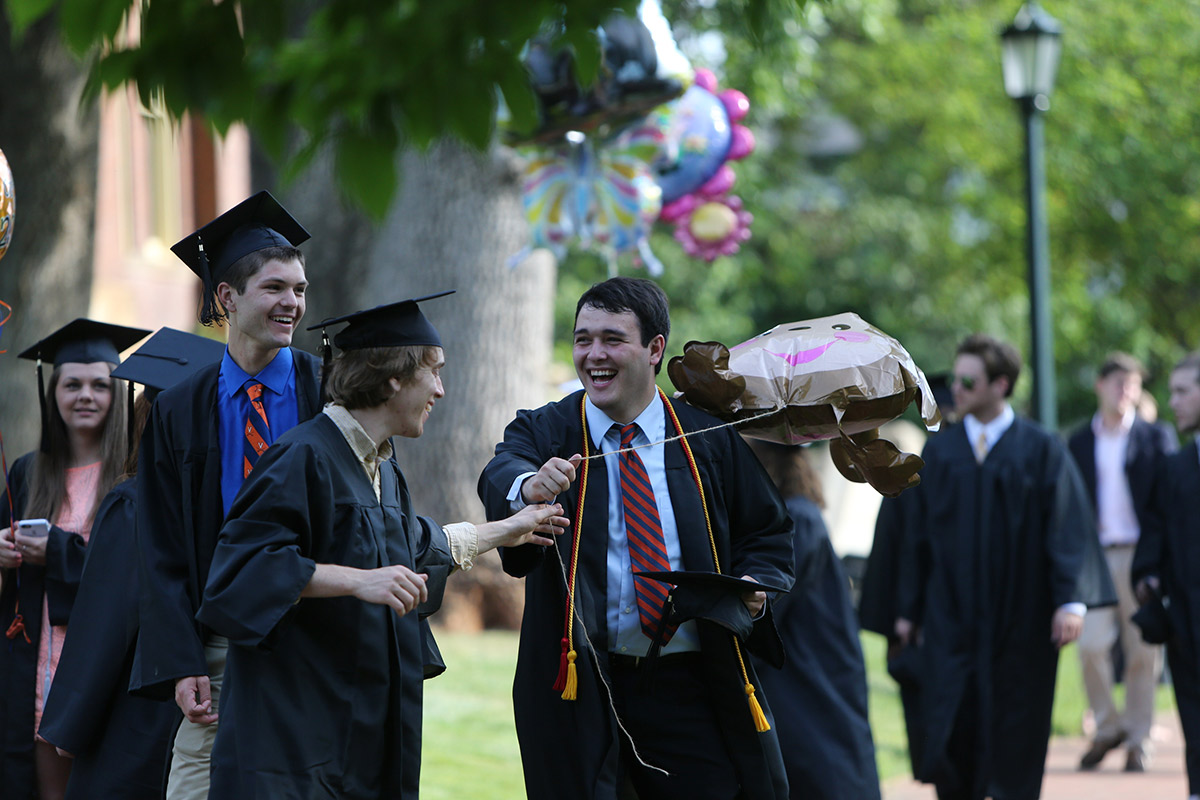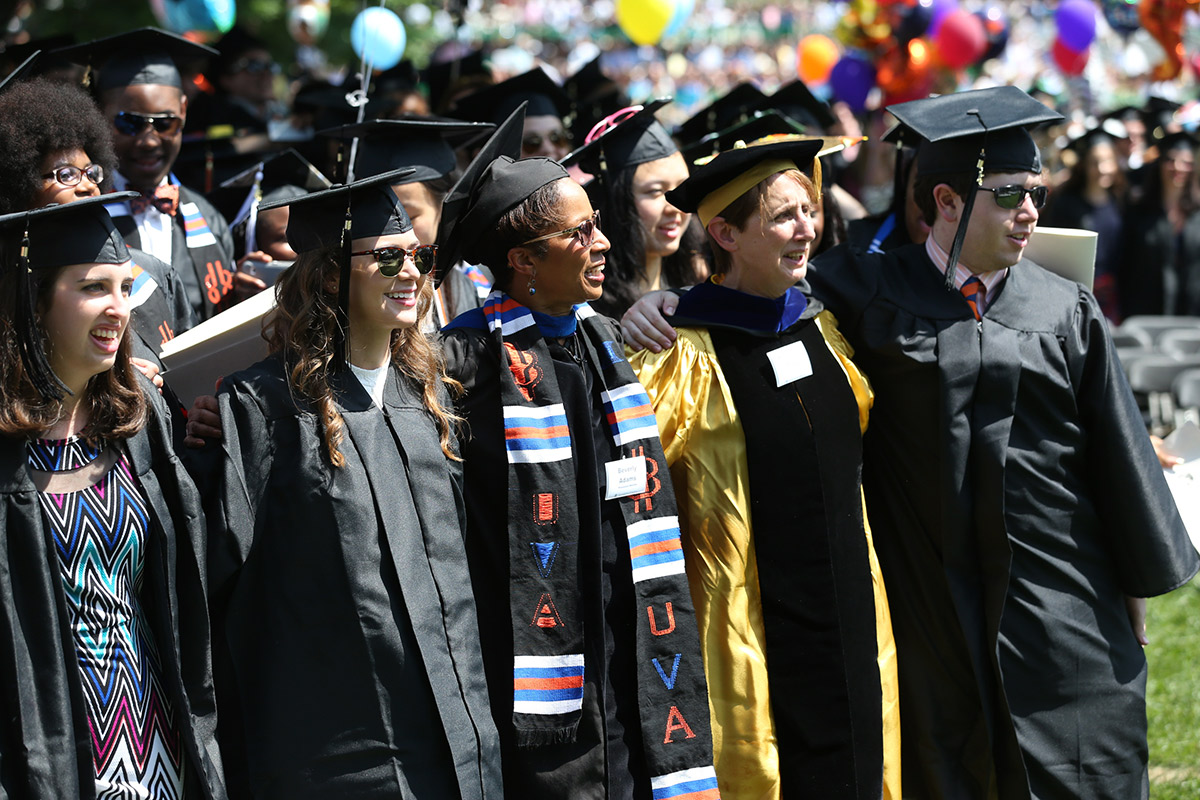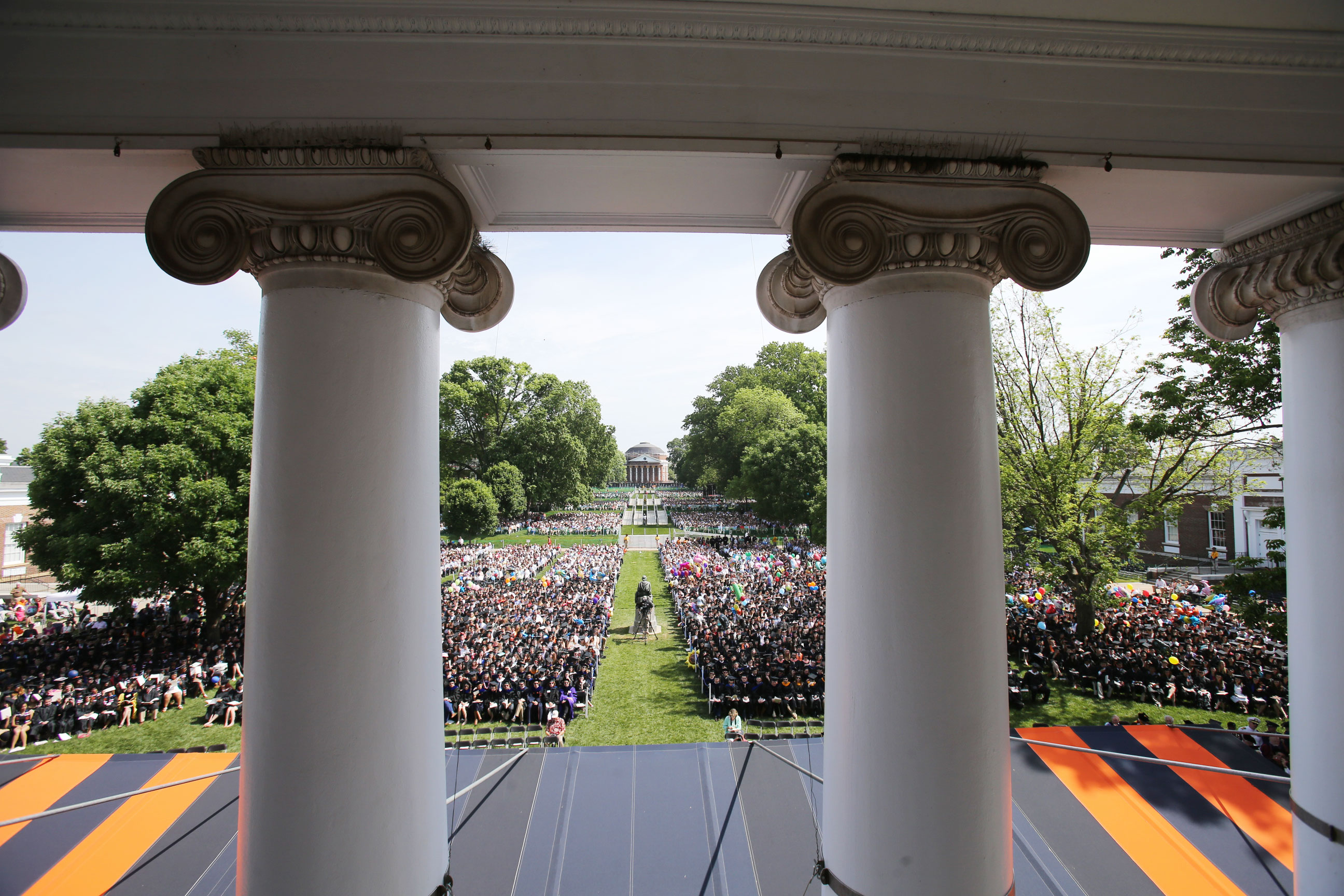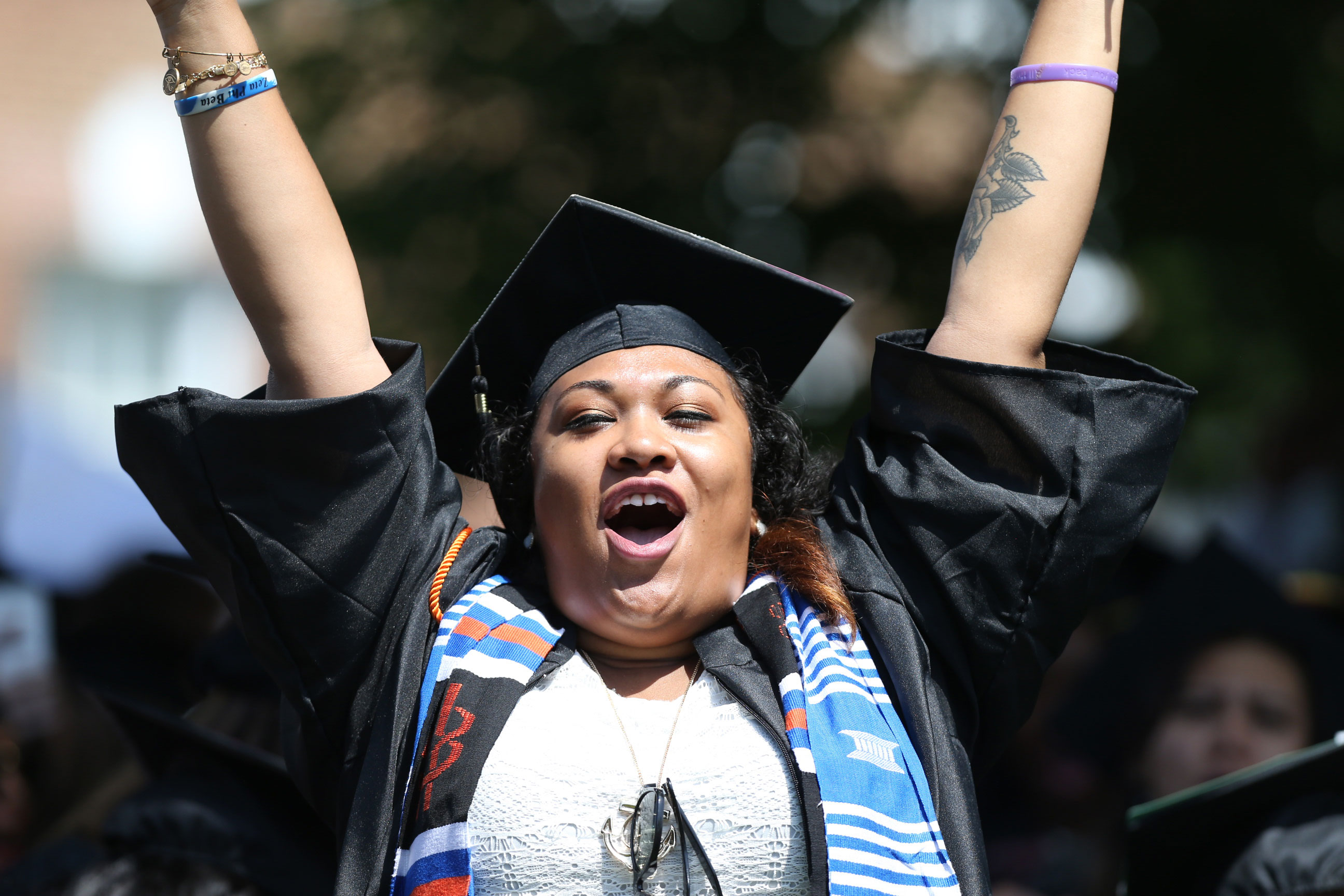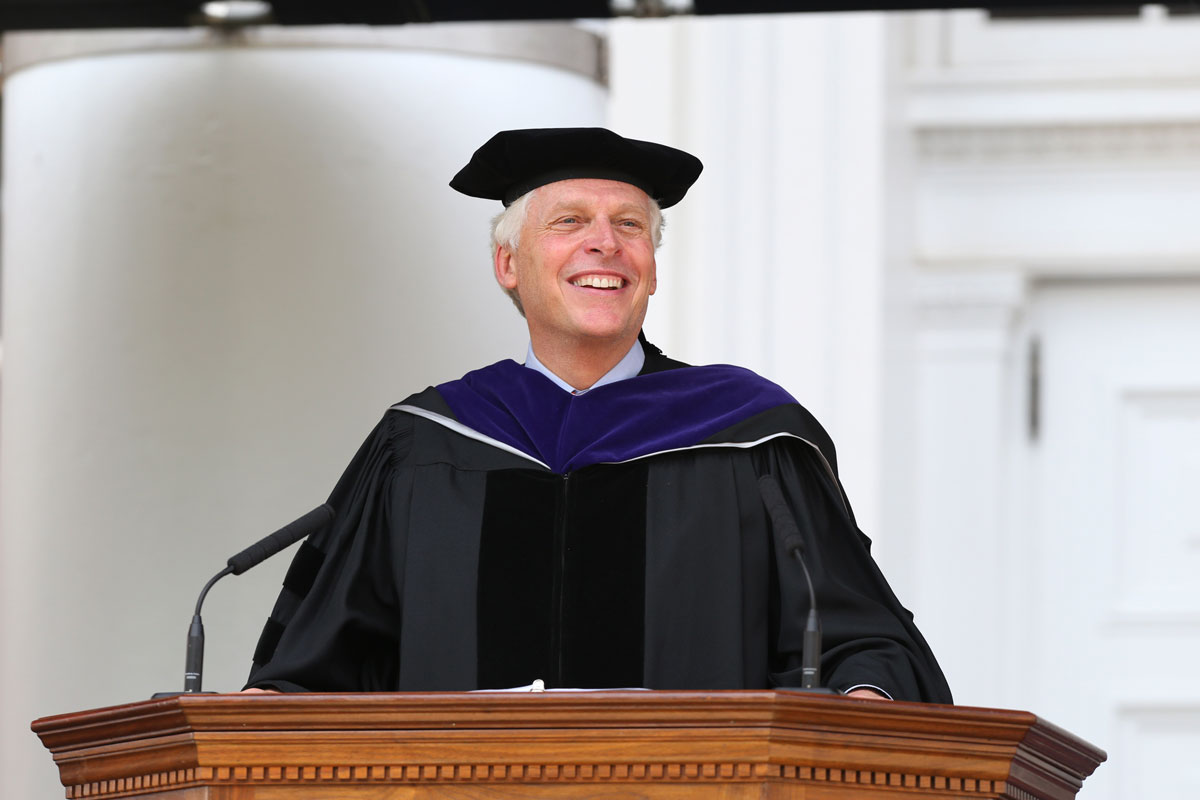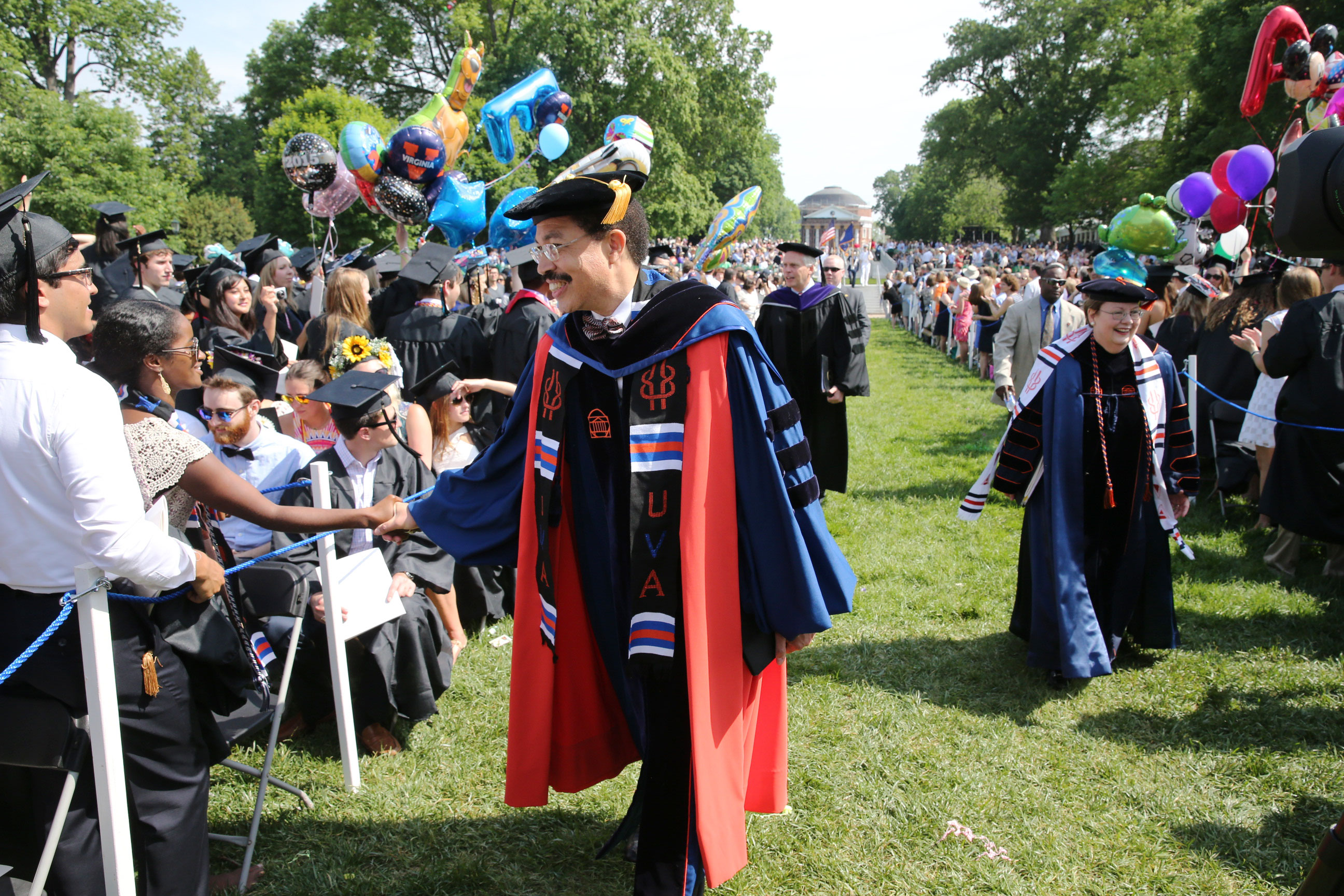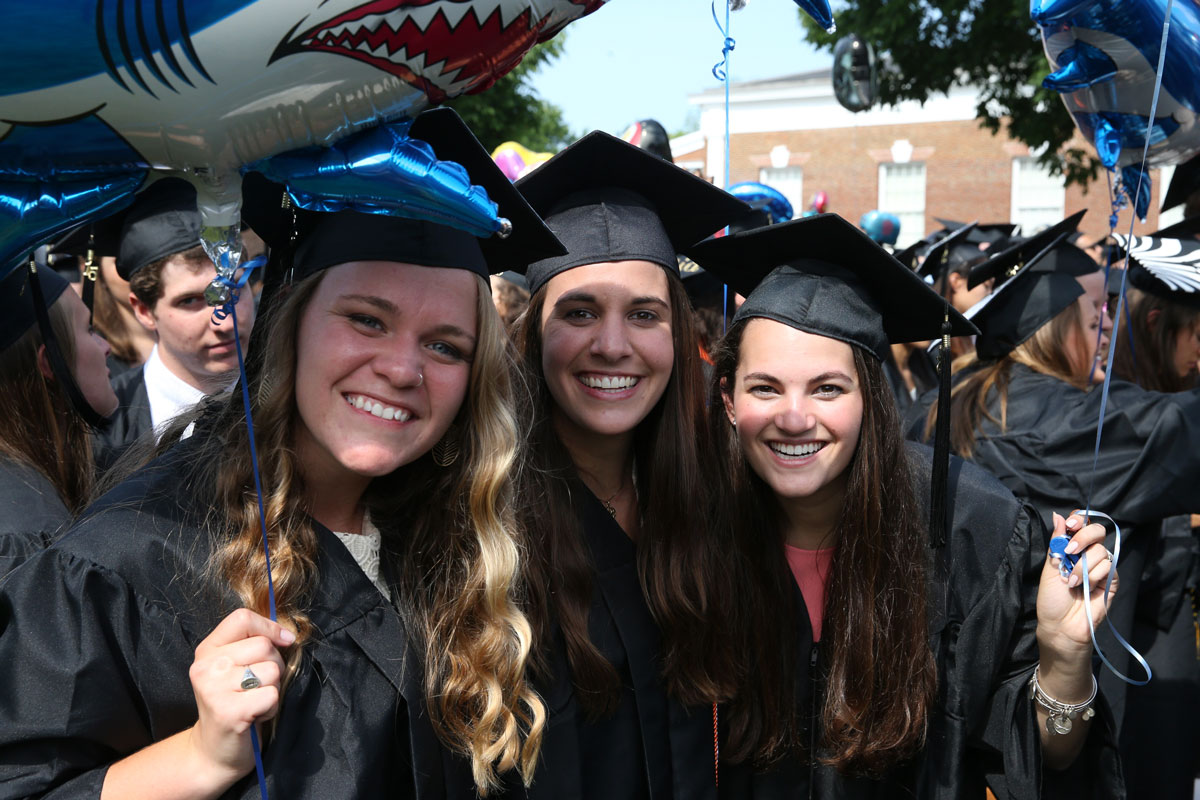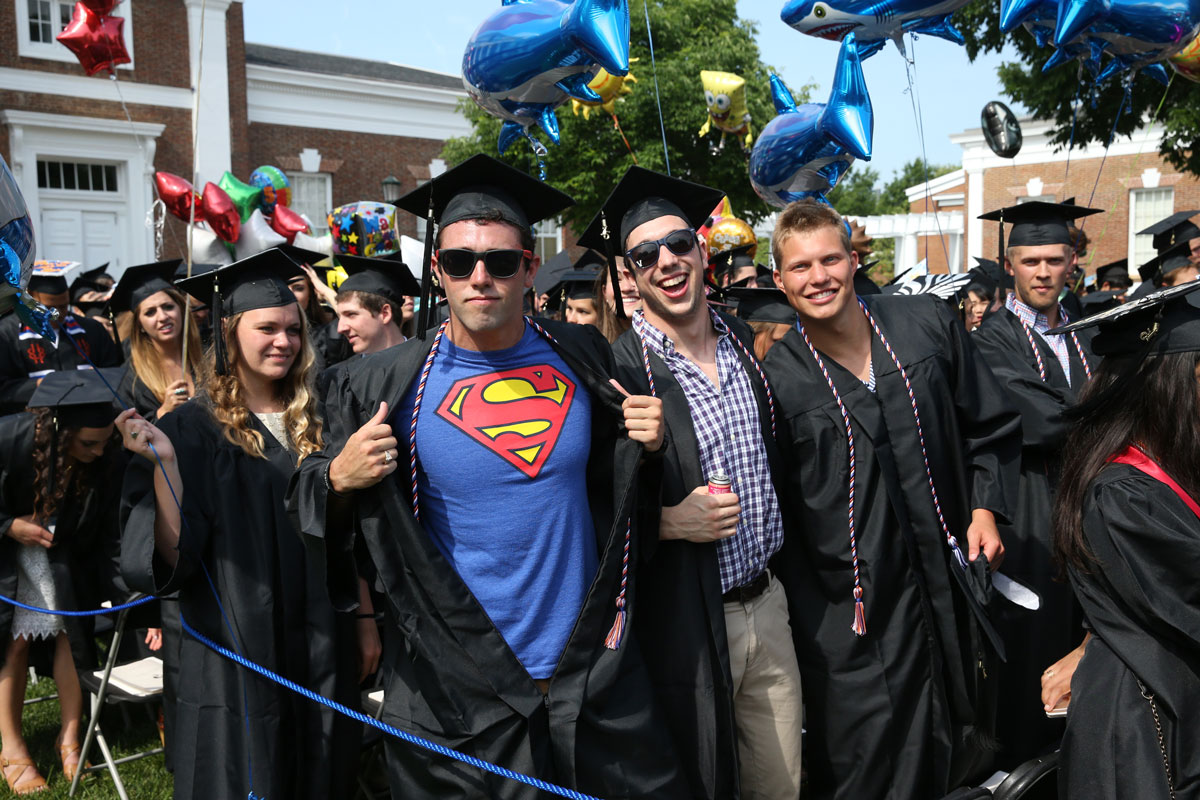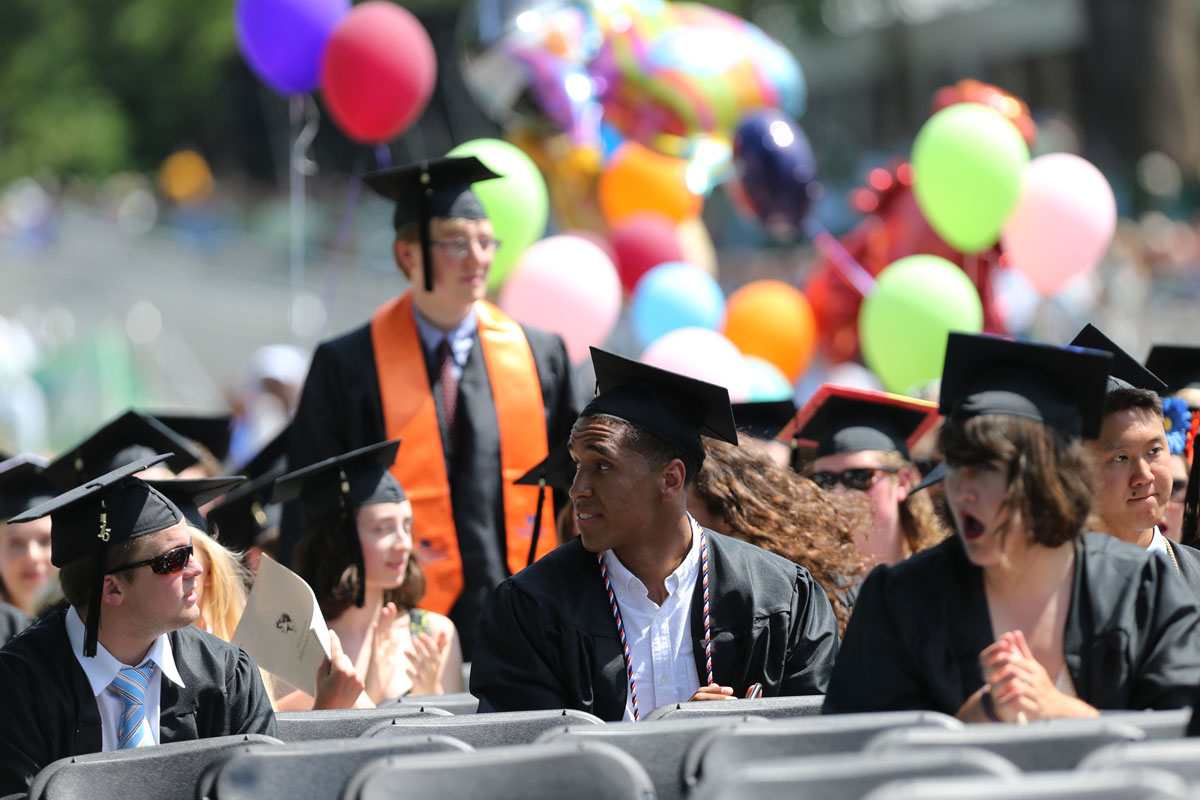 Article Information
May 16, 2015
/content/cheers-abound-first-uva-final-exercises-two-days-held