Olympic swimmer Yannick Kaeser's story starts in the tiny Swiss town of Mumpf, situated on the border with Germany.
The towheaded member of the University of Virginia's class of 2016 began swimming there when he was 7 years old and quickly realized the breaststroke was for him.
"One of my friends in primary school was on a swim team and he told me I should stop by one day," the soft-spoken Kaeser said during a chat on the patio outside Newcomb Hall one morning. "So I did and I kind of liked it immediately, so I kind of went from there."
He will walk the Lawn May 22, collecting a degree from the McIntire School of Commerce in marketing and management, with a minor in leadership.
In August, the 23-year-old will make his second appearance in the Olympic Games, swimming the 100- and 200-meter breaststroke for Switzerland in Brazil. He previously competed in 2012 in London.
Oxygen is Overrated
Looking back, Kaeser said swimming started out as just something fun to do. But the more he swam, the more he and his coaches realized he had something special, a true talent for the sport.
"We would practice once or twice a week and then I got better and better, so I moved on," he recalled. "I went to a bigger club team when I was 10 or 11 years old and a few years after that, I kind of got more serious. My coaches and I saw that there was something, that I could work for more competitive swimming."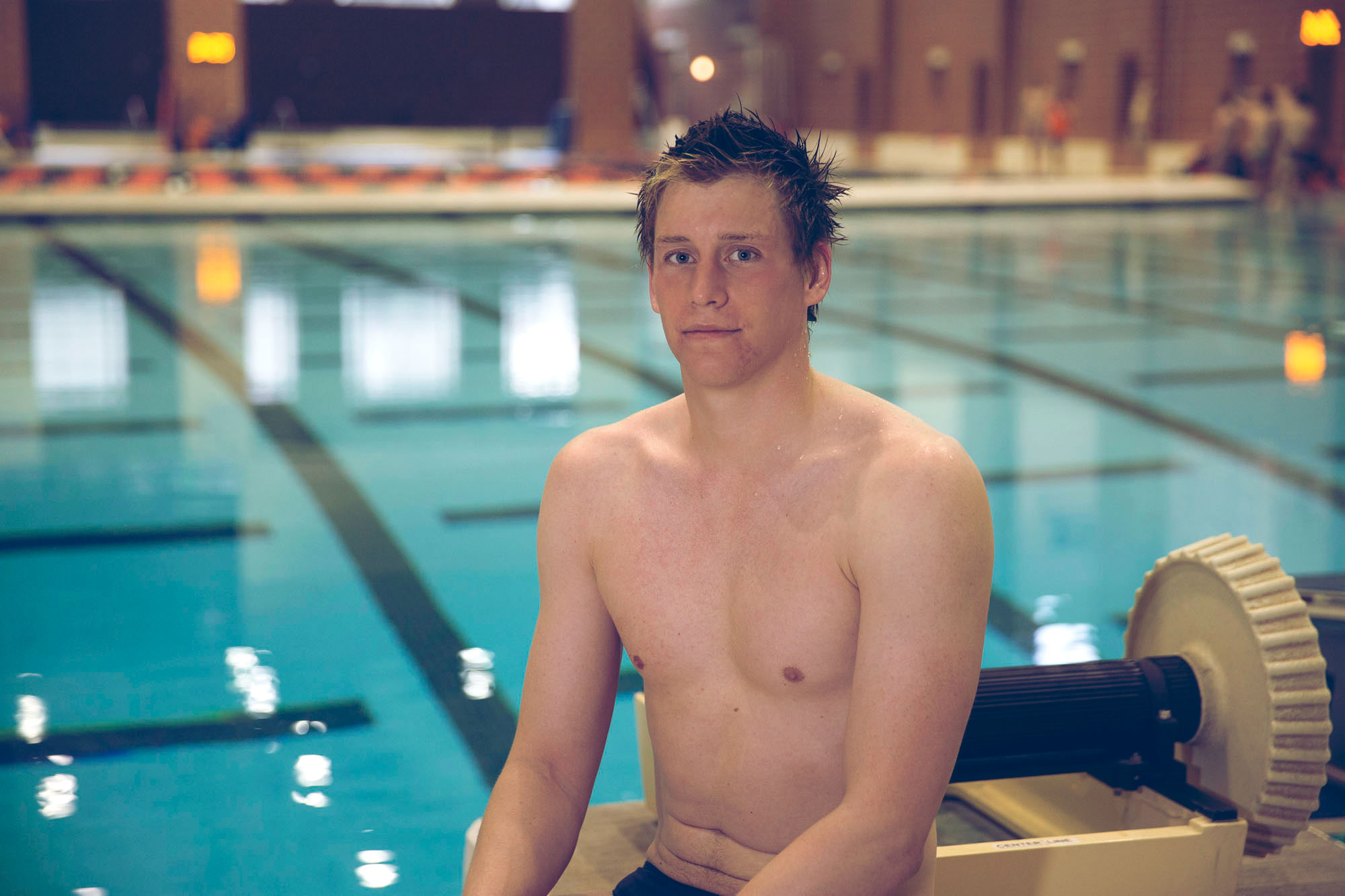 Fourth-year student Yannick Kaeser (Photos by Dan Addison)
For a while, Kaeser played soccer and ran track, too. A third-place medal in a regional swim competition, his first decoration, changed that.
"All the victories show you that the work pays off," he said. "You just see that medal and you want to be on top of the podium – it motivates you."
Deeply competitive, the 6-foot-1 athlete dropped soccer and track and fully committed to becoming the best breaststroker he could be. Dogged determination and thousands of hours in the pool made him highly desirable to university swim coaches, and UVA successfully recruited Kaeser to join the swim team in 2012.
In his four years swimming for the 'Hoos, he has set two school records, swimming the 100 breaststroke in 52.47 seconds and the 200 in 1:53.72. Those records are the result of long, hard work; Kaeser logs more than 20 hours a week with nine team practices and three weight room sessions.
He said his coaches have definitely prepared him for Brazil. "They played a big role. They are open to helping me accomplish my goals," he said. "There are others on the team who have a shot at making the U.S. Olympic team or another country's team, so the coaches know it's a big deal every four years."
Assistant swim coach Clif Robbins said Kaeser's mental game is formidable. Coming off the grueling ACC Championship meet, Kaeser competed in the Swiss nationals in March, seeking to qualify for the Olympics.
"He wasn't 100 percent physically ready," Robbins said. "Mentally, he was just where he always is, in a great spot."
He won the 50, the 100 and the 200 breaststroke. "I think that's the first time he has ever 'three-peated,'" Robbins said.
You Can Breathe Later
The 2012 London Games proved to be a real learning experience for Kaeser. Although he didn't advance to the semifinals, he didn't view that as a disappointment. He was just happy to qualify to compete. If anything, Kaeser said the experience will give him a leg up in Brazil.
He vows he won't be as overwhelmed when he steps into the Olympic stadium in Rio de Janeiro. In London, a lot of "firsts" wowed the undergraduate and made it difficult to focus on his events.
"You see all these stars walking around in the village. You go to the dining hall and you see Usain Bolt," a Jamaican sprinter who holds the world record in the 100 meters. "It's kind of hard managing all the things that go on on the side and really managing all of your races."
And yes, he saw U.S. super swimmer Michael Phelps. "Sometimes you would just be swimming behind him during warmups. It's interesting to be close to all these people and watch them and kind of learn from what they are doing."
This time, Kaeser will swim the 100-meter race first, which he said will help him when it comes time to swim his best event, the 200.
"Having the 100 first in the Olympics will help me get into race mode and experience all the things like going into the call room and swimming a race before I have my main event," he said.
His goals: he hopes to at least reach the semifinals, which he estimated will mean posting times of 1:00.2 in the 100 and 2:10.5 in the 200.
Kaeser will return to Switzerland in June to be fitted for the team suit he will wear when he walks into Rio's massive Olympic stadium, and then will participate in a team pre-camp before the games open Aug. 5.
He said he will miss UVA, where he has felt welcome since he first set foot on Grounds. "For me, it was hard coming from overseas because I didn't really know anyone," Kaeser said. "People really helped me adjust, making it easier for me. I made friends for life."
When the games end, Kaeser will serve Switzerland's compulsory military for half a year. The country, although neutral, is active in many UN and international organizations. The swimmer will also seek sponsors to support him as he trains for the 2020 Olympics in Tokyo and he may enroll in a master's program.
Article Information
May 10, 2016
/content/class-2016-comm-school-grad-readying-olympic-return