Elizabeth Harris' graduation on Sunday will mark the first time since 1998 that one of the six Harris siblings has not been a student at the University of Virginia.
Elizabeth was 5 years old when her parents, Maura and Greg, moved their oldest daughter, Kelly, from Winchester into UVA's first-year dorms. She watched as four more siblings – two sisters and two brothers – made the same move. As the youngest in the family, Elizabeth spent years visiting her siblings on Grounds, moving them in and out of dorms and apartments and cheering on the Cavaliers in football and basketball.
"Each fall, the next child who was in high school began going to UVA for a football game. It became this rite of passage, to go spend a weekend at UVA," said Maura Harris, who jokes that she has done more blue and orange laundry than any mother she has ever met.
When the time came for Elizabeth to go to college, she knew exactly where she wanted to go. Her decision put the Harris family among the largest group of siblings on record at UVA.
"Everyone was asking me what I was going to do, if I was going to follow my siblings to UVA," she said. "UVA meant a lot to my siblings and I felt like I would find my place here. I guess you could consider it following, but I knew I could make my own experiences."
Four years later, Elizabeth is preparing to graduate from the McIntire School of Commerce. She has held leadership roles in several organizations around Grounds, including the Phi Sigma Pi honor fraternity, Delta Zeta sorority and Madison House, where she directed a program pairing UVA student coaches with local swim teams.  
"I was able to serve through these three organizations and also to make friends and feel like I was giving back to the University and to groups that have been here for a long time," she said.
Elizabeth's time at UVA overlapped with that of her older brother, Matthew, who was a fourth-year student in the Commerce School when Elizabeth enrolled. The siblings took two classes together that spring and Elizabeth frequently went to Matthew for advice, retreated to his house as a quiet place to study or simply asked him for a ride to the grocery store.
"Having Matthew here definitely had a big effect on my first year, in the best way," she said. "He was a resource that was right there when I needed him to be. His experience shaped mine and gave me the best routes possible."
Elizabeth also had no shortage of advice from her older siblings, who prepared her for everything from surviving an un-air-conditioned dorm room in August to studying for the notoriously tough final exam offered by Kenneth Elzinga, a longtime professor of economics who taught five of the six Harris siblings.
"Everyone warned me about that final," Harris said. "You don't know until after you take the final what they mean. It was certainly notable, not something you forget too soon."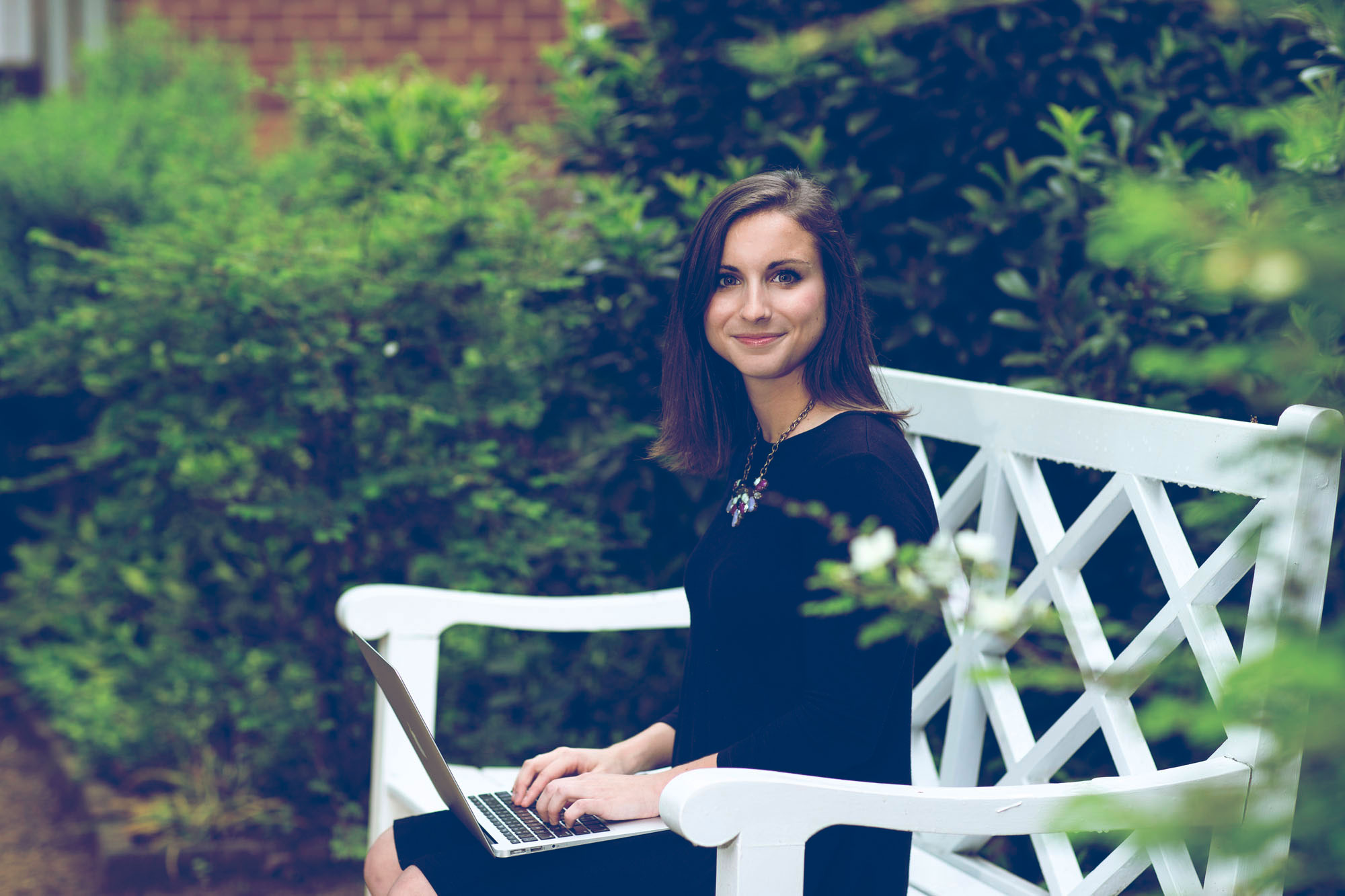 Elizabeth Harris, who will graduate from the McIntire School of Commerce this weekend, is the last of six siblings to attend UVA.
Her older siblings also gave Elizabeth insight into various career paths. She learned about architecture from her brother Greg, now a senior project manager at Davis Construction, and discussed law school with colleagues of her sister Kelly, who worked as an economic analyst and senior paralegal. Sisters Kathryn and Julianne, who both graduated from the School of Nursing, inspired Elizabeth to shadow nurses at a hospital in Winchester before deciding a medical career was not right for her.
Ultimately, she chose to join Matthew in the School of Commerce, a step that allowed her to combine her interest in computer science with curiosity about the business of technology.
"I liked the flexibility that business had and I was able to focus on the technology side, not necessarily the financial side," she said.
Elizabeth's focus on technology helped her earn a job offer in Washington, D.C., where she will work as a consultant for Deloitte, the same company where Matthew works as a federal business technology analyst.
Before that transition, however, the Harris family will gather for one last graduation celebration on the Lawn.
"I feel as if I am kind of retiring," Maura said of Elizabeth's impending graduation.
"As a parent, my job was to launch my children, give them a good start and teach them hard work. They all have God-given brains and they were expected to do the best they could with them," she said. "I am really proud of my kids. I think they are very special and very close to each other, which I feel good about."
This weekend, the family plans to enjoy many of the traditions they have established over the course of five graduation ceremonies.
"Our typical graduation day has always started with Bodos," Harris said. "My mom and my grandmothers usually sit up front [in the ticketed seats on the Lawn] while the rest of us picnic in the back."
This year will be slightly different, because construction on the Rotunda eliminated space for unticketed spectators. The Harris family – totaling 18 parents, grandparents, siblings, spouses and children – will be spread out among ticketed Lawn seats and additional seats in President Teresa A. Sullivan's section, offered after Sullivan heard of the family's story.
There will be another difference, as well. After Elizabeth graduates, no more Harris siblings will be moving into UVA's dorms.
"It's not just me graduating, it is the end of all of us graduating," Elizabeth said.
There is hope, though. Elizabeth's two nieces, 2-year-old Ella and baby Lucy, will both be at UVA this weekend.
Media Contact
Article Information
May 19, 2016
/content/class-2016-elizabeth-harris-graduation-ends-18-year-family-streak