As a child, Andrew Ashcraft loved crawling through the two old houses his family lived in.
One was a farmhouse made of hand-hewn sandstone rocks quarried in Ritchie County, West Virginia, where Ashcraft, the oldest of three brothers, grew up. The other was built in the 1860s by a major in the Union Army who returned to West Virginia after the Civil War.
"I would crawl up in the attics and explore," said Ashcraft, now a fourth-year student in the University of Virginia School of Architecture. "I learned a lot about how buildings come together, but I also fell in love with architecture, particularly historic architecture."
By the time he finished high school, Ashcraft knew he wanted to be an architect. He toured Virginia Tech first and felt pretty sure he would end up there.
Then, he saw the Lawn.
"Honestly, I was worried UVA might be too pretentious for me and that I wouldn't fit in here," he said. "But once I got to see the Lawn and tour some of the buildings, I knew this was where I needed to be."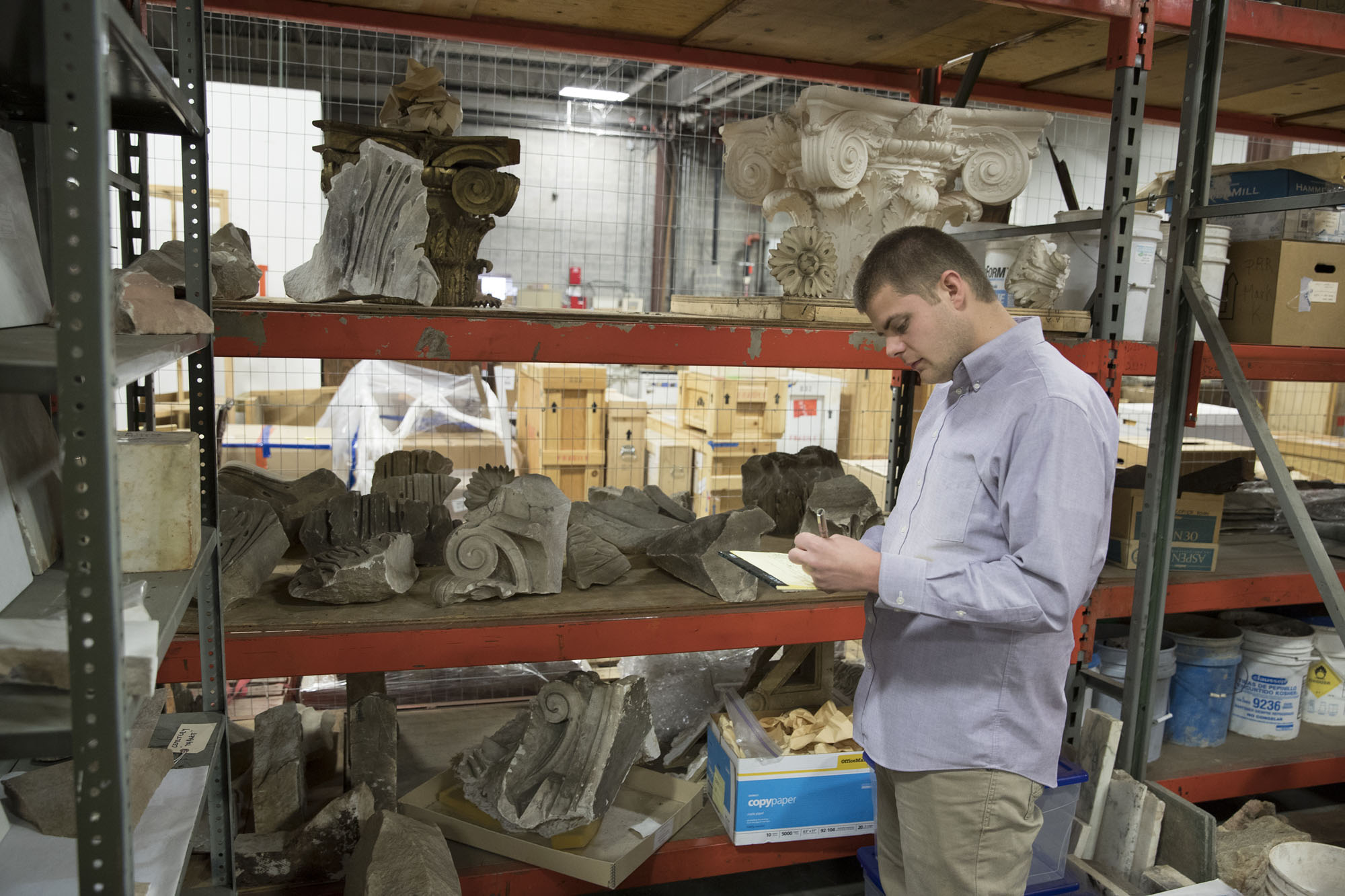 (Photo by Dan Addison, University Communications)
Four years later, Ashcraft has found his niche at UVA and left his mark on the buildings that captivated him that day, both through his architecture courses and his internship with UVA's Historic Preservation team, a division of Facilities Management. 
As an intern, Ashcraft is charged with documenting the artifacts and fragments recovered in various projects around Grounds. Some of them, like the column fragments shown above, are now in storage and need to be labeled with as much historical information as possible.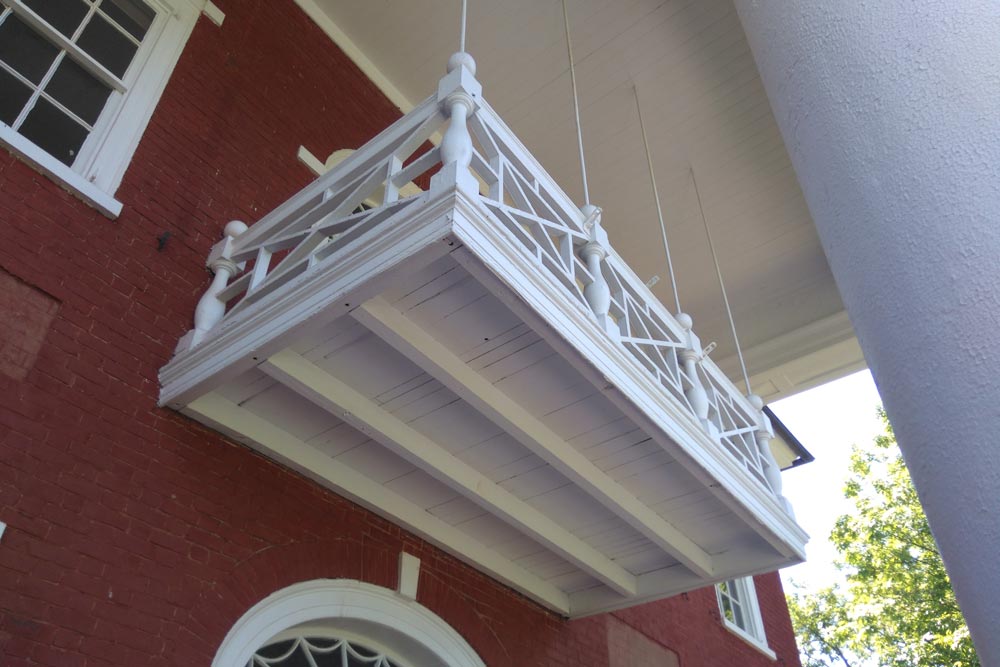 (Photo by Andrew Ashcraft)
In addition to cataloguing new finds, Ashcraft has worked with Facilities Management's historical preservation team on a huge variety of renovation projects around Grounds, from the attic of Carr's Hill to the roof of Memorial Gymnasium.
He even got to contribute to some designs, such as the ceilings beneath the six suspended Pavilion balconies shown here and the new elevated deck on the porch of Pavilion VI, home to School of Architecture Dean Ila Berman.
The work's taken him to attics, crawl spaces and other hidden spots all over Grounds, where he has gotten to take in unusual views of UVA's most iconic spaces, like this view of the Rotunda from a pavilion.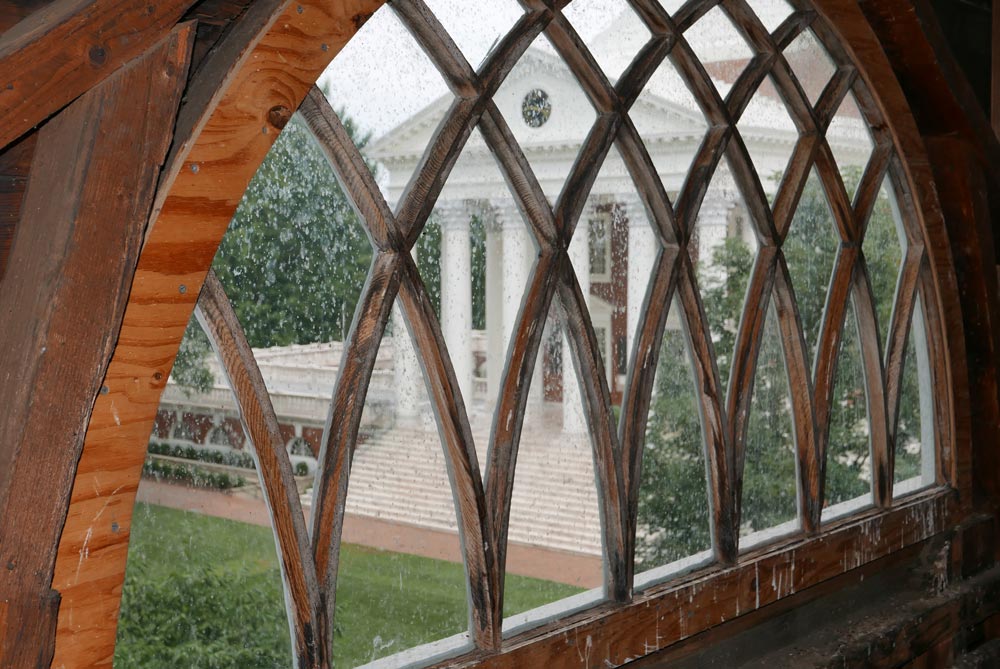 (Photo by Andrew Ashcraft)
His favorite view so far has been from the attic of Old Cabell Hall, where he could look down through an ornate false skylight into the building's grand two-tiered theater.
"I was in the attic, looking down at the stage, and thought, 'How many people get to see the stage from this view?'" Ashcraft said. "That has been a recurring theme in my work with Facilities."
According to architecture professor and Vice Provost for Academic Outreach Louis Nelson, Ashcraft's unique vantage point has been very valuable in class.
Nelson, who taught Ashcraft in three courses, recalled one instance when his class was studying Brown College on Monroe Hill. Ashcraft insisted that the professor accompany him to the crawlspace underneath the building to see some of the work Facilities Management was doing.
"He was exactly right to take me down there, because it completely changed how we understand the building," Nelson said. "Andrew has an eye for understanding how secreted away, unassuming spaces can transform the way we understand iconic, formal architecture."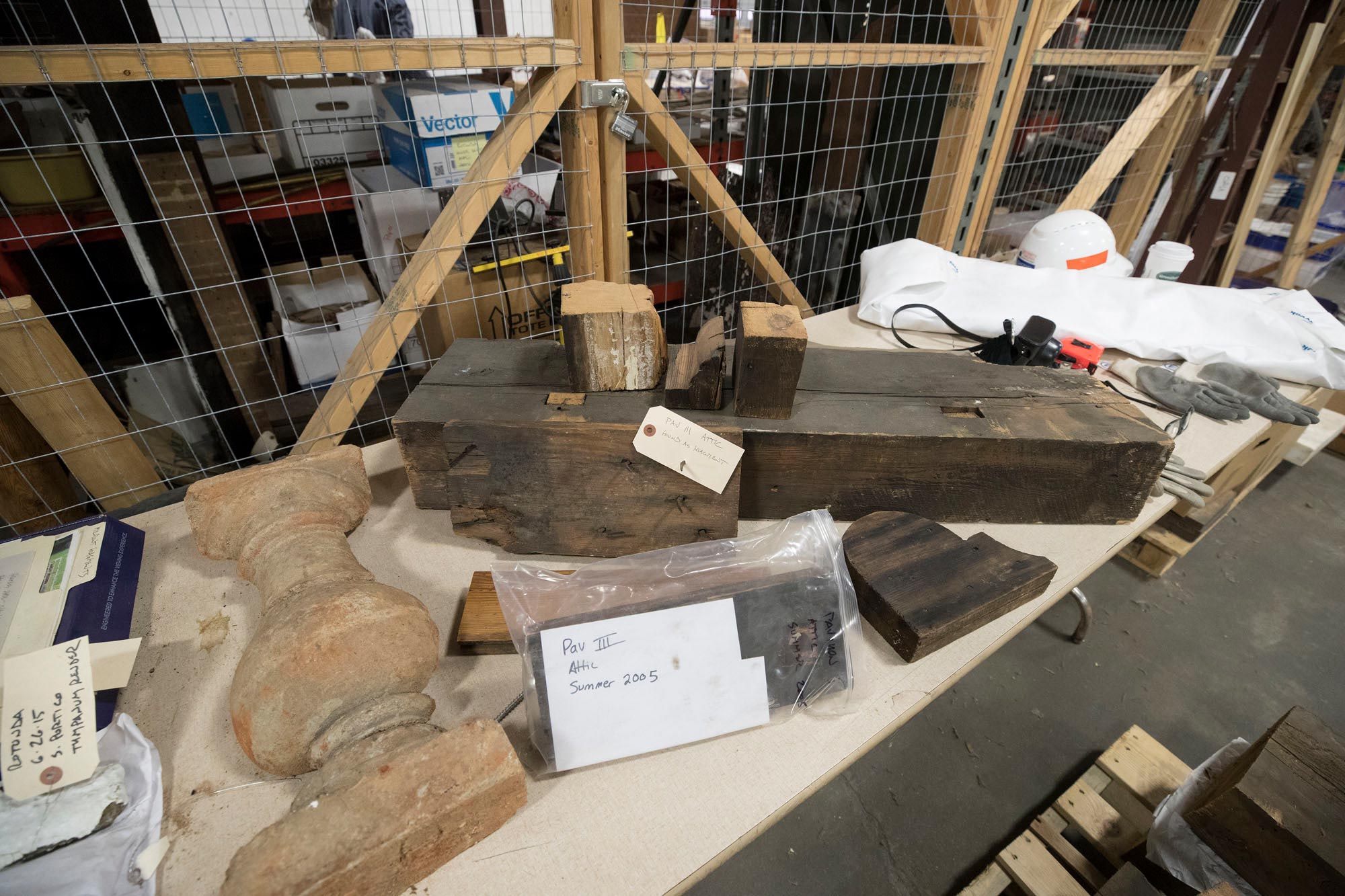 (Photo by Dan Addison, University Communications)
In addition to cataloguing various artifacts, Ashcraft has helped to digitize photographic slides collected by the late James Murray Howard, a University architect from 1982 to 2002. The thousands of slides, taken by Murray and his interns, have given Ashcraft a detailed, intimate look at many buildings on Grounds through different stages of renovation.
"We decided we wanted that collection to be far more accessible," said Ashcraft. "Facilities has been working on it for years, digitizing these slides and entering them into a database where we can match them to what we know about the building."
That database will be made public on Artstor as digitization is completed.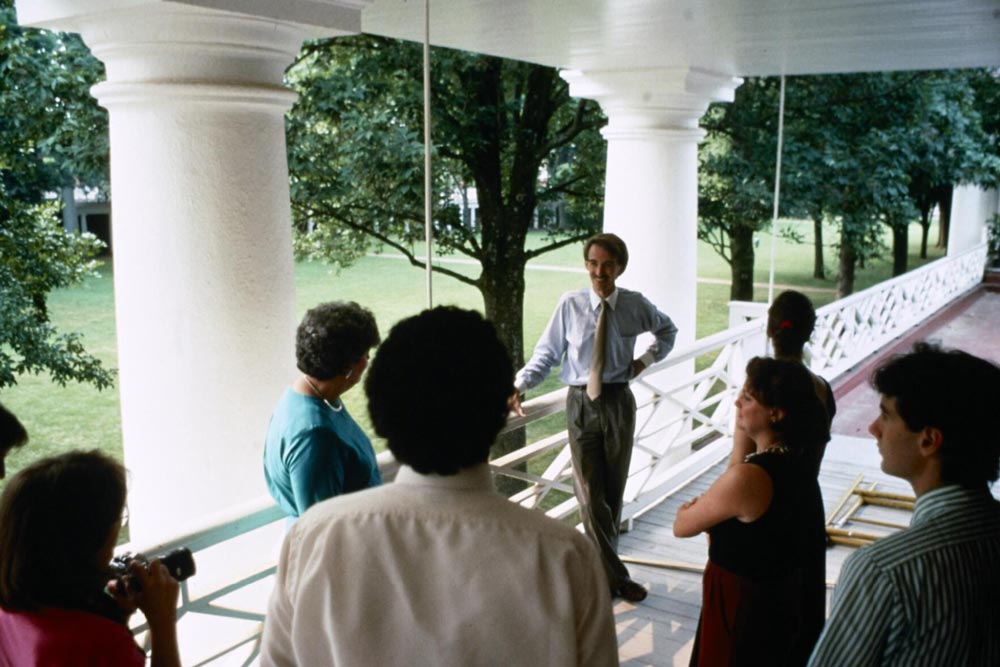 (Photo by Andrew Ashcraft)
Ashcraft loves walking around Grounds and seeing little reminders of all that he has learned from Howard, shown here on a Pavilion balcony in an old photograph Ashcraft found.
"I feel a certain command of the history of this place that is fun and powerful," he said.
More than any one building or detail, though, Ashcraft enjoys his window into the behind-the-scenes decisions that will shape Grounds today and well into the future.
"I get to be part of the conversation about how we steward this place," he said. "I have gotten to sit in on preservation meetings and in some cases weigh in on what this place should look like and how we can care for it."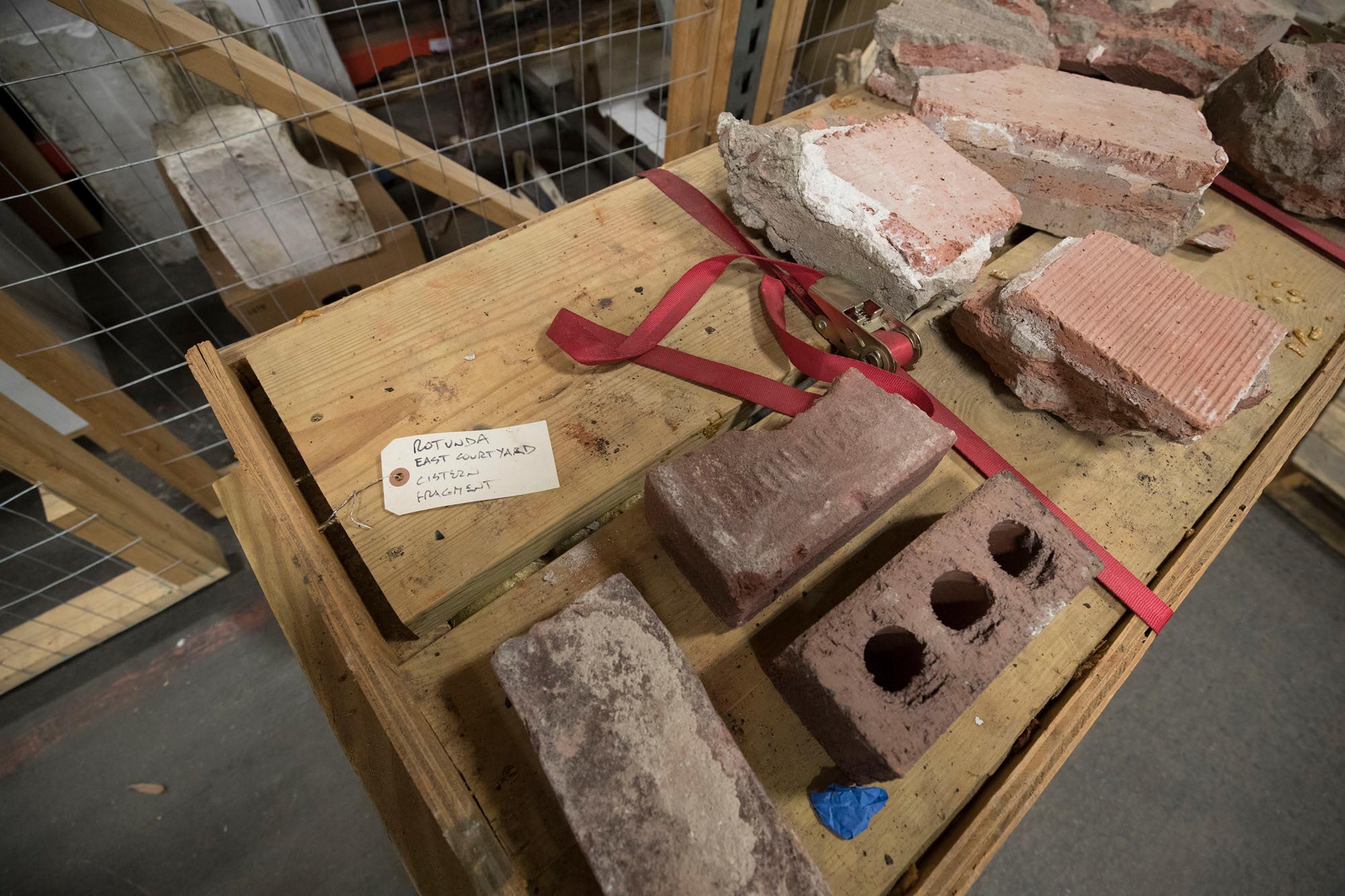 (Photo by Dan Addison, University Communications)
His own work toward preserving Grounds and the community he has found in the School of Architecture have helped him feel at home at UVA, more so than he could have imagined when he worried about fitting in four years ago.
"The Architecture School can take a really big place like UVA and make it much more intimate," Ashcraft said. "Coming to UVA, I did not know anyone, but when you go to your first class in architecture, you meet the people you are going to spend the next four years with. Those people are still my friends, still in my studios, and that has been really cool."
Nelson said he has loved having Ashcraft in class over the years.  
"Andrew has a deep curiosity, a powerful intellect, an unassuming manner and a genuine humility," Nelson said. "He's an unbelievable young man, and just so smart."
Outside of class, Andrew is a co-director of the school's Freedom by Design Program, a student-led community service organization that designs and builds projects for various community groups that focus on accessibility.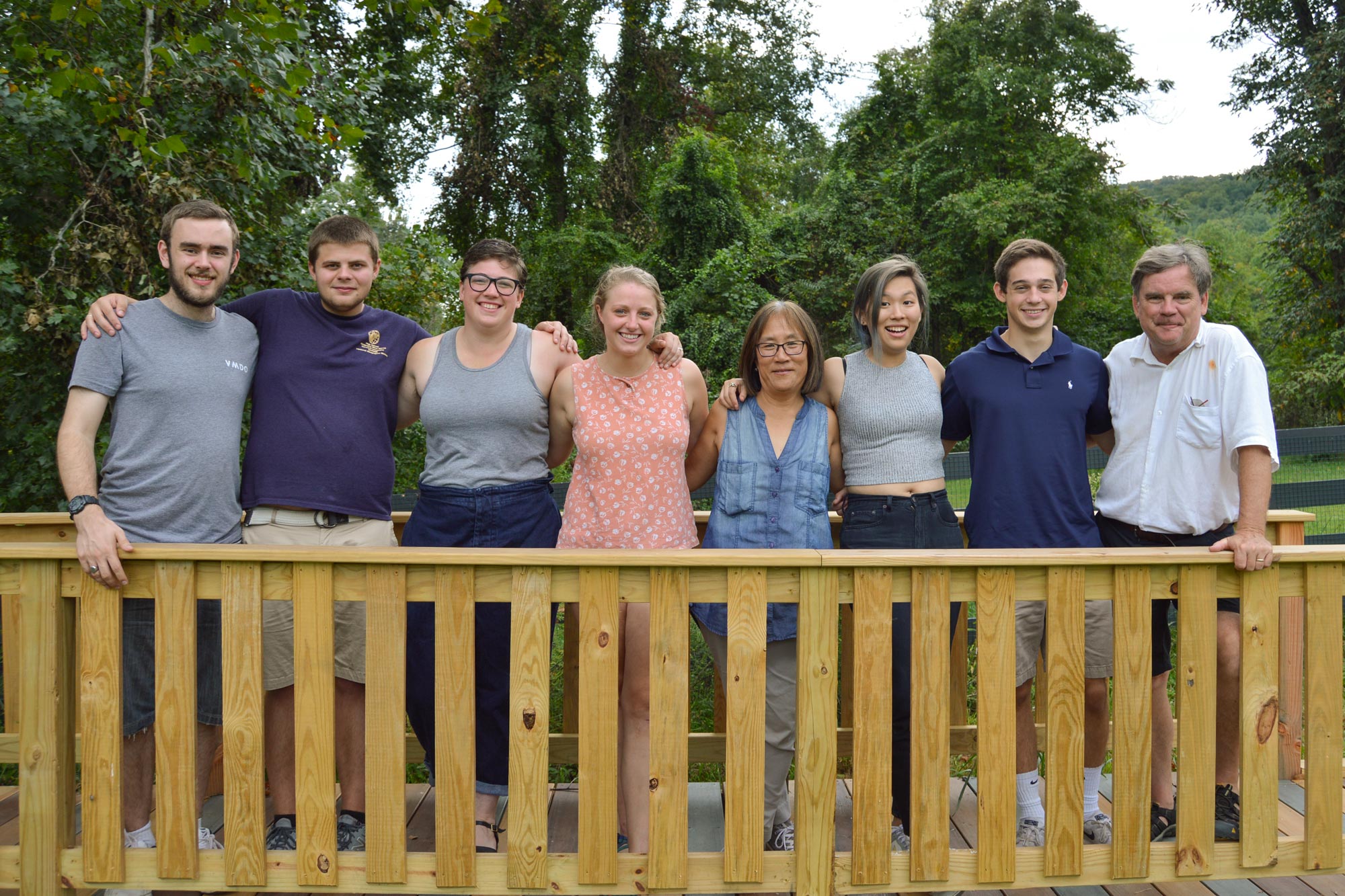 Ashcraft, second from left, with faculty members and classmates on the ramp to the completed treehouse. (Contributed photo)
For example, Ashcraft's group created a wheelchair-accessible treehouse at Wildrock, a nature therapy playground north of Charlottesville.
Ashcraft is also involved in Chi Alpha, a Christian fellowship on Grounds that he calls "the other half" of his community at UVA.
"Similar to the Architecture School, it has been great for making a big place feel small," he said.
As graduation approaches, Ashcraft is weighing several job offers from architecture and design firms. He hopes to make a decision in the next few weeks while also savoring his last month at UVA and making the most of time remaining with friends and professors.
"I have loved my time here. It has been an incredible experience," he said. "The people I have gotten to meet at every level, from friends through faculty and invited guests, have been fantastic, of a caliber I could hardly have anticipated before."
Media Contact
Article Information
April 27, 2018
/content/class-2018-ashcraft-explores-uvas-attics-crawl-spaces-other-unique-nooks