Last summer, Adriana Giorgis and two of her University of Virginia classmates piled into a car and drove between 35 coastal villas dotted along the coast of Tuscany.
It sounds like a dream roadtrip, and in many ways it was. But it was the dream of an academic and architectural historian, not a tourist. And the villas weren't just any villas; they were first-century Roman ruins, many of them in extreme disrepair.
Giorgis, who grew up in Rome and Milan, has been visiting the area and observing the villas since she was a child – captivated by their beauty, but also troubled by the degradation, looting and deterioration that took away from them.
Now, those villas are the focus of her two-year thesis project and a key part of the two degrees the fourth-year student will earn this weekend, one in architecture and one through a Distinguished Major Program in interdisciplinary studies, combining arts administration, historic preservation and art and architectural history.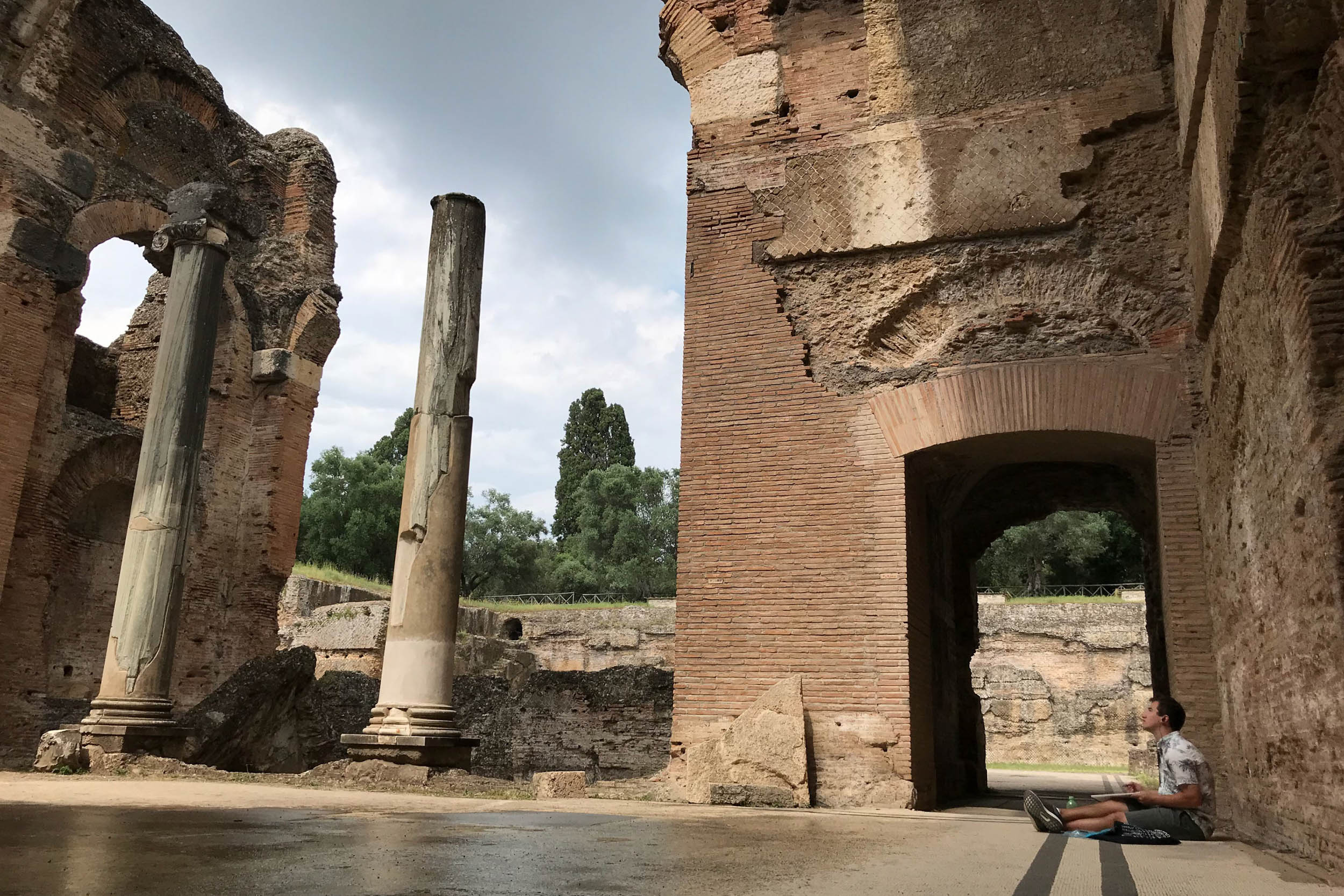 Michael Tucker sketches the ruins, the sheer scale of which indicates the former magnificence of the villas. (Photo: Adriana Giorgis)
"It turned into this two-year-long thesis," she said, gesturing to the thick, newly printed booklets stacked on the table in front of her. "It's a bit rare to have such an extensive project, and it has been very special."
Giorgis' work focuses on the ruins of one villa in particular, the first-century home of bankers working for the Roman emperor Nero. It was likely their third home, used mostly for entertaining.
"In Roman times, wealthy families had a dwelling in the city, a countryside home that sustained them financially and, if they were very wealthy, another villa on the ocean, like this one," Giorgis said.
The owners were very wealthy and politically connected, she said, but were more peripheral characters in Roman politics, rather than primary actors. "Their names come up in primary sources, but not necessarily in active ways."
In addition to researching the history of the site, Giorgis used modern technology to develop a plan for its preservation. Over the summer, she and her two classmates – Alison Amos and Michael Tucker – used drone photography to capture multiple views of the ruins and laser scanners to carefully build a 3-D digital reconstruction that will accurately preserve them in the digital world, even as they continue to deteriorate in the real one.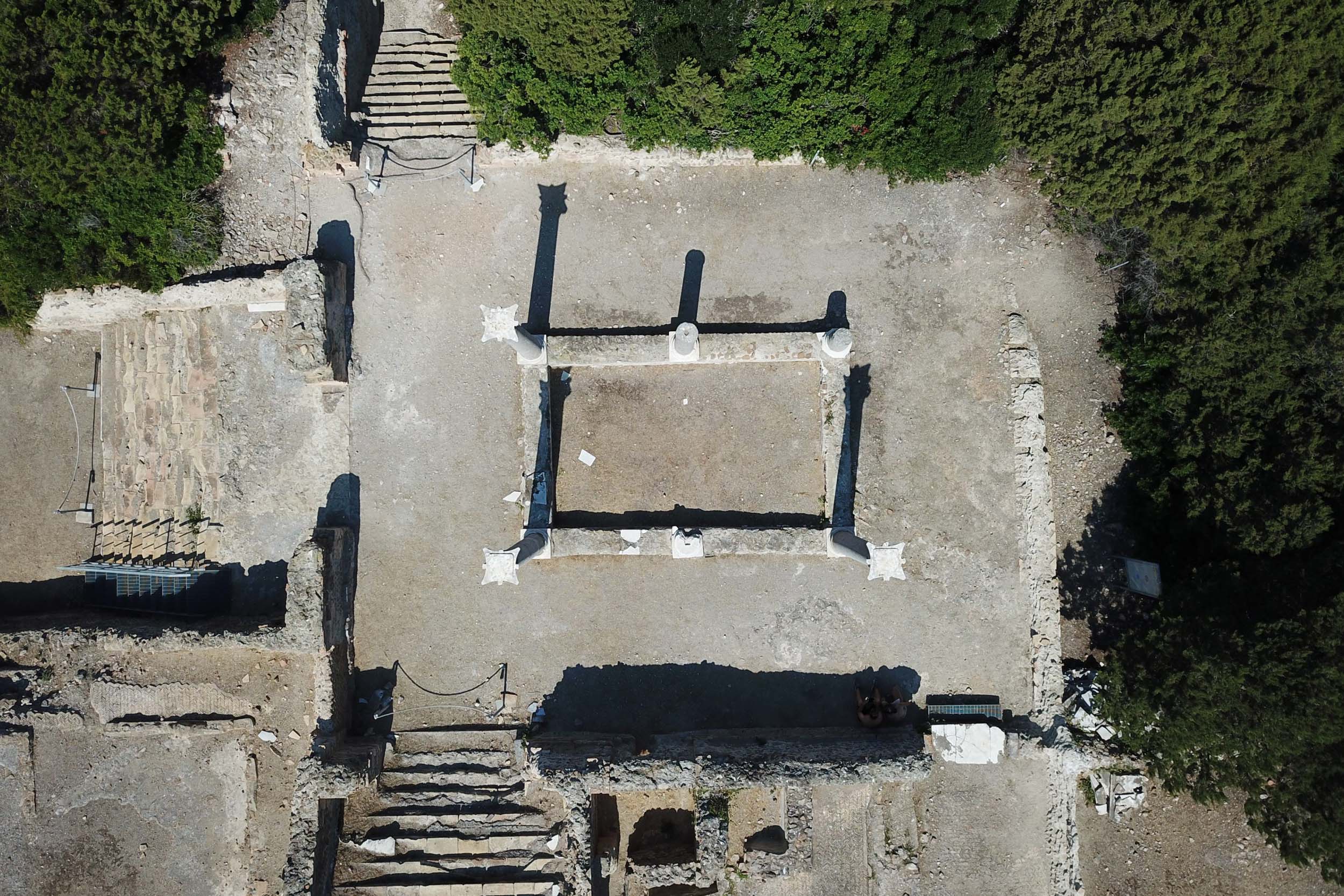 Giorgis' team used drone photography to capture the ruins from the air, compiling a detail record of their layout and current state. (Photo: Adriana Giorgis)
"I wanted to save it exactly as it is right now for future generations," she said. "It is inevitable that things will be looted and will deteriorate, so the question becomes how you deal with that."
Indeed, the Italian government recently erected a fence on the site to deter would-be looters. Giorgis' thesis proposes other interventions she believes would be helpful, including building a small museum on the site to explain more about its history and combining other ruins on the island – there are dozens – into one itinerary and ticket.
"I propose that the government view these sites as one cultural landscape, in which they can invest resources," she said. A general itinerary and general ticket covering all of the villa ruins on the island could promote tourism and also encourage visitors to learn about the history and culture of seaside villas in the Roman empire, she said.
"I think part of the significance of Adriana's research is studying one site in depth, while also placing it in context as part of a larger cultural landscape, by looking at villas up and down the coast," said Andrew Johnston, director of UVA's program in historic preservation and Giorgis' adviser. "That context is so valuable, and she has done an extraordinary amount of work to position herself to make contact with government agencies and make recommendations, backed up by extensive documentation."
It was also, Johnston points out, quite a logistical undertaking. Giorgis did a lot of behind-the-scenes work applying for grants and securing funding, reaching out to faculty members and government agencies and recruiting classmates to her project.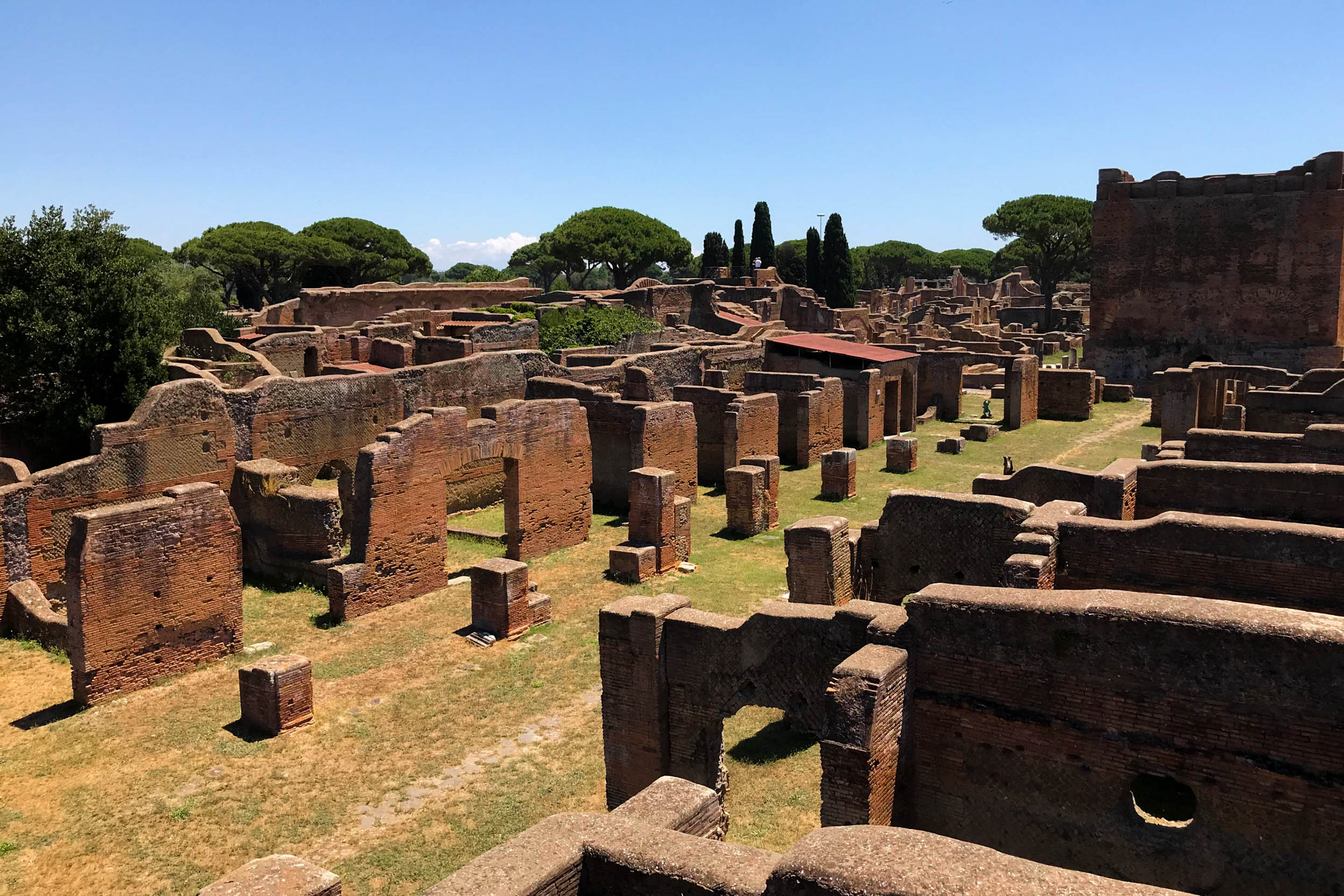 Giorgis' proposes that the coastal villas – she visited 35 and there are many more – be combined into a general itinerary to help tourists understand the full history of these sites within the Roman empire. (Photo: Adriana Giorgis)
"Adriana is extremely self-motivated and she was ready and willing to meet the people, make the phone calls and do the work that would make all of this happen," he said. "She pulled together quite a community to support this research."
Her double major, combining architecture with an interdisciplinary course of study she created herself to encompass arts administration – focused on the management of arts businesses – historic preservation and art history, offered a valuable combination of skills.
"The double-major option really allowed Adriana to shape her own studies, and to make her project what it was," Johnston said. "For students willing to take on the work, that flexibility has great value and I am glad that UVA supports it."
When she wasn't researching Italian villas, Giorgis spent a lot of time researching a very different, but equally intriguing landscape: the Arctic.
Giorgis was a research assistant for assistant professor Matthew Jull, who co-directs the Arctic Design Group with fellow faculty member Leena Cho, looking at the challenges and possibilities of designing for a harsh, rapidly changing environment that could see more development in the coming decades.
Giorgis helped Jull build an interactive installation, "Arctic Portals," that is now on display in an Anchorage, Alaska museum, teaching visitors about various aspects of the Arctic environment.
Such work consumes a lot of time, and Giorgis said that her architecture classmates have become some of her closest friends at UVA.
"We spend a lot of mornings and late nights here, and it creates a tight bond," she said. Fellow European students also served as a sort of "family" when she first came to UVA from a boarding school in England. It was a big, but ultimately rewarding transition.
"The States is a cultural shock in so many ways," she said. "From the outside, you think of the different states as very similar, but then you dive in and realize just how different everything is."
Four years later, she feels more comfortable in her adopted culture and plans to stay for at least a few more years, using the remaining year of her visa to work in New York City and then returning to graduate school.
"I have learned a lot," she said. "The other day, I was laughing at a movie and realized that, even a year ago, I might not have gotten the jokes."
Media Contact
Article Information
May 10, 2019
/content/class-2019-italian-architecture-students-thesis-project-hit-close-home