Ten minutes into his first college lacrosse practice, Brendin Duckett collapsed to the turf. He had torn his Achilles' tendon – one of the worst injuries an athlete can suffer. (Just ask Kobe Bryant and countless others.)
Duckett didn't know it at the time, but the injury – which occurred while he was attending Carthage College in Kenosha, Wisconsin – was actually a blessing.
"I always say," said a smiling Duckett during a recent interview on the steps of the University of Virginia's McIntire Amphitheater, "that it's the best worst thing that ever happened to me."
The injury made Duckett think about what he really wanted out of his college experience.
While playing lacrosse had always been important to him as he grew up in a Chicago suburb, and while he had enjoyed his experience at Carthage, Duckett decided he wanted to get outside his comfort zone.
In the spring of 2017, he transferred to UVA.
"I could have gone to other schools that had recruited me to play lacrosse," Duckett said, "but I chose UVA for the fact that I could have opportunities that I wouldn't have had anywhere else. Opportunities that would allow me to reach the potential my parents always knew I had, but the potential I could rarely see."
Duckett's mother and father, Tryna Wade and Richard Duckett, had rough upbringings but, after serving in the Navy and Marines, respectively, took advantage of the opportunity to become the first in their families to get their college degrees.
Also in the back of Duckett's mind was a quote his stepmother, Thasunda Duckett – whom he refers to as his "bonus mom" – likes to reference: "Shoot for the moon, because even if you miss you'll be amongst the stars."
Still, on his first day at UVA, while sitting in an economics class with more than 300 students, Duckett wondered if he had made a big mistake. "I was just completely overwhelmed," said Duckett, whose largest class at Carthage had been 25 students.
Today, the fourth-year student in UVA's Frank Batten School of Leadership and Public Policy – set to walk the Lawn later this month – couldn't feel more at home.
Starting with a stint as manager of the men's lacrosse team and growing to his current role as president of the Batten Undergraduate Council, Duckett has immersed himself in University life and contributed to the larger community.
Last fall, coursework done by Duckett and two other students helped secure $83,000 in grants for seven local organizations working on the issues of food justice and food insecurity.
"He is peerless in how he contributes to the educational environment of those around him," said Batten professor Paul Martin, who taught the "NGOs and Foundations" course in which students research and make the funding case for local nonprofits, who receive real money provided by The Adiuvans Foundation.
"I think Brendin embodies the essence of what I have come to appreciate about the Batten School and its students," Batten associate professor Brian Williams said. "Brendin is passionate about issues that impact our society. What's really meaningful to me is his willingness and dedication to act in a productive and constructive way on his passion. He engages in a process where he explores how the problem has emerged, how that problem is impacting what's taking place now, and what are some things that we can do in order to solve or mitigate that problem."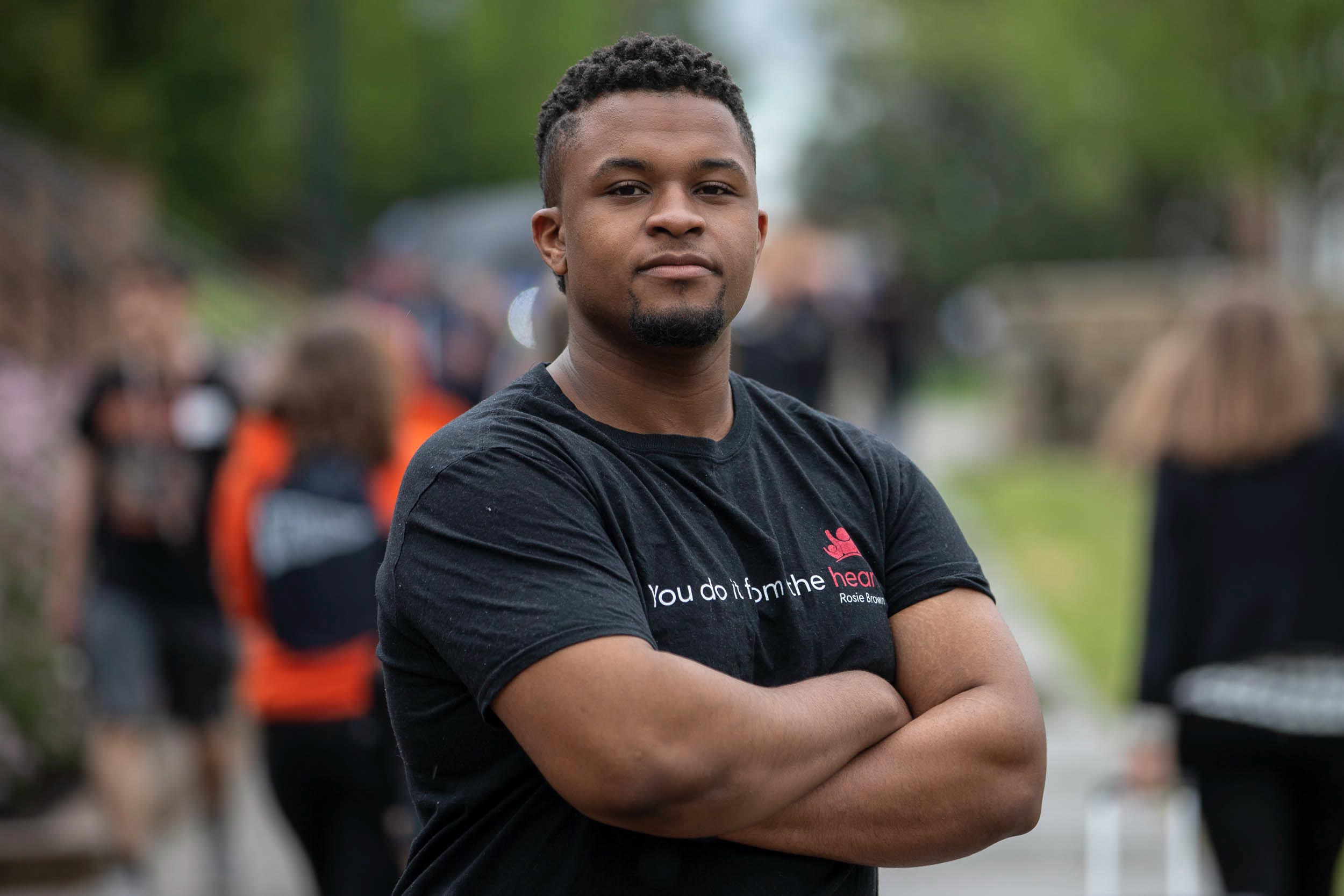 Through Madison House last spring, Duckett helped local residents file their taxes.
Duckett said one of his most impactful decisions while at UVA was joining Alpha Kappa Psi,a co-ed business fraternity affiliated with the McIntire School of Commerce that students from all schools are allowed to join. Duckett said he has learned from peers "every single day" since becoming a member.
"My dad has always told me if you're the smartest person in your friend group, you need to find a new friend group, because there's nowhere you can grow. That's kind of how I felt with Alpha Kappa Psi," he said. "A lot of people had way more knowledge than me, but it was an opportunity to grow."
Duckett has been just as active off Grounds.
He has served as the co-director of a company in Charlottesville, Rise Together, a non-profit started by former Batten student Bryan Christ whose mission is to prepare young students in Albemarle County – many of whom will be the first in their families to attend college – for higher education.
"I want to empower high school students to feel like they can be change agents in their own community," Duckett said. "My goal is getting them to see that when you recognize a problem, no matter what resources you may have, you just have to have the two Ps – a passion and a plan – and you can tackle any issue you want. That's what I've tried to instill in them through the community engagement part of our curriculum."
Last spring, through UVA's Madison House, Duckett volunteered for an organization called Creating Assets Saving and Hope, or CASH, which helps people file their taxes.
"That was by far one of my favorite memories of UVA," Duckett said. "It's something I think a lot of us take for granted.
"There were clients we had who were refugees from Afghanistan and didn't speak English. Being able to help someone and seeing people's faces when they got a refund was amazing… For a lot of people, an extra $1,000 may go toward a new TV, but for our clients $1,000 was more of a lifeline."
After graduation, Duckett will work as a fixed-income research associate at AllianceBernstein, an asset management company in New York. "I want to use finance as a tool to do good," he said, "but I think I need to start by having a fundamental understanding of being an investor and how to evaluate companies."
Duckett smiles when he thinks back to that injury on the lacrosse field four years ago.
"I'm just glad I took advantage of that opportunity when I could have been down," he said. "I can firmly say I would not be where I am if I hadn't come to UVA and met the people I've met."
Article Information
May 2, 2019
/content/class-2019-lacrosse-injury-opened-world-possibility-batten-student