Find the latest information on the University's response to the coronavirus here.
Pulling a 24-hour shift as an emergency medical technician on a Saturday night probably wouldn't be high on most college students' to-do lists if they were trying to finish up coursework and graduate from college. Especially in the middle of a global pandemic.
But University of Virginia student Claire Janek wasn't about to miss the shift or any others she's had during her time as a volunteer EMT for Western Albemarle Rescue Squad in nearby Crozet.
"I've always wanted to be in the health care system," Janek said, "and I just don't believe that in their most dire need, I shouldn't continue."
That's why the fourth-year student from Suffolk, a kinesiology major in UVA's Curry School of Education and Human Development, plans on continuing her weekly shifts with the tight-knit squad for as long as she can, perhaps right up until the time she leaves for her 2½-year tour in the Peace Corps as an HIV and AIDS mitigation officer in the Kingdom of Eswatini (a country in southern Africa also known as Swaziland).
The health care field has always interested Janek, but it wasn't until her first year on Grounds that she really zeroed in on it.
That year, her mother, Kathrine, was diagnosed with breast cancer, and her older sister, Madison, also a UVA student, dealt with a knee injury stemming from her athletic career.
While her family's medical problems helped her figure out what she was truly passionate about, they made for a bumpy start to Janek's time at UVA.
"I think it prevented me from fully engaging," Janek said, "but it was nice having my sister."
That year, the siblings, who grew up doing lots of "outdoorsy things" with their parents – their dad, George, is an environmental scientist at the U.S. Army Corps of Engineers – went on hikes and other excursions to local landmarks such as Blue Hole and Humpback Mountain.
"I couldn't even imagine not having her there," said Madison Janek, who graduated from the School of Engineering and Applied Science in 2018. "Having a family member there with you going through the roller coaster …"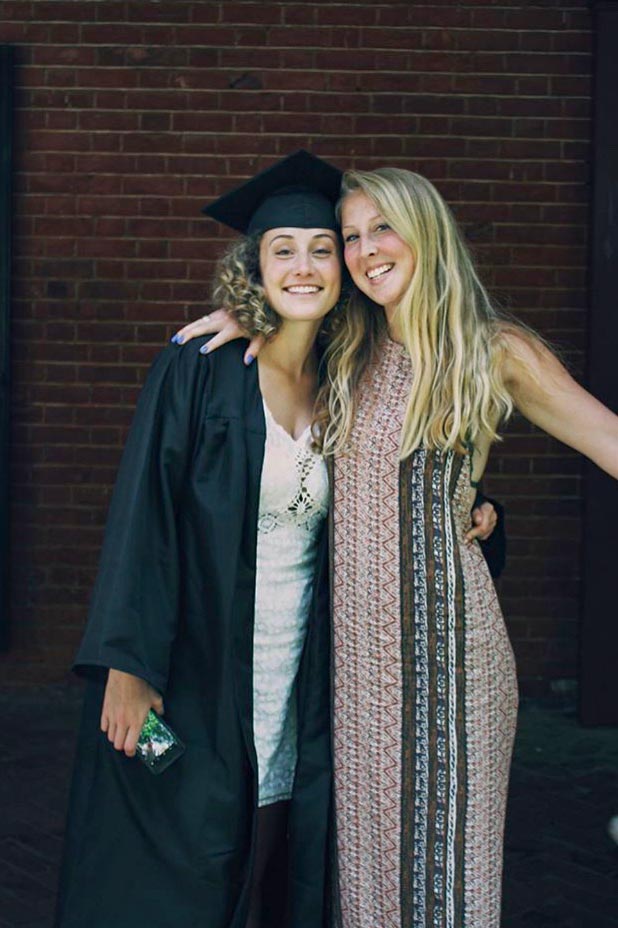 Claire Janek and her older sister, Madison, a UVA alumna, lived together for a year at UVA. (Contributed photo)
Claire Janek, by then a member of Pi Beta Phi sorority, started to get her bearings in her second year.
A three-sport athlete in high school, she joined the club field hockey team. She also joined the UVA chapter of Camp Kesem, a weeklong summer camp for children whose parents have been affected by cancer.
Janek, whose mother's cancer has been in remission for about three years, has served as a camp counselor and helped organize reunions and fundraisers for the organization.
"It's been one of the most rewarding things I've been a part of at UVA," Janek said. "It attracts a special type of person and student and pulls from a cross section of [students at] the University, some of whom I would have never met."
Every summer, Janek has worked with the same set of campers, who range in age from 5 to 18.
"Being able to stick with them and watch them evolve and grow has been a privilege," Janek said. "Their maturity levels and strength exceed most adults you come across, while also never losing their silly sense of self."
Last year, Janek joined "Taste of Home," an organization that connects local restaurants in Charlottesville with immigrants and refugees who make home-cooked meals.
This year, she started working as an EMT in Crozet.
Suffice it to say, Janek is now fully engaged.
"Sometimes I look at her and her plans and I'm just like, 'You know, that's a little ambitious,'" Madison Janek said, "but she proves me wrong more often than not."
"Typically when I hear a student get involved in various extracurricular activities, I'm always cautious," said associate professor of kinesiology Joe Hart, who has served as Janek's adviser. "I say, 'Don't get yourself overworked or extended,' but Claire is the kind of person who truly seems to have 26 hours in a day. She just gets it all done – and does it really well."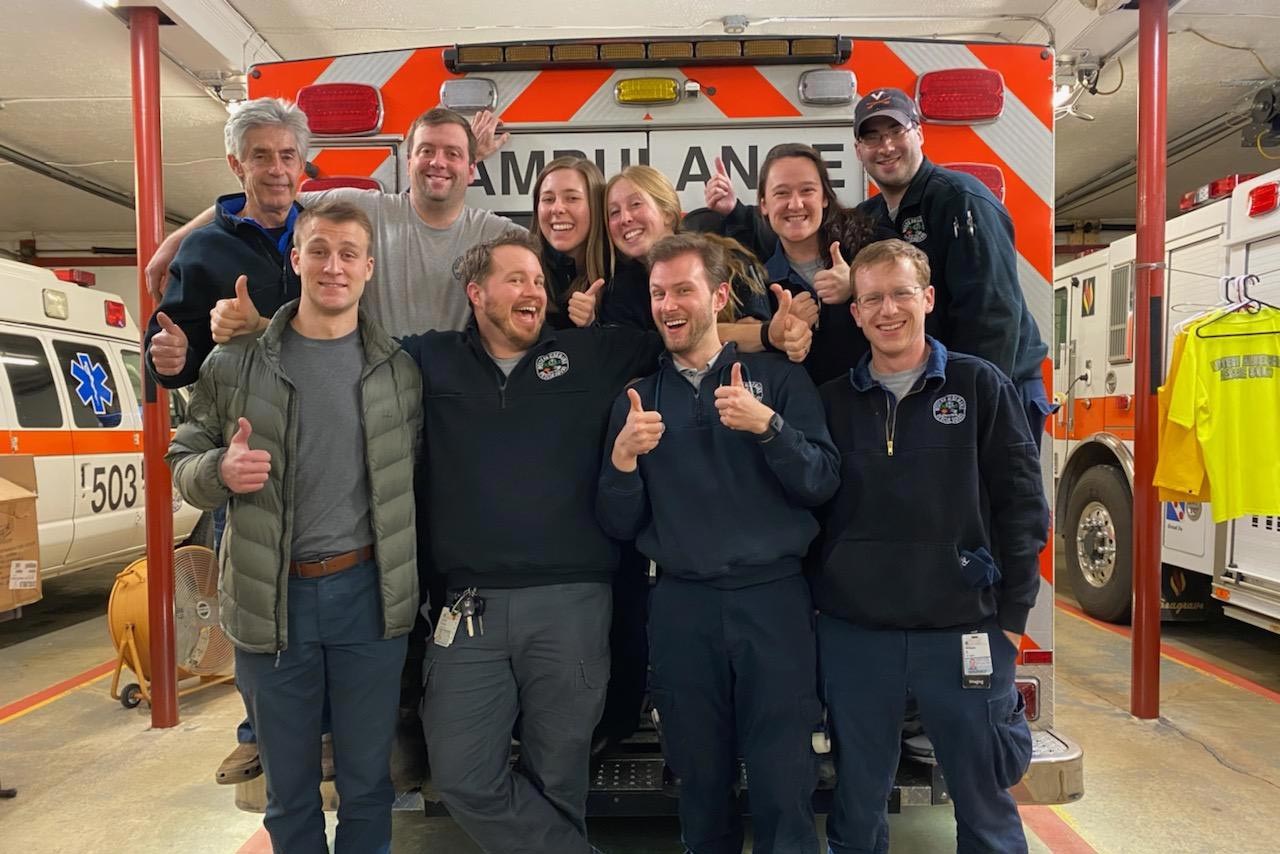 Janek and her Western Albemarle Rescue Squad teammates. (Contributed photo)
Janek, who wants to become a physician assistant after her time in the Peace Corps, distinguished herself in Hart's kinesiology lab at Curry, starting out in data collection before quickly moving into a much bigger role.
"I relied on her to be a crucial part of our team," Hart said. "Whoever replaces her will have big shoes to fill.
"Claire did everything so well, and I don't think I've ever seen her do it without a smile on her face, even during the most challenging times. That's an attitude that will serve her very well no matter what she does in her future."
With every EMT shift she pulls, Janek said she becomes even more certain of her choice to go into health care.
Typical shifts are 13 hours long, although she does have 24-hour ones sprinkled in, like the one on the recent Saturday.
Janek's team responds to a wide array of 911 calls, including ones in which they have to perform COVID-19 screenings. If patients are suspected to be positive, the crew – donned in protective equipment – transports them via ambulance to the nearest hospital.
"Seeing everyone's dedication is incredible," Janek said. "Western Albemarle is all-volunteer. These people don't have to go at all. They're not getting paid and they're going every week because they want to serve their community. It's staffed 24/7 and in the middle of this pandemic too. I'm just proud to be part of this organization."
Article Information
May 11, 2020
/content/class-2020-peace-corps-bound-hoos-activities-fill-26-hour-day