Colleges and universities can help drive social change in the fight against gender-based violence, according to Nancy Deutsch, an associate professor in the University of Virginia Curry School of Education.
That's why last week on Grounds, Deutsch led the first National Leadership Institute on the issue, drawing representatives from schools around the country. The action-oriented program was designed to help universities identify strategies for preventing and responding to gender-based violence on their campuses.
"Given its prevalence, higher education professionals have no choice but to address gender-based violence," Deutsch said. "It is incumbent on institutions to educate themselves on how to address campus gender-based violence and support affected students in a trauma-informed manner."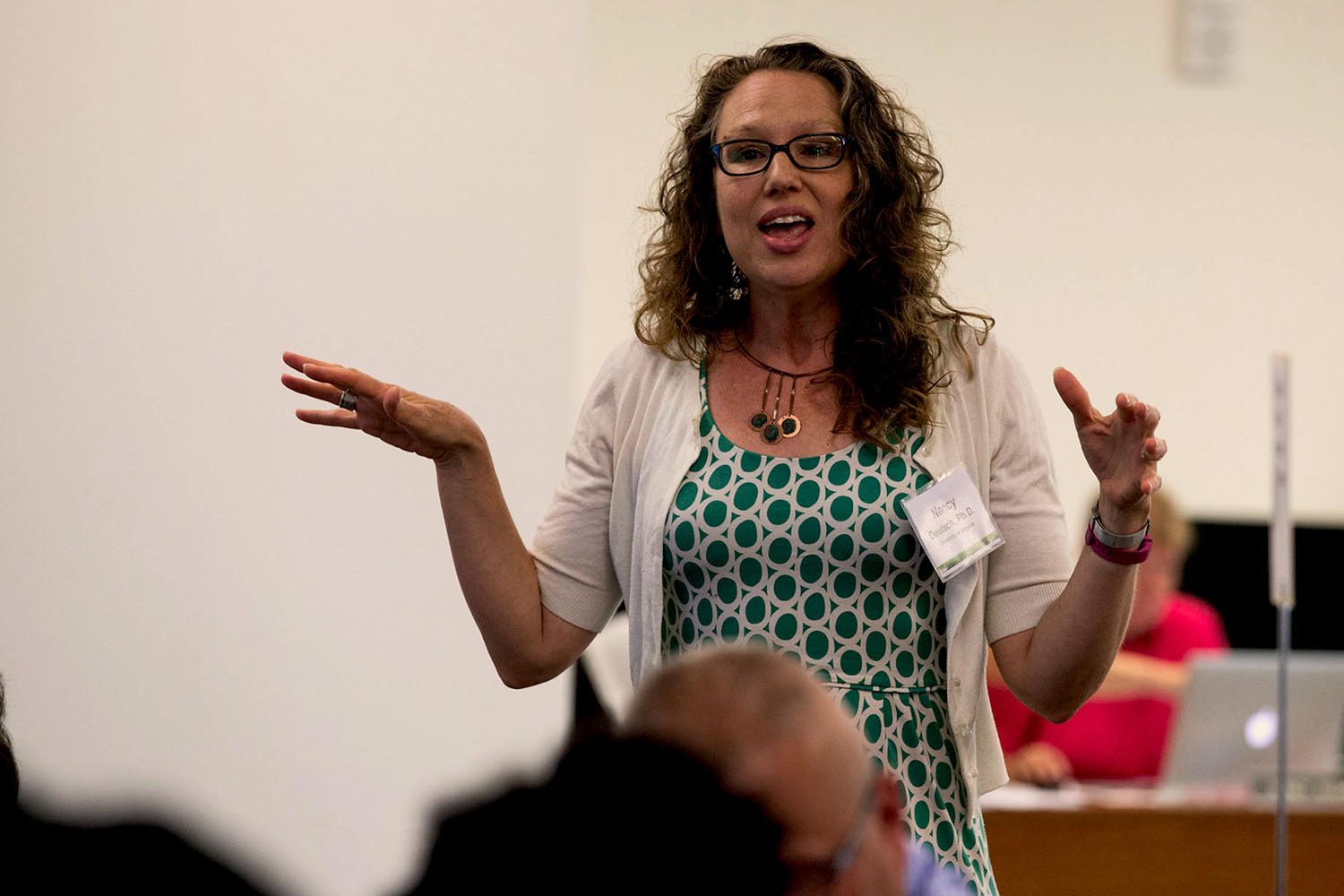 Five universities attended the pilot implementation of the institute. UVA Today caught up with Deutsch to discuss the key takeaways from the institute and what everyone should know.
Q. Has the increasing frequency with which cases of gender-based violence are appearing in the media influenced public awareness of the issue?
A. I don't think that the increased media attention makes the issue more important; it has always been important. But I do think that the increased media attention, as well as increased light being shone on this issue by the federal government, has forced schools to pay closer attention to their campus cultures, policies and practices. The institute comes at a good time, as institutions are looking for guidance on how best to respond to Title IX guidelines, but also on how to reduce the prevalence of gender-based violence on campuses overall.
Q. Based on your expertise, what are some of the key factors to addressing this issue?
A. At the institute we talk about a prevention-response-resolution loop. Schools need to be attentive to each of these on their campus and ensure that their efforts across these areas are coordinated and addressing the issue in a trauma-informed way that stems from a larger ethos of care.
Many schools, including UVA, have begun to engage bystander training as one aspect of addressing gender-based violence. And as we saw in the recent case at Stanford, that can be a powerful tool for stopping potential assaults, but bystander training alone will not end gender-based violence.
At base, campus-based violence is an outgrowth of larger cultural norms and behaviors. Schools need to look at the climates on their campuses, many of which are mirrors of larger society, and address those factors that may be consciously or unconsciously promoting gender-based violence.
Q. What do you hope that those in attendance were able to take away from the institute?
 A. The learning objectives for the institute are for participants to be able to:
Recognize the importance of a sustainable, collaborative, multidisciplinary team to lead university-wide, gender-based violence prevention and response efforts.
Operate from an ethos of care for all gender-based violence prevention and response efforts.
Identify the cultural drivers on their campuses and pinpoint specific ways to influence their campus cultures to improve the prevention of and response to gender-based violence at their schools.
Identify evidence-based programs, practices and policies that will enhance the prevention, response and resolution of gender-based violence on their campuses.
Design an action plan with timeline in the areas of prevention, response and resolution.
We recognize that different schools have different issues and needs, however, so we purposefully had a range of institution types participate in the pilot (including urban schools, suburban schools, state schools, a community college and a liberal arts college). Our goal is to develop an institute that can achieve these objectives for multiple types of institutions of higher education.
Q. What else needs to be done to continue addressing the problem of gender-based violence?
A. Our goal is that we can continue to improve the institute and serve schools nationwide, helping change cultures, practices and policies on campuses. In the end, though, gender-based violence on campus won't disappear until our larger culture changes. Like other systemic issues, it is a problem that takes all of us to address.  In addition to working to create campus climates and policies that are trauma-informed and based around an ethos of care, we must also commit to working to change the broader cultural narratives that foster gender-based violence. 
The institute was made possible through a partnership between UVA, Futures Without Violence and the Harvard Law School Gender Violence Program, as well as funding from the Avon Foundation for Women and the Jefferson Trust.
Article Information
June 23, 2016
/content/curry-school-professor-leads-discussion-gender-based-violence-through-institute-hosted-uva