On Monday, presidential candidate and Ohio governor John Kasich became the second 2016 presidential candidate to appear on "American Forum," a television series produced by the University of Virginia's Miller Center of Public Affairs and broadcast weekly by more than 280 PBS stations.
U.S. Senator and Democratic presidential candidate Bernie Sanders appeared on the show in September, the first to take advantage of an opportunity that has been extended to all Democratic and Republican candidates.
As he did with Sanders, the show's host, Pulitzer Prize-winning journalist and Miller Center faculty member Douglas Blackmon, took what he called a "ruthlessly nonpartisan" approach to the discussion, balancing both sides of each issue as he questioned Kasich. The interview, taped Monday, will be broadcast Sunday on the East Coast – just two days before the "Super Tuesday" primaries in Virginia, 11 other states and one U.S. territory – and nationwide on March 2.
"Gov. Kasich has a chance, and I get to urge him a little, to go beyond the sound bites that candidates get stuck in and really offer a picture of what a Kasich presidency would look like," Blackmon wrote in an email. "'American Forum' is about getting closer to that kind of understanding of the candidates, and doing it in a way that demonstrates why there is value in having civil discussions."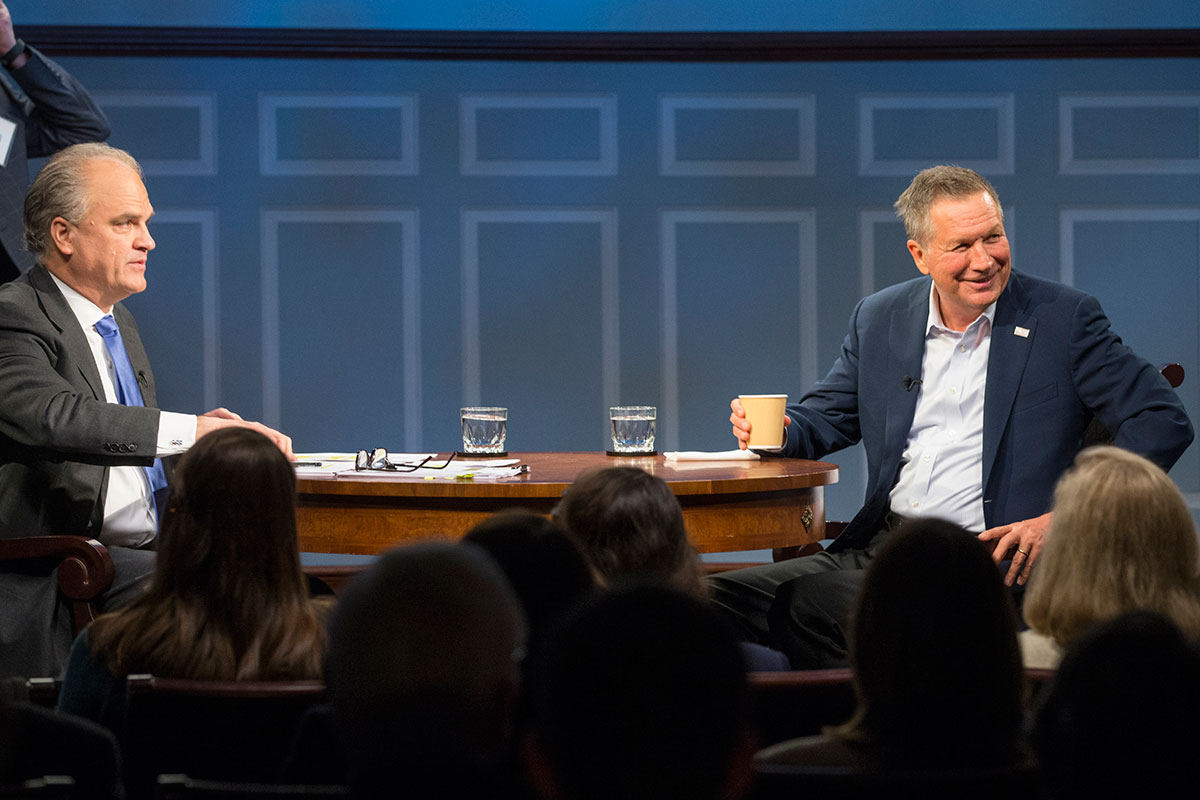 The Miller Center's Douglas Blackmon, left, took a "ruthlessly nonpartisan" approach to questioning the Republican candidate. (Photo by Dan Addison)

Kasich enjoyed a surge of momentum after the New Hampshire primary, where he finished in second place behind businessman Donald Trump. In Saturday's South Carolina primary, Kasich finished fifth. His visit to Charlottesville comes at an important moment in the Republican race, as Kasich and other candidates hope to pick up delegates on Super Tuesday and unseat Trump, currently the frontrunner.  
A crowd of about 200 gathered for Monday's session at the Miller Center, filling the room to capacity. Addressing enthusiastic supporters from the steps of the Miller Center beforehand, Kasich called UVA "one of the most special places in all of America," and revealed that he is something of a Cavalier basketball fan, spurred on by a UVA alumnus who runs his JobsOhio program.
Some of the UVA students who came to see Kasich were already supporters of his campaign. Paige Yanity, a first-year student from South Carolina, cast an absentee vote for Kasich in her state's weekend primary and was excited to learn that he would be coming to Charlottesville.
"I really like his moderate platform," Yanity said. "I think it is very cool that I get to see him today. When I saw this event in my email, I knew I had to go."
Kasich's position as a more moderate candidate in the Republican field also intrigued other students who were still deciding whom to vote for.
"I am definitely a more moderate Republican or an independent at times, and I really appreciate how Gov. Kasich seems willing to compromise on things," second-year student Annelise Kollevoll said. "I am interested to hear his platform, especially compared with Marco Rubio's, to see which of the more moderate candidates I agree with."
First-year student Kim Corral went to the Miller Center to see Sanders speak in September, and also heard former Gov. Martin O'Malley give the keynote speech at the Future Leaders Forum hosted by UVA's Frank Batten School of Leadership and Public Policy. O'Malley was a Democratic presidential candidate at the time, but suspended his campaign earlier this month.
"I want to learn everything that I can from the candidates so that I can choose who I want," Corral said.   
The 63-year-old Kasich, who is currently in his second term as governor of Ohio, has also served nine terms in the U.S. House of Representatives. He has built his campaign on Ohio's economic growth during his tenure and his ability to bridge partisan divides and create inclusive policies.
During the taping, Blackmon questioned Kasich on topics including the economic recovery in Ohio, his recent decision to defund Planned Parenthood in the state, political polarization in Washington, gun rights and the importance of caring for the mentally ill, Kasich's expansion of Medicaid in Ohio and national security – questions built on careful research by the "American Forum" staff, which includes almost 20 UVA student associate producers and senior associate producers.
In response, Kasich advocated for reducing the size of the federal government while keeping in mind the needs of those at the margins of society, a concept that he referred to as "not bigger government, but more creative, innovative government." He also emphasized the importance of overcoming political division.
"We have to be Americans before we are Republicans and Democrats and think about the people that we would like to see rise in our society so that we can solve a lot of the problems that we have," Kasich said.
For Blackmon, Monday represented both an opportunity to make the public more aware of the specifics of Kasich's platform and to make Kasich and other candidates more aware of resources at the Miller Center, such as The First Year project, which is compiling recommendations for the next president from presidential scholars and former White House advisers.
"It is important for our program to demonstrate one of the things that the Miller Center is all about – that our national leaders, from any party, will do a better job if they pay a little attention to history or listen a little to scholars and others with deep knowledge and perspective about what has made previous presidents succeed or fail," Blackmon wrote. "Those are the sorts of things that we study really closely at the Miller Center and we want to bring Gov. Kasich and other candidates into a conversation about some of that."
Article Information
February 22, 2016
/content/days-ahead-super-tuesday-kasich-makes-his-case-uvas-miller-center