In a kitchen inside of Madison House, University of Virginia fourth-year student Liam Flaherty makes brownies with a 9-year-old boy from Charlottesville named Jasper. 
They are no ordinary brownies. Feeling adventuresome, Jasper has put a piece of lettuce into the batter. Later, in keeping with the spirit of the activity, Jasper also squirts lemons he has found from a leftover taco bar into the mixture.
In the end, Jasper said the brownies – which, of course, he had one of his sisters taste first – were actually pretty good.
"It was like eating lemon cake," he said, smiling. "It wasn't too bad. Our experimentation worked."
The get-together was one of many between Jasper and Flaherty through Madison House's Big Siblings program.
The independent volunteer center for UVA students (established in the aftermath of Hurricane Camille in 1969) cooperates with Big Brothers Big Sisters to register volunteers and pair each student, who is known as a "big," with a child between the ages of 6 and 12 from the Charlottesville community, who is known as a "little."
Flaherty, a Rhode Island native, knows a thing or two about siblings. He has eight of them.
"My siblings were always a really big part of my life growing up," said Flaherty, when asked why he wanted to become a Big Brother. "With there being so many of us, we relied a lot on each other and looked up to each other. They're still a huge part of my life, even though I'm in school and they're scattered across the country."
As the eldest of three children, fourth-year UVA student Ariana Nazari also knew the important role she could play for a child in need of a mentor.
Nazari's "little" is a 10-year-old girl named Nia, whom she has known for two years now. The pair attends UVA sporting events, bakes, roller skates, trampolines – you name it.
"It's been one of the highlights of my four years," said Nazari, who this year is serving as the Big Siblings program director.
Bigs and littles spend two hours per week together, with the UVA students having to commit at least three consecutive semesters to their charges. The idea is to form a deep bond that can extend well beyond the duration of the program.
Bigs and littles – the latter identified by guidance counselors at schools around the Charlottesville area – are matched based on similar interests and shared values.
"It's an absolutely amazing program that allows UVA students to connect with community members on a very individual level," Nazari said. "The one-on-one time I have with my little gives me a chance to step off Grounds and immerse myself with the Charlottesville community."
Right now, there is a dire need within the program for male volunteers to become Big Brothers.
More than 60% of children waiting for a mentor are boys, but only three out of 10 volunteer inquiries come from men.
Additionally, a disproportionate number of the children who are waiting to be matched are African American and Hispanic boys.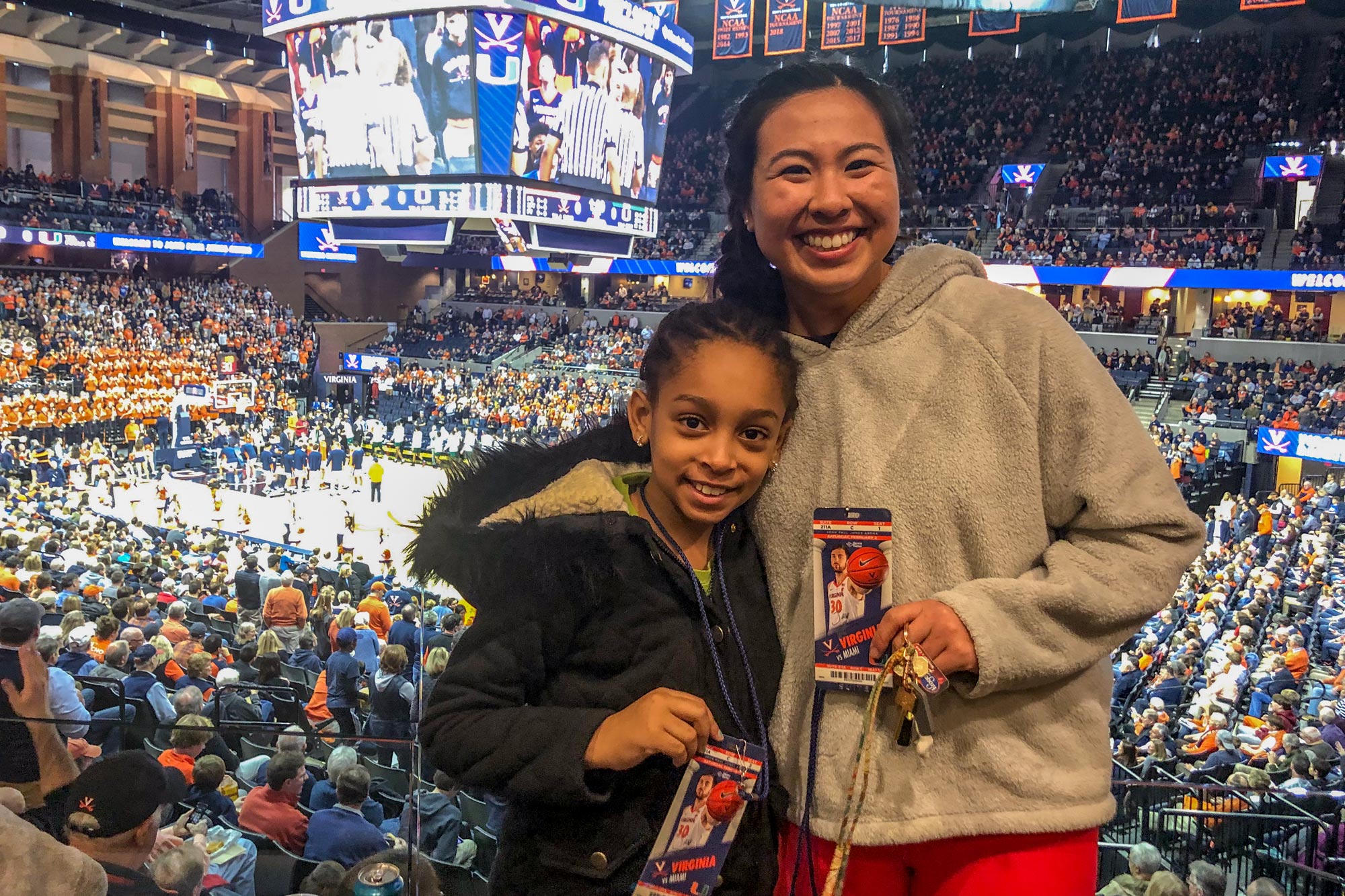 Nazari and her "little," Nia, attend a recent UVA basketball game. (Contributed photo)
Last month, sitting in a booth at a Charlottesville fast-food restaurant, Flaherty and Jasper talked excitedly about geocaching.
"It's our go-to thing," Jasper said.
Using an app that gives them clues and coordinates, Flaherty and Jasper frequently hunt around Charlottesville and Grounds for various objects.
Jasper laughed when remembering the time one of the clues was hidden in the pole of a sign in a parking lot.
"That one took us a few minutes," Flaherty said. "But when we found it, that was pretty cool."
Liam had played the game with his siblings when he was Jasper's age and decided to introduce him to it.
"It was always such a blast," he said. "I hadn't done it in a while, but now we do it all the time."
After eating, the pair headed to the Rotunda to hide their own geocaches.
Jasper also loves soccer; Liam frequently takes him to his practices. The pair has played golf together, too.
But one of Jasper and Flaherty's favorite things is just talking.
"Jasper has to be the smartest 9-year-old I know," Flaherty said. "He's constantly teaching me things about everything.
"The other day we were out to lunch and we had a newspaper in front of us that had all the weather in different cities around the world. We were going down the list of cities and naming which country the city was in, and Jasper knew more of the countries they corresponded with than I did – which was pretty impressive."
Jasper, whose father died when he was younger, was born in Spain before moving to the U.S. about five years ago.
"One thing the Big Sibs program is great about," Flaherty said, "is taking people from all different backgrounds who are all united by the need for a role model."
Article Information
January 8, 2020
/content/deep-connections-big-sibs-program-pairs-community-youths-uva-mentors